Passport Luggage – The Call of the Wild
For some of us, bikepacking is simply a logical and sequential, progression from adventure or gravel riding. We embrace it and welcome it into our lives without hesitation. The merely 'bikepacking curious' however, regard it with a degree of trepidation, not least because it involves additional capital outlay.
As we prepare to embark on a new cultural and metaphorical journey (bikepacking), we have to address the main barriers to entry. Principal among these is – "What luggage should we buy and how much will it cost?".
Sure you can splash out on the best, most expensive kit on day one,  but it is a bit of a gamble. Even a cursory glance reveals that 'middle of the road' luggage demands a significant investment. "Decent" kit costs a lot more.
High quality that won't break the bank
Ideally, the aspirant bikepacker should simply buy a high quality, low cost, range of luggage and upgrade later. Conventional wisdom suggests this is a paradox. Cheap and high quality are mutually exclusive properties. You can therefore expect your wallet to be considerably lightened if you are going to get anything worthwhile!
Prepare to be pleasantly surprised. The home grown range from Passport Cycles is not only inexpensive, it is of a considerably higher quality than you have any right to expect.
For £150 you can get a complete set of luggage – frame bag, handle bar bag, seat pack & top tube bag.
Not only that, but we would be prepared to argue these bags are not only suitable for beginners, but for hardened bikepackers too.
Construction and materials
The outer fabric is 210 denier Nylon canvas with 500 denier wipe-clean tarpaulin for high wear areas. This keeps the weight down, and in the case of the seat pack and handlebar bag, easier to roll closed.
---
Seat pack 575g £60
The 'Large' seat pack measures 50 x 13 x 15 cm and provides 9.8l of storage capacity.
The canvas used for the main carcass is water resistant. The base, which will be exposed to spray from the rear wheel, has a water proof, tarpaulin, panel. Despite this, as always, we recommend using a dry bag whether you need it or not!
Feature Filled
The twin seat post straps have a rubberised contact patch to hold the bag snug against the seatpost. It really does help reduce sway while you are riding.
The straps and buckles (that thread through the seat rails) were just the right size. This is not as common a feature as you might think!
As well as the main (waterproof) compartment there are zipped pockets on either side of the pack. Measuring 20 x 13cm, both are capable of holding a modern phablet-sized phone, tools or other items you may want easy access to.
The top of the pack has an array of bungie cord eyelets so you can safely stow away your waterproof during changeable weather.
One problem you often encounter with seat packs that they take up all the space on your seatpost. Leaving you with no room for a rear light! Passport have thought of this and added a slotted patch onto which you can clip a rear light.
Reflective material has been incorporated on the light slots, bungee loops and logos.
---
Frame Bag 215g £35
Our 'Large' frame bag measures 51 x 5.5 x 17cm providing 4.8 litres of storage. It is water resistant.
It fits the frame of my 58cm Pinnacle Arkose perfectly yet still allows me to use 500ml bottles without resorting to variable (cage) mounts.
The frame bag shares the same basic construction as the seat pack.  It also has a bright yellow liner to help you find stuff in poor light.
Towards the front of the bag there is a small zipped pocket. Perfect for storing car keys or items you want to keep safe and secure until the ride's end.
While the straps are stitched in place, they are located sensibly and do not interfere with the toptube or handlebar bags. It was also good to see that the straps thread into plastic loops so they can be cinched really tight.
---
Handlebar bag 305g £35
The handlebar bag comes in one size and measures 38 x 17 cm with an 11 L capacity. It is a good size and fits between a set of drop bars without rubbing your front tyre!
The now familiar nylon canvas differs from the rest of the range. It is laminated with a heat-welded TPU layer. It is fully waterproof and therefore a great place to store your sleeping bag and spare clothing.
The tough tarpaulin is used once again to reinforce the contact patches, and four straps secure the bag to the bike. The two on the handle bars are rubber-lined with plastic loops to keep them tight. The head tube straps use plastic QR buckles to make them easier to thread between your cables and frame bag (if fitted). As with the other bags the logos and light loops are reflective.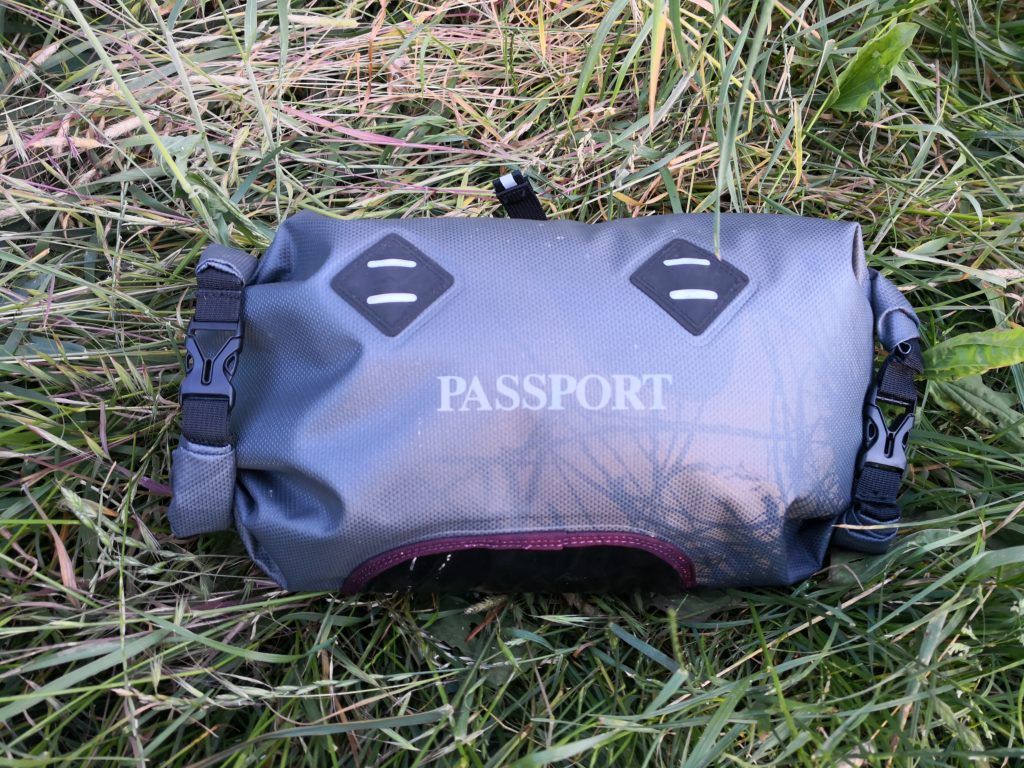 ---
Top-tube bag 135 gms £20
Measuring 9.5 x 20 x 9.5cm with a 1.8 litre capacity the toptube bag is one of the largest we have tested. The square design threatened to make it a knee-slapping liability. Thankfully there is virtually no side to side movement.
Again a yellow liner makes it easy to find things inside. While only water resistant, the zip cover should mean only the worst downpours will cause any  problems.
A great feature is the clear window through which you can use your touchscreen phone (or paper map/directions if you're old skool!). I fitted a 6″ screen smartphone behind the window. All but the largest phablet phones and GPS devices should fit and a USB powerbank can be stowed underneath to charge them.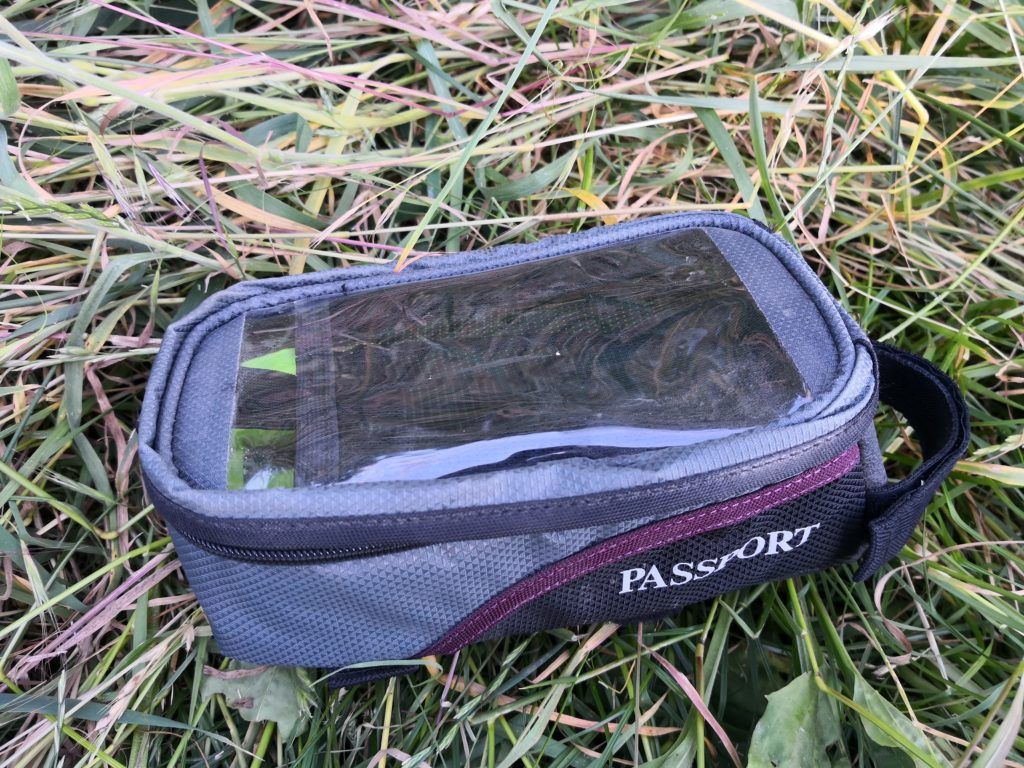 ---
East bound and down, loaded up and truckin'…
Taking part in The Distance seemed the perfect opportunity to test the Passport kit. We had two days of riding on prime Peak District gravel, with a mid-way overnight stop.
While the water resistance was never put to the test, the rough descents and steep climbs were a stern test for bag stability. A test in which the Passport kit surpassed expectations. The straps remained tight. None of the bags swayed about or rubbed against my legs or knees when out of the saddle. What more can you ask?
After two days of tough riding everything functioned perfectly. Wear and tear was minimal, leaving only a few minor marks.
The only problem I had was with the seat pack liner. It isn't secured at the front and the material itself is quite grippy. This meant that when I emptied the bag fully, the lining was prone to turn inside out.
Obviously 120km isn't far enough to judge long term durability but I've used more expensive luggage that has fared significantly worse after similar use.
What's in the bags?
Handlebar Bag
An Alpkit Cloudbase mat
A Hunka XL bivi bag
2 season down bag and a silk liner.
Seatpack
A Trailstar tarp and pegs
Waterproofs
Down jacket
Hat
Gloves and base layers for sleeping in.
Framebag
Tarp poles
Inner tubes
Tools
Spares and snacks.
Toptube Bag
Phone
Powerbank
Cafe lock.
Conclusion
I was seriously impressed by the Passport luggage.
The seat and handle bar bags (which take the brunt of the tyre spray) are genuinely waterproof and are reinforced in key areas so should stay that way.
The attachments are secure and easy to use and didn't need mid ride adjustments unless items had been removed.
I'm not ashamed to admit I liked the fact how all the items matched!
If you want to give bikepacking a try, without spending a fortune, Passport Cycles have what you're looking for.
It is also worth mentioning there is also a smaller 7 Litre seatpack and two smaller frame bags available.
Visit www.passportcycles.co.uk for more info and Ison Distribution to locate your nearest dealer.
Last modified: 28th June 2018