The Orbea Terra looks more like a pure road bike than many 'gravel' bikes we have tested of late which has lead some people to question its ability to perform off road.
With 500 odd miles of riding under my belt,  I can dispel any doubts you may have. First of all you have to accept that the Terra is not a heavy duty touring machine, it is not a beast of burden. The Terra is built for speed and as such, is an absolute delight to ride. I have ridden it along crumbling back roads, forest access roads, bridleways and singletrack as well as rural 'B' roads and I always get home with a silly grin on my face.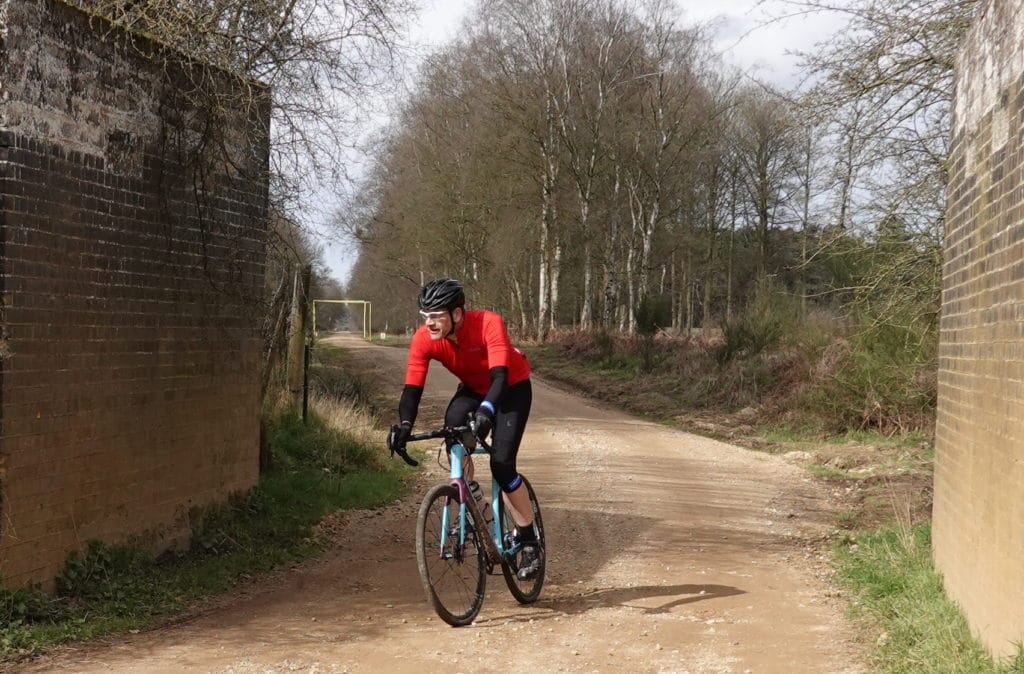 The testing process
I presented this bike with as many different challenges as possible so I could get under its skin to tease out its real character.
Most rides have been hard and fast for 30 to 40 miles, combining on and off road trails of varying technicality. Less frequently, primarily because of time constraints, I have taken it out for 60+ mile gravel and road rides.
The Test Bike
The Terra on test was the 1×11 version M21-D 19 which retails at £3,199.
Both frame and Fork are made from Orbea's second tier carbon 'OMP'.
The bike came equipped with a full SRAM Force groupset and a pair of DT P 1850 wheels.
The bars, stem and seatpost are courtesy of FSA and the saddle is a Fizik Antares R5 VS EVO Regular.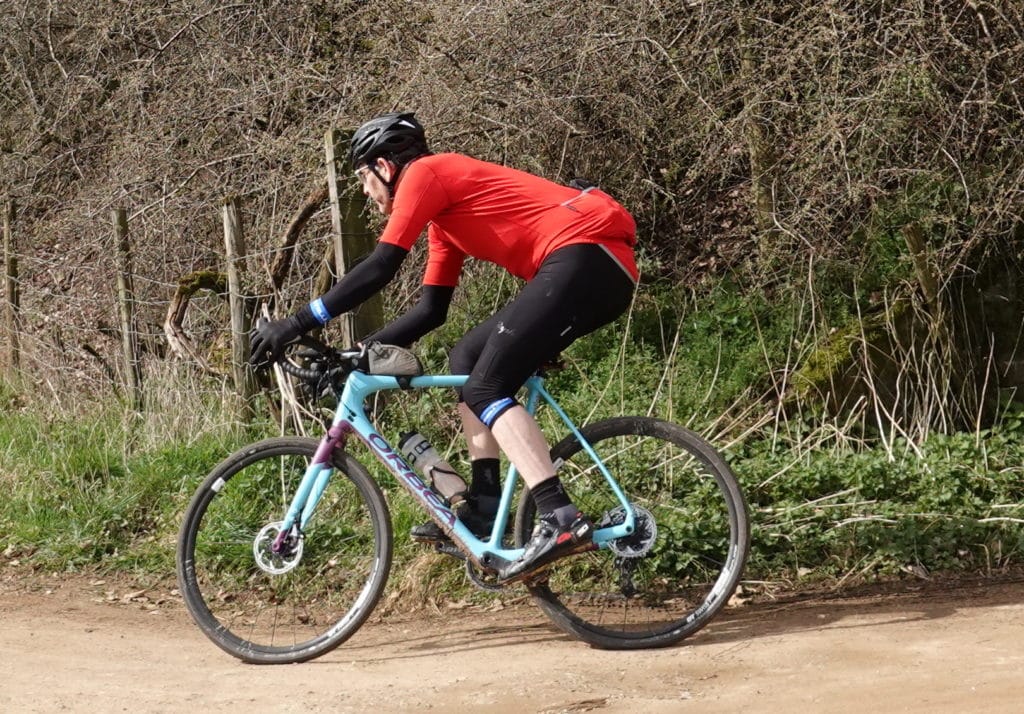 Making a difference – the MyO way
What I like about Orbea, is the degree of customisation on offer as standard. Go onto their website, select your bike and enter a whole new world of custom options.
If you want to choose from a palette of predefined colour options you can simply select what you want at no extra cost.
Once you have done this, another level of customisation becomes available. Using a series if drop down menus you can upgrade wheels, handlebars, saddles etc before you buy. Obviously, this may increase the price you pay but it is usually cheaper to upgrade this way.
Once you hit a certain price point, a whole new range of colour options opens up. Instead of selecting from a preset range of colour options, you can can design your own colour scheme. Even better, this is free of charge.
The downside is that paint customisation means you will have to wait a little longer, but at least you know no one else is going to have the same bike as you!
First Impressions – who is it for?
On the face of it the Terra is a racers bike.
Quick on practically any off road trail, it excels on the road too.
The fact that you cannot fit anything bigger than a 700cx40mm tyre will be a shortcoming if you want your gravel bike to be a mountain bike. There seems to be an almost perverse desire, in the UK at least, to shoehorn 'gravel' bikes into a MTB Lite role. Maybe this explains the growing attraction of 650b wheels and chunky tyres. If you want your gravel bike to be just that…a gravel bike, you will not have any problems,
I tried the Terra out on typical (natural) MTB trails and while I always got round, it was not always fun. On more than one occasion I had to ease off the throttle to prevent damaging  the rims. Low pressures and relatively small tyres are not an optimal combination if you are 14 stone! The 'fix' is to run higher pressures and sacrifice grip, or just to take it easy. By default, I chose the latter.
This does not mean the bike is compromised, you just have to be sensible where you take it. To put this into perspective, I have successfully ridden around the local MTB XC trail centre without a hint of trouble. On the other hand I have had to mince along a notorious, root infested, bridleway.
Having said that, every ride has yielded PR after PR, along with the odd KOM or top 10 – for road, and off road segments. I have also been pretty close to PRs on segments where my fastest times were achieved on my XC mountain bike.
The bike is not not just about outright speed though. If you are content to bimble along, you should arrive at your destination considerably fresher than you might ordinarily expect. For this type of ride, the bike is undemanding and capable although it is nice to know that super quick acceleration is available at a moments notice!
I would not load the bike up for hard core bikepacking. But, with a light luggage load, would be more than happy to head out for a spot of mixed terrain, 'credit card touring' .
As you can fit mudguards, the Terra might also double up as a fast commuter, though I for one would think twice before leaving it in the bike shed!
Out and about on the Terra
If you provide the energy, the Terra will respond and once up to speed, will happily maintain momentum whether you are on or off road.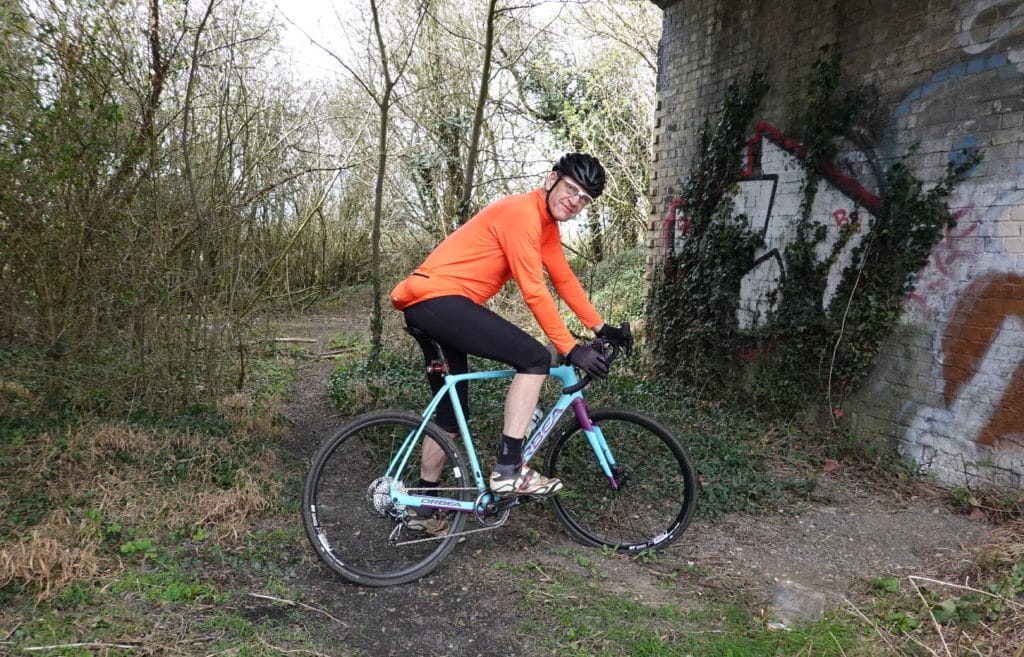 I have read that the Terra is a handful on singletrack. In my opinion, this is probably down to tyre selection. Swap the G Ones for something like the Ritchey Speedmax, and the bike is transformed. I certainly had no trouble at all riding the bike flat out, down tight and twisty, and/or flowing singletrack. Holding speed through corners was easy but the bike is so eager to accelerate, if you do slow down, you will regain maximum velocity in seconds.
Descending, the Terra is completely reassuring. The ride is very stable but if you need to take rapid evasive action, steering response is light enough to get you out of trouble.
Climbing was an interesting experience for me. I usually watch everyone go on up the road or trail, and have to play catchup at the top. On board the Terra, roles were often reversed or at worst, I was still with the group when we crested the rise.
On the road I can spin along comfortably, sometimes effortlessly, at 18s, for hours on end, even with fat tyres.
If you would like to explore the Terra's, long distance, road potential, fit a light pair of road wheels, and it should transform into a cracking endurance bike.
Comfort
To a large extent, comfort is about fatigue. If you are constantly wrestling for control or are getting jolted all over the place, you will soon become tired and feel every lump and bump on the trail. Your riding position will suddenly seem 'wrong' and you will stop having fun.
As the bike is so light, I had concerns that I would be pinging off every root or rock on the trail and struggling as rides progressed. Suffice to say, I was wrong. Whether cruising, going flat out or descending, the bike tracked perfectly. Executing bunny hops was as simple as thinking and after a while, I stopped even doing that!
If you are new to gravel bikes, this idea of 'comfort' might be more apparent than real. The Terra is after all, a rigid, drop barred bike. Mountain bikers and roadies may well feel every bump, though for different reasons. Once accustomed to gravel bikes however, you will begin to appreciate the levels of comfort on offer here.
The proof of the pudding – to date, I have yet to finish a ride with back ache or tired shoulders. This has to be testament to the overall design because as friends will confirm, I seldom hold back on rides and frequently end up 'broken' by the time we get home.
The Frame
The bottom bracket area is huge, no doubt to increase stiffness in a high stress area. Predictably, Orbea have decided to use the press fit PF30 for bottom bracket duties. I am not a fan of press fit bottom brackets but to be fair, I have yet to experience any issues at all. The jury is still out.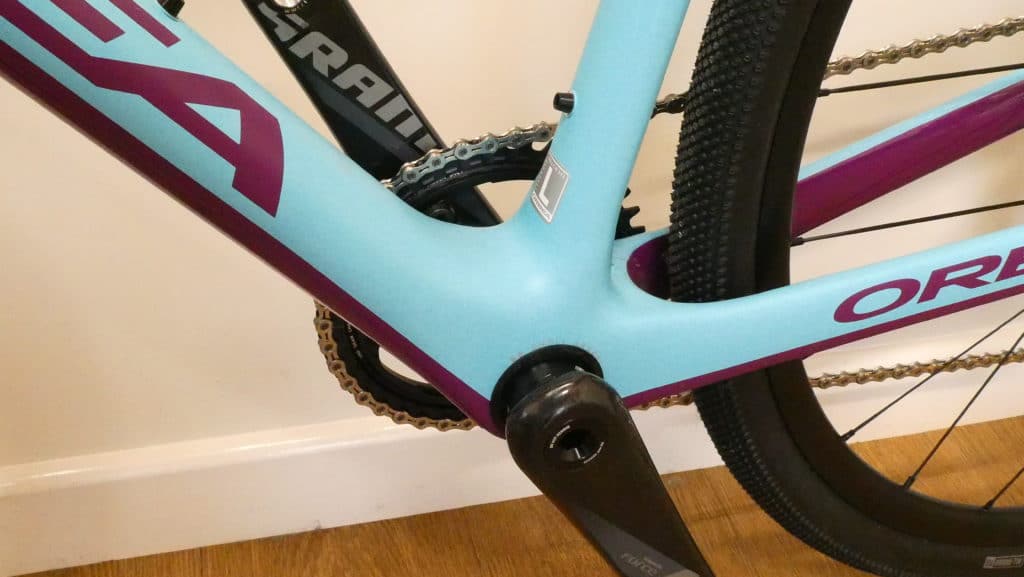 Moving backwards towards the wheel, the bottom bracket shell creates a large mud shelf. I have not taken the bike out on any truly gloopy rides but noted that trail debris seems to collect there even in relatively benign conditions. I do not think this is something that should put you off the bike, it is more something to be aware of.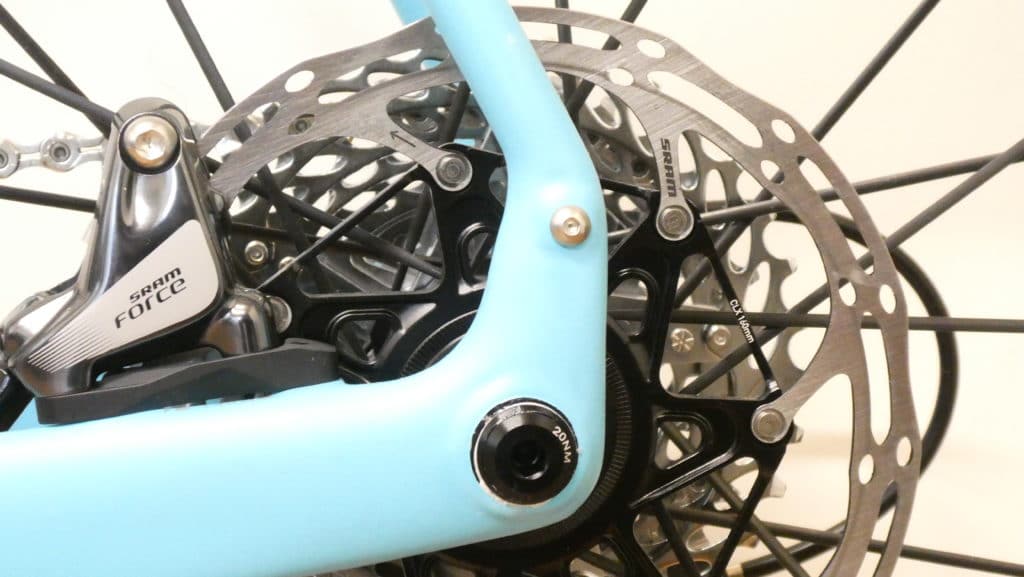 The frame has a 12×142 thru axle, mated to a 12×100 on the front and both axles are secured with a 6mm allen bolt. Although light weight and perfectly functional, I found this a little frustrating as none of my trail tools seem to have a 6mm allen key! I would be tempted to swap these out for something like the DT Swiss thru axle skewer despite the additional weight.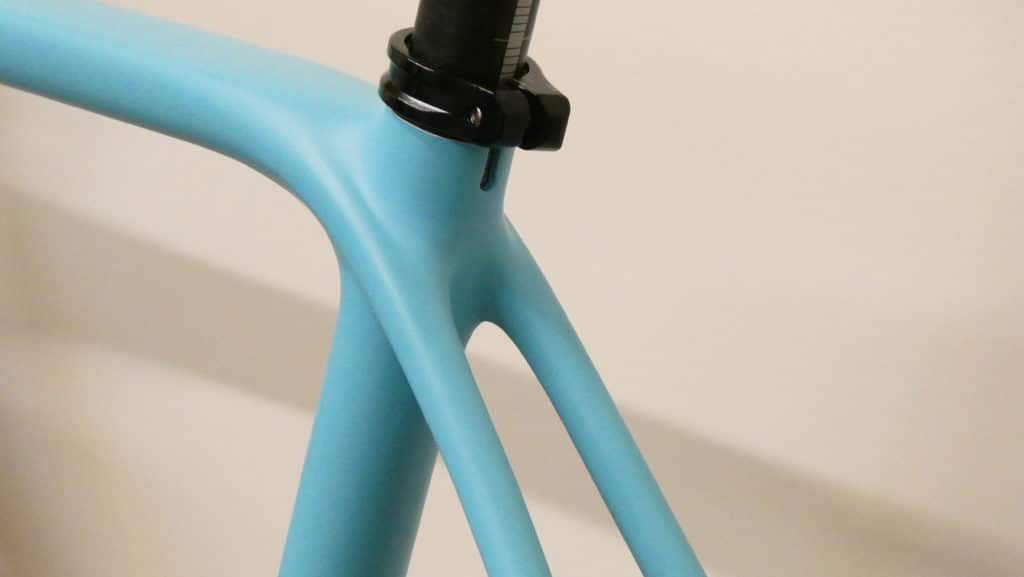 Everyone who looks at the bike comments on the chainstays. Not normally the sexiest item on a bike, they are obviously distinctive enough for people to notice. Pretty or not,  I am convinced they contribute to the comfortable ride. OK, you can still feel the big jolts, but the absence of back pain during or after a ride suggests they cushion the worst of the impacts.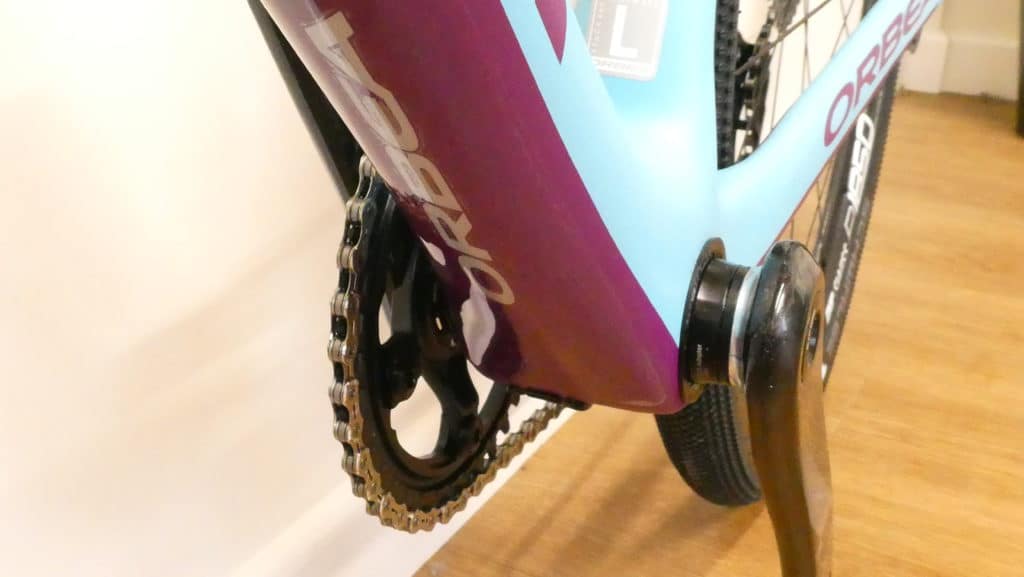 I thoroughly approve of the addition of frame protection under the down tube and along the chain seat stay. If you are going to ride a carbon bike off road, this is pretty much mandatory in my opinion. Unfortunately, a corner of the chainstay protector has begun to peel off already. There is now a permanently grubby smudge where dirt has collected. It is not a big deal, but is a bit of a shame on a new bike.
Components
My experiences of SRAM shifters has often been a little underwhelming. The adjective of choice when describing the feel of SRAM shifters is 'agricultural'. The Force groupset however, is much slicker than any others I have tried and I was very impressed. A little stiff to start with, shifting is becoming lighter and quicker all the time. I have to admit, I really like it now.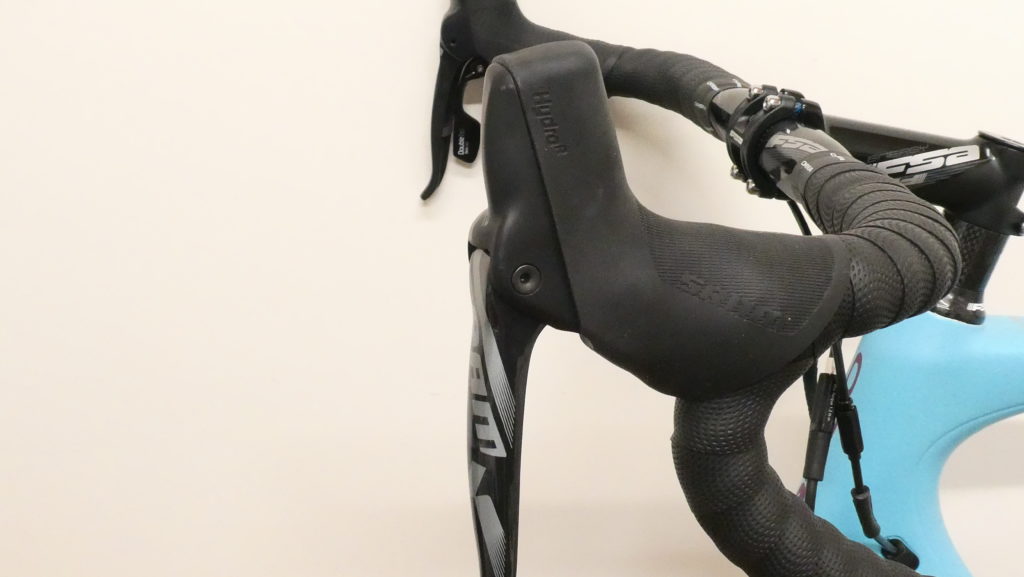 I much prefer the design of the Shimano shifters. The SRAM units just look clumsy. Having said that, they are comfortable enough, though the lump on the front has robbed me of one of my default hand positions.
The hydraulic brakes perform well with plenty of stopping power and modulation. I always thought Ultegra were easily the best disc brakes out there, but these are every bit as good.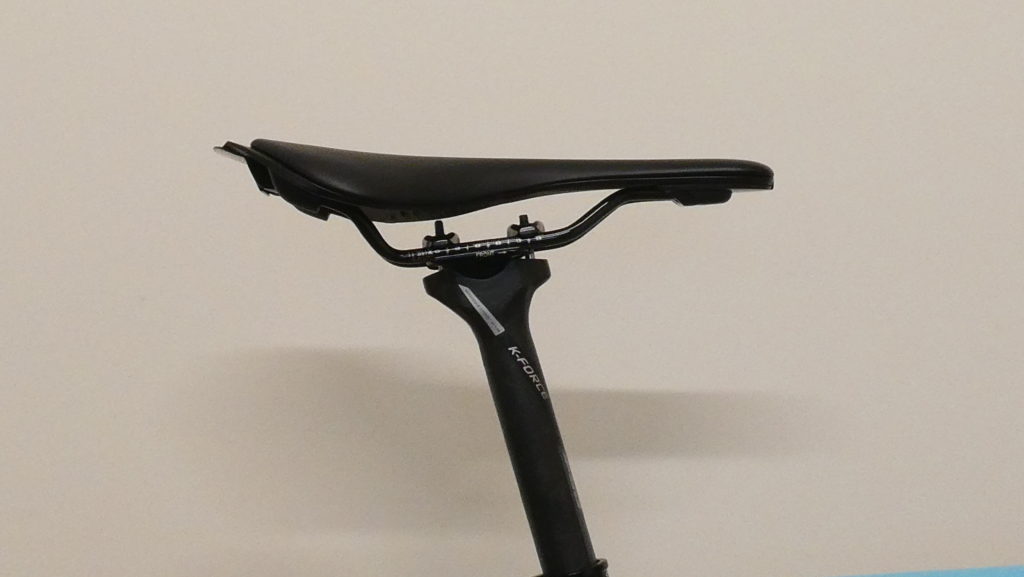 The bars, stem and seat post are courtesy of FSA. The seatpost is the carbon K Force inline 27.2 SBO. After a little trouble with slippage, it soon settled down and has been as secure as you could hope for. Despite the relatively narrow diameter and the carbon construction, do not expect much flex. There really is not that much sticking out of the frame. This feeds back to the 'almost road bike' design. At a shade over 6 foot 3 ins, riding the 'Large' I would have expected to have more post on show but the lack of a sloping top tube precludes that.
The handlebars are the FSA Energy Compact.  An alloy bar made from 7050 aluminium, it is part of the FSA gravel range. The bars are comfortable, with a flattened section on the tops for comfort. There is a rounded profile near the stem from which you can hang your lights or GPS. They are eminently practical and comfortable and the drops are easy to access. Sadly, I find narrow bars like these quite restricting and replacing them with 460mm bars would be my first upgrade.
The Orbea branded bar tape was nice and squashy and has proved to be quite grippy to date. I have not been out in the wet on this bike so cannot really comment on wet weather performance.
Rollin' rollin' rollin'…..
The wheels are DT P 1850 Spline DB 23 CL TL and come with Schwalbe G One 700c x 40mm tyres fitted.
The very first thing I did was to set the tyres up as tubeless. Valves are included so it was a matter of minutes to complete the conversion. The tyres fitted easily and inflated first time, with no need of additional assistance from an Airshot or similar. Since fitting, the tyres have not lost any air at all, which is a result.
For a comparatively inexpensive pair of wheels, the P 1850s feel quite light. They spin up quickly enough and they are pleasant to ride on. I have yet to pop any spokes or had the rims go out of true so that is a good thing.
I am in two minds about the G Ones which are certainly fast both on and off road, but they are compromised. There is not that much grip on the edges so fast cornering on loose surfaces is a test of faith. I have found that they let go quite easily but as soon as you correct the slide, the grip snaps back on. This can be disconcerting as you feel as if you are about to 'high side'.
As per my earlier review, off camber trails and sandy sections do not bring out the best in this tyre. Personally, I would change them immediately but it is a matter of personal choice. The G Ones are popular, but they just don't work for me.
Are we all sitting comfortably?
Saddles are one of those things that you automatically swap out. You sort of take it for granted that manufacturers know this and just choose any old perch for you.
Fizik have a good reputation though, so I decided to give the supplied saddle (the Antares R5 VS Evo Regular) a chance. I was also a little intrigued by the design, so I stuck with it.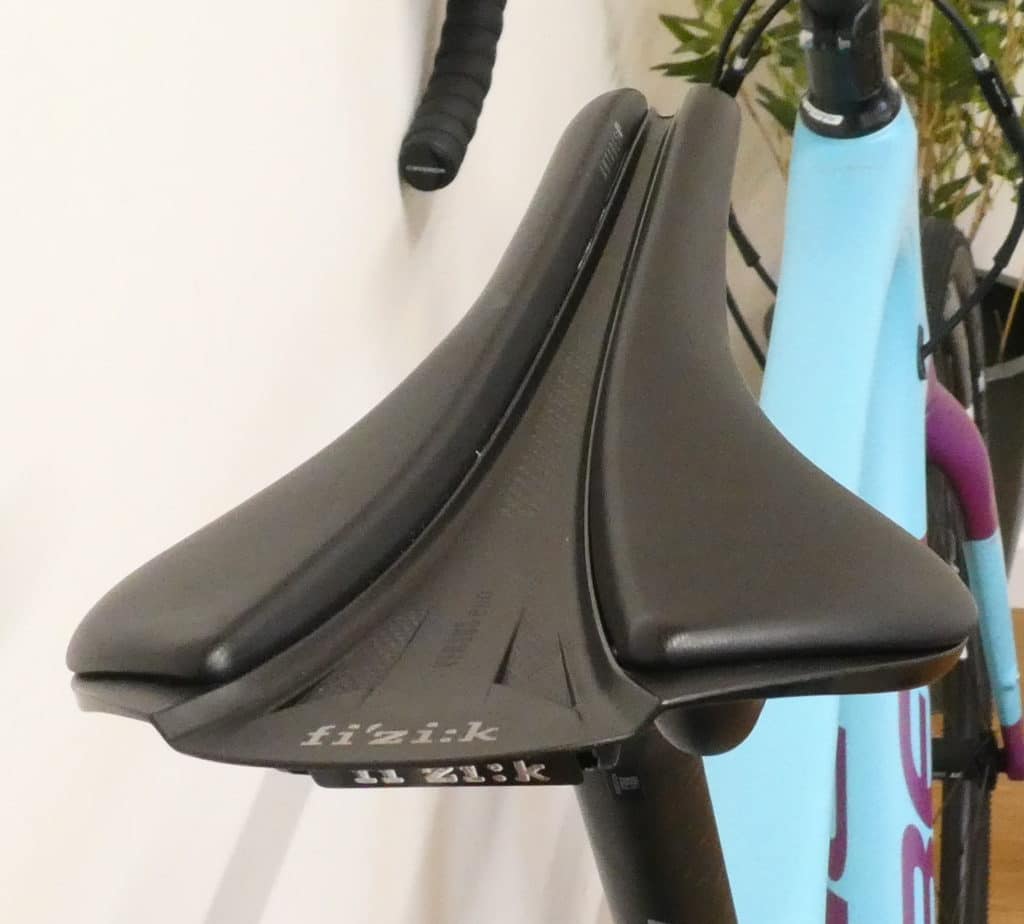 There is a lot of flex in the saddle. The 'comfort zone' seems to work as a weak spring. The fact that it compresses under load, seems to change the effective height of the seatpost.  I have not been able to measure the deflection accurately so have yet to get the setup perfect. Let's call it a work in progress!
The only question in my mind is how long it will last, particularly when subjected to prolonged off road riding.
Conclusion
As an overall package, the Terra M21-D 19 has to be right up there with the best. However…it is not quite perfect.
You have to be aware of the tyre limitations. It will not take anything bigger than 700x40mm and even this is a little tight. I would hesitate before taking this bike out in muddy conditions as there is so little room on offer. [Update: with a DT Swiss RR481 rim, I have fitted a pair of WTB Resolute 700x42c tyres with 5mm clearance on either side of the chainstays. My comments about avoiding the mud remain but the larger tyre gives you a little more grip in the turns, and confidence on rockier trails.]
I would like to see an option for 460mm bars as I cannot be the only one for whom 440 are just too narrow.
Would I buy one? Absolutely!
By now you may have guessed that I like the Terra a lot. It is wickedly fast, it handles well and is so much fun to ride. I am aware however, that this is not what everyone looks for in a gravel bike. My biggest issue is the tyre clearance so I would probably keep the Terra as a summer bike, or one to use when there is not much mud around.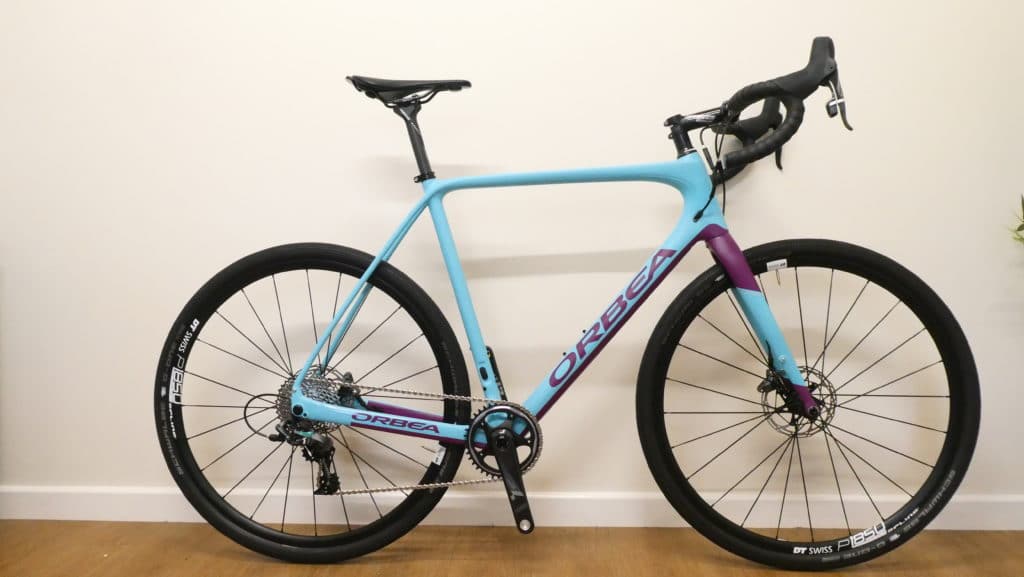 Last modified: 31st July 2019