The New Year is usually a time for reflection, celebration and goal-setting for the coming seasons, but hampered by you-know-what, this January feels a little different. Rather than get bogged down (forgive the pun) in all the news and politics, we'd like to share some reasons for positivity and optimism for the coming year.
The trails aren't going anywhere
It's an obvious one but nevertheless worth reminding ourselves about. We might've all had grand plans for bikepacking trips or bucket-list events, but if we hold out a little longer they'll still be there waiting for us.
Luckily there's a brilliant selection of bikepacking routes all over the world, and even more in development such as Andy Cox's European Divide Trail. Why not make a plan for a trip, with everything bar fixed dates, so when we can, you can pull the pin and go?
Here's a selection of bikepacking routes from the UK to whet your appetite.
It's an Olympic year
*Hopefully* this means that we'll have some great TV (who else has completed Netflix?), including MTB XC, road (race and TT), track and BMX. There are two new events for the 2021 games in cycling, the track Madison and BMX freestyle. Plus all the heaps of other sports of course! Which will you be inspired by?
Shared rides through virtual events
It might not be the real deal, but we actually had loads of fun last year hosting The (Socially) Distanced, as well as getting involved in the Restrap Solstice Century, Dirty Reiver Regional and Rapha Festive 500. We can certainly see more events like these on the horizon in early '21 at least, kicking off with our second edition of The (Socially) Distanced on the 27/28th February. Save the date, we've got some fun games in store…
There's more than one way to explore local
We've had a lot of fun in 2020 exploring locally, creating some new routes like the Bristol 360 gravel route or on responsible local overnighters. It's always surprising how much more there can be to find on your doorstep, no matter where you live.
Even if you think you've ticked off all your local bridleways, byways and tracks, you could always swap out your bike for hiking boots, running shoes or even pack a pair of binoculars or camera for some wildlife spotting? We really love Rachel Walker's latest initiative to explore around her home base in Surrey: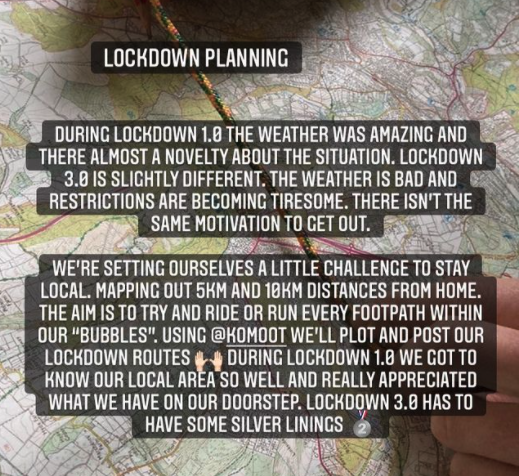 More opportunities for local projects
Did you get involved in any local initiatives during last year? Join a Trash Free Trails litter sweep, help dig some new MTB trails, teach essential bike skills, help deliver food or medicines by bike or simply get to know your neighbours a bit better? Staying local means that you might get more opportunities to take part in environmental, trail, community or social projects and give back a little.
Further your bike fixing skills and embrace second hand
There's no denying that the bike industry has some major supply chain issues right now. Day by day there are more bananas stories about shortages, shipping issues and port blockages, so hopefully we'll see more of us embracing second hand parts, bikes and kit. Not only can you grab yourself a bargain, but you're also doing the environment a favour too.
With a little extra time on your hands, why not invest in learning some new bike mechanic skills too. Replacing worn parts, bleeding brakes or even building up a bike from scratch can be really rewarding, and these skills come in really handy when you're stuck at the side of a trail with a mechanical too.
What's helping you to stay optimistic?
Whether you choose optimism or a good old rant, let us know how you're feeling about the start of the new year here in the comments.
Last modified: 6th January 2021