Product Review
Optilabs – Swift
Varifocals with extra thin lens option
£254.95 delivered
For some years now, owing partly to apathy and partly to being a little bit stingy, I have been using an old pair of glasses when I ride my bike. Net result, a patina of minute scratches across the lenses which means I have to peer through a fog even on the brightest of days. Other issues associated with wearing 'civilian' glasses on the bike is the tendency for mud and muck to get into my eyes, particularly off road. Riding partners will also testify to my inability to see holes in the road or to be able to look behind and check for traffic as the frames or edge of the lens interferes with my vision. When I failed to see a car stopping in front of me recently, because the frame effectively obscured my vision I hasten to add, I knew it was time to do something.
Prescription cycling glasses aren't really that difficult to get hold of but once you graduate from single vision to bifocals and then to varifocals, the options start to contract quite significantly. Factor in the fact that my prescription is quite high and the practical options diminish yet further.
My local opticians denied that varifocals were a viable thing for cycling glasses, and recommended bifocals. This was not a workable option for me, so it was back online to look for something that would cover all the bases, and with any luck, look half way decent. At my age, you need all the help you can get!
Naming no names but I did the rounds of the higher profile (online) optical labs, I looked at Oakley, Bolle etc and to be honest, I found the prices a little daunting, after all I am not going to be wandering round the high street posing in these things, I just wanted a pair of glasses that were practical, functional and preferably with a range of shields to give me options for varying riding conditions. I didn't want to spend a small fortune, so the search continued.
After trawling the net I came up with Optilabs as an option. I have used them before, a long time ago and for some reason, I had them down as single vision outfit only. A quick glance at their website and not only did I discover I was wrong, but they did varifocals too and they had detachable shields on some of their glasses. Game on!
Optilabs hail from Croydon and offer a wide range of glasses for a spectrum of sports and pastimes. I am sure there is some crossover but to be honest, I just haven't bothered to look any further than the cycling section. What I liked about them originally, and still do, is that they are at the end of the phone, ready to help, during normal office hours and the staff are genuinely helpful. Another thing I liked (and I am not aware if they still do this) but with my last set of riding glasses, they were prepared to use the old frame when my prescription altered – which obviously saved me money! Other optical labs made generally discouraging noises when I enquired about this facility.
From the range of frames on offer, I selected the Swift. It comes with four interchangeable shield options and a prescription insert. In effect, these are a mini pair of glasses (without arms) that clip into the bridge. They are easy to remove and reattach for cleaning which is an absolute must.
The four shield options were:
Clear

Yellow

Polaroid and

Mirrored.
The shields clip in and out of the frame and feel very secure so there is no danger of them dropping out at an inconvenient moment. At first I was very cautious when changing the shields but it didn't take long to work out that the frame is slightly flexible and you just ease the glass in while gently "stretching" the frame.
So far so good but, if you are a varifocal user, you will know that different lens configurations can be hard to work with. It is all about the depth of the different bands.
I have to admit that at first I didn't get on with them. I have always jammed my glasses into the bridge of my nose and with these glasses this resulted in rubbish vision – only the middle band was useable. A little experimentation and I settled with the glasses being a little further down and it all worked! Concerns about them falling off were allayed when I bent over to pick something up from the floor and they stayed exactly where they were. On the bike, additional security is provided by your helmet straps which restricts potential slippage even further. Another anomaly (and this may just be me) was that while walking around, the distance vision was not quite in focus, I couldn't put my finger on it but it was not quite right. Once on the bike though and all was fine; I can't explain why this should be so but it was.
While riding, all has been fine so far. My vision is no longer impaired by the frame and I can see holes in the road in plenty of time to call them. I can even see behind me now, albeit in a limited way – the combination of a rugby injury and a car crash many years ago have left my neck somewhat reluctant to rotate to the right! Despite riding in rain and mud, no water or grit has got anywhere near my eyes so that is good. The shields are of good quality without any obvious distortion so the overall visual impact is negligible.
The frames are lightweight as is the prescription insert so they aren't noticeable when you ride. They have yet to steam up while riding but they do suffer when you stop at the lights or for punctures/trail repairs, particularly if it is raining.
The website says your glasses will be delivered within 10 working days. On every occasion I have used them, they have hit the mark every time. Ironically, this is quicker than the high street optician I use for my regular glasses. It goes without saying that you must have an up to date prescription which includes the PD distance*. Specsavers were happy to give me the figure but other opticians including Boots, seem to guard this number jealously. I was told it is 'confidential' and could not be divulged! Make of that what you will.
Presentation was good. The glasses are presented in a semi rigid and shaped case. The glasses and shield fit into their respective slots snugly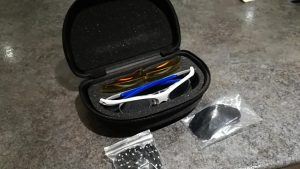 so there is no need to worry that they will fall out. One issue though…the glasses come with four sets of shields while the case only has slots for two sets of spares. The spare set came in a little plastic bag which isn't that clever.
Other bits and bobs include the usual cleaning cloth along with a lanyard though I can't see this getting much or indeed any use. I am as blind as a bat without glasses. I can see however that it may be of use to people who are less dependant on glasses.
I am very impressed with the glasses. They are comfortable and meet all the criteria I had on my "must have" list. Well worth a look if you are in the market for some good value, cycling specific peepers. Recommended
* Pupillary distance is an important measurement used to determine the proper lens shape and alignment of your prescription correction to your line of vision. Without an accurate PD measurement, correcting vision can be difficult since lenses need to be aligned over the center of your pupil for proper clarity.
Last modified: 5th October 2017