In an ongoing attempt to sway the bias a little away from drop bars, here's something for the MTB crowd. Some adventures present terrain which is too technical for a gravel bike and for that, we'll still choose to wheel out our mountain bikes. So here's something every bike needs: Grips.
I've spent most of my cycling life aboard hardtails and later, full suspension bikes, racing, touring and generally just messing about in the woods. One thing that hardly ever changed was the contact points. Grips for many years were of the lock-on variety but these were often not the comfiest of things if you were racing for hours on end. I was pointed in the direction of slide-on silicone grips and these were quite a revelation for my hands but they were delicate things, ripping easily and slipping on the bars in very wet conditions. So when ODI Grips turned up to the party with their new F-1 Series Grips, I thought it was worth checking out…
ODI Grips have approached the humble slide-on grip from a new direction with their fancy A.I.R.E. elastomer compound. Some of you might remember elastomers making an appearance years ago inside suspension forks and now here they are again, damping out the vibrations that would otherwise numb your hands and give you hard time. They were pretty useless in suspension, but as a material to make grips from, it makes perfect sense.
The F1 comes in two different grip patterns – The F-1 Float which is a smooth grip and the one which most resembles the standard silicone grip, and F-1 Vapor which is a textured grip with more contours for your fingers.
MOUNTING :
Mounting the grips is pretty much like any other. First, remove the old grips and clean the bar with alcohol or some other good cleaner. Next, wet the inside of the grip and the bar with rubbing alcohol and slide on the grip. Lastly, give them 24 hours to dry out before you go riding.
Fitting slide-on grips is never easy and does call for a lot of elbow grease. The ODI F-1's are no different to the competition here and take a good amount of heave-ho to get them pulled into position.
THE RIDE:
Compared to the silicone grips I've become accustomed to, the ODI F-1 grips feel a lot more 'squidgy' and are seriously comfortable for your hands. The Vapour contoured grip has finger shaped indents in the material (make sure you fit them the right way!) so your hands naturally settle into a relaxed potion on the bars. After a short while you don't even notice them and they absorb a fair amount of vibration.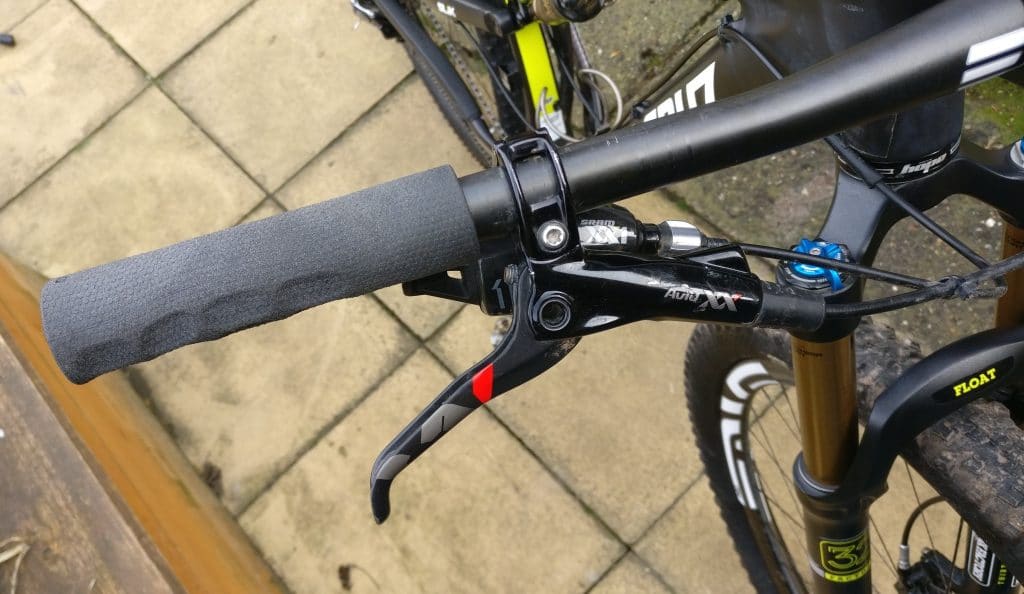 Often I have to switch positions on flat bars or my hands will quickly go numb from bar clench. This is something I just haven't experienced with the ODI F-1 grips even on long rides. That's something my previous grips were touted to do but never delivered.
The other issue I've had with silicone grips is that they have a habit of shifting on the bars when wet. Testing out the ODI's in a very soggy Wales, through waterlogged lanes, muddy trails and flooded sections of moorland, I had not one issue with slippage. They have also demonstrated a greater resistance to trail damage and have yet to show any rips or tears even after a slight detour through some prickly bushes.
VERDICT
Great value, durable, comfortable grips that withstand the toils of mountain biking better than silicone grips. They're lightweight too.
Last modified: 11th April 2018