As part of our winter boot group test, gravel and mountain biker James Stockhausen put Northwave's cold weather boots, the Magma XC Core, to the test.
Northwave claim that the Magma XC Core shoe has the look of a rugged summer mountain bike shoe, with the added warmth of a winter boot. While I wouldn't agree entirely on the first half of this statement, with the profile definitely boot-like to my eye, the second half certainly rings true.
Italian brand Northwave has been designing and manufacturing cycling and snowboarding equipment since 1991. Their catalogue features many cold weather options, and just as the seasons were turning here in the UK I bagged myself a pair of Magma XC Core winter boots to test.
On test
The Magma CX Core is crammed full of features aimed at keeping you riding for longer through the coldest months. There are other similar models on offer from the brand too that offer more water resistance, including the Celcius XC GTX (£189.99) Extreme XC GTX (£269.99).
In the name of honest journalism, I booted up every time the weather looked foul or felt chilly, in search of the boggiest bridleways around my hometown of Bristol. We have also been lucky enough to experience a cold snap from late December into January, giving me ample time to pack in the freezing commutes.
Fit
The fit of the Magma XC Core shoe was true to size, with no surprises. I have fairly averagely shaped feet, so don't tend to struggle there. Thanks to the adjustment the closure system granted, I could wear a summer sock, or go far a thicker option for extra cold days.
One thing that I did find was that I couldn't place the cleats as far back as I usually like. Now, I am slightly abnormal here and my preference for often fully slammed cleats is probably due to my penchant for downhill mountain biking. But this did give the shoes the feel of a more road-oriented design and when it came to rougher off-road sections, I would struggle to drop my heels, even coming unclipped on particularly jarring terrain. The XC tag is a fair description of this shoe's intentions, with pedalling efficiency prioritised over absolute grip.
The overlapping upper layer is simple and smooth, with few places for dirt to collect. It is also very effective at repelling the slop, and I took care to ride through every mud filled puddle I clapped eyes on! The complex looking, but easy to operate SLW2 closure system is a big part of the shoe's impenetrability, as well as making them a cinch to remove with cold, wet hands which is a major bonus. Wind the dial in to tighten the lacing and pull the lever to release fully, with step-by-step release on the fly via a single press of the lever. I could find zero weakness in the design from the cuff down, nor could I detect any early signs of wear.
Features
On the bike, the 'Jaws Carbon Reinforced Sole' feels efficient without being harsh.  This was great for powering along the road and smoother bridleways. I did think there were certain downsides to this level of stiffness when it came to off the bike activities, however. The inevitable hike a bike scenarios were slightly more treacherous than on a more relaxed pair of shoes, as the sole refused to conform to the terrain, resulting in a few impromptu tap dance-esque routines. Northwave claims the natural rubber tread heel provides 'extreme grip on every surface', but I wasn't massively convinced. 
The neoprene cuff, AKA 'Easyfit Climaflex collar' allows full range of motion at the ankles and keeps the draughts out, adding to the overall warmth of the shoe. Whilst it did prevent the tops of my socks from getting soaked initially, on the wettest rides it would eventually soak up rain and surface water, slowly seeping down into the boot all the way to my toes, undoing all of the insulation's hard work. What I was left with was cold feet and a very loud squelch upon un-clipping.
Aside from the toasty-sounding 'Arctic 4Llayer insole', Northwave has squeezed a mighty 200g of Primaloft gold insulation into this shoe. Derived from recycled material (kudos), the brand claims this guarantees exceptional thermal insulation and breathability, and I had to agree! My feet and toes remained snug and warm for the entirety of my dry test rides. Dry is the key word here because as previously mentioned, once water enters this shoe, which it will, given half a chance, the effectiveness of all that insulation is compromised.
Aesthetics
Looks-wise this shoe screams technicality over fashion. The quest for elemental protection in the upper has led to a fairly minimal, if a little bulky look. I imagine one would have a hard time making a technical winter shoe look sexy, but I was grateful for the minimal branding and absence of ultra aggressive lines. Black all over is always a good safe option. A slither of reflective banding sits just below the cuff, for a little bonus visibility.
The Northwave Magma XC Core verdict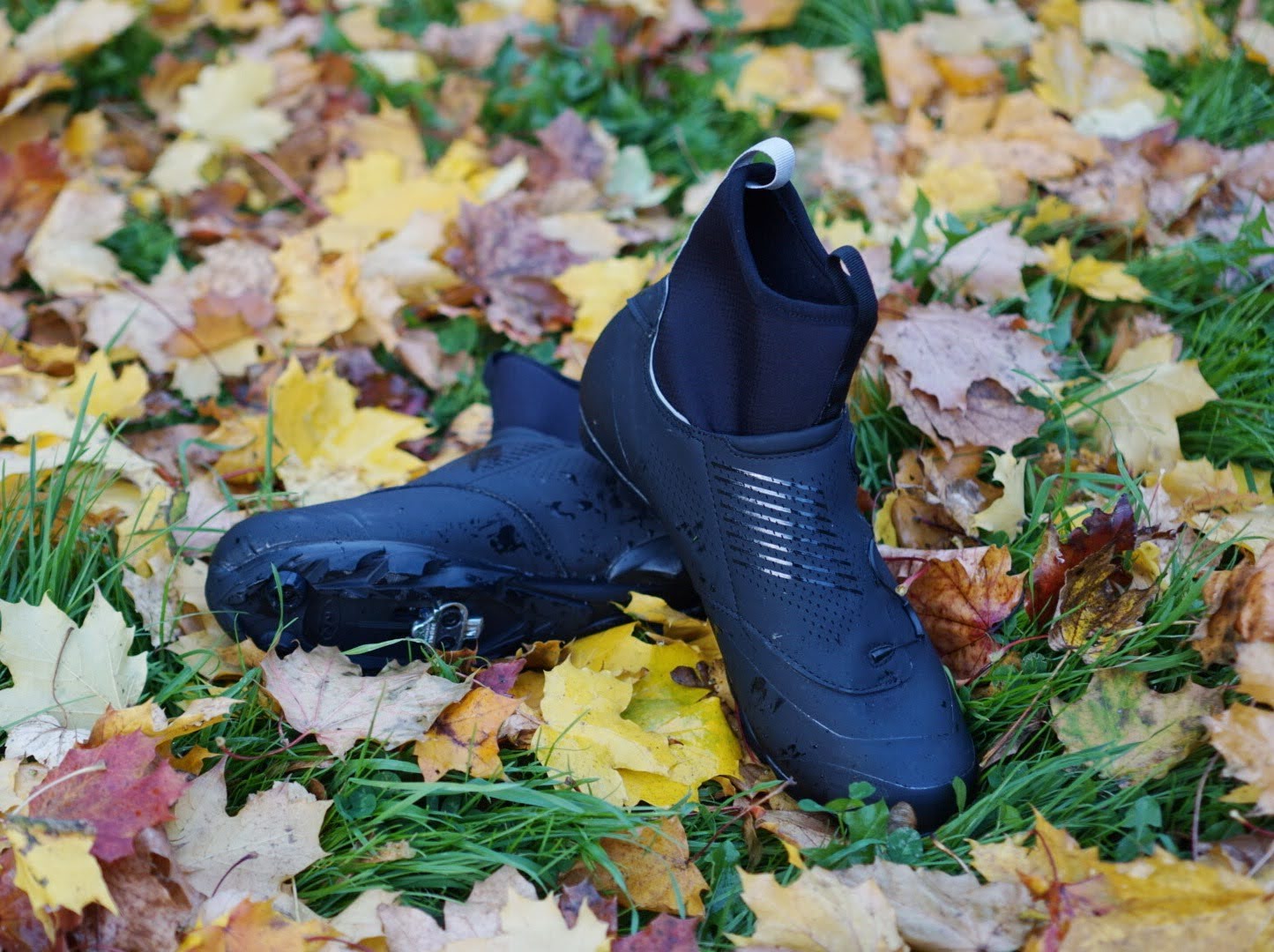 Northwave's Magma XC Core shoes claim to do several things fairly well and one thing extremely well, which I have found to be the case. If you need a winter shoe for under-biked off-road adventures, with pushing and walking featuring regularly, then this shoe may not be for you. The same applies to very wet conditions, where you'd probably be better off opting for Northwave's Celcius XC GTX (£189.99) Extreme XC GTX (£269.99), which Northwave rate more highly for water resistance with handy charts on their site.
However, if you need a robust shoe that is reliably warm for a long day of pedalling in fair and colder dry conditions, then these are worth your consideration. With an RRP of £170, these insulated puppies aren't exactly cheap (like most winter boots), but if you value warm feet in a rugged design above all else, then these should be worth a look.
Northwave Magma XC Core Shoe
£169.99 €189.99 (approx $230)
A rugged and insulated shoe with a neoprene cuff made for efficient pedalling in cold winter conditions, but there are better options for wet weather riding
8.0/10
Pros
Excellent insulation
Dependable and easy to operate closure system
Quality materials and construction
Cons
Pricey option
Neoprene cuff reduces water resistance
Stiff sole reduces grip off the bike in tough conditions
Last modified: 8th January 2021