#RELEARNPAVEMENT
When it comes to adventure cycling you can't accuse Salsa of being half-hearted. The Fargo, Cutthroat, Warbird, Journeyman & Vaya have everything from  3″ Plus tyres to 37c covered. Perhaps the only thing missing was a successor to the Colossal endurance road bike. Well, that successor has arrived in the form of the Warroad! Don't go thinking it's only for pristine tarmac, to quote Salsa:
"Warroad is designed and built for long road rides that don't always stick to smooth pavement…"
Warroad Vs Warbird
Taking its name from a small town in Salsa's home state of Minnesota Warroad isn't just a Warbird with a skinnier set of treads. It was developed with a steeper head angle, lower bottom bracket and shorter chainstays for sharper, faster handling. With a tarmac bias in mind, the Warroad frame has been made stiffer than the Warbird for even more efficient power transfer. That's not to say the Warroad compromises comfort for speed, it still features the Class 5 VRS (Vibration Reduction System) frame technology.
The Warroad has clearances for 700 x 35c or 650b x 2.1″ tyres so you can have the best of both worlds when choosing the ideal wheel and tyre combo for your ride. The frameset features all the mounts you might need for racks, mudguards or dynamo lighting. There are four complete builds, alongside a frameset option. With three out of the four builds shipping with 650b wheels, it's clear Salsa sense a demand for Roadplus bikes. You won't have long to wait either, as Warroads will be available in the UK in April!
Build Options
Warroad Carbon Force 1 650 £4800
Warroad Carbon Ultegra 700 £4800
Warroad Carbon 105 650 £3750
Warroad Carbon Frameset £2100
Frame Features
Class 5TM Vibration Reduction System (VRS)
Three bottle mounts on 56-61cm frames
Two bottle mounts on 49-55cm frames
Additional bottle or accessory mount on underside of the down tube
Mounts for bolt-on EXP Series Toptube pack
Clearance for 700c x 35mm or 650b x 2.1" tires
Fits Salsa Wanderlust rear rack using Salsa Rack-Lock
Full mudguard mounts
Accommodates 1x and 2x drivetrains (Di2 compatible)
Fork Features
Three-Pack mounts for anything cages
Low-rider rack compatibility
Full mudguard coverage
Internal dynamo light routing
Technical Frame Specifications
Frameset weight: 1865 gms/4 lb. 2 oz. (includes fork, headset, seatpost collar and axles)
12 x 100mm front spacing
12 x 142mm rear spacing
1x, 2x, and Di2 compatible
Dropper post compatible with 1x or Di2
Flat-mount brakes
Sleeved internal cable routing
Available in 7 sizes: 49cm, 52.5cm, 54.5cm, 56cm, 57.5cm, 59cm, 61cm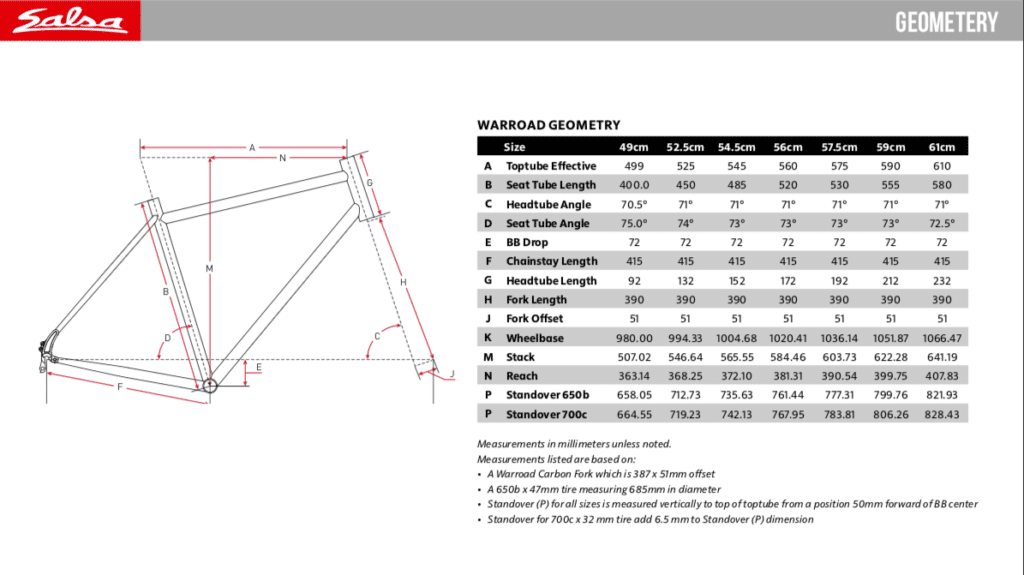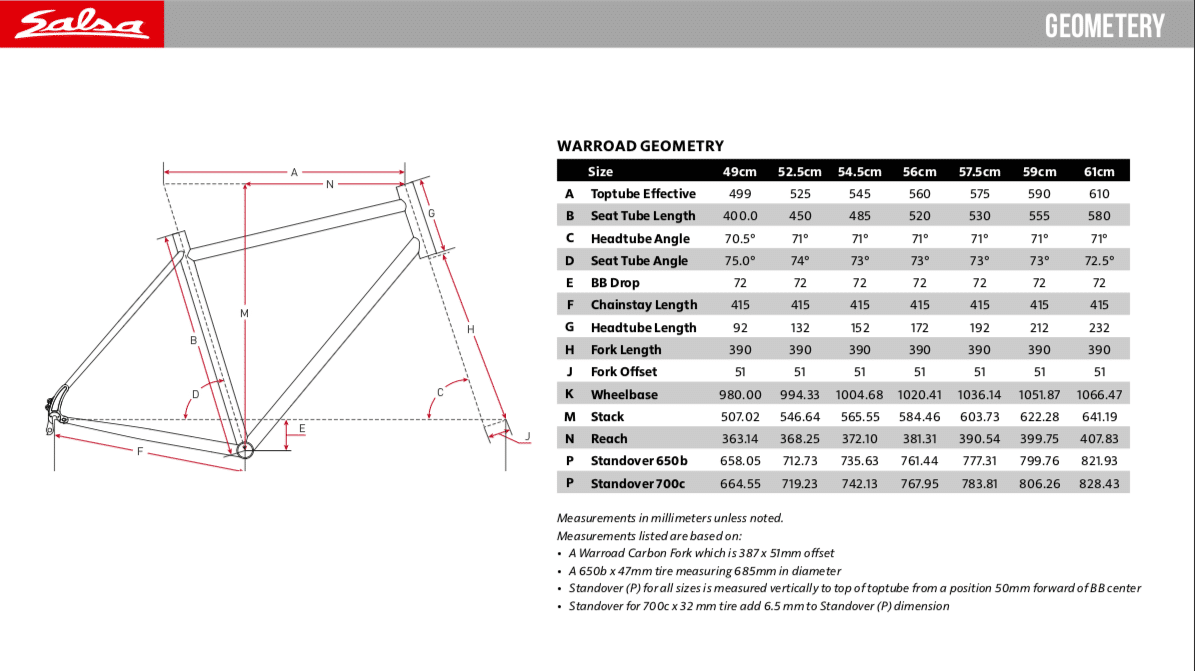 ADVNTR says:
New Salsa releases usually get us excited and the Warroad is no exception. Salsa have distilled the comfort and stability of the Warbird into a sharper tool that still shouldn't leave you pummeled on a long ride. The Warroad could be the perfect UK backroad or Audax bike. It should lose little to the pure roadie on the black top while still taking 2.1″ tyres if you're spending time on the trails.
For more information visit Salsa Cycles and for UK dealer information, head on over to the Salsa UK distributor, Lyon Equipment.
Last modified: 26th March 2019