Brighton based startup Fearless Bikes introduces their first bike, the Vulture- a Reynolds steel do-it-all frameset.
Founder of Fearless Bikes, Tim Cokayne, recently got in touch with ADVNTR with news about his exciting new adventure bike. Tim has been designing frames in his spare time for a number of years, making bikes that meet his needs when the mainstream doesn't satisfy.
Coming from a mountain biking background, he approaches road and touring bike design differently to many other designers. For the Vulture, he wanted something that is XC fun but also capable of long days in the saddle. This is no doubt influenced by his experiences as a keen adventure rider, having completed tours in the USA and Japan.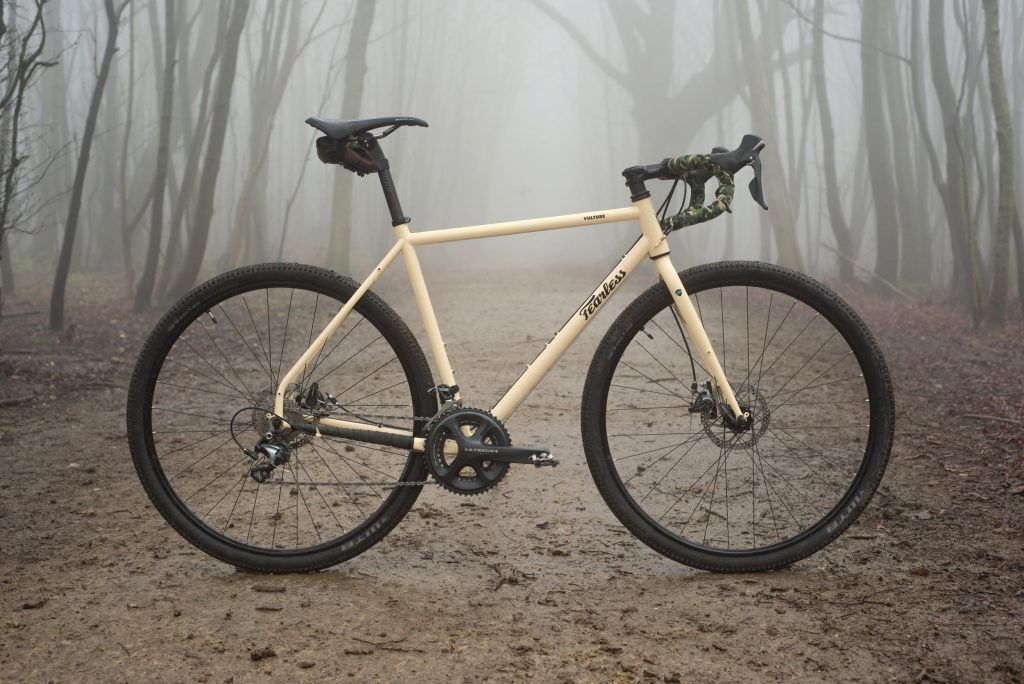 Designed for fun, built for distance
The Vulture was born out of a desire to create a drop bar bike that could take big tyres, road cranks, plus racks for touring, while remaining stiff and light.
Not satisfied with simply sending his technical drawings to Asia and hoping a half decent frame would arrive in a box several weeks later, Tim tracked down Brant Richards. These days, Brant mainly obsesses over trousers but is still widely respected as the design guru behind several successful bike brands. His knowledge and experience dealing with Taiwanese bike manufacturers proved invaluable.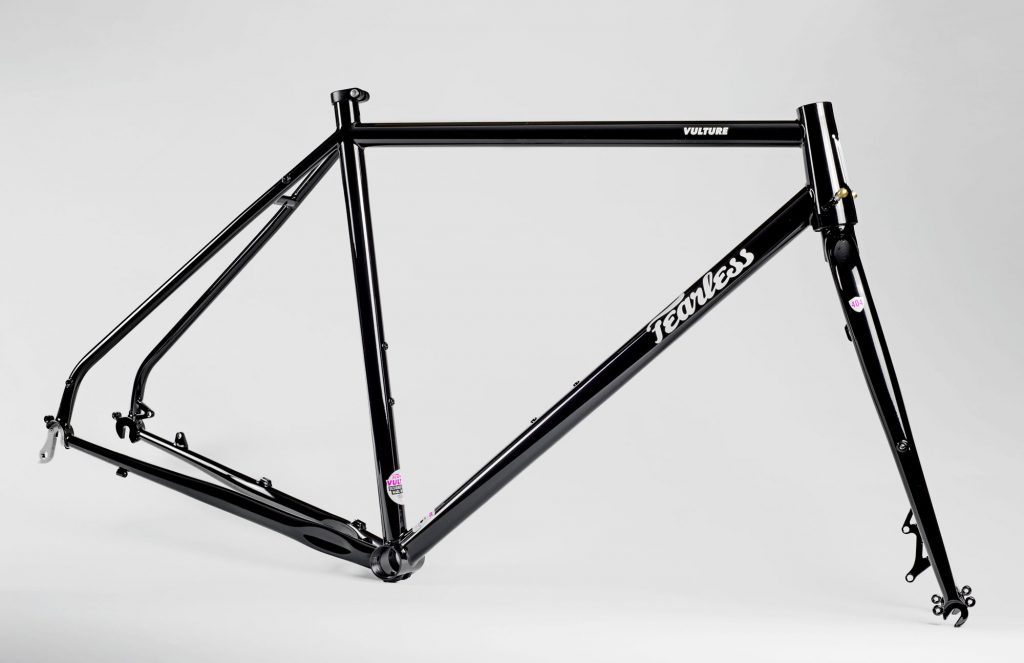 Armed with Brant's advice, Tim headed off to the Taipei Bike Show where he spoke with the manufacturers and examined examples of their work. His standards are very high so it took a while to find a suitable manufacturing partner.
The Vulture has landed
The whole developmental process, from submitting initial drawings to the factory, through to the frames being delivered to the UK has taken 18 months. Finally, the Fearless Vulture has landed and it looks to be well worth the wait.
A Vulture should be swooping in on ADVNTR for review very soon, but for now you can catch up on all the details in the press release from Fearless Bikes below.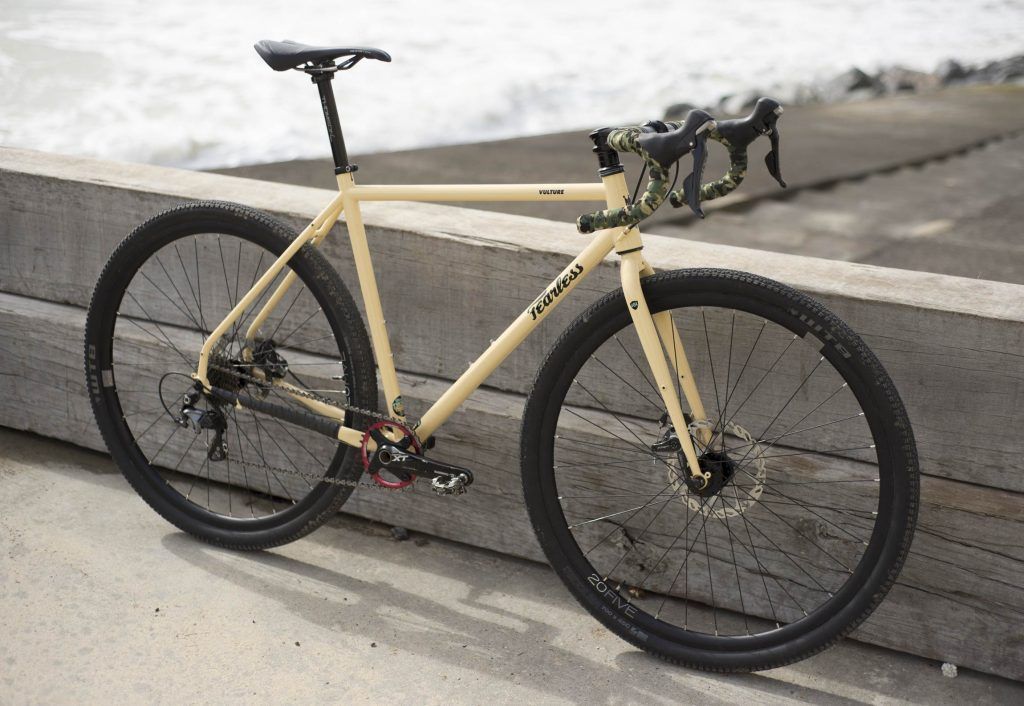 About the Vulture
Designed to be a 'road bike for the dirt', the Vulture hits the sweet spot between edgy cyclo-cross racer and long distance all-road machine. The wheelbase is shorter than a typical adventure bike to speed up the handling. It has a taller stack than a traditional CX bike for longer ride comfort.
The main tubes are heat-treated Reynolds 725 with a custom drawn down tube which is ovalised at the bottom bracket. Large diameter 16mm chromoly seat stays and a custom down tube give great lateral stiffness. The semi-compact geometry opens up the frame's triangles for true steel ride compliance.
Fearless wanted 2x road setups to work seamlessly so the Vulture is equipped with a 68mm bottom bracket and external cable routing with STI barrel adjusters. The chainstays are heavily manipulated to give clearance for road cranksets and 700x45c / 29×1.75" tyres.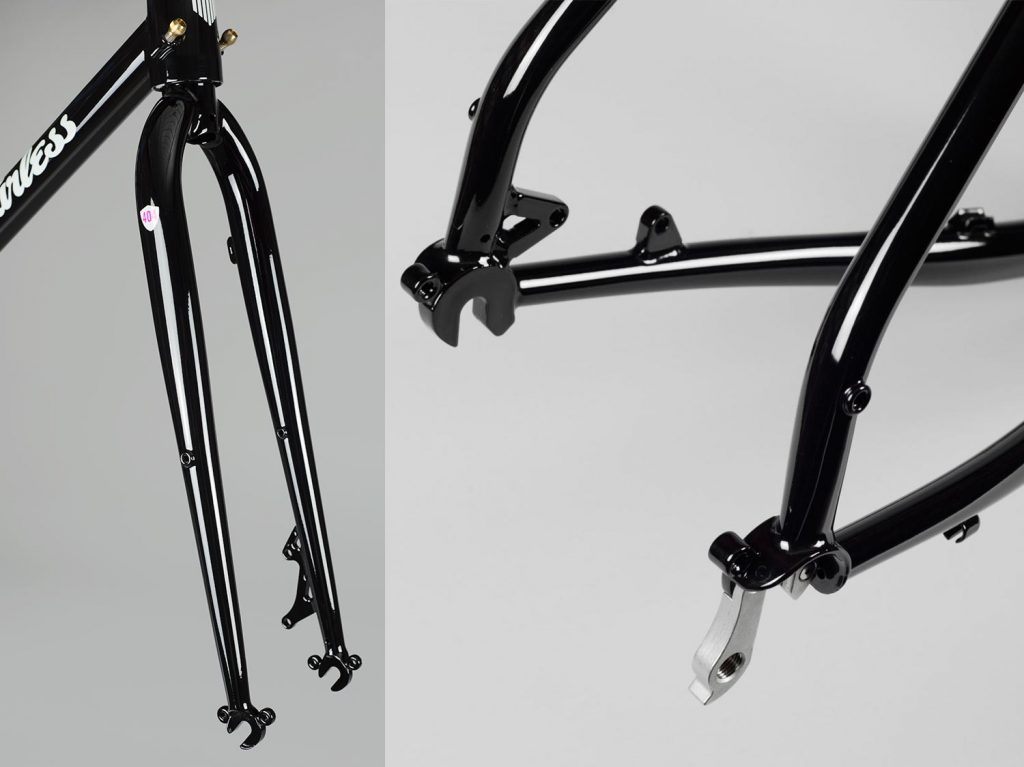 Tim wanted his frameset to take a steel fork, but also accept tapered, carbon, gravel and CX forks.
The axle to crown length has been slightly extended so it can be swapped with a tapered fork without altering the geometry. The fork is also offset by 47mm to keep the Vulture nimble when running big tyres.
Basically the Vulture is a great all-rounder. A road bike without limits- good for light touring and commuting. Meanwhile the big tyre capacity means it can be hammered off-road at the weekends. Both the frame and fork are equipped with rack and mudguard mounts.
The Vulture is available in Quicksand or Black and costs £499 including UK postage. Available exclusively from the Fearless bikes website now.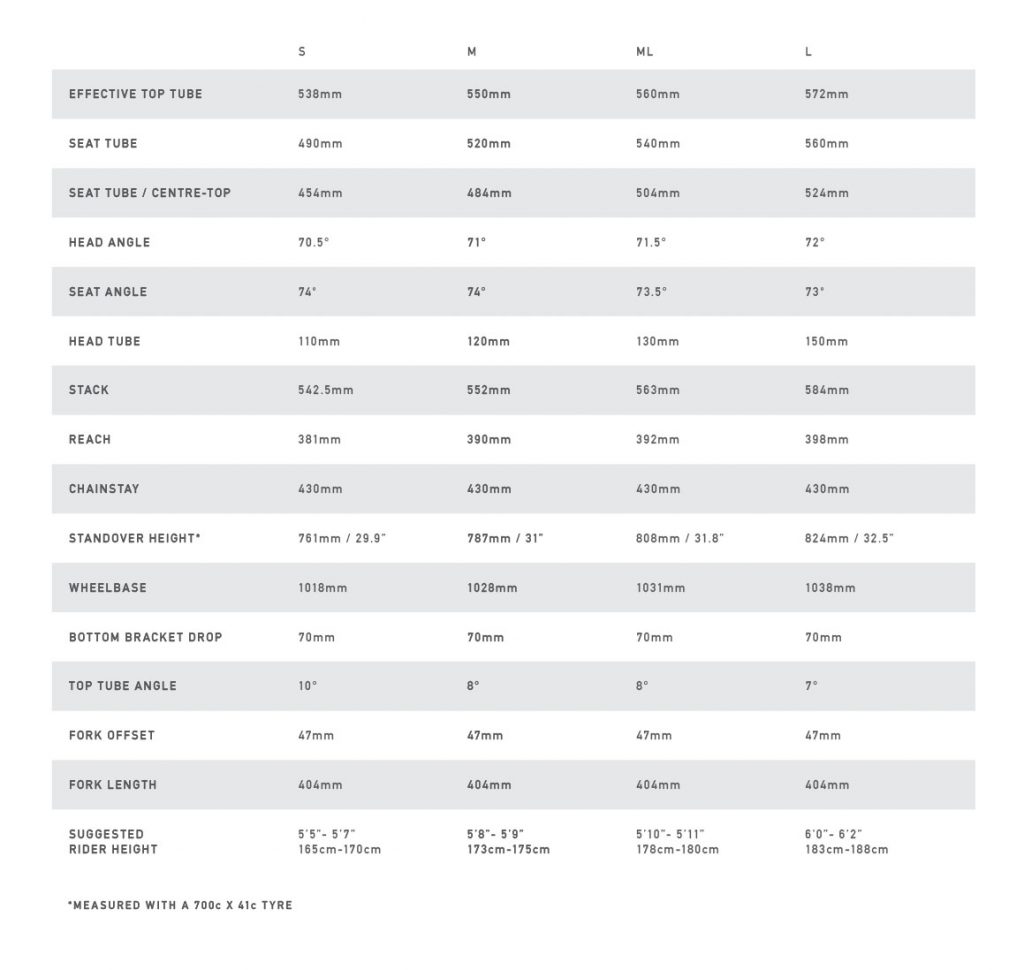 Last modified: 29th March 2018