The line of race specific products from Apidura expands as it introduces the new Racing Hydration Vest.
Hydration solutions on the bike are numerous and depending on how your bike is setup bottles arent always an option, so looking to offer a comfortable and easily refillable option Apidura have stepped into provide yet another option for storing the liquid giver of life. Following on from the release of their dedicated framebag bladder the new Apidura racing hydration vest puts that vital water up top and on the riders back in what appears to be a comfortable and ergonomically sound vest setup with some rather smart features to ensure you the rider aren't going to notice it as much as you might think.
For some there are no better systems than water bottles, or bidons, or kanteens, or canteens, or flasks… or whatever. But for some these can often be prone to a few simple issues, mud, farm animal detritus, general dust, or simply nowhere to be stowed, such can be the case when using full frame bags or even half frame bags where only on cage can be fitted.
So this is where riders opt to run internal bladders in bags or the trusty hydration pack, and Apidura have spent quite some developing a product focused on being as unobtrusive as possible to the riding experience. A customisable anatomical fit allows the Racing Hydration Pack to fit a wide range of body types for all-day comfort, the lighweight construction is a good starting point for this and the way in which it sits on the riders is optimised for riding on the drops and hoods is really well considered. A low cut neck line is used to avoid chafing or getting in the way of your helmet in an aero tuck, plus will reduce the chance of a jersey or jacket ruffling up that would cause chafing and rubbing on seams, this low cut neck line is paired up with a high cut at the bottom of vest to allow jersey pockets to be easily accessible still.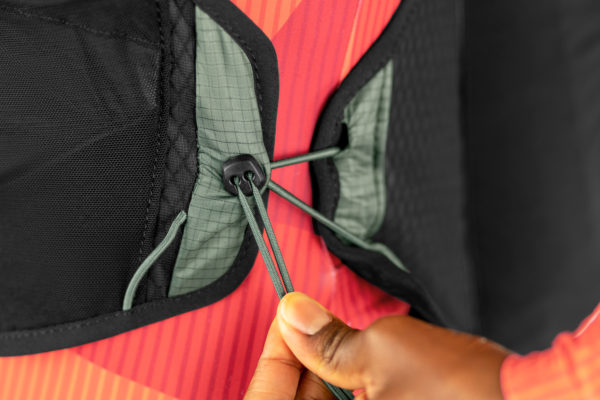 Offering up yet more storage when combined with the versatile storage on the front and back of the vest itself, up front there are two mesh pockets designed to stretch and fit in most items you are going to want to keep close at hand, such as extra bottles, cans, and of course snacks, the tops of the stretchy stash pockets are secured by a bungee closure system which can be used one handed, ideal for rushing through a rolling picnic just before things get hairy on the trail. 
On the left chest panel is then a zip pocket to hide away a smartphone, debit card, keys or anything else that you would rather not have bouncing out a trail in the middle of nowhere.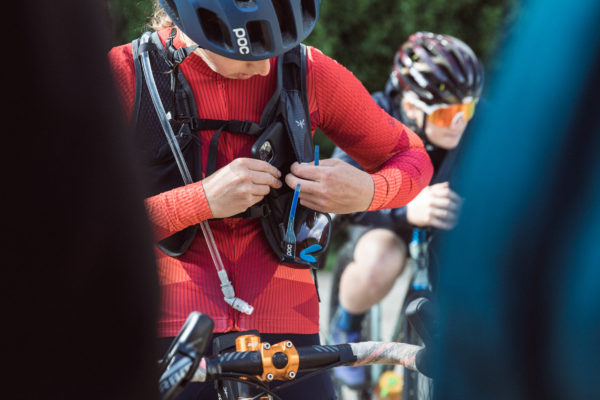 Out back of course there is the 2l bladder, marked with fill markings that are easily visible so you know how much is left, and the roll top closure makes for super quick and easy refills without having to remove the whole bladder from the pack to top up, a quick click hose connectors finishes things off.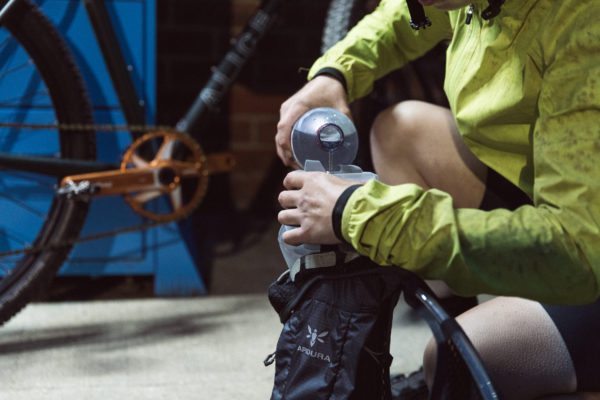 The rest of the bag on the rear side offers up two more pockets that are designed for slightly bigger items like a jacket, pump, toolkit and tubes, the larger of the two pockets has an internal loop to help reduce the clanging and rattling of loose gubbins that you may end up stuffing in the generous pockets.
Available in two sizes with the ability to be adjustable in its fit when on the body the Large/ Extra Large is for riders with a chest measurement of 80-125cm while the Small/Medium is intended for a chest of 60-85cm.
Regardless of size the hose placement and routing is the same on each vest with a magnetic hose clip to keep things in place and easily accessible. 
Having personally been a recent convert to using hydration packs and often getting frustrated with grotty bottle caps and reduced cage options while running bags on both trips and races this new offering is certainly appealing and while the price point is north of where most other offerings on the market sit, the build quality of Apidura does offer some solace.
With a few races to look forward to next year and the winter months ahead we are sure to provide some hands on testing of the new Apidura racing hydration pack to offer a full and genuine opinion.
The Vest will retail in the UK at £138 and will be available from (today) November 19th 2021
Jump over to the Apidura site here for more info and to see the rest of their Racing Range
Last modified: 19th November 2021