A few months ago, some fellas from north of the border got in touch with ADVNTR about their new event, Muck n' Mac Fest. The concept revolves around a two day, enduro style bike ride to a loch-side festival campground. The evening party will feature live music, outdoor challenges and family friendly activities.
All you have to do is decide on the route you'd prefer to take to the festival; gravel or road… We think the choice is obvious.
One thing the organisers made very clear from the get go to us is that Muck n' Mac is a family festival. So getting a permission slip to go ride your bike, should prove a lot easier at this event compared the many others on the calendar.
Muck n' Mac Fest runs from the 3rd to 5th July and the festival is held at the picturesque St. Mary's Loch, near Selkirk. Curious to learn more about the event, we got in touch with Cam, one of the organisers behind the festival and asked him a few questions.
What spurred you to create the Muck n Mac Festival?
We've had the idea for a wee while now and started looking into various logistics about mid-last year. Before we knew it, the wheels were in motion and the event was up and running!
The last event which we organised was a hill climb stage race called Stow Triple. We had lots of messages saying how 'I would love to come but we're on parent duties' or, 'My partner's not happy that I'm doing another bike event away'. It got us thinking, why not come up with an event which the whole family can enjoy and be a part of?
From there, the idea of Muck n' Mac was born. A cycling event that's much more than just the cycling…
For us, often the best part of an epic day in the saddle is afterwards when you're with friends and family, looking back on the day you've had. That's where we wanted to try and come up with an event that doesn't end when the ride stops.
What's different about Muck n' Mac?
Muck n' Mac is the blurry line between bike riding adventure and low-key music festival.
We're lucky to have arguably the best bike riding the UK has, in the Scottish Borders – across the board of riding disciplines. However, there are very few events that merge these disciplines. One of our festival's unique factors is it's mix of gravel and road riding options. This is where we get our name from 'Muck' – The Mucker, our gravel riding option and 'Mac' – The Mackie, our tarmac road option. You can choose to stick to just the gravel or road if you please. Or, even a day of gravel and a day of road as long as it's all done on the same bike.
Instead of taking in a loop format, Muck n' Mac is a point-to-point ride allowing riders the option of taking on a self-sufficient bikepacking format and carrying tent and kit to the festival village at the end of the ride. Alternatively, you can drop your tent and gear off at sign-on and we'll transport it to the festival village for you.
Throughout the day on the Saturday there are various timed enduro style stages if you want to crack the whip a bit. However, you can choose to ride these stages fast or slow as you like. The in-between sections of the route is untimed, giving you the chance to take in what's around you and chill out with your friends.
Once you arrive at the festival village, you'll be treated to a stunning loch-side campsite with a mix of family friendly activities, various food vendors, a bar and a mega mix of live music. We're very excited and still slightly taken aback to have The Rezillos as our headline act on the Saturday night!
So other than the music, what other none-riding stuff is there?
We've spent as much time planning our festival village activities as we have on the actual riding side of things. Asides from the live music on both the Saturday and Sunday, there is plenty on offer for the non-pedally types too!
We have Tribe Yoga on board as one of our event partners. They'll be leading yoga classes over the course of the weekend. The yoga is open to everyone whether you're riding or not.
There's also an Auto Belay climbing wall with 4 routes all day on the Saturday. Like the yoga, this is open to all if you fancy braving the 10m high wall!
For families with younger children, there will be plenty to keep them amused. We'll have a treasure hunt alongside various other challenges and games on both days. There will also be a skills loop and cycle coach led taster sessions. We'll hopefully try and give the kids a wee sample of this whole cycling bug thing.
Plus, all of this is completely free for kids under 12 who are coming with an accompanying adult!
The dream Festival Weekend
The vision that Cam and his friends have long dreamt about will become a reality this July. A mixture of bikes, music, outdoors and beer, in equal measure! Camping isn't for everyone and the guys have arranged for a limited supply of lodge rooms available for the weekend. They're selling out fast, so it's best to get in contact with them sooner rather than later.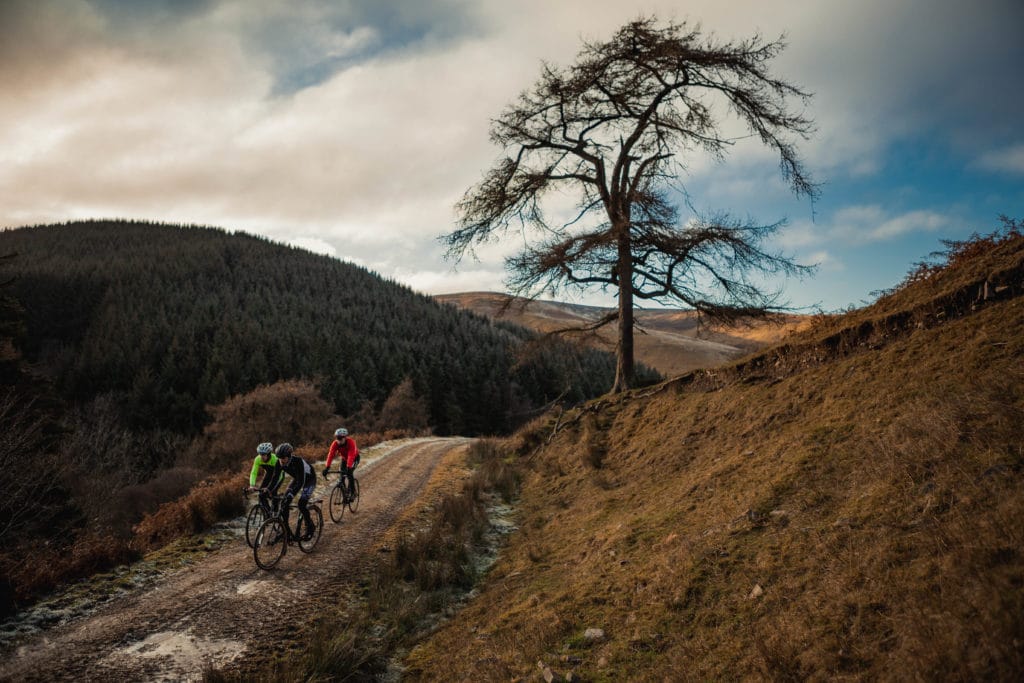 Tempted?
Entries for the full riding weekend package start at £90 or £60 for one day only. Non-cycling entries are £35 and are entitled to a 50% discount if purchased in conjunction with a full weekend ticket. And under 12's get free entry to the festival village all weekend.
If this all sounds like your kind of party, find out more at the Muck n' Mac website: www.mucknmacfest.co.uk
Last modified: 11th March 2020