We caught up with former pro turned endurance badass Molly Weaver the day after completing Unfinished Business, riding the length of the GB Divide route to John O'Groats from where she had to scratch near Cheddar on the official GBDURO ride. From her motivation to go back to riding to deep isolation and riding through storms, the last 15 days have really shown what Molly is made of.
After slogging through a winter of intense training on the trails of Shropshire and with a full season of endurance racing lined up, this year couldn't have been more disappointing for Molly Weaver. A 'gap year' for her between ending her Women's WorldTour pro cycling career and starting her university studies as a Paramedic, this was her last shot at a year of cycling for fun.
We all know what happened next, and with the international endurance racing calendar slashed to just a few adapted events, GBDURO, a ride the length of the UK from Land's End to John O'Groats off-road was Molly's last chance. With a months of training, gear selection and preparation all focussed into one event, we can only imagine the horror when Molly's ride was cut short after a nasty crash just a few days in.
'When I first stopped [on GBDURO] at the side of the road and sent the email to say 'I'm out of the race', in that moment I was like, 'I'm done, I'm really done, I don't wanna do this anymore. I'm done with the bike' and waiting to get picked up it was more of the same, like 'I'm never going on the bike again'. And then in those few hours to get home I just started to feel like it was so… unfinished. I'd put so much work and effort into getting there, riding my bike and the preparation and so much mental stress, I felt that it can't have been for this. Months of work for two days. I went like feeling it had been a waste of time to being like, how could I make it so that it wasn't a waste?'
Molly Weaver's #unfinishedbusiness was born.
Why go back?
Molly went on to elaborate how #unfinishedbusiness was about more than GBDURO or a year of cancelled endurance races.
'I realised that for me, I needed to go back. It had been a long time since I'd actually finished something. Everything that I'd done towards the end of my cycling career was all really incomplete and anticlimactic, finishing my career in the middle of the season unexpectedly and then I had a comeback and broke my wrist and finished that unexpectedly… everything had never had an ending, never had closure. There was never a finish line that had crossed, it had all just petered out to nothing. I just needed some closure, I needed to finish this, for myself.'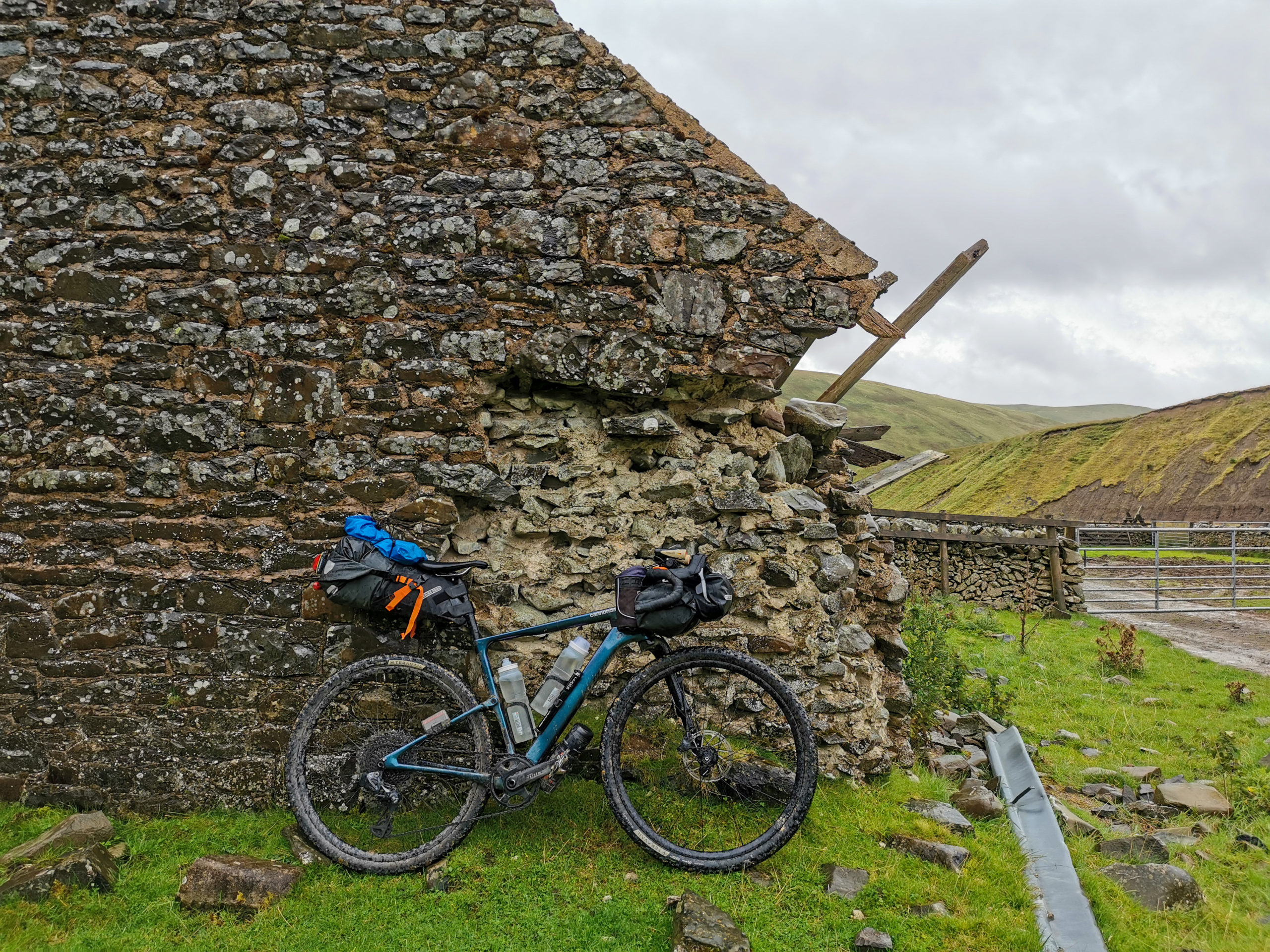 A slightly different challenge
Announcing her new challenge, Molly stated that she'd ride the rest of the GB Divide route, starting from where she'd left off, but on her own terms.
'I did want it to be a challenge still and push myself, but I didn't want to do anything to take away from the experience for no reason. I could have done it in less days, but I didn't just want to race through the landscape and have not seen it, taken anything in and experienced it. I could have decided to still do it totally self-sufficient, but I just thought, if I was able to make the choice, I didn't want to choose to do anything that could take away from how good this could be.'
'A lot happens on the ride, it's already challenging enough without trying to make it even more of a challenge for no reason. It was about striking a balance between planning something that was a real challenge, and really pushed me and took me out of my comfort zone, something that I could be proud of, but also something that I could have fun doing and not feel like I'd wasted an opportunity.'
Molly's explanation of not wanting to miss out on seeing things was darkly ironic; heading into Scotland she'd been caught up in some pretty horrific weather that would lead to her riding for days though the mountains through mist and rain, not really getting to see the full scale of it all.
'As I was approaching, I looked at the weather in Scotland, and I was like OH MY GOD, it's absolutely horrific. While the rest of England was in a heatwave and everyone was like 'endless summer', there was a storm in the Highlands. I very rarely saw people up there, but when I did, they kept telling me 'the storm's coming to the Highlands' and I was like, stop telling me the storm is coming!'
'I did have a moment a few days before I got there when I was like, this is complete shit, this is gonna be really bad weather, I'm gonna see nothing, this is my first time riding in Scotland and I've built this up and I really want it to be spectacular and beautiful… and I did have a moment where I thought this had ruined it for me. This is not what I'd dreamed it to be, and then quite quickly I reframed it. This perfect image that you have of these journeys is never actually what happens, and part of the experience is being in the moment. So if you're in a storm, and that's what Scotland was at that time, so that's what you're in, that's what you see, so there's no point thinking about what it could've been or should've been.'
'Those few days, especially in the Highlands, were ridiculously tough, but that became what the ride was about, and I really ended up thriving on that and enjoying that which I didn't expect.'
Social isolation
Lastly, we discussed the concept of isolation, something that a lot of people are experiencing right now for every different reasons than a remote solo bikepacking tour.
'I live alone and I've lived alone through the whole of Covid, so I really didn't expect it to be a big element for me – I'd spent months not seeing anyone already. But I was shocked how different it was to be alone in the middle of nowhere, with no phone service, when you have no clue where you really were, when you're hours from civilisation, on some random gravel track, in your cold, wet tent, how different that was to being in a flat, in a town, where you can still look out the window and see people from afar or bump into people in the street. I found it brought a lot to the experience in that you spent a lot of time with yourself.
'If you're in a bad moment then you have to deal with that in total isolation by yourself, there were times when you really did feel it was really heavy. Like in parts of Wales and Scotland, there were days when I hadn't been able to text for a day and a half, let alone actually talk to someone in person. Especially when the weather was bad, and out on the moor, if anything goes wrong then you're on your own and you have to deal with it, and that's scary, but also quite empowering when you get through it, and you get back to civilisation and you're like, 'oh my God, I can do it' and that's a really empowering thing.'
'I kind of realised how much I do like company. I mean, I ride alone anyway 90% of the time, and for most of the trip I wouldn't have wanted anyone else there. But there were also days when I felt pretty isolated and lonely, but that's a very different feeling to being alone.'
Last but not least, we asked Molly how she feels, taking a day at John O'Groats to recover a bit and soak it in before making the long journey home.
'Yeah I'm not bad, I'm really fucked… I feel really weird today, and when I finished actually, it's just really bizarre. It just turns out 15 days is actually quite a long time, long enough that it just kinda becomes your life, and you feel like it's never going to end, and then it does and you're like, oh – okay. So of course I feel happy, and proud and relieved, but also strange that it's finished, and I'm done. Exhausted but happy and content and it still really hasn't sunk in.'
If you'd like to read Molly's daily updates from this incredible effort in some pretty phenomenal conditions check out her instagram at @mollyweaver94.
Last modified: 17th September 2020