When you think of handlebar bags, you probably instantly picture in your head a something of the bar roll variety. More useful for stashing away your sleeping kit for a weekender, rather than a place for those items you need close to hand. The Miss Grape Moon will make you recalibrate your perceptions of handlebar bags.
What is it?
The Miss Grape Moon is a handlebar bag with a 2 litre carrying capacity. A large zip provides access to it's semi-rigid, cylindrical interior and either side of tube features a web of elasticated mesh pockets. Manufactured from the same hardwearing nylon/polyester as the rest of the Miss Grape range and with a pair of storage straps, ideal for securing a pump. Think of it more like a top tube bag that straps to your bars and suddenly it makes sense.
Unlike the majority of top tube bags, the Miss Grape Moon is a lot less bothersome when out riding. It doesn't waggle side to side and it is never going to brush your knees when climbing out of the saddle. The Moon straps securely to your bars with a pair of wide straps with cam buckles, so you can cinch it up really tight. At 23cm in length, it should fit on even the narrowest of cockpit setups. An additional elasticated strap loops through a tab on the bottom of the bag and can be stretched over the steerer tube to eradicate any bag wobble.
Styling is typical Miss Grape. Black, understated and pure simplicity. Aside from the trademark Miss Grape logo, the front of the Moon features a large reflective strip of material. It is a well thought addition and helps make the front of the bicycle a lot more visible to oncoming traffic, especially when caught in a motorists headlights. A large flap over the zipped opening provides some additional weather protection. Note that although the Miss Grape Moon is water resistant, it is not waterproof. Heavy rainfall will eventually get inside, so put important items in a dry bag.
Practicality
Access on the fly is almost as simple as a top tube bag. The heavy duty zip has a large loop which is easy to grab and pull, even with gloved hands. The zipper is also silky smooth in operation which makes it frustration free when you need something in a hurry. Due to it's cylindrical shape however, I often found the thing I needed most would often rattle it's way to the bottom of the bag. On a bumpy trail, the internals of the Moon adopt the behaviour of a washing machine on a spin cycle!
My initial concern that the bar bag would take up precious cockpit space and encroach on hand space on the bar tops proved unfounded. The only hinderance I've found to date is if you use an 'out front' style GPS mount. This will position your computer directly over the opening of the Moon and make on the fly rummaging more awkward. No fault of the bar bag of course, but something to be aware of.
The two eternal mesh pockets are the perfect place to store some food on the go. Positioned perfectly so you can just 'dip in' the pocket when resting your hands on the bar tops. As they are elasticated, there is little worry of the contents jumping ship when you hit a bump.
To give you an idea of what you can fit in the Miss Grape Moon, I've managed to ditch a small tool roll under the saddle bag and a top tube bag for short (<100km)rides. Innertube, pump, tyre levers and a multitool. Plus, a couple of snack bars, gel and mobile phone. If there's a requirement for photos on the ride, I can just about squeeze in a compact camera, mini-tripod and remote shutter controller. Not bad going for the Moon's diminutive size!
Even loaded up to the hilt, the Moon suffers little from any sway. And due to its position on the bars, it's not going to interfere with your riding. After a few rides I decided to forego the elastic strap that cinches the bag to the steerer tube. It pulls the Moon up against the head tube of the bike and unless you've some frame protection, will rub. Without the strap there is a little extra wobble, but not enough to be irksome.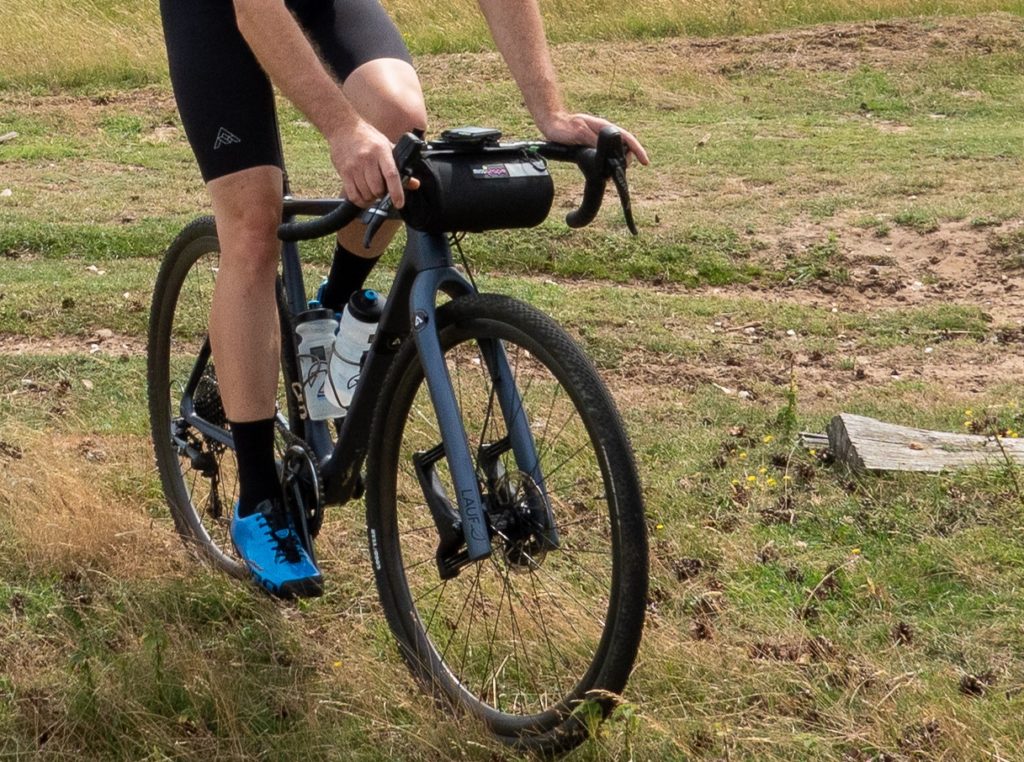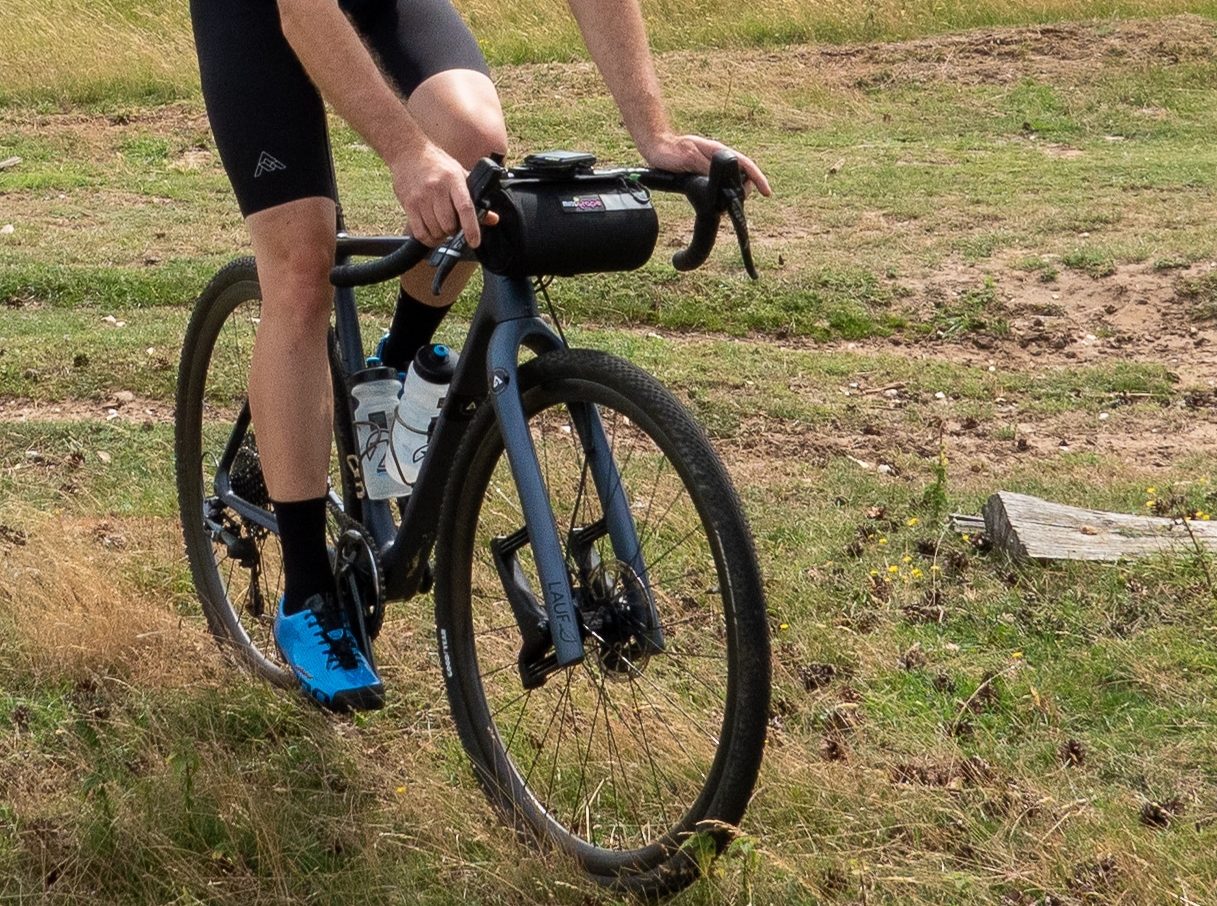 Conclusion
The Miss Grape Moon is an excellent addition for anyone who wants to simplify their essentials luggage for short to medium trips. It's larger than a top tube bag, more practical and a lot less intrusive when riding out of the saddle.
Tough, durable and easily transferable between bikes. Plus, it isn't going to scuff the paint on your top tube!
Last modified: 26th August 2019