Who's this for?
Marketed by Fizik simply as an 'off-road shoe' the long-standing Terra X5 has been the choice of cross-country riders years before gravel riding was even 'invented'. With the more recent release of the Terra Powerstrap X4 gravel specific shoe, it leaves the question of who these shoes are for?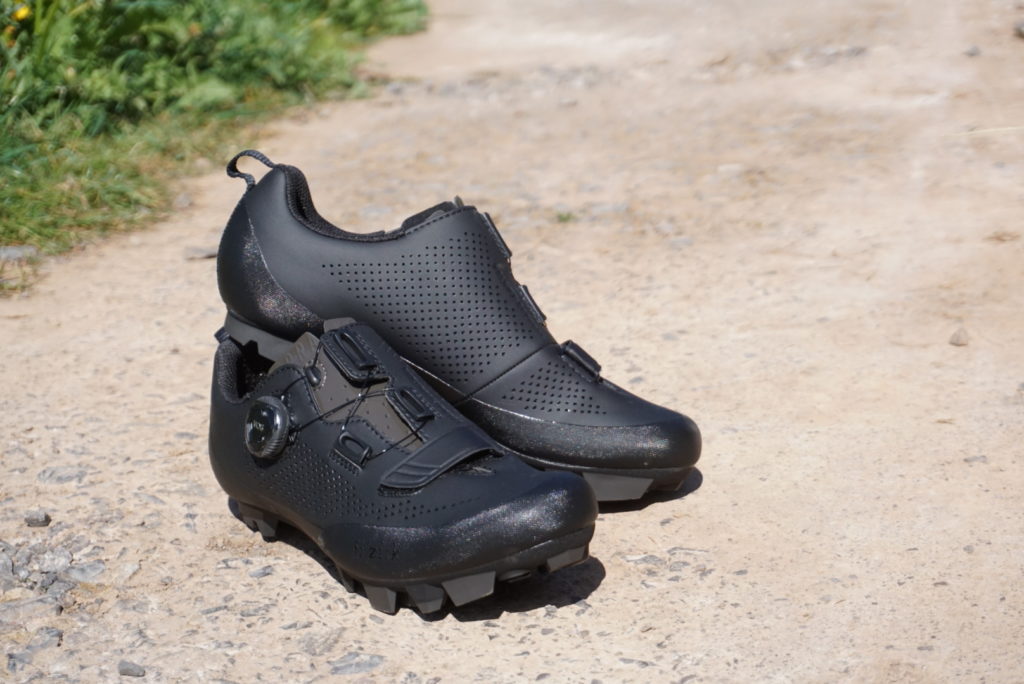 Specifics
A stiff-soled, rugged yet lightweight shoe with plenty of grip with threads for optional studs, at first appearance these seem like the perfect racer's choice.
The synthetic outer shell is light, perforated by a lattice of holes on both the outer and inner sides. The only significant padding is found around the heel, topped with a patch of silicone grip dots, presumably to keep your heel from slipping. The gloss tongue is simplistic and also perforated, notched at the top to suit differing upper foot shapes and reinforced with a little dense padding on the inner.
The closure system consists of a single BOA (L6 Dial B) and a velcro toe strap, in an asymmetric design towards the outer of the foot. The Terra X5s come fitted with the standard fizik insole.
Flipping things over, the Terra X5 shares the same tread design as the top-tier Vento Overcurve X3, featuring relatively few but deep and angular projections of the sole. Two stud threads fitted with blanks sit up front, in front of the  2-bolt SPD fitting.
You'll find quite a range of colours in the range, from the minimalist black to gravel-friendly khaki shades, as well as red with black, navy and pale red and a sort of greyish-blue with neon yellow. If you're into it, they also do a suede version of the shoe, in three different colourways using earthy tones.
Sizes available are EU 36-48, including half sizes from 37.5-46.5. Retailing at £150, they're the cheapest off-road shoes from Fizik, which range up to £350 for the top tier Infinito X1.
The Two Year Test
Over two years of 'testing', aka just getting ridden everywhere and in all conditions have led me to my conclusions about the Terra X5. From the biggest gravel race in the world to bikepacking trips, doorstep adventures to running errands in town. This pair of kicks have had a very thorough run in.
I'll be totally honest, I didn't get on with them when I first had them. In hindsight, and having tried out numerous different shoes since, I've come to realise that was more me and breaking in new shoes than the model itself.
After our initial rocky start (forgive the pun), they bedded in to become one of the most comfortable pairs of shoes I've owned. Proven by the amount of use they've endured over the last few years!
I'll admit that I was concerned a little by the reliability of BOA shoes for bikepacking. What if you're stranded in the middle of nowhere and you break one? The only event I ever had with was while hike-a-biking and it scraped against a rock and popped off. I feared the worst, but all I had to do was pop it back on and it was fine.
The advantages of a BOA closure are clear to anyone who's had the pleasure of trying it. Incremental adjustment of tension on the fly makes longer rides much more pleasant. Especially on hot days where your feet can swell during exercise. Being able to easily relax the fit a little is a blessing. I've found that once the toe strap has been set according to your foot width, I never touched it again. Just slackening the BOA release is enough to slip out of the shoes at the end of a ride. Having dabbled with laces during this period too, the time (and faff) saved by the BOA also compliment their adjustability. Let me tell you, tying laces after packing up camp with cold, numb fingers is no fun at all.
Stiff, but good climbers
Let's move onto the sole and grip. If you're the kind of rider that doesn't mind a bit of time off the bike, hiking up steep mountain sides, negating rocky obstacles or simply getting some groceries on the way back from your ride, this is important. I've certainly hiked a lot in these shoes and in many very varied conditions. I really can't grumble at the lack of grip offered by the moulded projections on the sole, although they have eroded and in a couple of cases been lost to wear and tear over the years. What would be more useful in this instance would be a more flexible sole for walking as these really are pretty stiff. But the trade-off then would be power transfer. Horses for courses I suppose.
Tough as old boots
Despite the wear and tear you'd expect from two years of heavy use, I've been impressed by how these have held up. The tough upper layer around the toe have done a good job of fighting off the worst scuffs, bumps and scrapes. Especially important for those kneeling-on-the-floor-tubeless-mare moments. You know the ones… The inner heel padding has started to disintegrate, although to be honest I hadn't noticed until taking these photos. They're still as comfortable as ever.
Another thing to mention is that I've used these year-round. And actually prefer them as a winter shoe to the boots I've tried. The well ventilated uppers are pitched at summer use, but this has a winter benefit; they dry out really quick in a warm place after a day in the puddles and river crossings. Which makes putting them on the next day much more pleasant!
Verdict
Sleek and understated, these brilliantly comfortable off road shoes have been my go-to for a few years. Which is testament to their design. I'd recommend them to anyone seeking a rugged yet stiff shoe suitable for long rides. Whether that's gravel races, local rides or multi-day adventures.
The stiff soles may not lend themselves to prolonged hike-a-biking. If that's your bag, you may want to consider something with a more supple sole. In terms of value for money, £150 is more than reasonable for the quality and durability of the Terra X5.
Last modified: 31st July 2020