Back in June, Upgrade Bikes kindly lent me a Lauf True Grit to try out during Yorkshire True Grit. I loved it and was reluctant to hand it back, despite the loan bike being too big! Impressions were favourable, but we were never going to give a review on a bike borrowed for one ride. Luckily, a medium frameset became available and has been ridden ragged over the past two months.
A thoughtful and considered build was followed by several hundred miles of hard riding. I think I am now in a position to give a more detailed assessment of its strengths and shortcomings.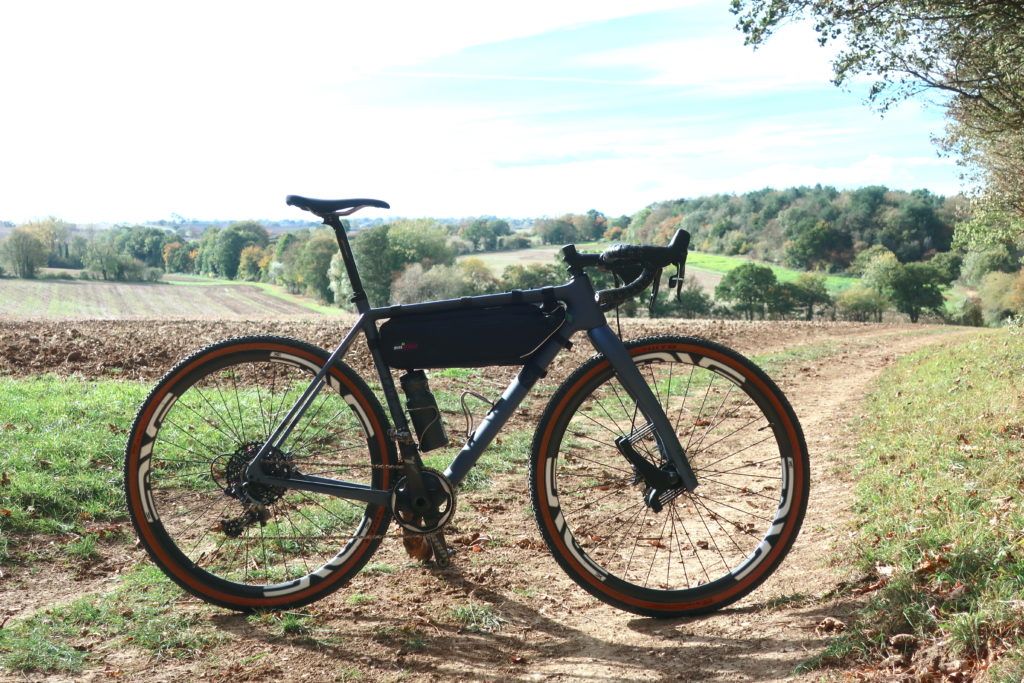 Build
The beauty of building a bike yourself, is that you can spec it exactly as you like. While Lauf largely employ the Easton EC70 range on their factory builds, I used a combination of Ritchey Logic WCS, the new 3T SuperGhiaia bars and a full SRAM Force 1x groupset.
Although I had been dreading the prospect of fighting with the internal cabling, the whole process was considerably easier than anticipated. Lauf have done all they can to make it as easy as possible for you.
Lauf True Grit - The ADVNTR Build Spec
Lauf True Grit Frame – Medium, 'Midnight Blue'
Ritchey Logic WCS Link Post
Fizik Antares Vs Saddle w/ Kium rails
Ritchey Logic C220 Stem 90mm
3T Superghiaia 440mm flared handlebars
ODI High Performance 3.5mm Handlebar Tape
SRAM Force 1x Shifters and hydraulic brake calipers
SRAM Centreline Disc Rotors – 160mm front / 140mm rear
SRAM Force 172.3 Crankset w/ 42t chainring
SRAM Force 1x Long cage rear mech
Hope Technology Road Stainless Threaded Bottom Bracket
ENVE XC 29er Rims w/ DT Swiss 350 hubs
Goodyear Connector Ultimate 700×40 tubeless tyres
MT Zoom Titanium Bottle Cages
Interestingly, Lauf use 15mm axles on the Grit suspension fork. A hang up of their MTB roots and an annoyance when the trend now is firmly fixed to the 12mm standard. Luckily I had a pair of ENVE XC 29er wheels in the workshop, and these proved a perfect match for the Lauf True Grit. Finished off with a set of the new Goodyear Connector 700×40 tyres, the bike really looked the part.
Our medium frame, fully built up weighed in at 19.7lbs.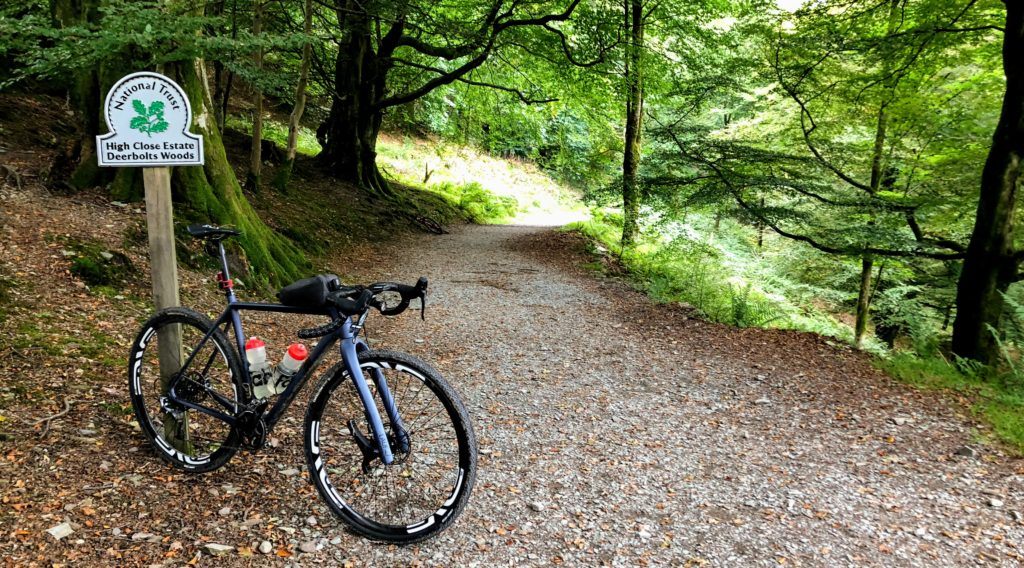 Function over form!
The Marmite analogy is overused nowadays, but I think I can be excused for using it here. The bike is essentially defined, at least visually, by the leaf sprung fork. You love it or loathe it, there probably isn't any middle ground.
There is a growing trend towards system integration nowadays, usually this goes no further than the compatibility of various components. Lauf have turned this concept on its head. Think of the frame and fork as a single unit rather than interchangeable parts.
Whatever your thoughts about the aesthetics, the Lauf True Grit is a thoroughly modern looking bike whose sole purpose is apparent as soon as you look at it. It looks fast and damn… it is fast!
Oh yes, if you ride one of these, be prepared. You will spend a lot of time answering questions about it. It is certainly a head turner and has inspired more trail side and cafe  stop conversations than any other bike I have ever ridden.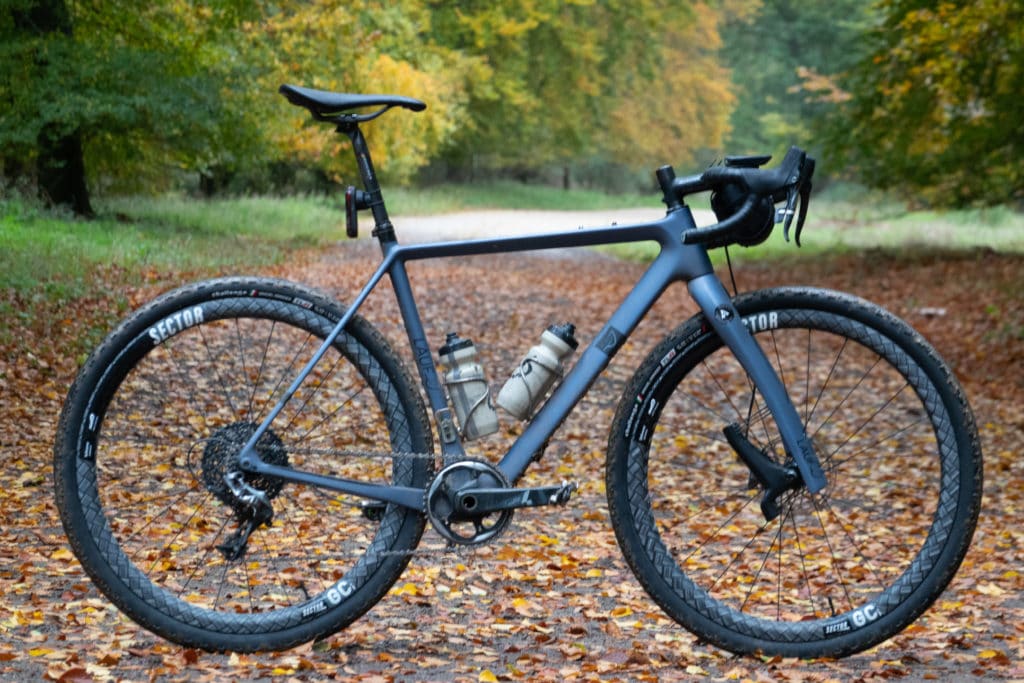 The Ride
True Grit is a race machine, pure and simple! Its purpose in life is to cover long distances…quickly. A secondary goal, and one it achieves admirably, is to transport you in relative comfort.
Everything about the geometry screams speed. The ride position is long, low and arse up. It is not a comfortable tourer or bikepacking rig designed for something like the Tour Divide. Think more along the lines of Dirty Riever or the Dirty Kanza…flat out!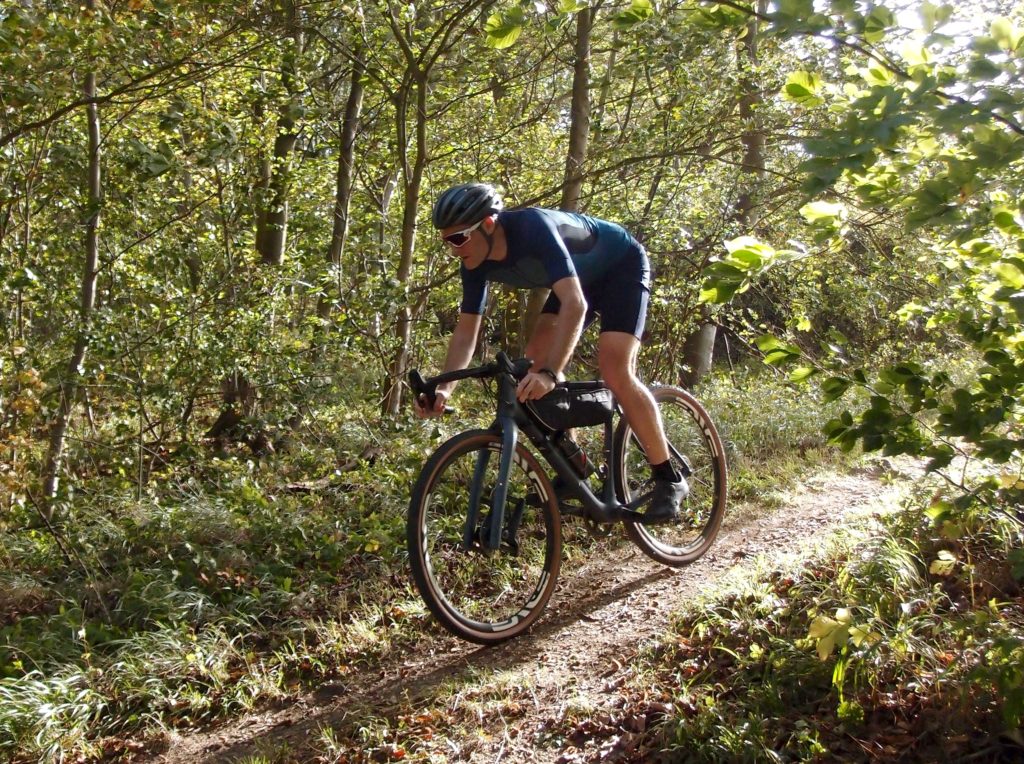 Grit SL Fork
To get the best out of the fork, you have to be proactive. If you are too passive, or keep your weight back, the front end will feel soft and you will wander. Keep committed (i.e. adopt your most aggressive riding position) and the steering becomes razor sharp.
It takes a while to get used to the fork. You might find out of the saddle climbing a little strange at first. The 30mm of undamped travel will bob as you climb up hills (on the road), though it is perfect if you are off road. If nothing else, this highlights just how much of a specialist race machine this really is.
Before you go eyeing up the nearest gnarly section on your local trails…don't. The Lauf True Grit is a high speed endurance machine. The suspension is there to reduce fatigue not to help you through technical trails. I have tried it and can confirm that it is easier to approach this type of riding with a rigid fork or indeed, on a hard tail MTB.
Some reviewers have criticised the fork for being too flexible when cornering. I disagree.  At 11 stone, I'm not a racing lightweight but maybe also not heavy enough to take the fork beyond its design limits.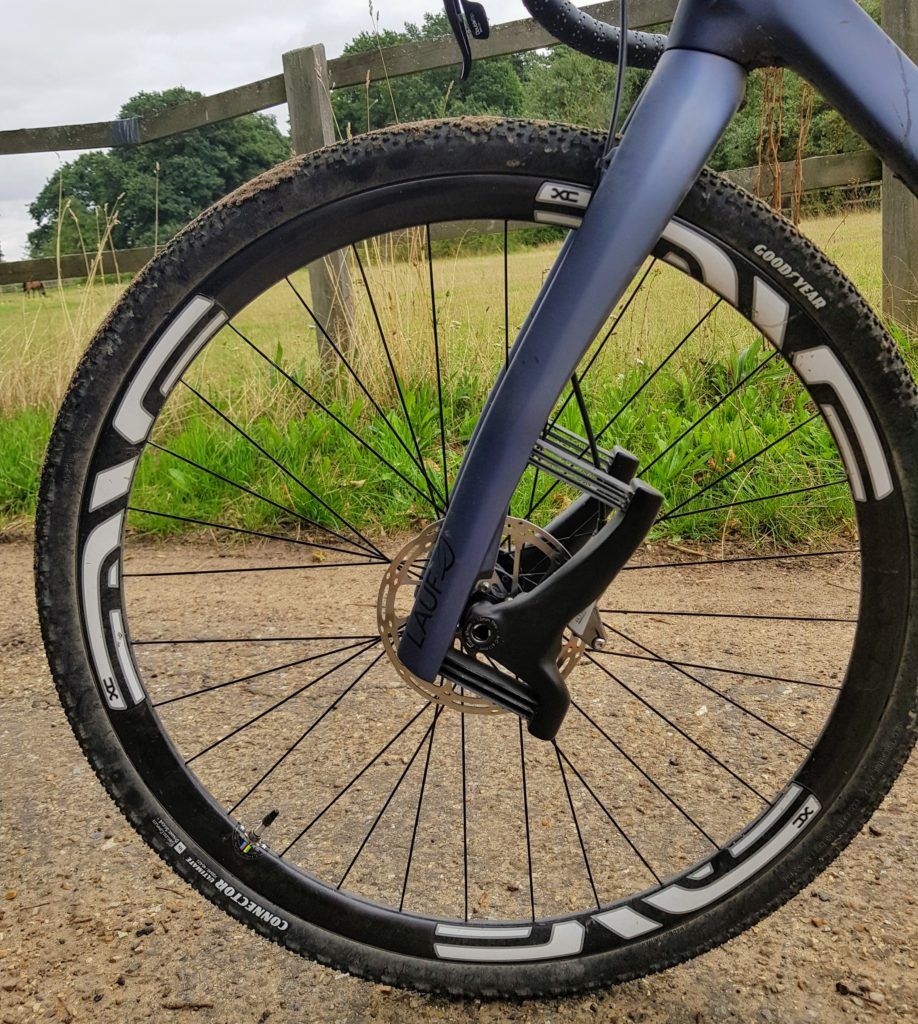 Problem Free?
Over large bumps, the fork has started to make some unusual creaking noises as if something is loose. Performance and handling are unaffected, but the noise is distracting. Greasing the headset and the axle hasn't cured the mystery creak and I'm still on the lookout for the cause… If I find a solution, I'll update this article.
Update: Thanks to Joris in the comments who suggested fiddling with the brake pads! I went one step further and fitted brand new pads and the creaking noise has been banished.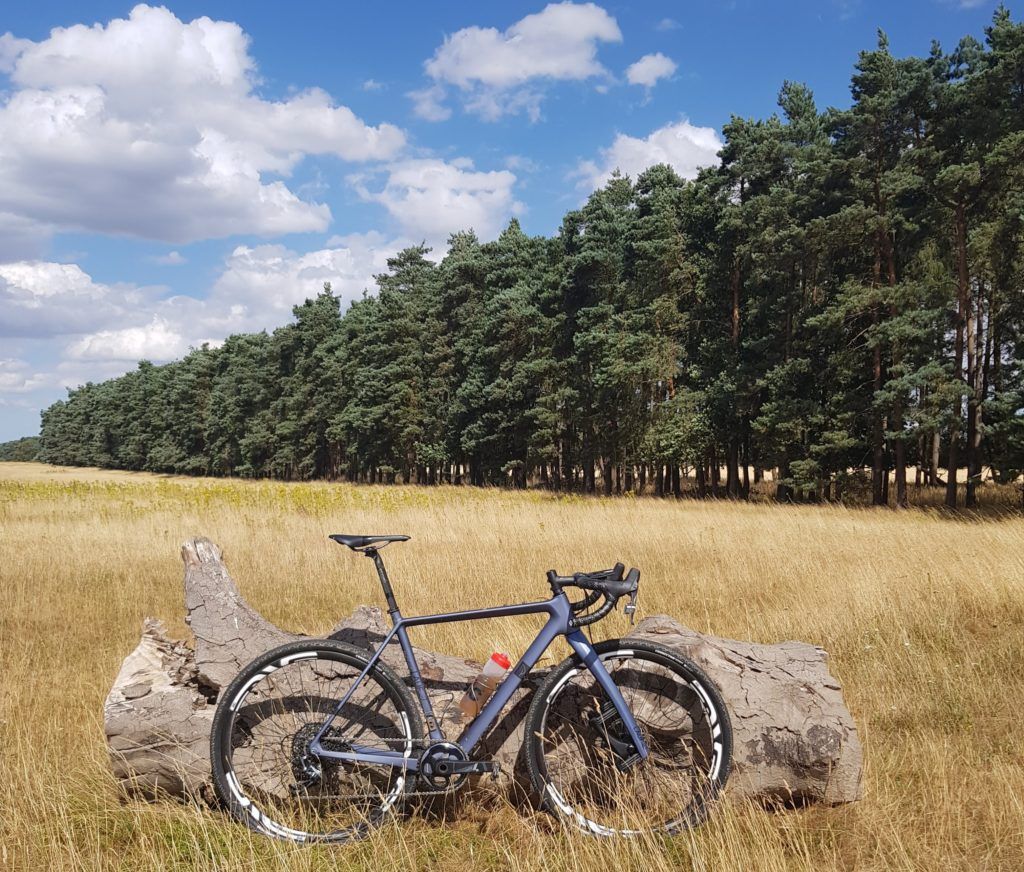 Conclusion
The Lauf True Grit is certainly one of, if not the, fastest gravel bikes available. If your primary aim to complete a big mile challenge in record time, this is the bike for you, no contest. As far as 'super gravel' framesets go, the Lauf True Grit far undercuts its nearest gravel racer rivals, the 3T Exploro and Open U.P. quite considerably.
One trick pony maybe? Its not to say you can't use it for more sedate gravel rides, but in the same way you wouldn't take an F1 Car to the supermarket, there are better tools for the job.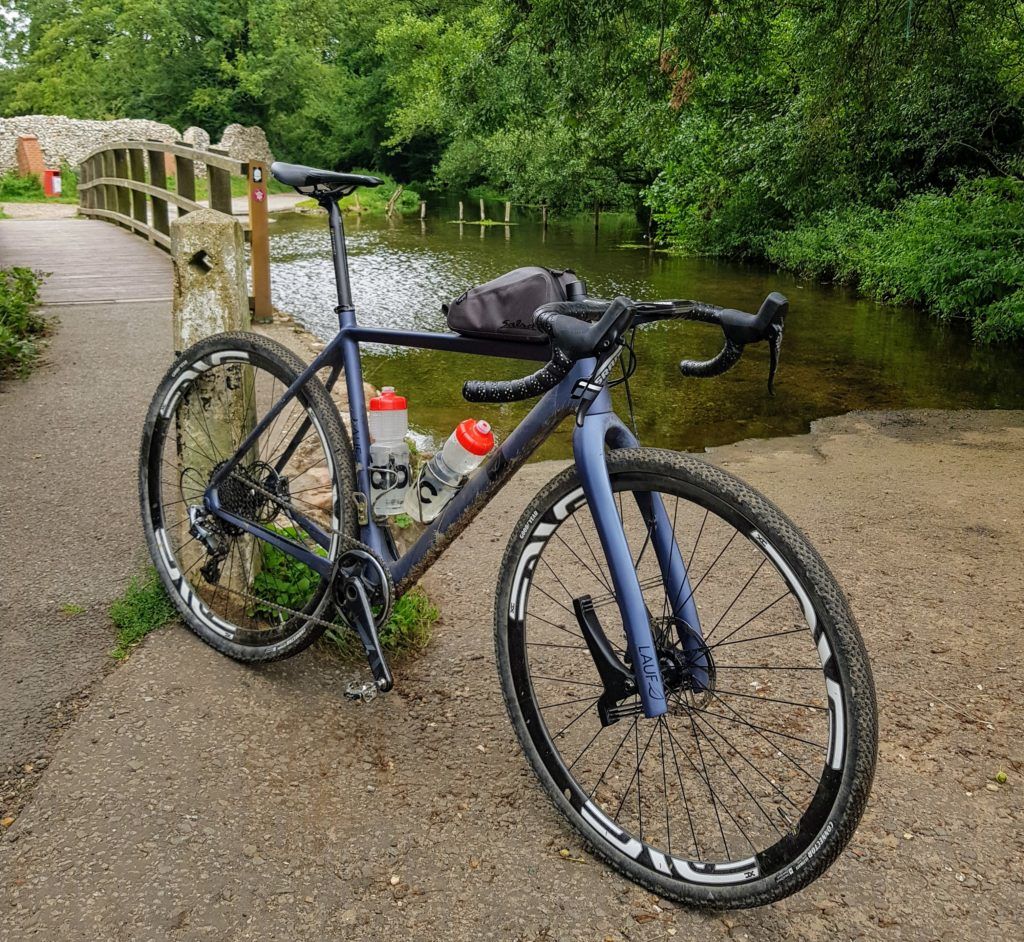 Editor's note
I recently shadowed James on a 100 mile gravel ride. He was on the True Grit, I was on our control bike, the Mason Bokeh. To a large extent, we were neck and neck over most surfaces and there was no obvious benefit being derived from the fork. However, as soon as we hit sections of stutter bumps, he began to pull away. I was able to reel him in by engaging a bigger gear and warp drive. The effort required though, meant that I had to dig a little deeper into my energy reserves every time and, as the ride progressed, it eventually began to tell. On this ride, the benefit of the suspension fork was not compelling but I suspect if James had his race head on, I'd eventually have been left behind.
More info: www.laufforks.com
Lauf True Grit (frame & fork)
£2,400
Last modified: 9th March 2020