Lauf True Grit
Over an action packed weekend at Yorkshire True Grit, I had the chance to ride co-sponsor Lauf's quirky gravel bike, the Lauf True Grit. I only had it for  20 miles, for Sunday's 'The Stampede'.  Alas! It was far too short a time to get properly acquainted.
The moorland gravel tracks, steep road climbs and technical singletrack however, proved to be a perfect testing ground and certainly left me wanting more!
This brief review reflects our short time in each other's company.
So what is it?
You can't escape the fact that Lauf's leaf sprung forks have a somewhat idiosyncratic styling. You will either love the looks….or not!
Aesthetics aside, you can't escape Lauf's strong and loyal following. There has to be something else going on beside the styling. I had to find out what it was.
The True Grit is Lauf's first bicycle frame and is designed around their 30mm 'Grit' gravel fork. The colour coding helps the fork 'disappear' and the overall package look pretty normal.
The carbon frame is relatively slack with a 70.5º head angle and the fork continues this theme. A contemporary mountain biker would be quite at home with this approach. Lauf have kept the rear end short however, and the wheelbase has therefore remained in proportion.
The Lauf True Grit was designed specifically for gravel based endurance racing rather than banging out endless miles on an adventure bike. It looks  much more like an endurance road bike (with huge tyre clearance) than a pure adventure bike.
Ride Impressions
This bike was fitted with Maxxis Rambler 700x40c tyres. As several people discovered, these are not entirely compatible with Yorkshire Moors gravel! They were incredibly puncture prone. We pumped the tyres up to 60 psi and hoped they'd survive.
In the 'pickup test' everyone was amazed at just how light the True Grit was. "Road bike light" was how one bystander described it and he's probably not far wrong!
The frame is 'long and low', (emphasised in this case by the frame being a size larger than recommended for my height) the preferred style for road cyclists and endurance racers. Think about going fast rather than playing about in the woods for an afternoon. The slack geometry and that fork give the Lauf a playful character. Compared to other bikes in this category, the low bottom bracket could determine just how rowdy you get in the rough stuff.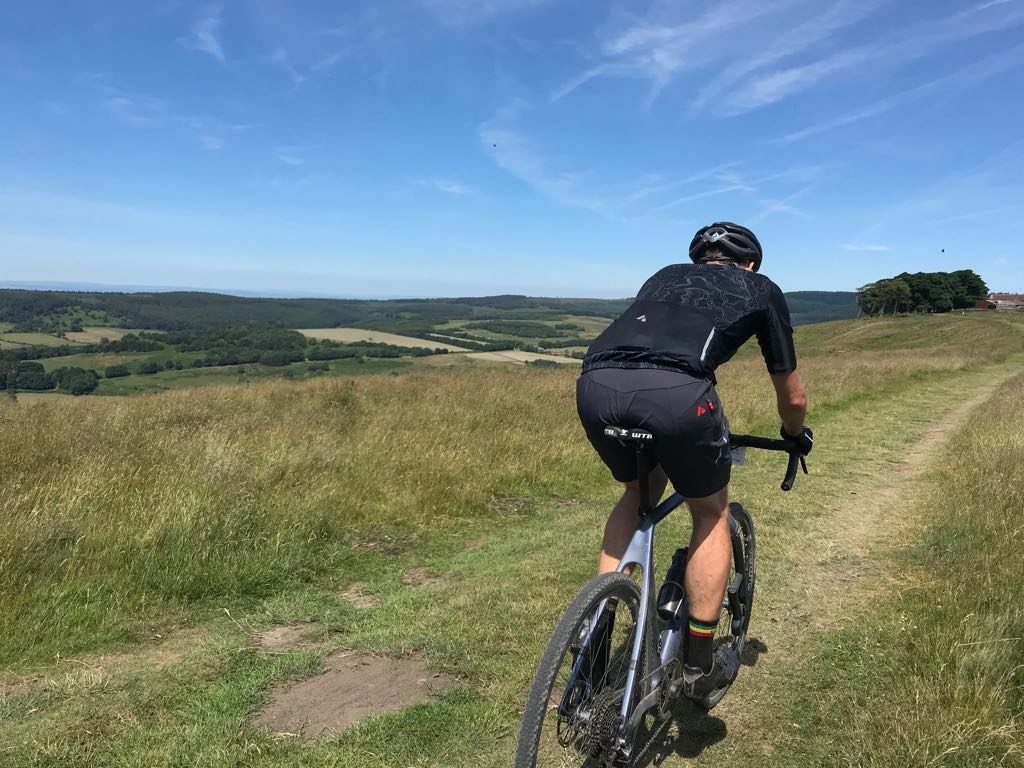 Leaving High Paradise Farm, the HQ for Yorkshire True Grit, the bike literally wheelied off the start line and I was quickly clicking through the SRAM Rival 1x gears and accelerating more quickly than I'd ever have given my weary legs credit for.
Other than rapid acceleration, that lightness also gives the True Grit a deftness over rough terrain. It skips over imperfections rather than thumping into them.
Success in gravel racing is largely determined by the right tyres, the correct pressures and the setup of your bike. The Lauf was no exception and I had an entertaining time as the "too high" tyre pressures made me play 'rock pinball' instead of riding a smooth line. To get the best out of this bike, I feel it would need careful setup….but there again, which bike doesn't?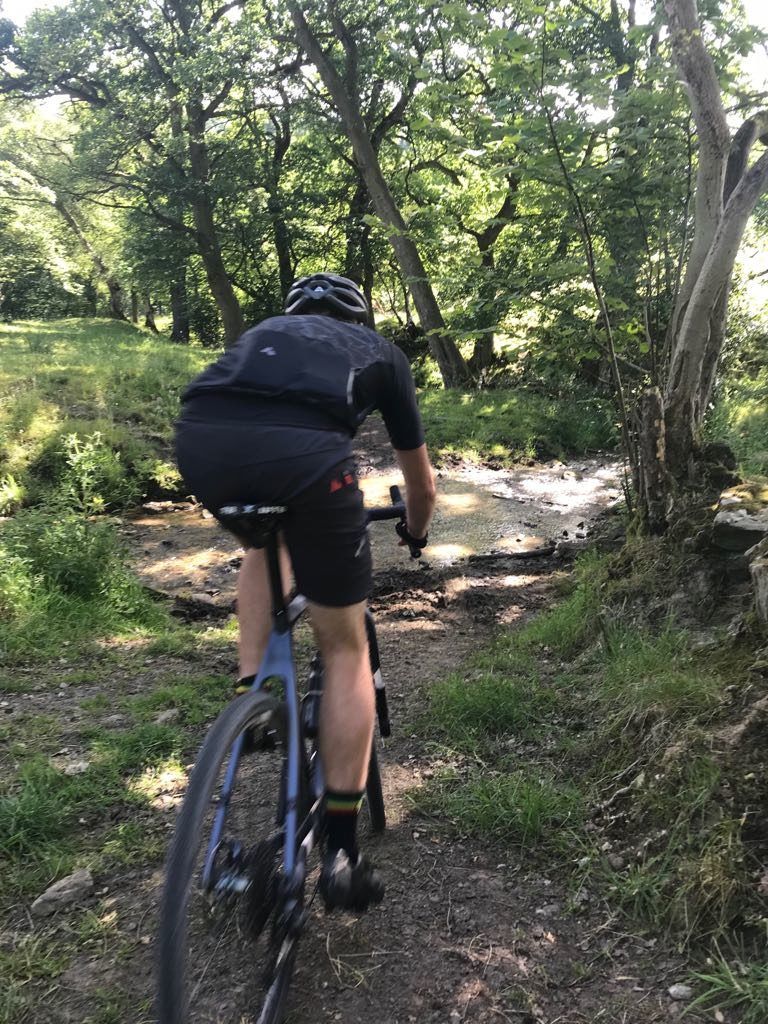 And that fork?
For most of the ride, the 25mm of suspension went completely unnoticed. Considering the 60psi in my tyres, any movement should have been easy to spot. The fork's damping however, is subtle, rather than obvious. Think of it as a fatigue preventer rather than a big hitter. Given the gravel context, this is of course, entirely appropriate.
The Yorkshire True Grit organisers love a mean climb and a couple of nasty 20% inclines along the way, let me explore it's potential Achilles Heel – climbing! Instead of being an unwanted, springy lump, the fork was refined and unobtrusive. There was a small amount of bob on 'out of the saddle efforts' but in no way did it interfere with my upward progress.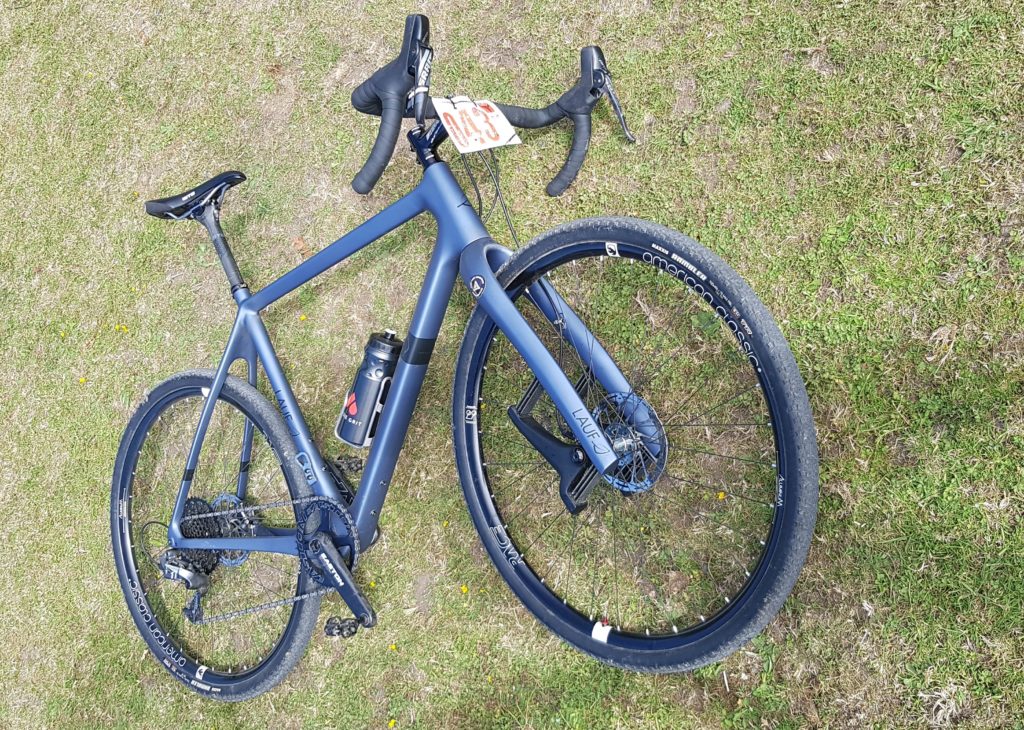 Overall
The Lauf True Grit surprised me – pleasantly!  I originally thought it was the solution looking for a problem, but ended the day impressed by its potential as a blisteringly fast and capable bike for long days in the saddle.
If you get a kick from big endurance events like the Dirty Revier then you might find Lauf's True Grit to be your ideal accomplice.
Given half the chance, we'll snap off UK distributor Upgrade Bikes hand off if they want to send one to ADVNTR for a long term test!
Last modified: 13th August 2018