After nine successful years, in December 2018, the Berlin Fahrradschau closed its doors for the last time. The show had always been the place for small independents and artisan brands to showcase their unique creations, and would be sorely missed. At only three months notice however, the team behind the RAD RACE came to the rescue with the Kolektif Berlin Bike Fair.
We headed over to check it out.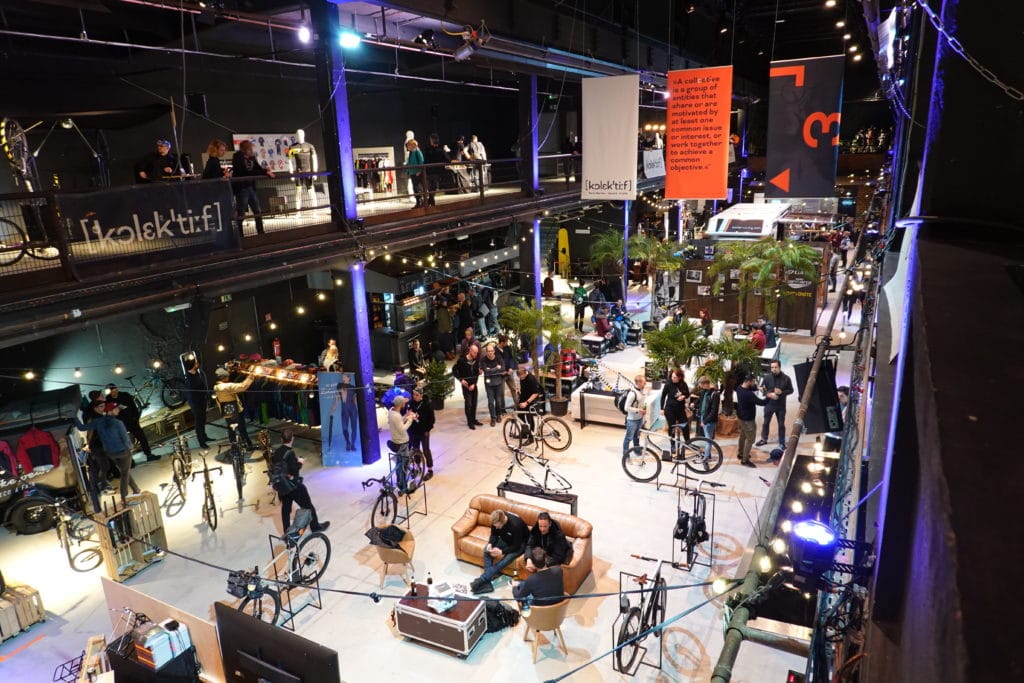 This is the Kolektif
The Kolektif was created by Ingo Engelhardt, (he of the RAD RACE series) and fills the void left by Fahrradschau.
Engelhardt's first decision was to hit the refresh button.  He deliberately moved away from the traditional trade fair feel, to concentrate on creating a smaller, more intimate, experience. The result was a refreshing change though the emphasis was more 'cool' than relaxing. The organisers reported that over 5,000 attended, proving that his vision had certainly struck a chord.
Running from 8-10th March, there were workshops, talks with designers and industry experts alike. 'Breakout' rides catered for every discipline at the show. This included two gravel specific loops which headed out of Berlin and into the neighbouring countryside.
On show were track bikes, road bikes, electric bikes to cargo bikes. Obviously our brief was to sniff out anything adventure oriented, of which there was plenty. Gravel has really tugged the heartstrings of our Euro Cousins in a big way. So with no further ado, let's check out the highlights.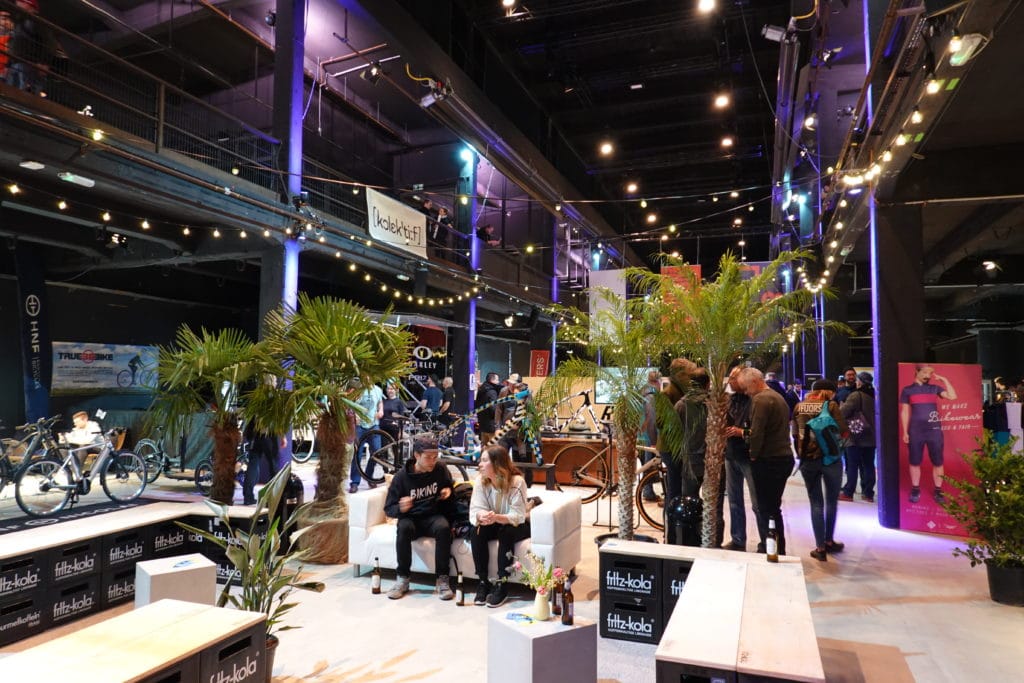 Wish One Gravel Bike
This one blew our minds. Currently still in the prototype stages, the Kolektif was the first public presentation for the French company's first foray into the the gravel sector. The final production version will be launched later this year and honestly, we can't wait.
Beneath the exquisitely finished paint lies a a Columbus Spirit HSS steel tubeset, mated to a full carbon fork. The frame features a T47 bottom bracket, flat mount disc brakes, thru-axle front and rear, and internally routed cables. All pretty de rigueur for a gravel bike, but the Wish One is far much more than the sum of its parts.
Under subdued lighting, it was impossible to display just how stunning this handbuilt frame actually is. The attention to detail, the precision finish to the welds and ultimately the paint, all display a painstakingly fastidious attention to detail.
Sadly the French brand were tight lipped about any further information and, apart from giving a Gallic shrug, suggested we "watch this space".
Or rather, this space wishonecycles.com
Canyon Grail
News of the Canyon Grail Al hit the web last autumn, but it is still generating a lot of interest several months later. The combination of a well thought out, lightweight alloy frame and carbon fork, teamed with 'full series' groupsets, all at a killer price, appeals to everyone.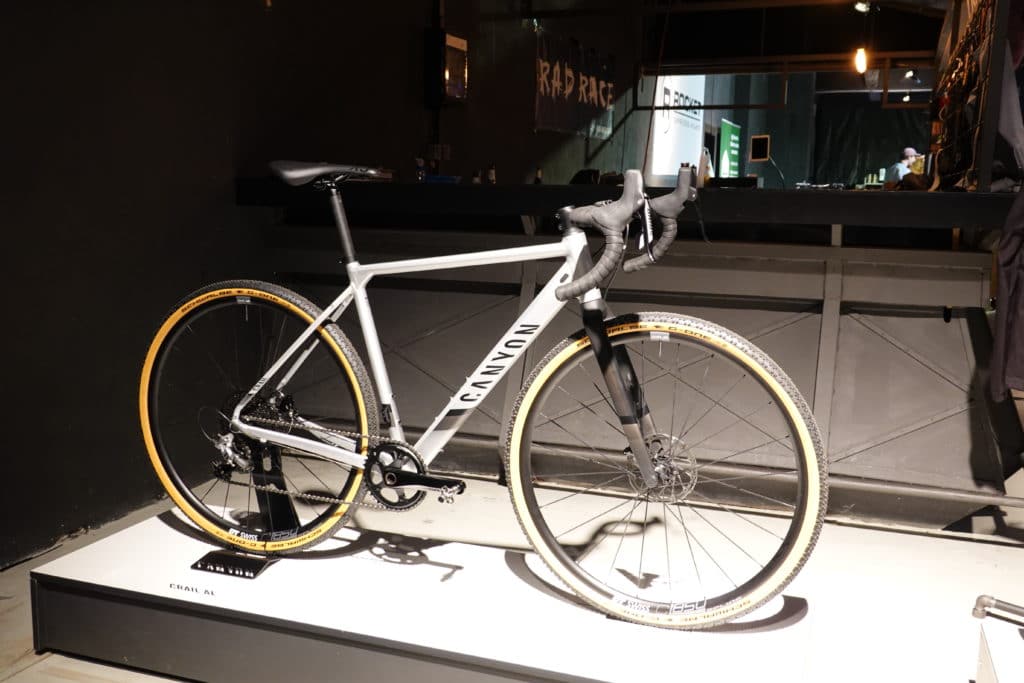 Starting at £1,099 for Grail Al 6.0, you'll get a full hydraulic version of the Shimano Tiagra groupset and DT Swiss C1850 Spline wheelset. That's a lot of bike for your money no matter which way you look at it. On display at Kolektif was the SRAM Rival 1x equipped Grail Al 7.0 SL priced at £1,449.
Want something more exotic? Canyon's Grail CF packs a visual punch with it's sleek lines and controversial CP01 Hover Bar cockpit. This SRAM Force 1x equipped Grail CF SLX weighs in at 7.8 KG for a size medium and costs £3,649
For everything Canyon, go to canyon.com
Rose Backroad
Rose Bikes are big in Germany. Back home in the UK and you'll count the number of the online brand's bikes, out in the wild, on one hand. If the Backroad is anything to go by, that is likely to change. This race focused carbon gravel bike starts at £2,041 for the Shimano 105 hydraulic model. Topping out at £2,903 for the Shimano Ultegra Di2 model with all its technical wizardry.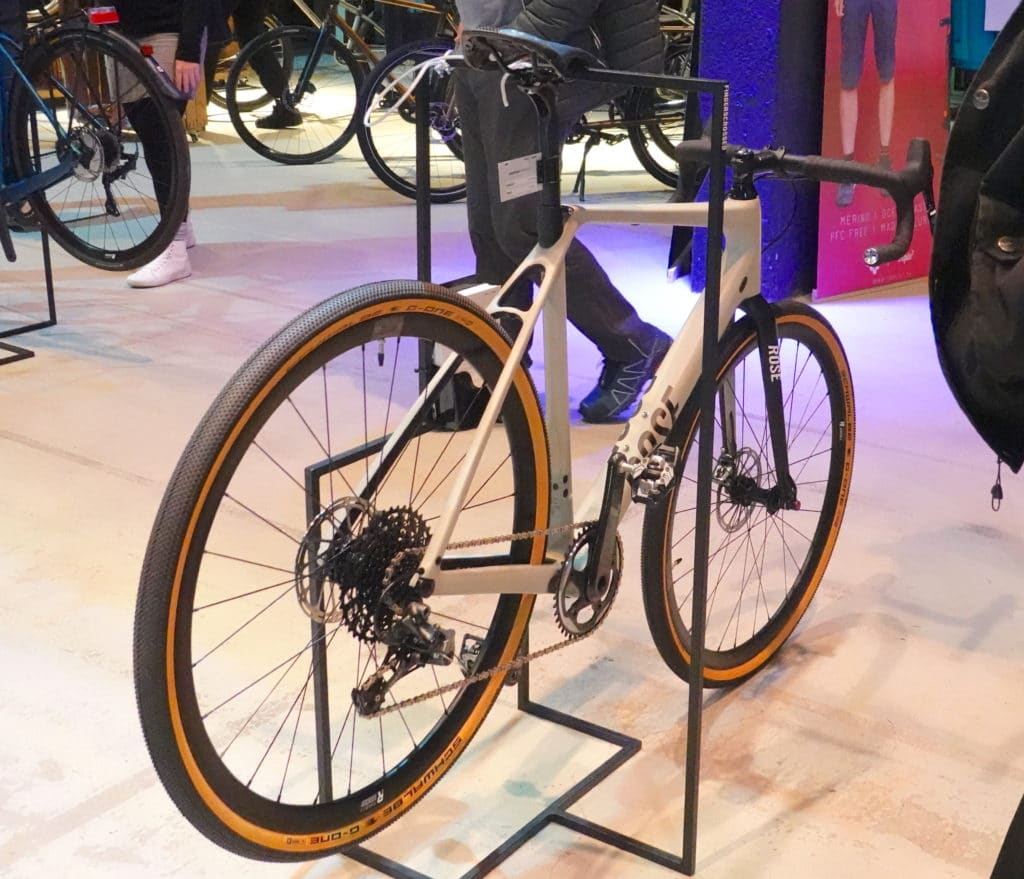 For more info on Rose Bikes, click here to visit the UK website.
Giro Sport Design
Purveyors of cool apparel, Giro, were proud to show off their fresh colours for 2019. Giro's designers are paving the way forward with individual styling for their range of cycle helmets.
Footwear is another highlight of the Giro collection, and if the crowd was anything to go by, olive green was by the far the most popular choice. Also on show was the new, super reflective Republic LX R cycle shoes. These look absolutely normal until you shine a light on them. An ideal solution for commuters and night owls.
Head on over to giro.com for more details
Rondo
Masters of colour-coordination, Rondo had their full range on display, but it was this steel Ruut ST, decked out in the full Birzman bikepacking range, that caught our eye.  The £1,999 Ruut ST is assembled from custom formed Tange CR-MO and is equipped with SRAM Rival 1x hydraulic groupset.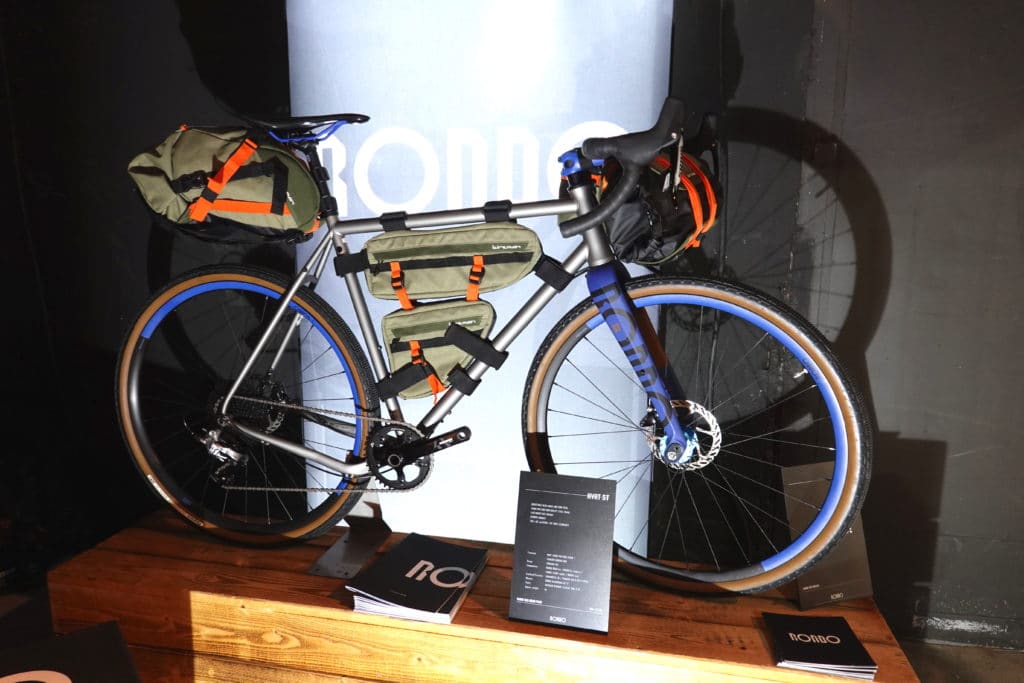 The carbon 'Twintip' fork features an adjustable widget so you can subtly adjust the head angle and fork trail by half a degree. It's a small change, but raises/lowers the bars by 10mm and the fork trail by 13mm. So you to tune the bike for rowdy rides in the singletrack or long endurance rides where you need a more relaxed geometry.
For more info: rondo.cc
---
Header Photo Credit: Arturs Pavlos.
All other photos: ADVNTR.cc
Last modified: 31st July 2020