The exploits of French explorer Axel Carion have always managed to capture our imaginations here at ADVNTR. The creator of the Biking Man series of ultra races and serial world-record breaker, teamed up with extreme German athlete Jonas Deichmann to crush another record together. This time they cycled across Jordan in 120 hours, a record time!
An astonishing journey full of challenges
The two adventurers followed the most difficult route to join the two borders of Jordan, from the Sea of Galilee to the Red Sea. They cycled the "Jordan Bike Trail" which crosses the country from North to South following the Ancient trade route taken by merchants in the Middle East.
The 730 kilometer route has 57 ascents with 20,000 meters of accumulated elevation gain. It traverses the emblematic sites of Petra, Dana, the Wadi Rum desert and the many remote Jordanian villages. "This is one of the most difficult cycling expeditions I have ever completed," said Axel Carion after accumulating 5 bike falls on the course and suffering from tendonitis in both forearms due to the steepness of the ascents.
I have crossed over 100 countries by bike in extreme conditions; the Jordan Bike Trail is the most difficult challenge I've ever faced

Jonas Deichmann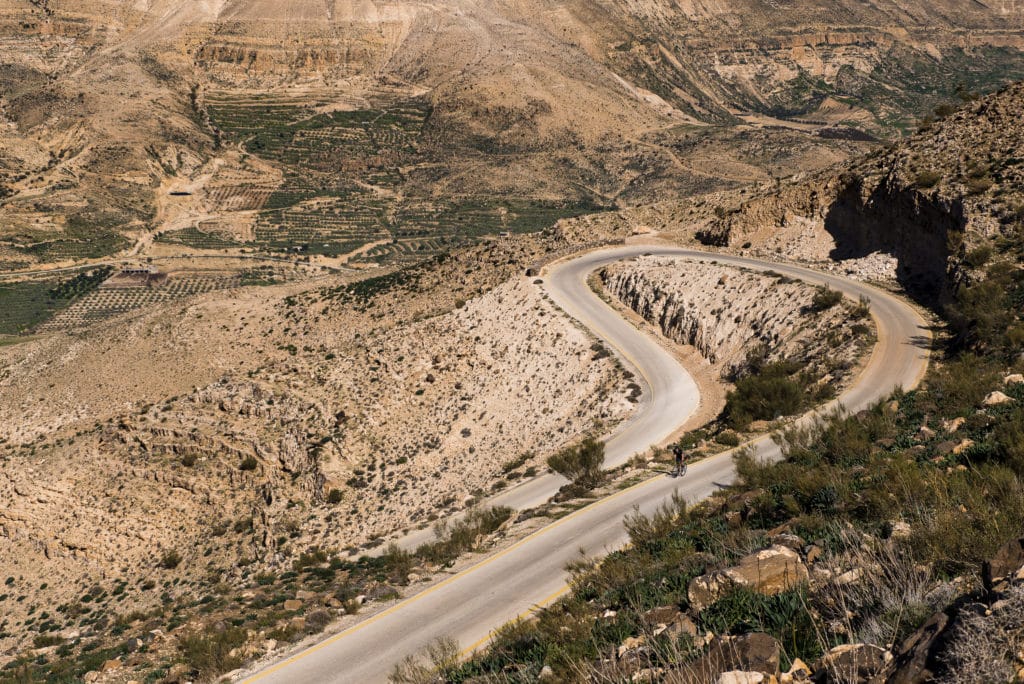 A record set in extreme conditions
The  Jordan Bike Trail is a route that usually requires between 12 to 20 days to complete. Axel and Jonas completed it in 120 hours (5 days), facing extreme conditions of temperature and topography. They also had to find shelter with the locals for 3 nights of this expedition, where they cycled an average of 15 hours a day.
The course revealed unexpected weather conditions: abundant rain, negative temperatures, snow (on passes up to 1,700m in altitude) and the heat of the Wadi Rum desert. The two adventurers also cycled below sea level (-250 meters) on tracks in the heart of the Jordan Valley. Some rivers ("Wadis") flooded the route and forced them to hike their way out. The Wadi Rum Desert was the highlight of the expedition. The riders had to push their bikes for several kilometers at night, through the deep sand.
Cycling the most difficult trails in the world
Traversing the Jordan Bike Trail is just a small part of Axel Carion's goal to ride the world's most incredible trails. In 2019, he and Jonas made a successful cycle crossing of the Inca trail in Peru. A 1,900 kilometer route at an altitude of over 4,000m. Before the end of 2020, Axel will set off on the tracks of Sri Lanka, Mongolia and Bolivia.
Photo Credits: David Styv
Last modified: 11th March 2020