Whilst not gritty, grotty, gravel focused bikepacking, the love of cycling and appreciation of its different forms is wholly important to enhancing communities and seeing as how the UCI Womens Tour of Britain swung close by home, so Drummond popped along.
The first port of call was to be just a stones throw from home, a quick pedal and i was able to setup just by the QOM segment along the 4th stage of this years Womens Tour Of Britain, next up would be the finish to talk with both the crowd and riders to understand how important events like this are and the ways they inspire others to pick up a bike and start their own journey.

The northern edge of the Thame Estuary is fairly quiet, sandwiched between rivers and arterial roads there are pockets of towns dissected with large swathes of crops and farmers fields, most lined with some pretty excellent country lanes and some sneaky bridleways that allow for some more rough and ready rural adventures.

During stage 4 of the UCI Womens Tour of Britain the route would begin and end amongst these small towns and winding country roads, and there was a real buzz surrounding this monumental occasion.
Not only were elite level riders racing on local roads but there were countless opportunities to see them do it on climbs and sections that otherwise would go amiss and be looked over any other ride.

Hambro Hill is one of maybe 4 actual climbs that exist in South East Essex of note, short, stabby and with a rather mean crest it links two towns and to be honest, I will often avoid dealing with it on returning from some rides because… Its horrible.

The day of the Womens Tour encouraged mixed crowds that gathered on suburban lanes, expectant hordes atop the crest lining the grassy knolls and resting on road signs, it was ultimately surreal and was a spectacle in its own right.

Traffic flowed, and every so often a Police Motorbike would race up through and on to hold traffic down the route, then two would pass, three, one more, another pair. De Ja Vu took on a whole new meaning.
A last flurry of cars would eventually whizz through and as the voice of the commentator began to echo away in doppler the riders emerged from around the bend and into the stabby part of the climb.

Crowds cheered, almost inaudible screaming and a medley of names and encouragement were hurled in support at the mass who were all 10k from the end, still putting the hammer down and moving up and beyond the incline like it was but a blip on the profile.

Gritted teeth as the whole bunch churned their way up monumental efforts and then gone just like that, what followed was a caterpillar of combustion, an endless entourage of estates, trucks, and vans all emblazoned with brands and sponsors.

As the generic traffic flow returned it was a sign to jump back on the road to then get to the finish and understand just what this meant for local cyclists and the communities that had never seen anything like this before.


The race finished along the promenade between Westcliff and Southend-On-Sea, and while the tide played its day in day out game of cat and mouse with the shore, the palm trees stood by and watched the final sprint.

Following the awards ceremony I spoke with three different cyclists, and as luck would have it one of them was a steward and volunteer at an event I had raced at earlier in the year, Battle in the Bowl.

Not only a great supporter of events but also a British Cycle Breeze ride leader, introducing …


Emma Hopgood

Hey Emma, nice to see you again, Can you tell me what it's like to have events like this come back around finally?

There has been a real excitement about the community factor and bringing it all back together, we all work so individually now, families and friends are spread throughout the country, and I think to have a single event where the community can come back together whether thats a cycling event or a marathon is super important. For example there were lots of school kids out in support, it gets everybody involved and just puts your town on the map which is really important.

Did lockdown have an effect in bringing your community closer together?

Yeah i think the turbo community definitely has – i didn't zwift before lockdown started and now a lot of people have come together through these turbo communities and through the racing.
Also i think cycling was one of the sports which wasnt quite as limited as much as other sports, and so i think a load of new peopl have got into cycling.
Being a breeze leader where we take beginners, we have taken out alot more beginner ladies where its their first journey into cycling.

Thats brilliant, and what is it like to see this event specifically come through with the elites?
Ah its just absolutely inspiring and makes me want to do it more, plus with christmas coming seeing the expensive gear they're wearing the lists are only getting longer.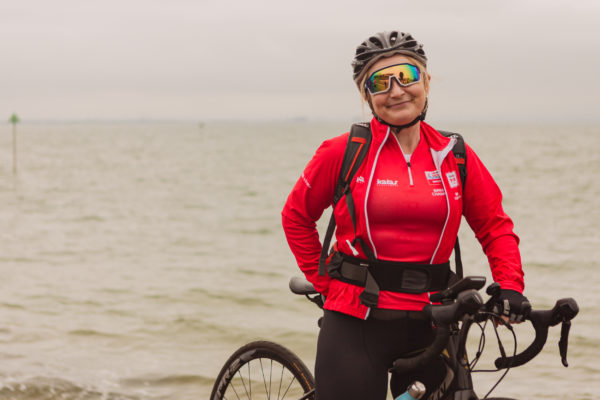 While lumbering coaches were making cumbersome U-Turns to leave the staging area only a few elite riders were still unwinding from the days action and one such rider was AWOL O'Shea rider Phoebe Martin.

Phoebe Martin
Hey Phoebe thanks for taking the time after the race, how did it all go today?

IT was a really tough stage, first 10k was really fast then it seemed to slow down after everyone realised no one was actually going to get away. It was nice and steady and when got to the climb at 10k to go thats when it all kicked off, got in just off the bunch but its all good and happy to finish another stage, onto tomorrow.
The crowds out in Southend were really good, wasnt what we were expecting but it was great to see all the school kids out giving us a cheer.

This is local for me and as you mentioned before that it passes within 15 minutes from walsall where you live, what is it like to have elite level riders come through so close to home?

Its so great to see that 15 mins from home, crowds of people come out and locals are able to  see the work you put in and receive the cheers and local support. Really good!
So seeing as how our platform is bikepacking focused, do you have intentions to do some or thought about it?
I know a couple of people who have done it and it does look really fun, Its probably something I would do if was to stop competing and probably get myself our bikepacking for sure. 
So last question, what would you say to someone who is thinking of taking up cycling? What makes you do it and why do you enjoy it so much?
Just go out and have fun, put no pressure on yourself and make sure you love it and then if thats the case see where else it takes you.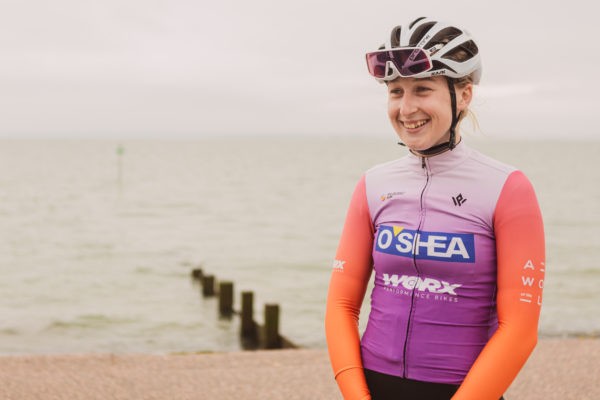 Following on from my chat with Phoebe Martin I then rolled away from the gradually diminishing finish line area, as steel fences were removed and food vans doors were bolted closed I then crossed paths with the last new face of the day.
Riding along I noticed the very obvious (if youre local) colours of the Southend Wheelers being worn by someone on a Marin Gravel bike and had to ask if they had a moment for chat to see what they thought of the event.
Mel Lamb –

Hey there Mel, thanks so much for stopping. 
So Day 4 of the Womens Tour of Britain just passed through, why are you here at this stage? Are you local?

Yeah, i live in leigh on sea – and got into cycling in the last year through lockdown, currently a hockey player but couldn't do that so fell in love cycling and got involved with zwift and lost 4 stone in weight and here i am, yeah just an absolute passion.


Wow thats awesome, so have you thought about cycling in the past? Or was it the lockdown that pushed you towards it?

Yeah, i mean i loved cycling as a kid, i've got a reallly cool photo from when i was about 6 and was totally obsessed with this bike i had. But in my teenage years, fell into other sports and started playing tennis or hockey, just because cycling wasn't really a thing to do as part of a club or a team, at least that was my assumption then. Now though im 34, and yeah got back into it about a year ago, kinda mad really.


So seeing the tour come through, whats it like to see the elite women?

Oh gosh, i was fan girling! 
There was a real twist of fate, i don't know how these things work out really, but I put a comment on facebook asking about it and then this guy contacted me and said your female and work in the NHS, would you like to be part of this hospitality Ride for heroes, and i was thinking "what's going on?" Butt they got us in hospitality at start and finish and then a ride on the last 15 kilometres.

I thought to myself this is amazing! Completely fate really that i got here. As i say thought totally fan girling at the start and just trying to learn everyones names!


So of course this a big road event, but you have a gravel bike here, is gravel riding and bikepacking something you've thought about?

100 percent yeah, i literally have dreams about it and have been following riders all over instagram, like Emily Chappel, but at this moment in time im trying to build up the courage to actually do something.

I really want to get into audax's and long distances, to be honest I feel the gravel bike allows me to keep up no problem on the road and its quite nice to be able to go off road through the woods, i quite like the luxury of that.


DO you feel there are prohibitive factors around bikepacking, what maybe gets in the way of you going about doing it?

I think it's more mind than anything else, i guess it can be getting all the right kit and things like that too, but ultimately ive fully immersed myself in facebook groups and instagram, and there is advice everywhere.
When i first started cycling, i was using zwift alot and started watching GCN videos and thats how i learnt and really get inspired by that; so i don't feel stopped by anything external for me its just building up the courage to say "stuff it! im doing it!"



What kind of places scream out at you for a bikepacking trip?

Anywhere? Abroad haha – there is the Womens Torino Nice Rally, thats happening now. WOW. That looks like the dream, id love to do something like that, but i think start off local, so maybe King Alfreds Way, then feel around see what else is out there.


So, last question So you are now part of Local cycling club The Southend Wheelers, what was it like for you riding on your own beforehand? Did you have a different sense of yourself, exploring your own limits etc?

Thats a really good question, i still do love riding solo as i find it really freeing. For me the last 18 months has been intense, I work in the NHS, I dont do clinical work but its been so full on, and being on the bike im not thinking about anything and just feel free.

Then again, i do also like the club rides, and have learnt how to ride in a group, really do enjoy the flexibility of both and was so reasonable to join.


BONUS QUESTION!
What would you say to someone who's thinking of starting cycling, what are its redeeming factors.

There is so much stuff out there, places to learn. Be that youtube which is full of great people to follow, Juliet Elliot and Katie Kookaburra, I watch things like that to gain experience and learn what kits good. So do a little research, then i guess just get out there and do something small,  five maybe ten and eventually before you know it you're at 20 kilometres.
Just try it, Be brave!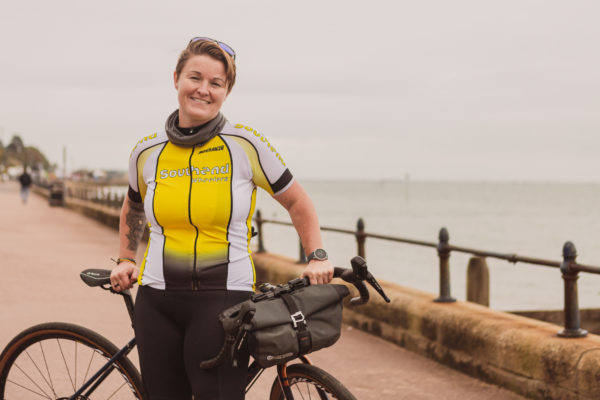 Some great advice in here and some really great people, would love to hear what has inspired you to get into cycling, and if there were barriers on making entry into the world of two wheeled fun what they were.

Let us know in the comments below.

Thanks,

Drummond
Last modified: 21st October 2021