The Escape jacket from IRIS is designed to replace all the different types of jacket: instead of choosing a rain jacket, a wind proof jacket or a casual jacket, you chose this one. We asked Nicola down in the New Forest to put the claim to the test. Photography thanks to Jay Waldon.
Introducing IRIS
The brand name 'IRIS' is not only the name of Dutch National road champion and founder Iris Slappendel but also stands for 'I Ride In Style'. A quick browse of the website will show you that all IRIS apparel is not only well designed, but looks great too. While that's not important for everyone, it is for me.
Iris Slappendel is also the Executive Director and co-founder of The Cyclists' Alliance,  'an independent union for professional female cyclists that provides holistic support for riders and campaigns for change from minimum salaries to equal media coverage.' From the diverse commerce photos on the website featuring people of colour and mature womxn, to the design details such as magnetic strips for faff-free pee stops, IRIS is a breath of fresh air in the industry and a testament to what can be achieved when womxn are involved in decision making and leadership.
Not only is IRIS womxn-owned, it's also a business that is centred around doing things right, not just by the customer but the planet too. All new pieces are designed with previous collections in mind, so no item becomes redundant. IRIS has a 'no overproduction' policy, and all items are repaired as opposed to replaced where possible. IRIS is currently designing pieces out of virgin leftover material which would usually be thrown out.
In a world where over consumption is easy and propping up the big players is default, finding small, independent owned businesses like IRIS is a joy and they should be supported whenever possible. 
The IRIS Escape Jacket on test
I tested the jacket November, December and early January. I've worn it  on every Womxn New Forest Off Road group ride and in rainy, flat Norfolk. I firmly believe you don't need lots of specialised gear to enjoy a long bike ride, so naturally I was excited about this casual, relaxed fit jacket. 
I may as well start by saying I am a HUGE fan of the Escape jacket. Usually I have a Patagonia Torrentshell and a Sweaty Betty waterproof which I've owned for 10 years, both of which have served me well, but I didn't think I needed another outdoors jacket. I was wrong. 
Before I saw the Escape jacket, I genuinely didn't think practical outdoors wear could look as good as this and so never spent any time looking. If you don't like how this jacket looks, then the rest of the review will be a bit of a non-starter and I'd suggest you check out the recently reviewed Alpkit Balance Waterproof or Endura MT500 II instead.
Construction and key features
The Escape jacket is made up of two layers. The outer layer maintains a water repellent (DWR) coating and the inner membrane is completely waterproof. Key features include two pockets (chest and lower back), a quality YKK pale yellow two way zipper down the front, 4 reflective strips and a hood. 
The reflective strips on the arms are discreet but effective and the asymmetrical pocket on the back doubles up as a reflector at night. These small details would be much appreciated by cyclists who value style as much as substance.
The waterproof jackets I own have the potential to 'boil in the bag'. In their quest to keep me dry, the inside becomes like the wall of a steam room. I found the Escape Jacket to be incredibly breathable and despite layering up heavily on night rides, I was warm, dry and comfortable. 
Fit
The jacket is incredibly light and packs up small (a medium weighs 287g). So small in fact that you'll find yourself triple checking that you've even actually packed it!
I found that the medium fitted me perfectly, with a little wiggle room for more insulating layers underneath in colder weather, and I'm a typically a UK women's size 8-10. The IRIS Escape jacket is available in women's sizes XS – XXL.
The stretchiness of this jacket is one of its biggest wins. The cuffs grip comfortably around the wrist with no scratchy Velcro straps needed. The hood can go over your helmet should you need it to, and the whole jacket moves with you to the rhythm of your ride. I'm really not a fan of rustly waterproofs, I feel like they are wearing me as opposed to the other way round, so the soft nature of this material was a real win.
The hood stretches perfectly over a helmet and is held in place by a small magnet when you don't need it to stop it flapping about in the wind.  Add to that the cool colour combo of lilac and green with yellow and pink details and I'm a very happy (and stylish) rider. 
The Escape Jacket is claimed to be wind and rain-proof and that's exactly my experience of it. Having said this, I haven't worn the Escape jacket in a torrential downpour, and as the seams aren't taped I'd be skeptical at how dry I'd be if the heavens were to open. However, after my rainy 30 km rides, I took the jacket off and found my base layers dry. It seems to achieve ultimate breathability you have to compromise water resistance and although the Escape jacket has a waterproof membrane, I will keep wearing it on rides where the risk is getting soggy, not drenched. 
I have been testing the jacket solidly for over a month and although it was dirty, I've only had to wash it once. After this first wash, the jacket still looks and fits the same with the same great water repellency. You can reapply the Durable Water Repellent (DWR) treatment to refresh the water proofing post-wash which I reckon you would be wise to do after a few washes or extended period of wear. It's all very well saying it's a casual jacket as much as an activity jacket but after one wet gravel ride you're going to want to be washing it before meeting mates for coffee in town! 
The pockets are smaller than any other generic use waterproof jacket you'd be looking at, but that's how the jacket achieves its sleek lines and minimalist style. You've got enough room for keys, snacks and phone so nothing to worry about. Having said that, it's generally safer to stash these items on the bike in a saddlebag or handlebar bag anyway when it comes to riding off road, so I don't think this is much of an issue.
It's a fact that I have other, more effective waterproofs than the Escape Jacket, but crucially, I forget I'm wearing this one which makes the ride more enjoyable for me. Which is what it's all about isn't it?
The IRIS Escape jacket verdict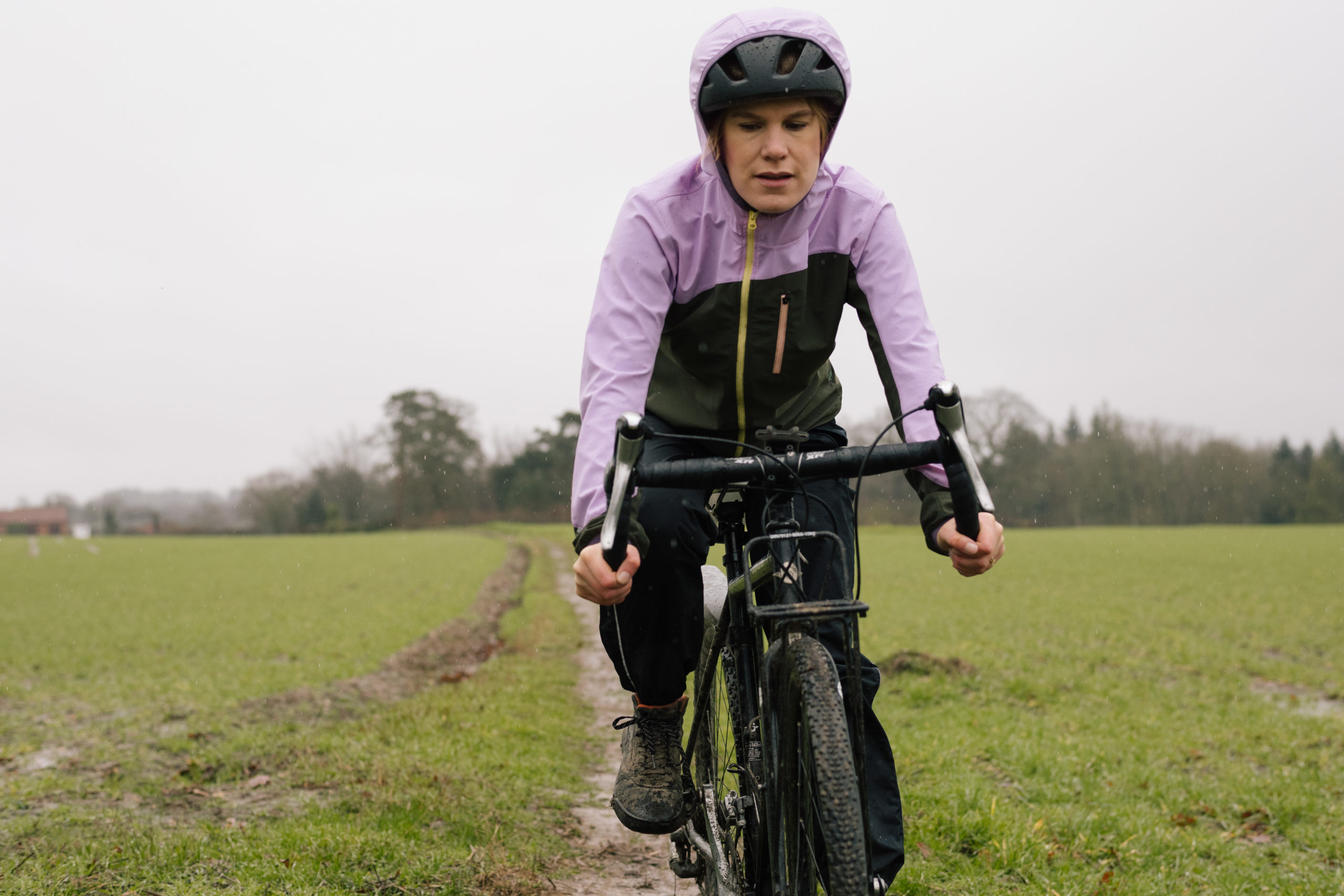 This versatile riding jacket has absolutely replaced all other waterproofs for me, and that's simply because of how comfortable it is. Not only would I recommend it to a friend, I'm eyeing up the IRIS KOYO Winter Jacket for my next buy. The price makes the jacket an investment but if you look at price per wear, you're getting a great deal. 
The IRIS website describes the Escape jacket as suitable for "whether your escape is a 300 km bikepacking route across the Netherlands or nipping across town for a coffee." And so long it isn't raining non-stop on that 300 km bike packing adventure, I couldn't agree more. 
Last modified: 15th January 2021