The new Hutchinson Touareg gravel tyre is designed to be the off-road adventure tyre and comes in both 700c and 650b sizes to appeal to gravel riders. But does it really make the grade as an adventure tyre or is it just for the primo-gravel riders?
Hutchinson are making bold moves into the gravel arena with their range of tyres. The Overide seriously impressed when we reviewed the 650b version earlier this year. The supple casing delivered great ride quality, but was let down by a less than aggressive tread pattern. Hutchinson must have been listening as the new Touareg is one knobbly looking tyre!
Specs and weight
The Touareg uses Hutchinson's 127tpi casing which is handmade in their France factory. Compared to your average 60tpi gravel tyre, those extra threads should offer a much more supple ride quality. The tradeoff of high thread counts is that the casing tends to be less durable and more puncture prone. Hutchinson have applied their Hardskin textile grid reinforcement as a bead to bead countermeasure against sharp tones and other pointy nasties. The protection can easily be seen on the tanwall tyre option as a grid pattern on the sidewall.
Available in the tanwall option as seen here and also black, the Hutchinson Touareg comes in 650×47, 700×40 and 700×45 sizes, though the latter can only be had in black. Tan connoisseurs may be interested to know that the Toaureg is a much deeper brown than most other brands, it actually has quite a reddish tint. Even Hutchinson's Overide is a lighter, more gumwall tan compared to this.
Whereas Hutchinson state the 700×40 weight as 490g (and no extra weight for the black option), they came in much lighter on our scales. 471g and 473g for the pair of rubbers we had on test.
Micro knoblies
Check out the tread pattern of the Touareg and you'll find a series of tightly packed knobs, which increase with height as they spread out from the centre. It's not a wide, aggressive tread pattern like on the WTB Raddler, the Touareg is clearly more focused on gravel racing rather than gravel thrashing.
When I first laid eyes on the Touareg, I straight away I thought that this a racers tyre. Style wise, the tread has more in common with Donnelly's MSO and the Goodyear Connector. You'll find these rolling under a lot of whippets as they race the expanses of gravel on US classics like the Dirty Kanza. The Touareg will be joining them on the starting grid, for sure.
Setup
For the duration of the test, I ran the Hutchinson Touareg 700×40 on a set of Sharp Precision carbon gravel wheels. A combination of racy gravel tyres and lightweight, but wide (24mm internal diameter) carbon hoops just felt like the perfect pairing.
Just like their Overide stablemates, the Toaureg was super easy to inflate tubeless. I used a Specialized Air Tool Blast and got them seated without any hassle. Hutchinson sent over samples of their Protect'Air Max tyre sealant for use on the test which has done a fine job, they have not weeped one tiny bit since setup.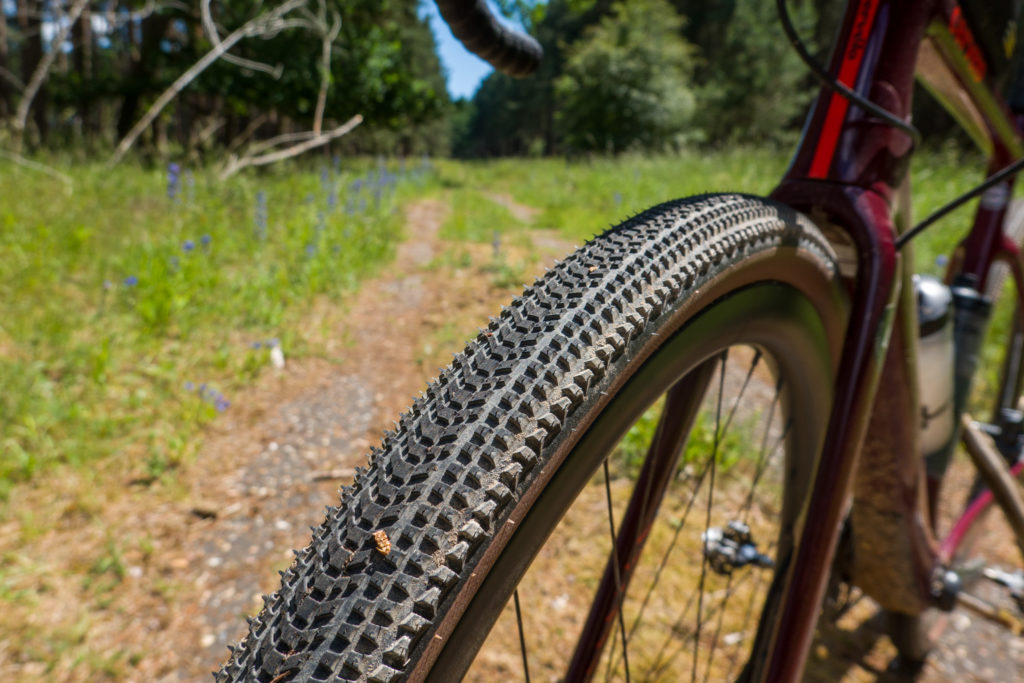 Ride
I have had many rides now over varied but typical gravel conditions. Everything from your typical forest fireroad, sandy, flint ridden farm tracks and plenty of singletrack. In all cases I have found that the Touareg tyres have been a real blast to use in the dry.
Dry. That's the keyword right there. The Touareg's tightly packed knobs do an impressive job of hooking up in loose and dry surfaces, while maintaining speed. But add some mud into the equation and they'll pack up with the stuff. The tight spacing between the knobs only holding onto the mud for longer rather than flinging it away.
It was a struggle to keep the rear tyre hooked up if I was climbing out of the saddle on anything other than proper hardpacked surfaces. The centre tread can quite easily let go and spin. I never tried to push hard in loose corners and the Touareg is not in the same aggro stakes as a WTB Sendero, so I would only expect so much before it lets go. For the limits of a gravel bike at least, I found the cornering ability to be fine.
What the Touareg did excel in was giving me the confidence to go far. I could go right off the beaten track and down some nasty flint strewn trails with little fear of puncturing. The rugged nature of the Hard Skin casing has stood up to a lot of abuse but has never felt hard and unforgiving. It's a wonderfully supple tyre and just soaks up the bumps. I ended up running around 30psi a lot of the time, 36psi tops.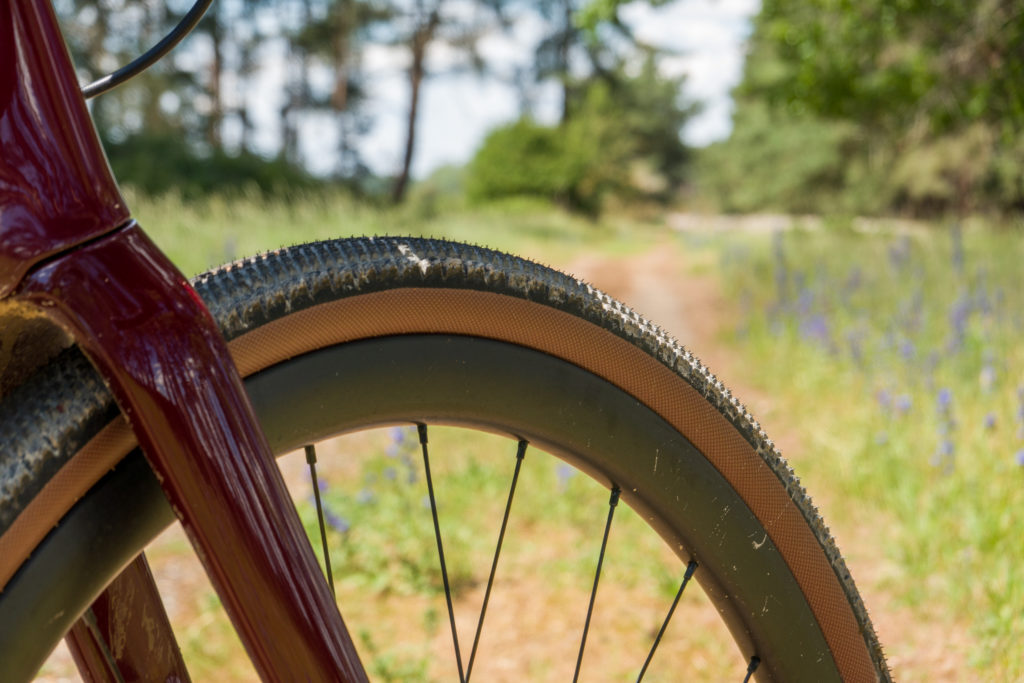 Conclusion
The Hutchinson Touareg 700×40 is exactly what I expected it to be. It's an 'ideal conditions' gravel racing tyre backed up by the reassurance that you're not going to mending a puncture as soon as you slip off onto the rough stuff.
If enjoy trapping along hardpacked gravel trails, head down, watts up, like an off-road roadie, the Touareg will appeal. It's a durable yet supple tyre that you could leave on for most of the year with little compromise.
More adventurous gravel explorers, bike packers and those that take their gravel bikes beyond gravel should look elsewhere. It'll have you sliding out in muddy conditions and walking up loose climbs if your bike is loaded for bikepacking.
The tyres have found a permanent home on my personal bike, a Cervelo Aspero, which I think is complemented perfectly by the Touareg. Both feel at their best travelling flat out on gravel roads until your legs fall off.
Last modified: 21st October 2020