French brand Hutchinson pioneered tubeless ready tyres way back in 2006. It has continued to improve the technology in the intervening years and delivering designs for both road, CX and MTB. And now, gravel with the Overide in 700c and as tested here, 650b.
The Hutchinson Overide features a semi-slick, fast rolling central profile dimpled with a very fine diamond tread pattern. Working out from the centre, the diamond tread design continues to increase in height and size all the way to the shoulder. You can probably guess already that this is not an aggressive gravel tyre. Overide is more suited to road and hardpack surfaces such as fireroads and tracks.
Our test samples weighed in at 591g and 589g, quite reasonable for this size and type of tyre. But a fair few extra grams over the manufactures claimed 490g. The tyres boast bead to bead puncture protection and 'Sideskin' textile grid sidewall reinforcement to stave off any punctures.
For those who have a penchant for tan wall tyres, Hutchinson have nailed it in the beauty contest. The sidewalls are a natural tan rather than relying on dies in the compound to create the effect. Think WTB skinwall rather than Panaracer brown.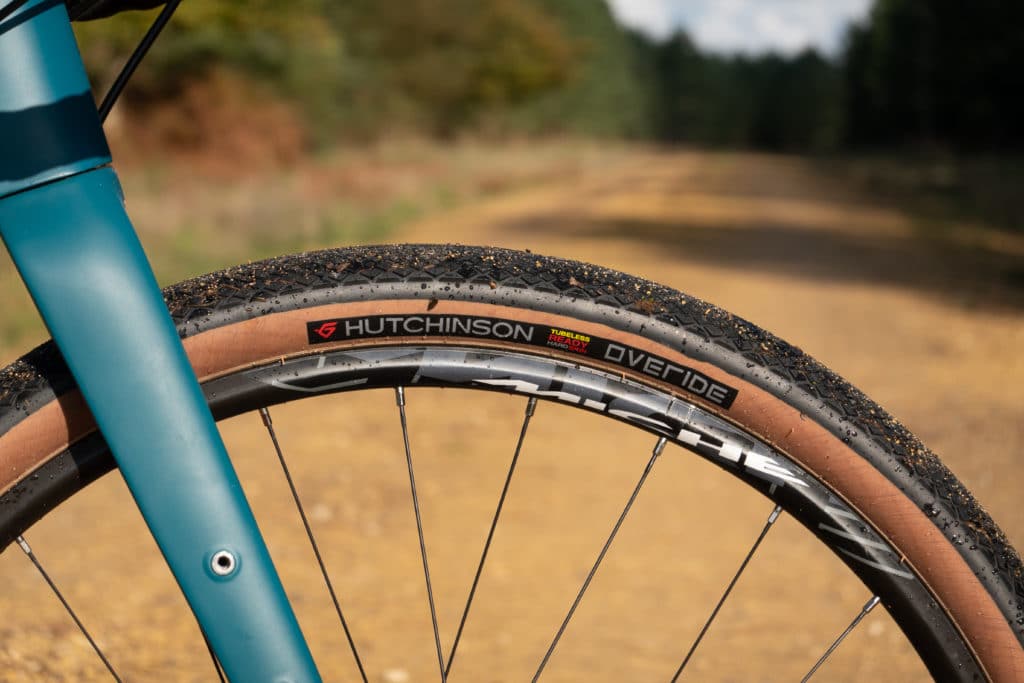 Pump it up
As you'd expect from a company with 13 years of tubeless experience, getting the Hutchinson Overide tyres inflated and seated on the rim was easy as pie. I didn't waste time finding out if they'd inflate with just a track pump, but they went up a breeze with a tubeless inflator. Once installed with a splash of Hutchinson's own Protect'Air Max sealant, the tyres have been running with no issues for several weeks with leaks, seeping or punctures.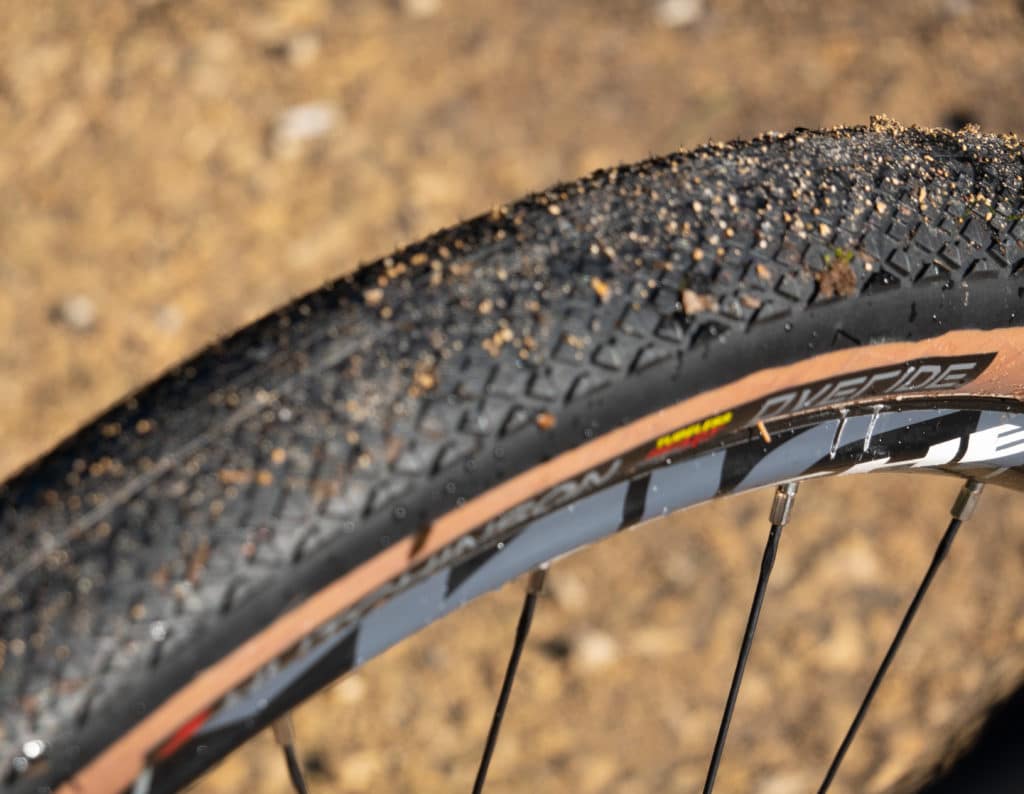 Ride Feel
First surprise was was just how supple the Overide felt. Usually tyres with a plethora of puncture protection belts have a harsh feel. The tyres are of a reasonably soft compound which offers up good grip in dry and damp conditions, but does wear quicker than harder compounds. The centre profile diamond pattern has worn down quite noticeably in only a few weeks of testing.
Soft and supple they may well be, but they are also seriously tough beasts. Even after riding over some seriously flinty tracks, they appear to be have shrugged off the abuse. There are no cuts in the tread and the sidewalls have withstood anything that's come their way. Such lightly treaded tyres like these often suffer more as they don't have thick treaded knobs to protect the carcass. No such worries here.
Get a grip
How these tyres perform in the wet is no surprise. Off-road, the minimal tread is quickly overwhelmed by mud and they'll lose traction in an instant. On dry to damp hard pack surfaces, they perform better than you'd give that semi-slick pattern credit for but don't lean them over too far or you'll hit the dirt. They do perform admirably in sandy conditions, their large volume rolls over sand rather than digging in.
If you are in search of a tyre that rolls fast on the road and with equally good performance on fireroad trails in dry conditions, the Overide makes a good choice. isn't a bad choice. The large volume of the 650b x 47 Overide makes it ideal for rough and broken roads more than an outright gravel tyre. Coupled with its great puncture resistance, the Overide would be ideally suited for commuters or tourers who will take the occasional foray off the tarmac to take a shortcut rather than to go exploring.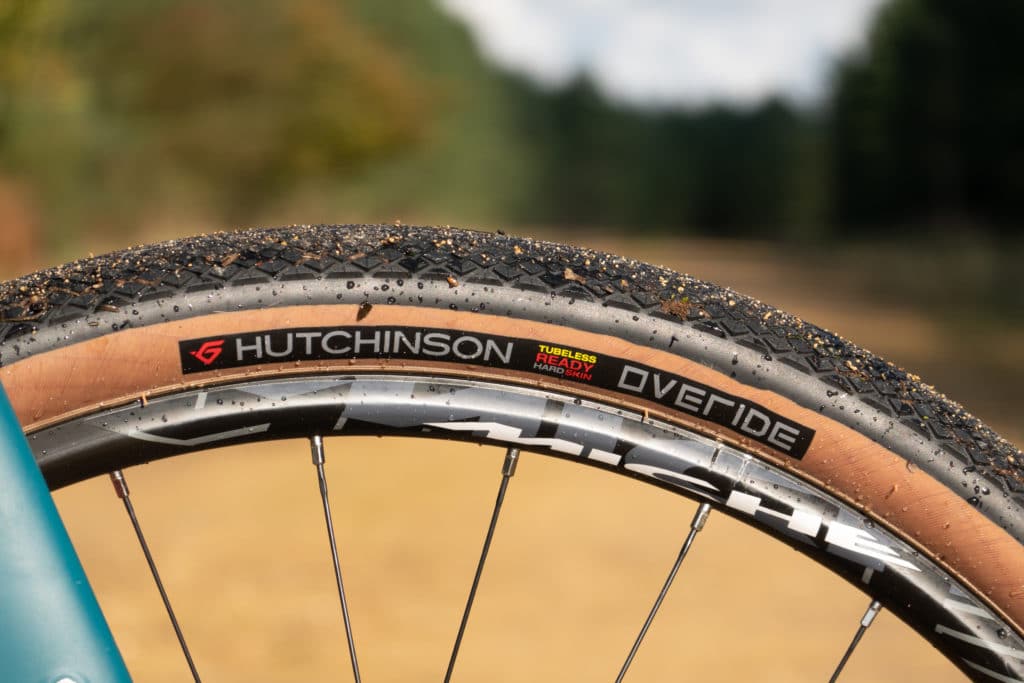 Overall
Hutchinson are offering a lot of features in the Overide and at a very reasonable £32.95. Undercutting a lot of similar tyres like WTB's Byway and the Teravail Rampart. Hutchinson's experience in tubeless technology is reassuring in itself and this is backed up by a durable design which has shrugged off everything thrown at it during our tests.
Last modified: 21st October 2020