ADVNTR Regular, Bengt Feil decides to stick to the asphalt and climb the iconic mountain passes of the Austrian and Italian Alps in 9 days.
Stelvio, Madonna di Campiglio, Gavia – If you are into road cycling and know a bit about racing, then these names evoke everything that makes cycling great. Epic climbs, fantastic views and history. In 2017 a good friend and I decided that the time had come for us to visit these Alpine giants. In July, we left Munich for 9 days of climbing, descending, eating and sleeping.

Germany – Austria – Italy
Our plan was to ride to Bassano de Grappa in Northern Italy via as many of the most iconic mountain passes in the Austrian and Italian Alps as we could. In total we covered 900 km with roughly 20.000 m climbing – courtesy of 12 major and many smaller mountain passes. Our route went South into Austria, and from there, after a short dip into Switzerland, into Italy and the Venetian plains.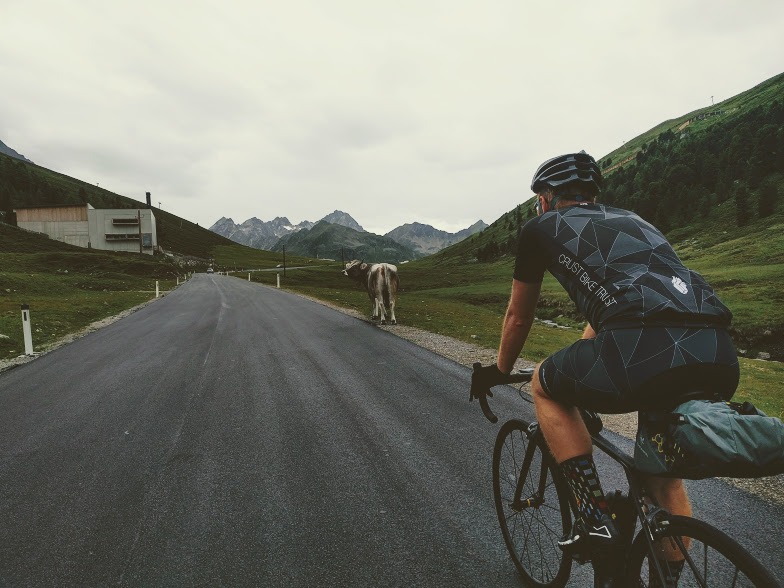 Bargain Resorts and Roads of Legend
For accommodation we took advantage of the fact that most ski resort hotels are cheap in summer. Staying in deserted, snowless, mountain towns has its own weird charm. It is surprisingly easy to ride with little to no baggage in the Alps as there are towns in every valley to cater for the winter tourists. They are only too happy for any business they can get in the summer.
For me, three things made this trip great. Riding roads steeped in history and legend and seeing what all the fuss is about; the sense of achievement that a point to point ride gives you, and most importantly, the feeling of companionship with my fellow rider as well as the others we met on the road.

The great bits
There were many highlights on the route. Obviously the big double of the Stelvio directly followed by the Gavia has to be top of the list. However the smaller, lesser known mountain roads stick firmly in my mind. Passo Santa Barbara close to Lake Garda, or the small road from Reschenpass into the valley leading to the Stelvio. Finally riding up the epic Monte Grappa, high into the clouds and towards our "finish line". Imagine the how bizarre it was when we met a unicyclist right at the top!
The bad bits
Besides everything that went right on this trip, it wasn't all great. Two things come to mind. Riding down the Passo Stelvio, in a bitterly cold 2°C in the early morning and trying to remember whether you still have fingers. Secondly, on the last day of the trip, making a "slight" navigation error (this one is fully on me) and riding 13 km of a rough gravel climb on skinny tires!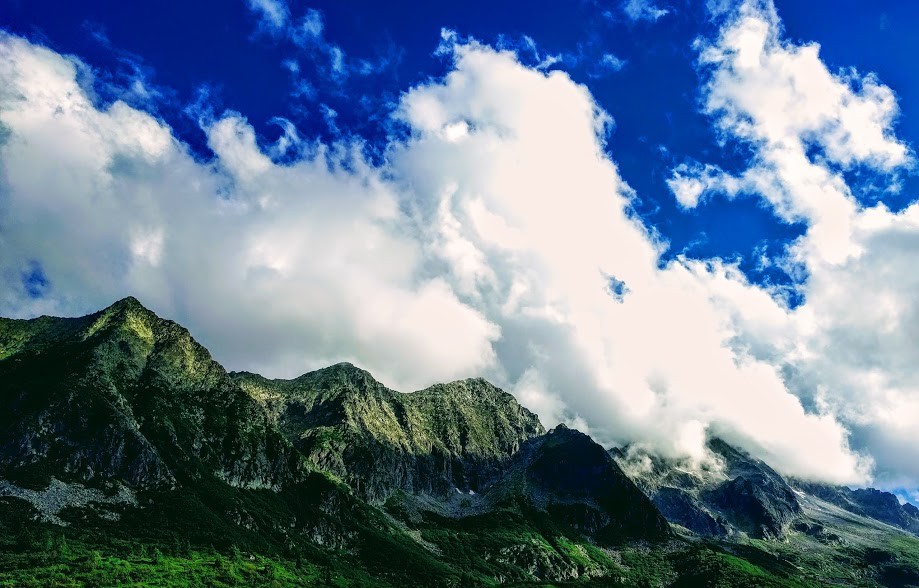 PS: Thanks to Torben, my riding companion for this trip. I am pretty sure a lesser person would have killed me on the slopes of Passo Coe.
Article and Photo Credits: Bengt Feil
Last modified: 4th March 2018