Machined in house, the newly announced line of 'union' pedals from Hope are here and Tangwyn Andrews has a pair of the 'Union Trail' to put to use for review.
It was only a matter of time till the cnc masters from Barnoldswick turned their hand to the clipped pedal, having made the flat pedal available for some time now Hope have launched the Union trio of clipped pedals. Catering for all the needs of the clipped in rider from xc/cx/grv race light to full gravity with the on test 'trail' version sitting in the middle. 
While many manufactures go for the shimano spd cleat standard hope have designed their own proprietary cleat, while this might encourage groans of 'yet another standard' I'm holding fire on griping only because it's what I would expect from the designers at hope; the whole interface being designed and made in house.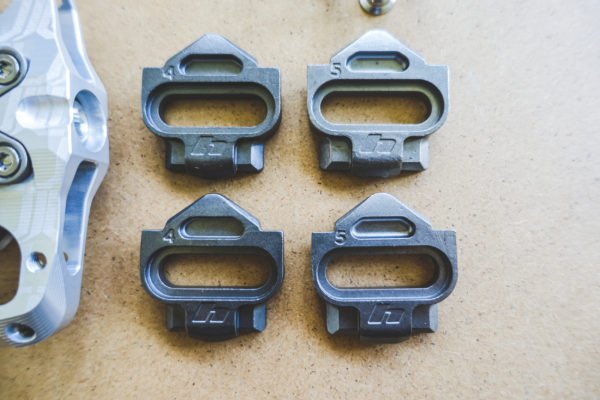 On test, we have the trail version with a nice sized platform cage & options to run up to four pins on each side. A handy cut-out guide is provided to shim (shims provided) the cleats so they sit at the right level to the shoe grip for most efficient contact and click, this was spot on a new pair of Fizik terra 2. The pedals are rather nicely supplied with two cleats options; 4°or 5° of free float and 12° or 13° release angle respectively. Both cleats also allow 2mm of lateral (side to side) float and are designed to wear quicker than the pedal clips, bolts are T25 and it will be interesting to see how easy they are to remove after some action.
The pedal bodies are beautifully machined and etched, coming in 6 colours to match your ride. Sitting at a 55mm q factor along with bunch of spare pins and washers should you need them, they come with a super clear set of install instructions with excellent illustrations.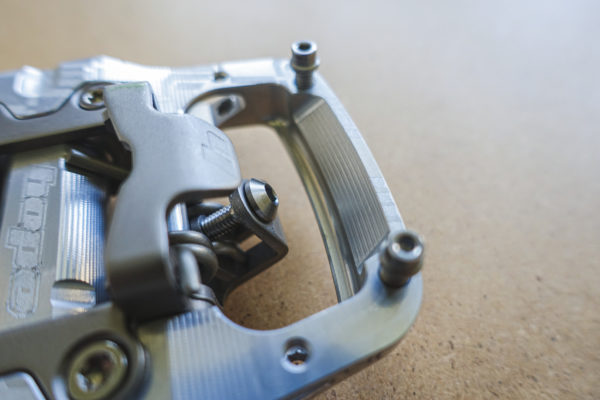 The mechanism is fairly similar to the spd design with a forward and down movement, designed to engage at a shallow angle to aid easy engagement (a key area for testing) and clipping out is popped by heal out or in if you have clearance or crash… The nice beefy springs adjust via a 3mm hex on each side. The spindle is chromo but also available is a titanium upgrade as a lightweight option.
Like all Hope spinning products, they are UK made, fully serviceable and there is a long list of spares available should a rebuild be necessary, an appealing and reassuring offering that; from experience, will lead to a long life. The two bearings are easily greased by undoing the pedal end screw with a 6mm hex, packing with non-lithium grease then simply screw back in, the norglide bush lube is added at assembly and they state they shouldn't need any more attention.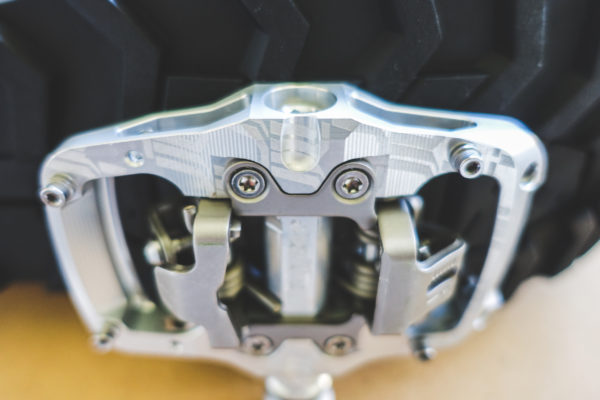 Price is on terms with Shimano XTR trail pedals and weight wise they come up 30g heavier at 437g for the pair, that's the same as the Shimano XT versions. However, you do get pins and a larger contact area. 
While these will get trail use I like running a supported pedal on the loaded gravel bike, meaning I can wear shoes to push and walk rather than the normal stiff soled numbers for faster rides. 
Will it perform better than the mighty SPD that I've been clipped to since their launch (with occasional forays to other platforms only to return)?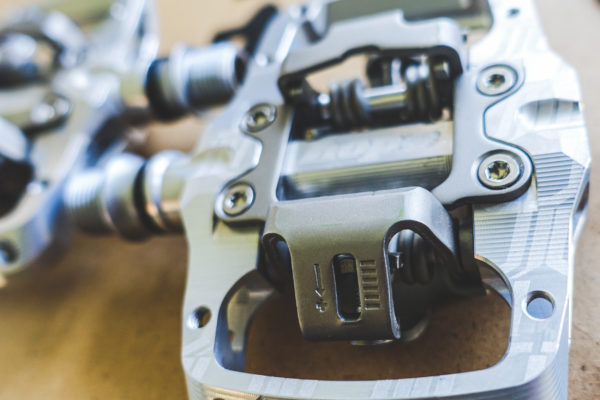 Some filthy hike a bike should let me know pretty quickly and if they perform as well as any of the other Hope products that keep on moving after many years they just might be a real contender to pry me off the big S.
Last modified: 14th September 2021