In the late summer of 2020, my partner Charlotte and I decided to have a crack at the North Coast 500, on a 40 year old French tandem that I'd renovated only a few months before. What follows is I hope an honest account of one of the best cycling trips I've ever had the pleasure of undertaking.
In my eyes cycling adventures are as much about what goes wrong as what goes right. They're as much about eating squashed sandwiches in a layby as stunning vistas and switchbacks. As such, I've left the wonderful, mundane details in, and as you'll see things didn't stick to the script… 
We didn't take a GPS, relying on paper maps, and recorded the day's events in a diary along with some snaps on a polaroid to supplement the proper camera. Italic quotes are directly from my field diary.
Day 1: Inverness to Garve
"I'll not say much about the drive up. I was stressed and bad tempered, anxious about what lay ahead. Thoughts of bad back, bad knees, bad tum…"
I haven't really spoken to Charlotte properly since Glasgow, where we dived into a TK Maxx to buy extra layers and hot sauce after realising Scotland in September is a bit colder than balmy Bristol. Charlotte buys a fluorescent hoodie, I get a fetching overshirt. Best we could do in ten minutes. I keep clenching and unclenching my jaw, aware it's already late afternoon and we've not even got the bike loaded up. Hell, we've never even ridden it laden before, just the one test ride in Cornwall.
We park up in a residential street in Inverness. Charlotte gets changed in the back as I haul the bike off the rack and begin strapping things to the frame, then join her in the car for a very cramped outfit change, hoping nobody walks past the car. Nobody is going to steal the bike though, its so heavy as to be theft-proof.
I've ridden some difficult bikes before but nothing that ever felt unrideable. This tandem however, with its load all over the back, was so difficult to handle at first that I genuinely thought we'd have to pack it in and dash back south, tail between our legs. Ever the optimist, Charlotte coaxes me out of the city as I try and get used to riding with such a flexible bike. Speed seems to help, and the downtube shifters take some getting used to.
We cruise along Beauly Firth into the wind, stubbornly in shorts but hamstrings feeling like brittle wood; much improved by legwarmers and flatter roads. The thought of Bealach na Bà already looming in the back of my brain as we crest ever minor incline. I try and force it out of my head for now. "We can just see how we feel tomorrow", says the voice of reason over my left shoulder.
"Found a lovely spot in the woods at Garve. Would have been perfect if not for the midges. A thick humming soup in the air. In nose, ears, eyes. Charlotte sets up the tent while I braved the bastards and 'cooked' ravioli that I had to eat at a brisk walk to avoid attack. Just had to stop writing while Charlotte picked a midge carcass out of my eyeball. Tomorrow we aim for Shieldaig. 80 miles if over Applecross, 60 if not. See how we go."
Day 2: Garve to Shieldaig
A rushed morning brew in a barrage of midges. I regret bringing the aeropress. We leave on empty stomachs to find clearer air and stop after an hour or so on the shore of Loch Achanalt for a breakfast of Welsh cakes, malt loaf and fig rolls.
We climb steadily, following the river Bran and a very picturesque railway line below us. The morning passes slowly, with regular stops to stretch on farm gates to avoid my back getting any more sore. The cold and damp always seem to make it worse, but it might be my imagination. I worry that I'm complaining about it too much, but Charlotte is always understanding. She's seen how badly slipping a disc affected me, physically and mentally, robbing me of riding for nearly two years.
"Clouds break before Achnanashellach Forest. Deployed the poncho and continued to descend in the rain. Arms cold and wet, and poncho billowing. Have to tie the back up to reduce parachute impression."
Fortunately, the rain doesn't last long, and I can remove the orange shroud draped about my person. We refuel at Strathcarron with Irn Bru, crisps, smoked cheese and some mysterious green paste on stale bread. Not haute cuisine, but it filled a hole. While we waited a while for our lunch to go down I notice the mudguard has been rubbing the rear tyre constantly under the weight of the bags. Nothing else to be done but bend the mudguard out with Little Red, my trusty adjustable spanner. An ugly solution, but no less effective for it. A brute of a hill out of town, but we keep pace with a group of Londoners on race bikes with a support van, which massages my ego no end.
Down a cleft in the hills to Tornapress, we pass the junction that would take us up Bealach na Bà. It's not the ascent that worries me so much as the descent. I don't have any regrets about taking the low road, as it's one of the most spectacular I've ever ridden. A petrified tsunami of basalt looms on the western flank of the road as we pick our way through the valley.
Bad tum flared up on the big final ascent of the day. Maybe it doesn't like Irn Bru as much as I do. Cycling adventures with IBS mean constantly worrying about eating. Is it enough? Is it too much? Is it the wrong stuff? Sometimes you get it wrong and have to dash behind a bush. Always pack the trowel somewhere easily accessible.
The descent into Shieldaig is amongst the best bits of riding I've ever experienced. Good company behind me, sun dipping behind the trees. Flowing corners, big escarpments, the smell of pine and the terror of speed that only a tandem can really give.
We have a pint and some blackberry whiskey in the sun at before continuing for a mile or so and a moderate push across boggy ground to a stunning camp spot on the shore of Upper Loch Torridon. Cuppa and a swim in the sea before nearly setting the tent alight before dinner with some errant fuel. The near-constant background anxiety is becalmed, and it's wonderful.
I note at this point that not a single complaint has passed Charlotte's lips. She's never ridden regularly, and never great distances, but jumped into 500 miles on a tandem with both feet. She's incredible.
Day 3: Shieldaig to Drumchork
"An exercise in letting go. The day started badly and pretty swiftly got a lot worse. Very hard push back up to the road through bog and heather on empty stomachs. Charlotte fell in a bog and my heart broke a little."
Once we made it back to tarmac and shook the worst of the mud off our legs, we pootle to Torridon with cast iron legs to a lovely café, where eggs on toast, chips and a strong coffee clear the black clouds of the day for a short while. We meet two other cycle tourers: Eddie, another geologist from UCL, and Iris, a German touring Europe with her border collie Zuri.
We had aimed to cycle together as we were on the same route, but this was thrown out the window on discovering one chainring was missing three of its five chainring bolts. My heart sinks at this point, and the air turns blue. I'm unsure where they fell out, not that it matters. I suspect I neglected to tighten them up when building the bike; normally you only have one set to worry about, but on a tandem there are three, and I was in a rush to get it ready.
We tell Iris and Eddie to go on without us, and I set about swapping one bolt from another chainring, and re-tightening all the rest. I also re-tension the timing chain and the front wheel bearing cones which had been shaken loose by the hike-a-bike.
It's the afternoon by the time we set off, and has dawned on us that we wont be able to make the mileage I originally planned. All the potential camp spots I'd spent ages scouting out the window, the anxiety of winging it rising, but once we get riding again it begins to ease. It's probably a good thing, all told. I've never been very good at going with the flow. Part of having IBS for me is obsessively scouting camp spots on Google Earth for morning privacy, but now we're forced to just see what the road provides.
More stunning riding, to the point where the merely extraordinary views become mundane in comparison to the spectacular ones. A lovely descent into Kinlochewe along Loch Maree, before an arrow straight climb over the peninsula and down again through the forest into Strath as the sun becomes a honey-gold. We stop for a gingerbread latte and more food than we can eat, so we stuff an apple pie into the already full panniers and set off to find a place to sleep, which is easier said than done when every bit is fenced off.
"Finally found a spot after cursing every fence for about ten miles. Nice view, just off the road. Descent to start tomorrow – Cold! Hope it doesn't get too windy overnight, and the HGV leaves the layby… Tomorrow we aim for Ullapool."
Day 4: Drumchork to Ullapool
As we sip our morning brews and force down yet more malt loaf we spot Iris coming up the road towards our camp, with Zuri happily running along the grass verge, hurdling boulders and jumping drainage ditches. We rapidly pack up so we can ride along with them, but it swiftly becomes clear we can't keep up with an e-bike on the hills, so we say our goodbyes again and settle back into our own company.
After a particularly nasty hill, we meet some other cyclists coming the other direction, warning us of two very big hills before Ullapool, which was something of an understatement. The former was manageable, the latter was much more troublesome. Upwards, ever upwards, through the forest. A kind man in a layby offers us tea, but I'm afraid if we stop we won't be able to start again. His shouts of encouragement fade as we both work up a sweat in the slightly anaemic September sun. After the summit, the road flattened and we chugged along into a headwind for four miles or so, stopping to chat to four motorcyclists before the final descent into Ullapool. We talk mostly of midges, and like most people we meet they seem happy to see such a silly bike.
"The descent into the head of Loch Broom was fast and relatively straight. Suspect we broke my all-time speed record of 85kmh, but will never know for sure. Final six miles into Ullapool were tortuously undulating, with very tired legs and sore bum."
In Ullapool Charlotte dives into a chemist to find something to soothe her midge bites, and some shampoo in anticipation of the first shower in four days, while I look for a bed and breakfast.
After a dinner of fish and chips and Irn Bru we bump into Iris again. She's had no luck finding a place to stay, so we offer her the spare bed in our room. I wash my base layer in the sink, the water turns grey. I'm so tired at this point it doesn't really bother me, I'd just like my saddle sores to calm down and to regain the feeling in my fingers.
I check the weather forecast, it's not good.
Day 5: Ullapool to Inverness
I slept terribly, my mind racing for some reason. Worrying about the weather, and whether to push on for one more day or two. We have breakfast of eggs on toast and I check the weather forecast one last time. Tomorrow brings heavy rain and 40mph winds.
Sheepishly I ask Charlotte, and Iris as our new companion if they mind if we call it a trip and make a break for Inverness. They agree, but I feel ashamed as the self-proclaimed cyclist. Truth be told my saddle sores were as much a factor as the weather, and I'm not sure I'd have made two more days. I wasn't even sure I'd make one.
As we walk back to the B&B I start crying. I feel like I've let them down and myself by cutting things short. We stop for some photos before leaving Ullapool, and leapfrog each other for a few miles. Iris and Zuri shoot up the hills, and we catch them on the flats.
"Up and up to Lock Drum, which was almost totally dry, revealing the old road within. Flat-ish grind into a headwind along Glasnorch. Downhill, with a coffee stop at a shit pub with an angry proprietor, before saying goodbye to Iris and Zuri."
A long descent into Garve was tortuous. We fought into an increasing headwind that robbed us of all momentum, despite the gradient and the mass of a small family car. We have a final bite to eat in a glamorous layby, before setting our faces to the wind once more. I start to lose my temper with the conditions as we approach Beauly, but as we turn to face due west and fire along the Beauly Firth the wind falls mercifully on our backs and we pick up speed.
The final ten miles into Inverness I will not forget for a long time. We sail along, keeping pace with the few cars, the rear panniers acting like gullwing sails with a following wind. Despite the saddle sores and the numb hands we were flying, and the best bit is I got to share it with Charlotte. We drive back south and I'm smiling, a mirror image of the journey northwards.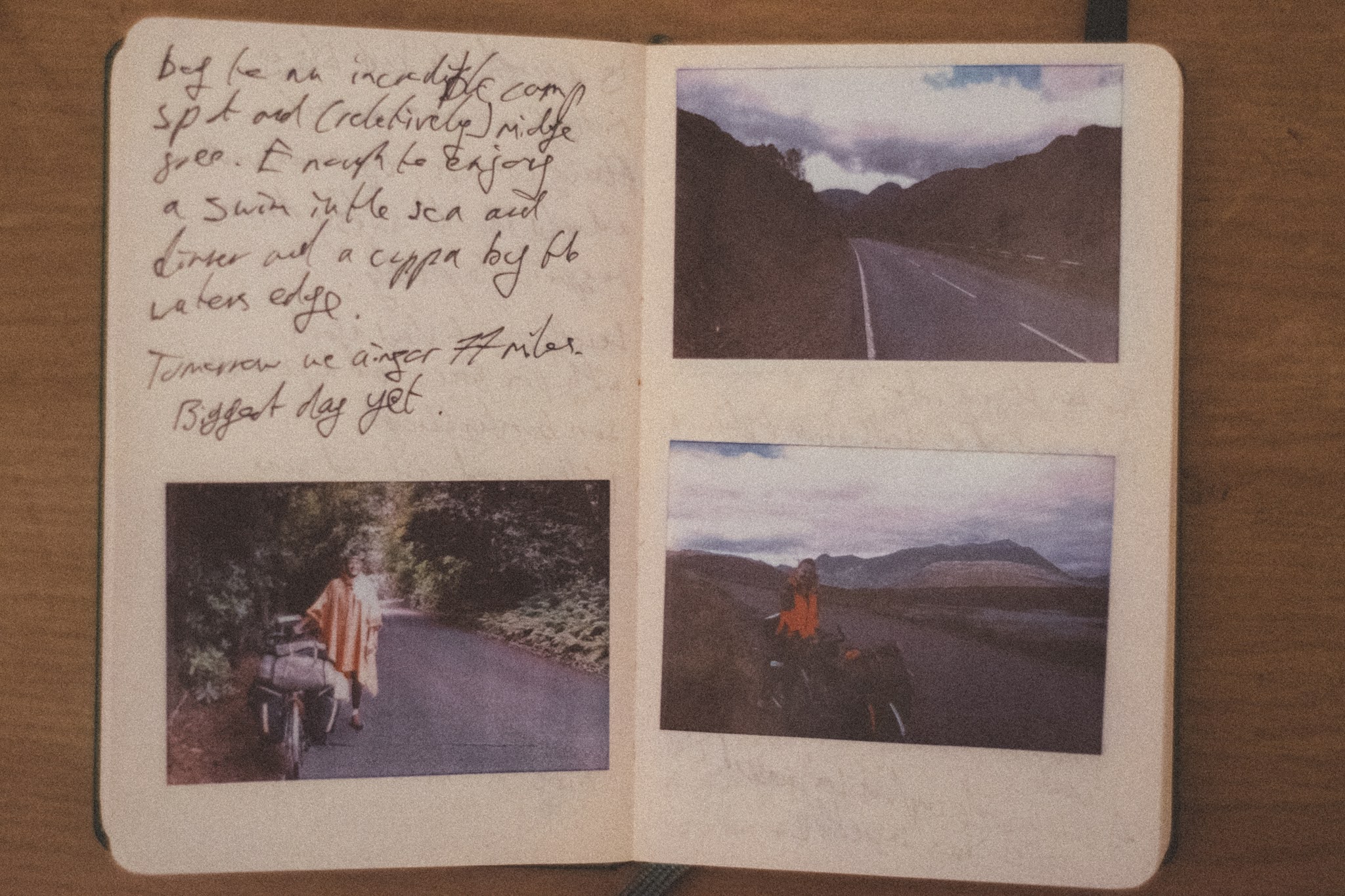 For more from Will Jones, check out his Geologist's guide to gravel.
Last modified: 8th February 2021