Without delving into nerdy levels of detail, helmet technology hasn't progressed that much in the last couple of decades. Weight has come down and some smart innovations like MIPS and Wavecel have improved safety in recent years. But it's still a case of pick a size that fits and off you ride. Considering everyone's head is different, shouldn't helmets be more custom? HEXR believe so.
HEXR uses 3D printed honeycomb technology to create custom helmet designs that in independent testing, apparently perform 26% better than traditional helmets. It's also a 100% renewable raw material, made from castor beans. So is more environmentally friendly.
As a fully custom product, the ordering process is very different to your typical helmet. You can either arrange an appointment at a HEXR retail partner or download their Smartphone App and scan yourself at home.
Don't shop, use the app
At the time of testing, the app was still in beta. So HEXR shipped an iPad and scanner over to our office so we could try the process out for ourselves. The procedure is pretty simple, you pop a silk cap on your head and get someone to walk around you with the scanner to map out a 3D image of your head.
Options are limited to either a black or white shell. HEXR plan to release a number of different shell colours in the near future. Once done, you just submit the scan of your head and your chosen options via the app and HEXR do the rest. It takes around five weeks for your helmet to be created, at which point you can try it for 30 days with a no quibble refund if you're not happy. HEXR also offer to reprint your helmet if you find an issue with the fit.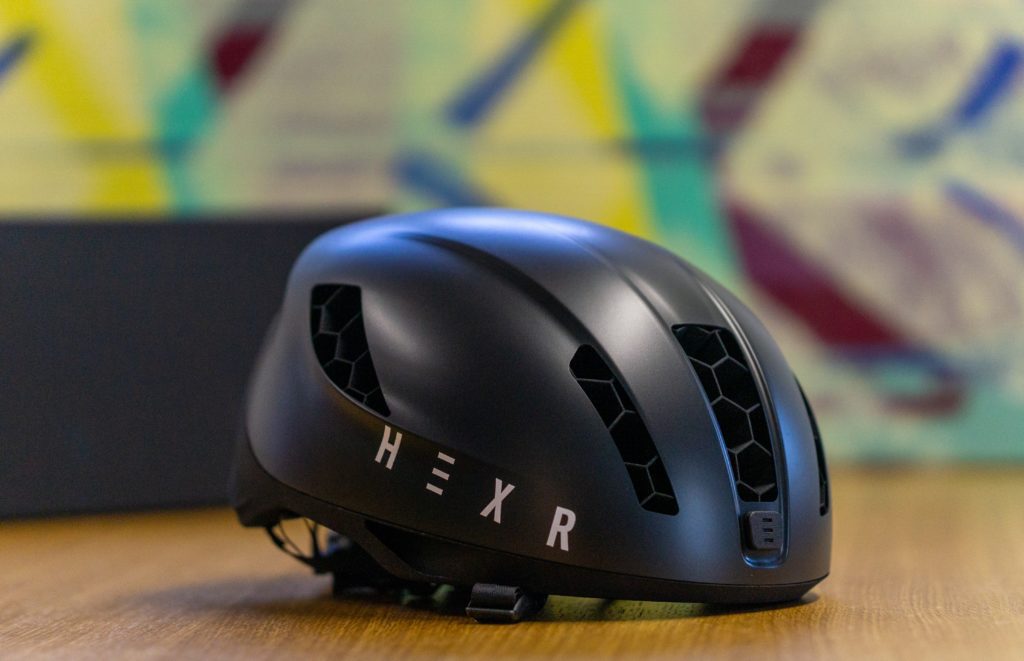 Box fresh
Five weeks later and my HEXR helmet arrived safely and well packaged. Bundled with it is a helmet bag, some spare pins for the straps (you can remove them, presumably for cleaning) and the rear helmet tensioner. You have to fit the tensioner yourself and it feels like an afterthought.
Picking the helmet out of the box, the first thing I was acutely aware of was the weight. Most helmets we receive for reviews have been getting ever lighter as manufacturers battle it out to shed every last unwanted gram. Printed on the rear of the helmet is a weight figure of 240g. Our scales say otherwise and at 387g, it's quite a heavyweight.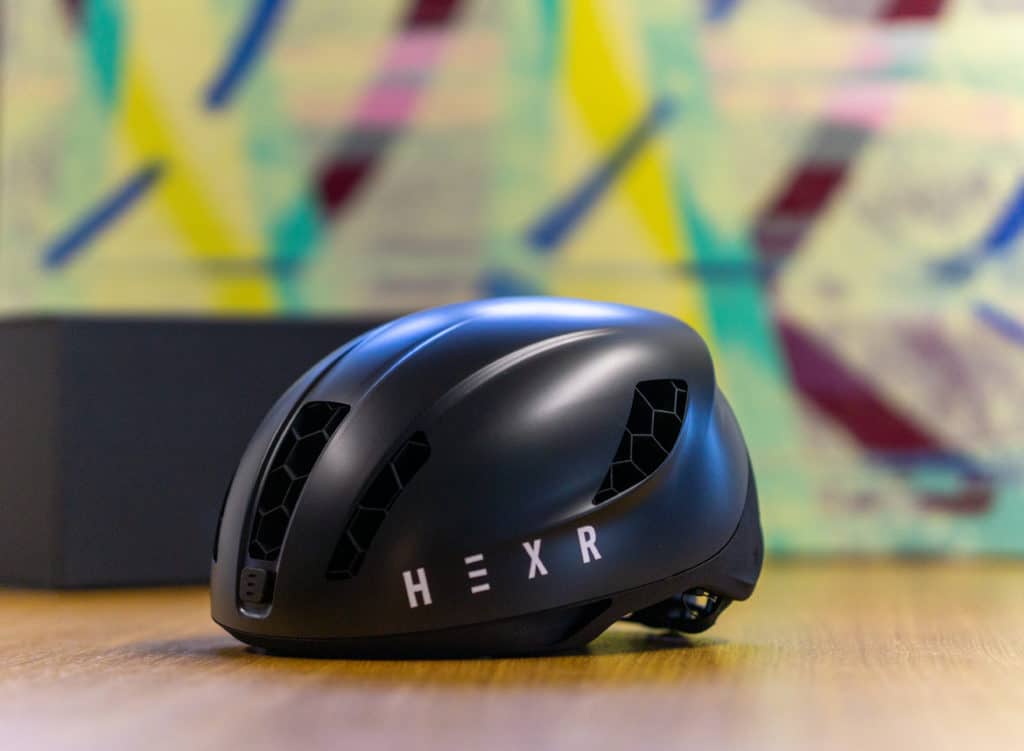 Popping the HEXR on for the first time, the custom fit is instantly noticeable. The fit is comfortably snug and with no voids or gaps between the helmet and head anywhere. Compared to a lot of road helmets, the HEXR offers deeper coverage more akin to a MTB style trail helmet.
Visually the HEXR looks like a cross between a commuter lid and an aero helmet. The 3D printed nature of the design makes it look decidedly proof of concept rather than production ready glossiness.
Ventilation is minimal when compared to many contemporary helmets. Three narrow holes at the front, backed up by an additional one either side in the middle and one large exhaust port at the rear. HEXR claim the material used conducts heat x8 better than foam however. Other features include ports for sunglasses and a small reflective decal on the rear. The thin padding inside the helmet is minimal and looks to be more for sweat absorption than comfort.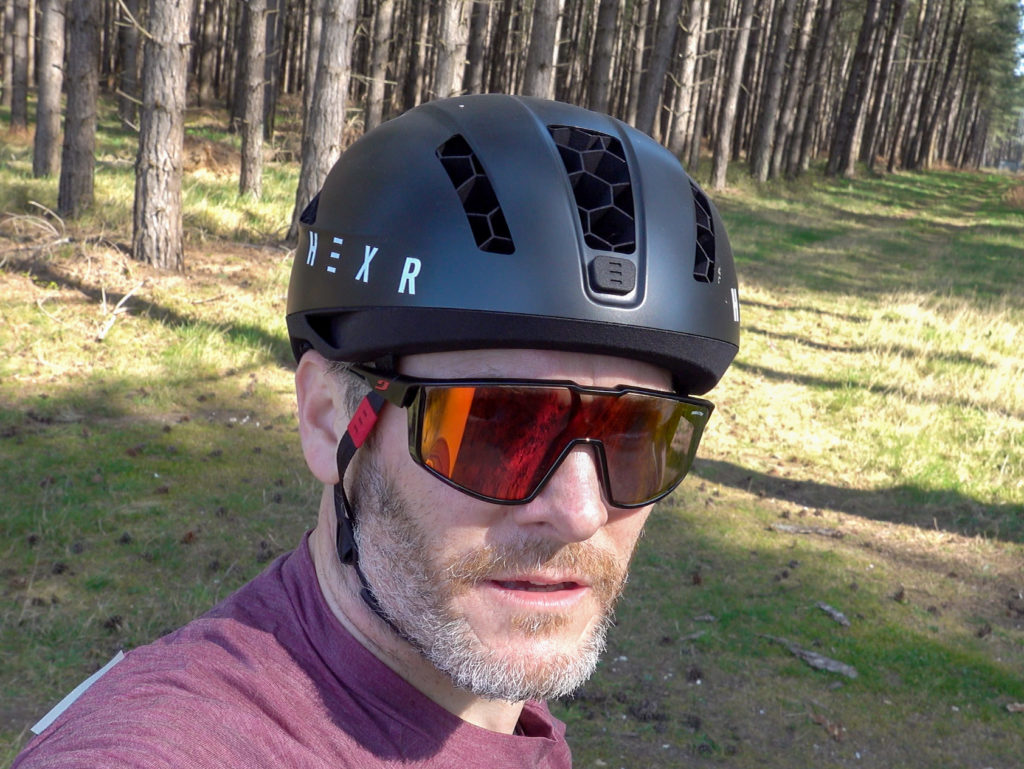 Testing
Not surprisingly, I'm not too keen to put the HEXR fully to the test. You can find out all the safety claims and research on their website. Like MIPS, the design of HEXR concentrates on rotational forces and comes out 26% better than average in tests carried out Strasbourg University.
You certainly know you've got the HEXR on your head. The weight increase over my usual POC Octal was quite recognisable. But it is at least comfortable and as you'd expect from a custom design, absolutely no pressure points. The snug fit does mean there is little room under the helmet. I tried wearing a cotton cap and found it made the fit far too tight for comfort.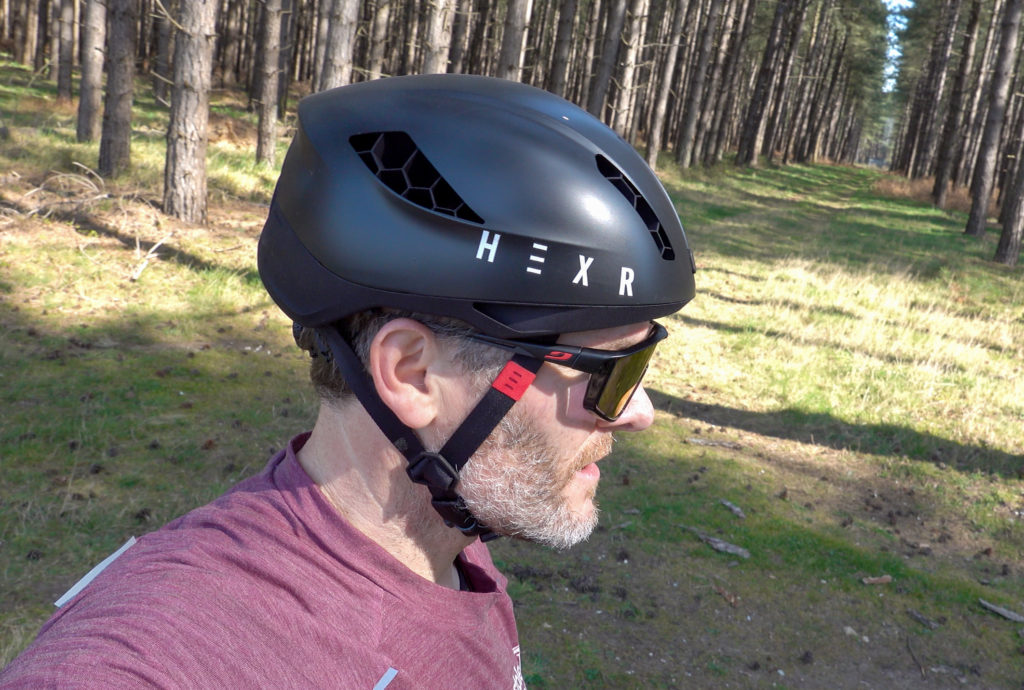 The deep side coverage of the helmet also interfered with numerous sunglasses I tried. The base of the helmet would push the arms of my shades down on my ears, causing a niggling pain on anything more than a short ride. The rear ratchet retention mechanism feels very basic and is secured to the helmet by two plastic pop studs, one of which had an annoying habit of coming loose.
Even though the majority of testing has been carried out in late winter to early spring, I found myself getting quite sweaty under the HEXR. The limited ventilation would prove to be a real problem in the summer months for me, but then I do tend to 'run hot'.
A final gripe is that the 3D printed material has a rough finish which seems to attract fluff and also scratches up very easily. Muddy rides through the winter have of course left splatter marks on the helmet and cleaning these off seems to leave a lasting tidemark of stains and permanent marks.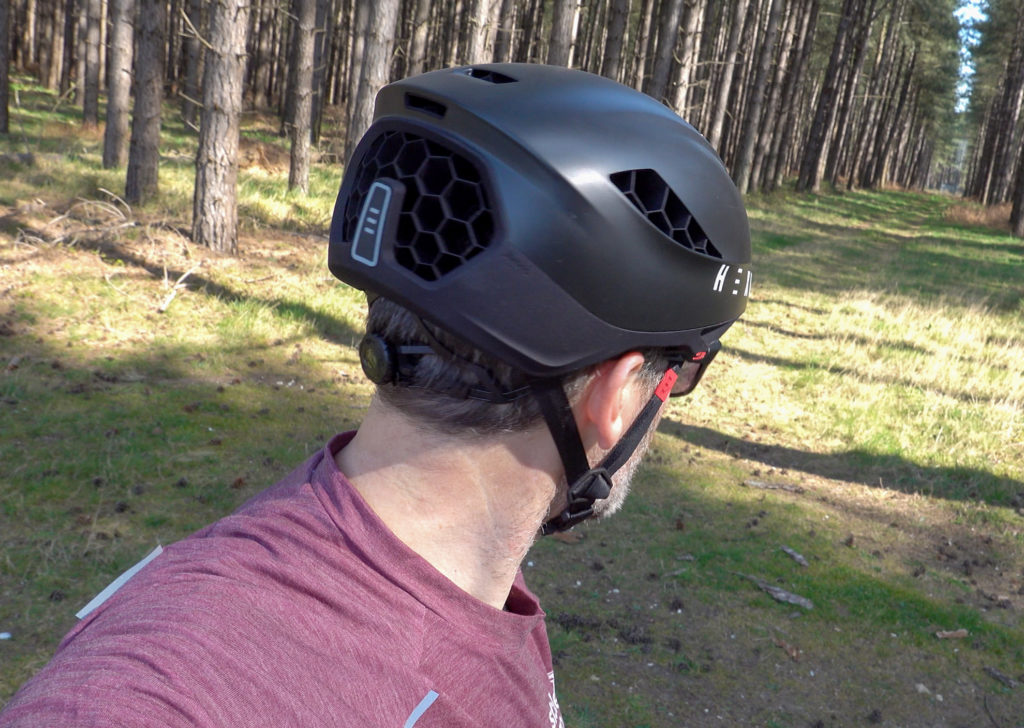 Conclusion
On paper, the HEXR helmet is an impressive showcase of technology. It's a revolutionary design completely different from the EPS foam helmets that we have become accustomed to. The safety credentials are impressive and right now, it is the only custom helmet available on the market.
In reality, the retention system and the overall finish gives the HEXR a less than premium feel. So too the weight which betrays its lofty £300 price tag.
If the HEXR was closer in price to its MIPS rivals, then it would be a worthy contender. The technology is impressive and having a custom helmet is appealing, but it's still got a long way to go.
Last modified: 31st July 2020