What is Gravel Rocks? Myself and veteran bikepacker-cum-ditch dweller, Nigel were made aware of a 'gravel focused' training camp organised by the guys behind the Dirty Reiver 200 event.
The weekend boasted training both on and off the bike, gain information on riding gravel, bike set up, nutrition and how to mentally prepare for a long day in the saddle. And it certainly did not disappoint.
We were joined by stars of the endurance scene such as Mike Hall, Lee Craigie, Emily Chappel and Rich Rothwell who all came out of the Saturday ride to share their knowledge and experience over a 50 mile route along some of the finest gravel roads that Keilder has to offer. Some of the advice for gravel riding is stuff I've learnt myself already but it was good to hear I wasn't doing anything out of the ordinary – get in the drops for better control and comfort on the descents, lean the bike rather than steer etc.
The first evening of Gravel Rocks was a chance for everyone to socialise over dinner and a pint before joining one of several discussions on nutrition, bike set up and preparation. The purpose of the training camp was geared up for those preparing to tackle the Dirty Reiver event in April 2017, but a lot of the advice given could be applied to any long distance event.
We also got to try a generous amount of nutrition products from event sponsor OTE and examine a few examples of the Altura range of winter clothing. Warm gloves in particular are something that should be at the top of everyone's shopping list if they plan to endure several hours of riding in winter. The general advice was to consider 'lobster mitt' style gloves as these keep your fingers closer together, hence keeping them warmer.
Inspirational
Following these little sessions, we then got comfy and listened to some very inspirational talks by Lee Cragie who shared her experience of the Highland 550. And then Mike Hall somehow managed to cram two Tour Divides and a Round the World race into an hour!
With all this information crammed into our heads, it wasn't surprising that most of those attending decided an early night was in order rather than propping up the bar.
Sunday was kicked off with a full English breakfast, lots of coffee and then a strength/conditioning work out focusing on bike specific core exercises – Having a full English beforehand wasn't a good idea!
Pre-Reiver Training
The group then headed out to do a lap of Keilder's famous lake, this time at a more sedate pace to allow everyone to ride along and chat to the various special guests and of course, each other. We headed to Keilder Castle, the official start/finish of the Dirty Reiver event, for a photo shoot where typically for such occasions, the beautiful sunshine instantly slipped behind some dark clouds and it begun to rain! This did little to dampen anyone's spirits however and we were soon back on our way back towards the weekends accommodation for hot showers and a huge lunch.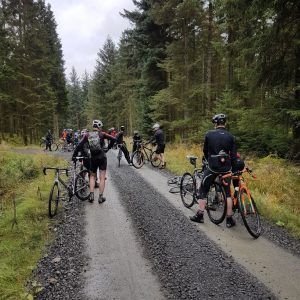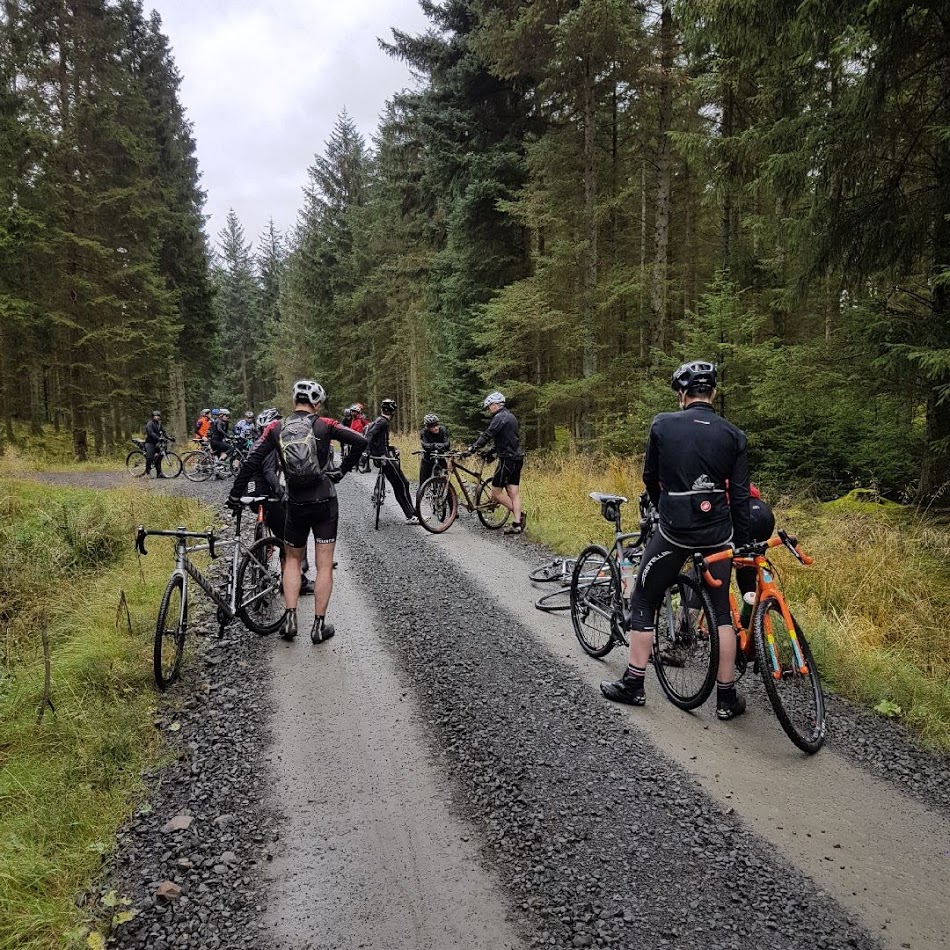 I wasn't sure what to expect from the weekend and really went along with Nigel as it sounded like something a little different to do from the normal routine. The talks were, as I already mentioned truly inspirational and getting to ride along with these guys and girls isn't an opportunity that comes along all that often. I've often seen Rich Rothwell flying past me at races, so it was great to be able to say more to him than just "going well mate!"
Should the organisers decide to put on another training camp next year, I'd certainly go along. Actually, I really hope they do another Gravel Rocks event!
Last modified: 10th October 2017