Granite Design are best described as a bike gadget company. Creating tools, straps, portable bike stands and all sort of neat things you never thought you needed since 2017.
Granite's tools and gadgets have proven hugely popular with the MTB crowd. With a relatively obvious crossover into gravel, we'll take a closer look at some of the ride essentials in their range.
As all the items are sold separately, you to pick and choose what you want. Granite's modular approach is handy as no doubt many of us have one or two similar trusty items like these featured below.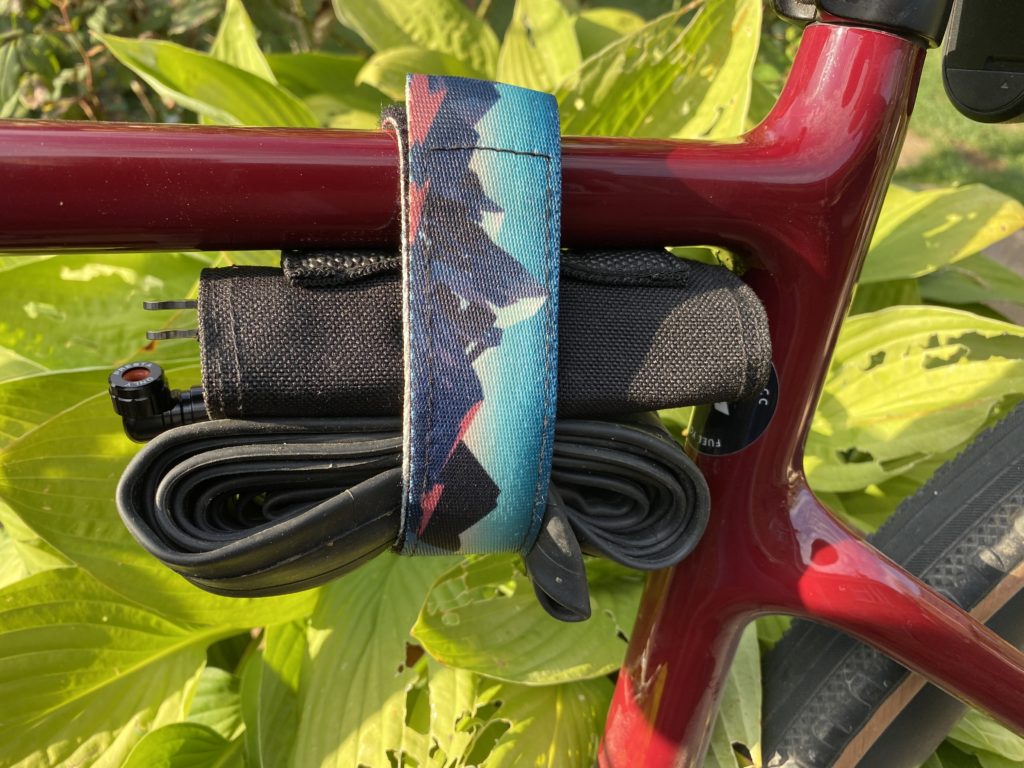 ROCKnROLL Toolkit
RRP: £30 / Buy on Amazon
The Granite ROCKnROLL is a compact toolkit and tool roll.  The canvas roll is made from a tough, abrasion resistant Cordura fabric, so it can withstand abuse.  There's a special loop strap which enables the ROCKnROLL to team up with other gadgets in the Granite lineup. Namely the Rockband carrier strap (below) which is sold separately.
​Wrapped inside this roll is a small but sturdy, mini ratchet tool. Keeping company is an extension rod and a 9-bit kit. The ratchet may be diminutive size but is rated to 30NM, which is more than you'll ever manage to crank through the tiny arm. Although tiny, it has a decent sized handle and is easy to use.
The kit features 7 Hex bits (2mm/2.5mm/3mm/4mm/5mm/6mm/8mm), Star bit (T25), and Philips bit (PH2). All the bits are of a good quality finish and are CNC-cut to ensure precision engagement. Even my most hamfisted attempts failed to round off any bolts while using the kit.
For £30, it's hard to fault. It's durable, yet compact. The tool roll isn't waterproof and depending on where you store it, can become wet and muddy. Which results in rusty bits (ooh err..) and a very grubby canvas roll. When the weather turns nasty, I'll stash the ROCKnROLL in a saddle pack to protect from the elements rather strapping to the bike.
Score: 4/5
TALON Tyre Lever / Chain Tool
RRP £10.99 / Buy on Amazon
Now, the Granite TALON is a pretty neat, yet simple idea: A pair of seriously strong tyre levers that also click together to make a quick-link tool. The simple genius continues with a storage slot for a spare chain quick-link too.
Luckily I have only once needed a pair of quick-link pliers when out on a ride. No surprise to learn that I didn't have any on me but I did manage to fumble a fix without. Pliers are usually a bulky item to carry around, unlike these 40g levers.
Although not quite as fool proof as their workshop stablemate, the TALON pliers will get you out of a fix. As tyre levers, they work as good as any other. Made from fibre reinforced nylon, the TALON levers can take a lot of abuse. And as someone who has managed to break tyre levers from many of the big brands, that's praise indeed!
For less than a tenner, they're a seriously great tool to have in your trail kit. Keep them handy in your jersey pocket or bundle up with the Granite ROCKnRoll tool roll.
Score: 5/5
PUNK CO2 Inflator
£18 (16g) £20 (25g) / Buy on Amazon
The Granite PUNK is nothing revolutionary. But if you need to inflate a tyre in a hurry, a CO2 inflator gets it done quicker than any hand pump. The inflator comes in to options, medium for 16g CO2 cartridges and large for 25g. The only difference is the diameter of the silicone cartridge sleeve.  A clear plastic spacer is provided to slip over the cartridge thread to prevent the valve head piercing the cartridge when not in use.
Other than protecting your hand from freezing to the cartridge when in use, the silicone sleeve also features a belt loop. This enables the Granite PUNK to be firmly attached to the ROCKBAND storage strap. Or so I thought…
Somewhere on my travels, the valve head and 25g cartridge managed to wriggle free of the silicone sleeve and escape. Sadly not as secure as I was led to believe. As a CO2 cartridge is not included, you'll have to shop around. Perhaps the 25g Zefal cartridge I used was slightly undersized.
Maybe it was user error that led to its escape or just a poor design. Either way, I think at nearly £20, you'd be wiser to invest in a handpump rather than wasteful CO2 cartridges.
Score: 2/5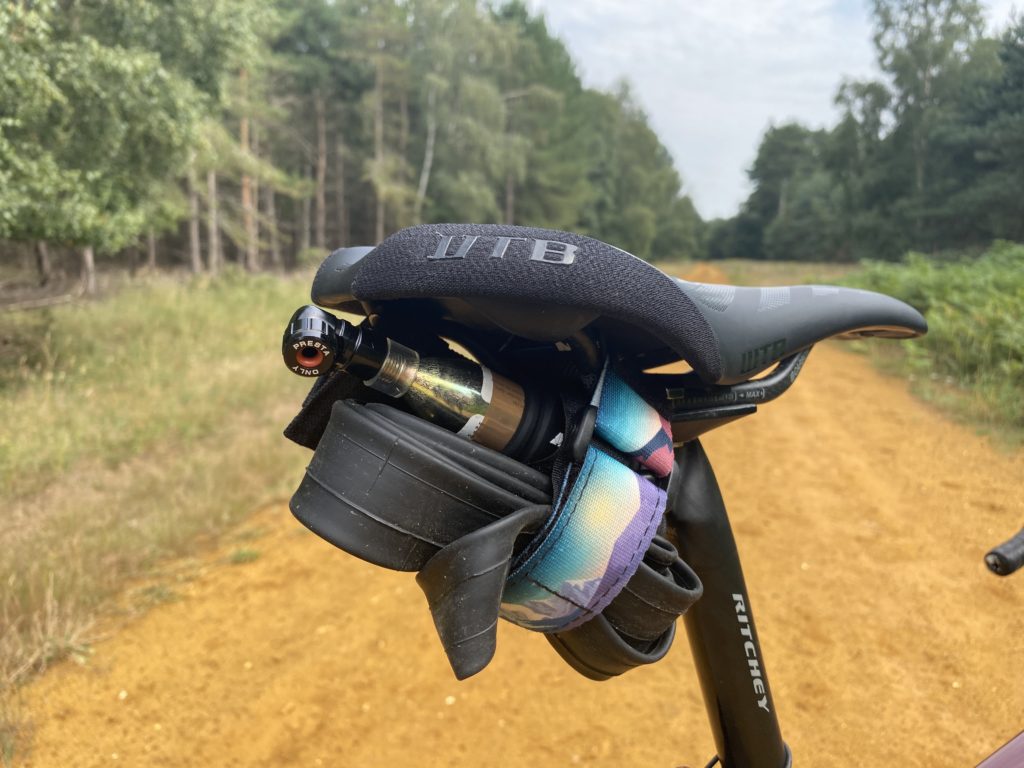 ROCKBAND+
£8.99 / Buy on Amazon
After purchasing all the goodies above, how do you store them? With a ROCKBAND+ of course! At first glance, this might look like a 49cm strap with Velcro on one side and a pretty pattern on the other. You need to look closer.
The ROCKBAND+ features a secondary inner strap that is used to loop through all the above accessories, keeping them safely secure. You can then pack them up with an innertube and wrap the outer strap around your frame or tuck it under the saddle rails.
Soft yet hard wearing rubber contact patches ensure the band doesn't slip and rub paint. And the strap is tough enough to be pulled really tight to rid it of any wobble. The velcro is seriously strong, no worries of it breaking loose here.
If you've invested in the Granite ethos, you may well get the ROCKBAND+ to complete it. The overall package is neat and well executed. Priced similar to the bikepackers favourite, the Voile Strap, the Granite ROCKBAND+ is a neat alternative. Not only does it come in a variety of bright colours, but there's also patterns like this funky mountain design.
Score: 3/5

Verdict
Aside from the PUNK CO2 inflator, I was impressed with these gadgets from Granite. They're a huge step up from the kind of stocking filler presents I expected them be. The brand have really put some thought into improving the integration and making all the kit package up neatly together.
All the products have a good quality feel that suggests they'll last well. The ROCKnROLL tool kit in particular gives the impression that it'll be a trusty bike companion for a good few years.
If you're looking for some handy on-bike tools and don't fancy things rattling in a saddle pack, these are well worth a closer look.
Granite Design products are available in the UK through Windwave
Last modified: 13th August 2020