More and more brands seem to be designing a new baggy that falls somewhere in-between the traditional loose-cut and long fit of mountain biking baggies, and the somewhat revealing lycra of road cycling shorts. German multi-sport apparel manufacturer GORE Wear, most notably known for their development of breathable waterproof GORE-TEX wonder material, are just one of these.
We've got a pair of their C5 women's shorts on test, identical (bar fit and one colourway) to the men's equivalent. These sit in the middle of GORE's C3, C5, and C7 levels for categorising their apparel ranges. Whereby C3 is the more entry level kit, designed to be versatile across different activity uses, and the C7 clothing is totally sport-specific and performance orientated. And of course, more pricey.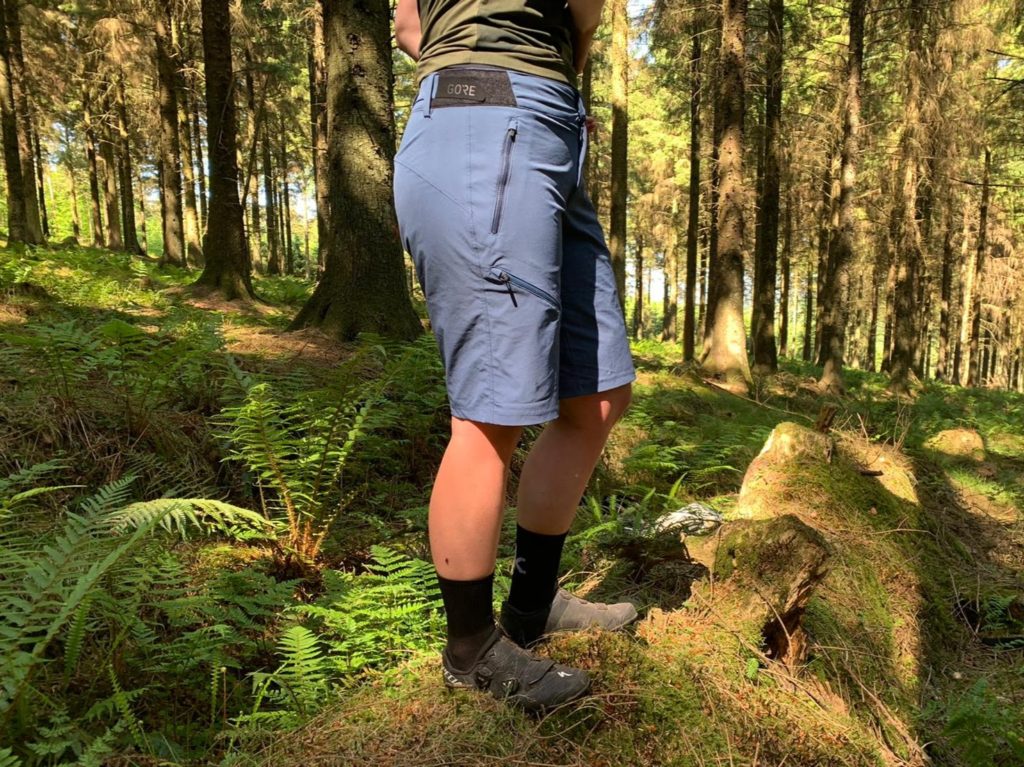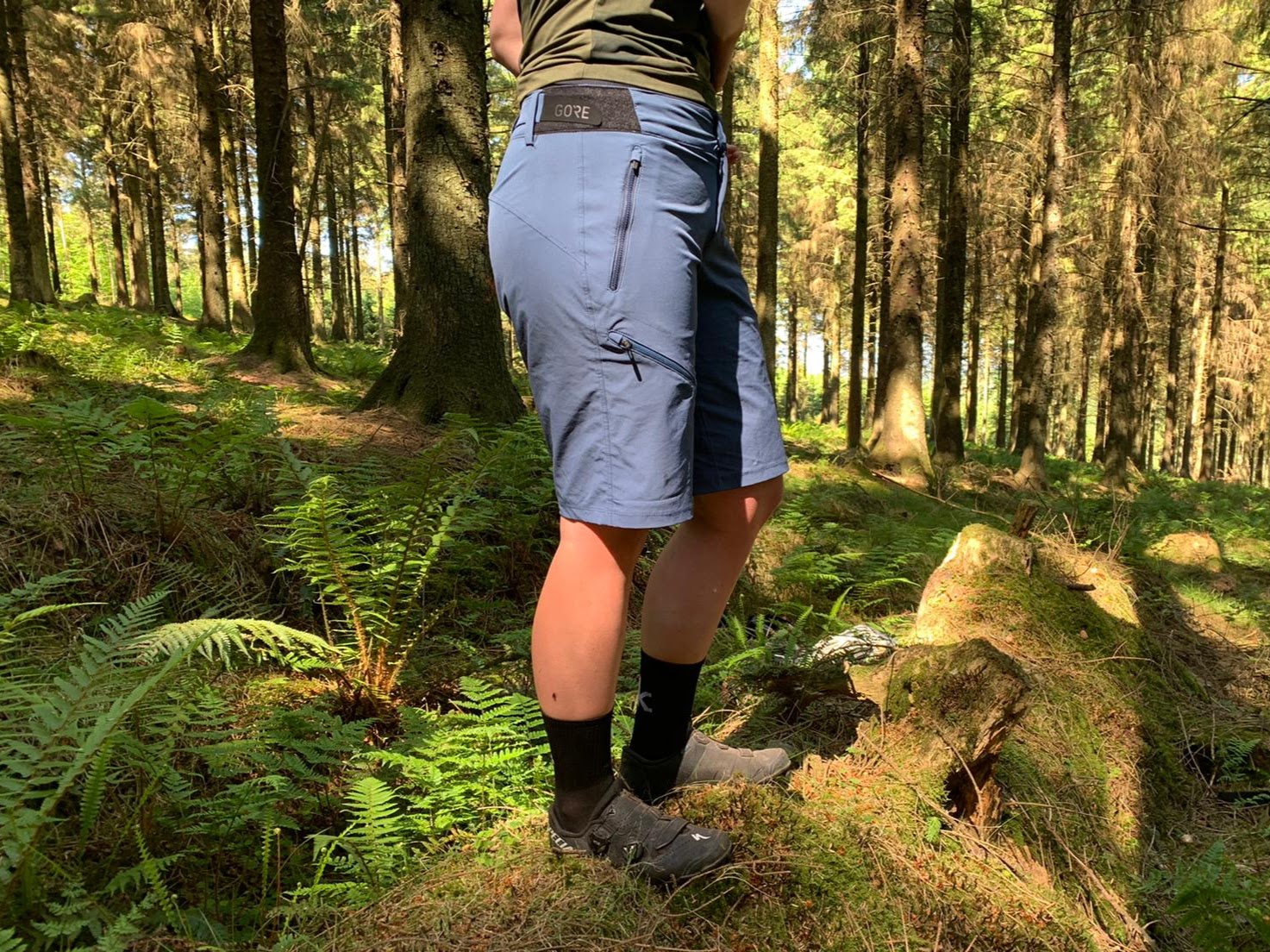 GORE C5 Women's Shorts: The all important fit
On test, I had a pair of medium (EU 38) shorts. I stand at 5ft 5, and usually wear a size UK12. They are what GORE call their 'active fit', looser than both 'slim' and 'form fit', and are available in sizes XS to XXL.
Rather than traditional knee-length MTB baggies, these come up a little shorter on the thigh. So you probably wouldn't want to team them with knee pads if you're opting for a straight-bar day, but for gravel riding, touring or general use where you are looking for something a little more low-key they're just the ticket.
From experience, I think that women's shorts are often designed to be a little shorter. I have no problem with this; it's all personal preference after all, but I do like to have my undershorts (in this case a pair of old trusty ASSOS waist shorts) covered. Unless I had the GORE shorts pulled low over my hips and the undershorts hoiked up high, there was a bit of undershort showing when pedalling on the thigh.
I'm sure this could be remedied with a shorter pair of baggy-specific undershorts, like the GORE C5 liner shorts, which would also offer more breathability.
Simple Adjustment
The waistband adjustment system on these shorts is external, which gladly avoids any irritation against the skin, unlike some other internal systems. It's pretty novel too; although it is a velcro system, it's unlike anything I've seen before. The loop material is a large, soft patch that looks something more like a microfibre cloth, while the hook part is on a synthetic leather-like tab subtly branded GORE attached to the elasticated waistband at the back. This means that you can easily adjust fit, it looks great, and you won't get any debris stuck in the hi-tech velcro either.
To fasten the shorts there's a good quality metal YKK zip and two poppers on the waistband. On the inside of the waistband at the back you'll also find a thin strip of silicone grippy dots to help keep the shorts in place.
While we're on the subject of zippers, there are a further three on the front of the shorts for pockets; one on each hip and then a third on the lower right leg. The side pockets both feature chunky plastic YKK zips yielding to hand-sized mesh pockets, and the third, somewhat resembling a lift-pass pocket, is a metal YKK zip with a smaller mesh pocket.
Although I do love to have a couple of pockets in my baggies, usually for a phone or gloves, I do try and avoid stashing too much in them. You only have to witness the horror stories like house keys embedded in a thigh once to think about alternative ways to store things away from the body. However, for a pair of casual shorts for bombing about town in, usually the more pockets the better!
Material properties
The material, a blend of polyamide and elastane, is a little stretchy to allow a good range of movement on the bike, but without losing its shape.
Like most baggy cycling shorts these days, the GORE C5 shorts feature a DWR (Durable Water Repellent) fabric treatment, which helps liquid droplets to bead and run off the material. It won't save you in a downpour, but it certainly helps to keep you clean and dry through mucky puddles and the odd spill.
GORE advises that the shorts are best suited to warm conditions, with a temperature range of 16-25 degrees Celsius. This is evident in the construction; light mesh-lined pockets, single layer material and a series of 16 laser-cut ventilation holes on the inner of each thigh.
When teamed up with a standard pair of chamois shorts underneath, I think that these features are somewhat diminished, so if you're the kind of rider that tends to get a bit hot under the collar (or elsewhere), then I'd recommend teaming them with a thinner, specific padded liner short or padded underwear.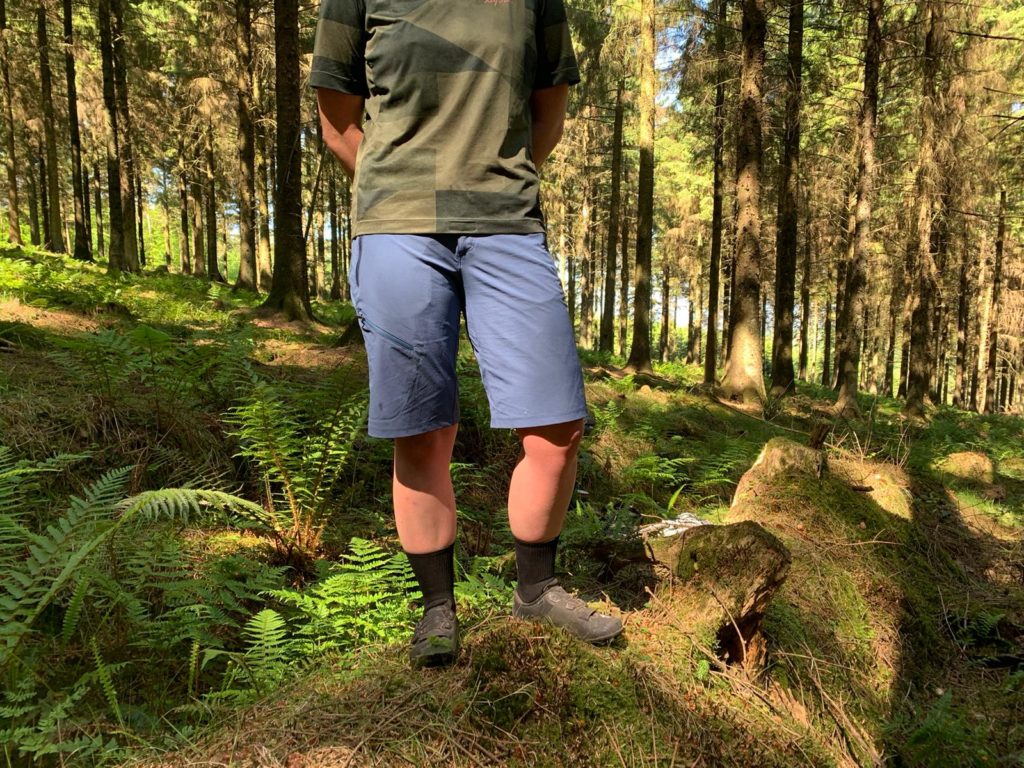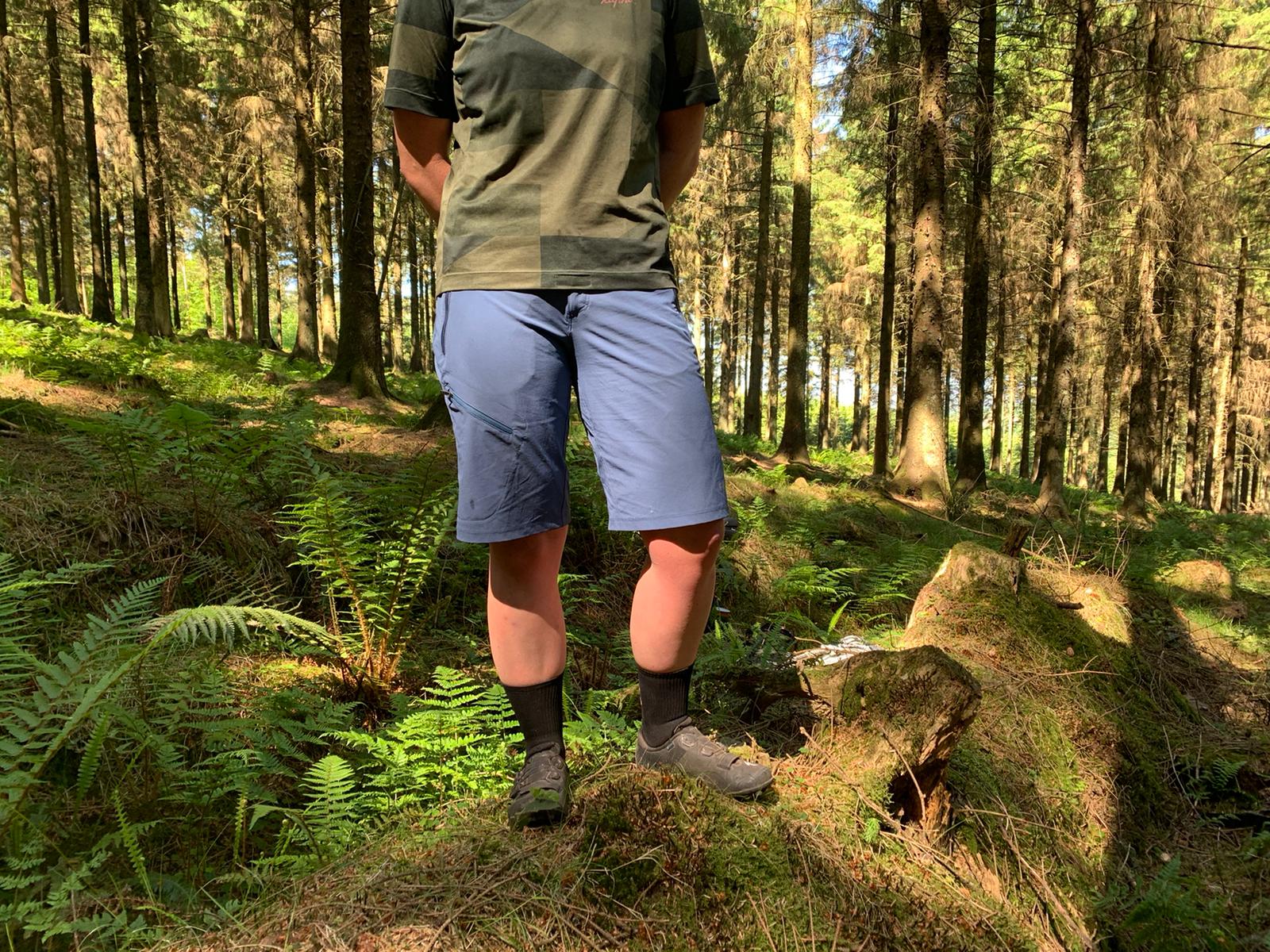 Aesthetics
Branding is very minimal, and mostly in a reflective material, which can only be a bonus in low-light conditions. The GORE logo is both on the bottom of the left short leg and centrally on the lower back, plus the black-on-black subtle branding on the two sleek velcro tabs that adjust the waist.
Colour Options
There's a choice of three colourways in this model. Alongside this 'deep water blue', there's also a plain black and a 'hibiscus pink'. In the men's range, the pink pair is replaced with 'nordic blue', which is more of a greyish colour.
I'd usually go for black or grey shorts personally, but these sort of dusky navy ones were a nice change. The only downside is stains; I must've sat on some sap or something oily as I have a black stain on the rear which unfortunately I can't get out!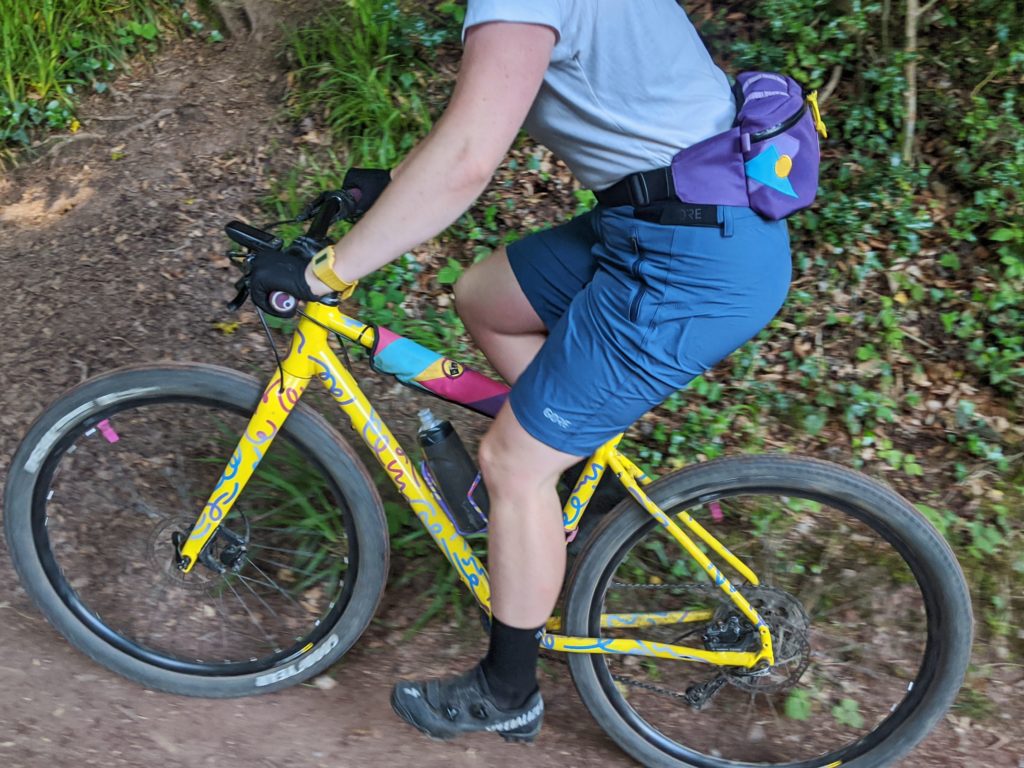 Verdict
A solid pair of loose-ish baggy shorts which ticks the boxes. Great quality zips and plentiful pockets, a neat waist adjustment and comfy fit, they're a good choice for anyone looking for the middle-ground between lycra shorts only and longer, looser fit of mountain biking shorts.
After a month or so of frequent wear, they're still in good shape, with minimal bobbling on the waistband and no seat wear marks from pedalling in the saddle. The only thing that has really suffered is the GORE logo on the lower back, which is peeling off, despite meticulously following the care instructions (wash at 30 degrees). Perhaps a victim of wearing a bum bag for riding, but one I'm not especially worried about.
At nearly £90 (€99.95 $109.99 USD), the GORE C5 Women's Shorts are not what I'd class as entry level price wise, but I think that the attention to detail regarding the quality of the fixings like the zips and waist adjustment make them feel like a really solid bit of kit that should last.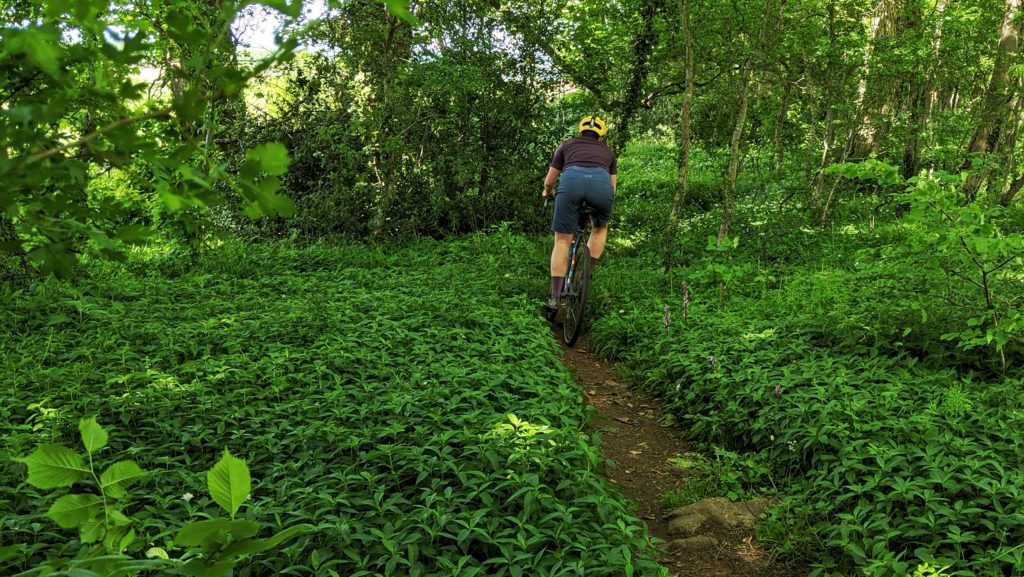 GORE C5 Women's Shorts
RRP £89.99 €99.95 $109.99
A quality pair of shorts to invest in for riders seeking a middle ground between lycra and long baggies.
8.5/10
Pros
Good waist adjustment system
Great quality zips and three generous pockets
Good ventilation features for summer riding
Cons
A little on the short side for standard cycling shorts underneath
Last modified: 15th June 2020