"There is no such thing as bad weather, only unsuitable clothing"
One of the delights of living in a temperate climate is that you never really know what the weather is going to throw at you. I have just returned from a ride for example, where I experienced hail followed by sun, strong enough to burn my neck.  So, how do you dress appropriately, particularly in Spring, that most variable of seasons? Traditionally, a combination of base layer, jersey, arm warmers and gilet has been the practical solution. Recently however, the arrival of new, technical fabrics, has given rise to a whole new style of garment.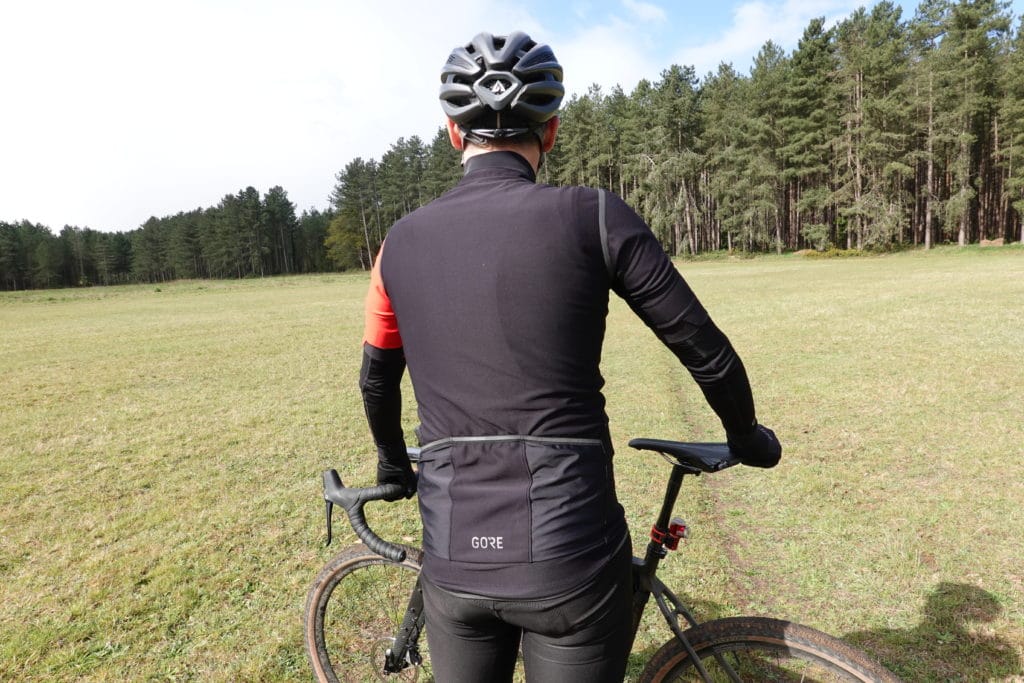 The Gore Infinium
Castelli were the first company to spot the potential of the
Gore-Tex WINDSTOPPER
fabric when they came up with the Gabba, a waterproof, short sleeve jersey. Initial scepticism about the concept soon disappeared in the face of record sales. Castelli had stolen a march on their rivals who were left to play catchup. The Infinium is Gore's take on the genre, and they too may have a hit on their hands.
Gore have concentrated less on the Italian Pro whippet fit, in favour of a more comfortable cut. The light and stretchy fabric is perfect for Spring and early Summer rides when weather patterns can be a little erratic. Selecting the appropriate weight base layer and packing a pair of arm warmers should let you ride in comfort…whatever the weather.
As a case in point, I used the Infinium at Dirty Reiver this year. Although I did not have to call upon its waterproof qualities, I was perfectly warm in this jersey, base layer and arm warmers, despite the bitter north easterly that blew all day.
Bike Packing Duty
If you are tackling a multi-day ride, the Gore is a good choice as the one garment covers so many bases. It can be your lightweight summer jersey, windproof and shower proof all in one go. I would probably dig out a proper waterproof if the rain turned heavy but this versatile jersey can shake off most showers in comfort, and remain extremely breathable to boot.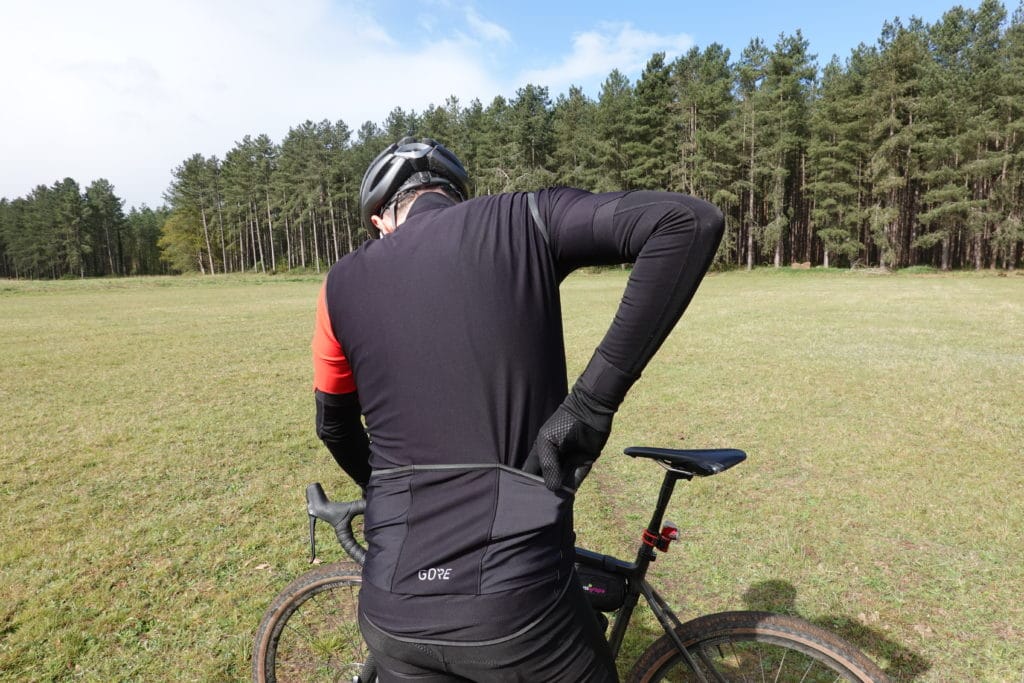 Fit
Gore have 3 different cuts. C3 is a very relaxed, baggy fit. C5 is the 'real world' racer fit, and C7 is the epitome of racer slim. C7 is best avoided  if you are carrying any excess timber!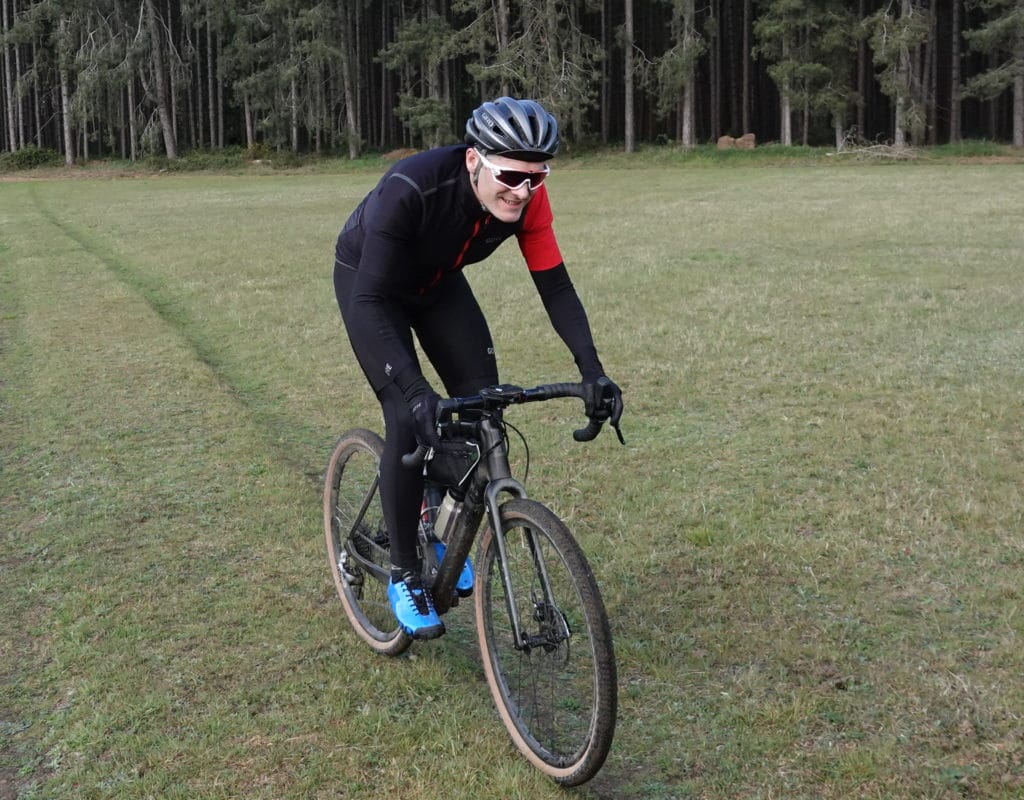 Features
The Gore C5 Gore-Tex Infinium Softshell Jersey features a dropped tail and plenty of 'all round visibility' reflective features. The seams are taped around the shoulders and arms for added rain protection. And the neck is sensibly high to keep the wind out. Not forgetting the 'zipper park' to avoid any irritation around the neck. The zip itself has a decently sized rubber toggle, which makes grabbing it with gloved hands nice and simple.
The jersey has the usual three pockets at the rear. Gore tell us they benefit from "3D Construction" whatever that means. Suffice to say, the pockets are roomy enough to swallow all you need for a long day out. Furthermore, they are positioned sensibly, neither too high nor too low making on the fly access nice and easy.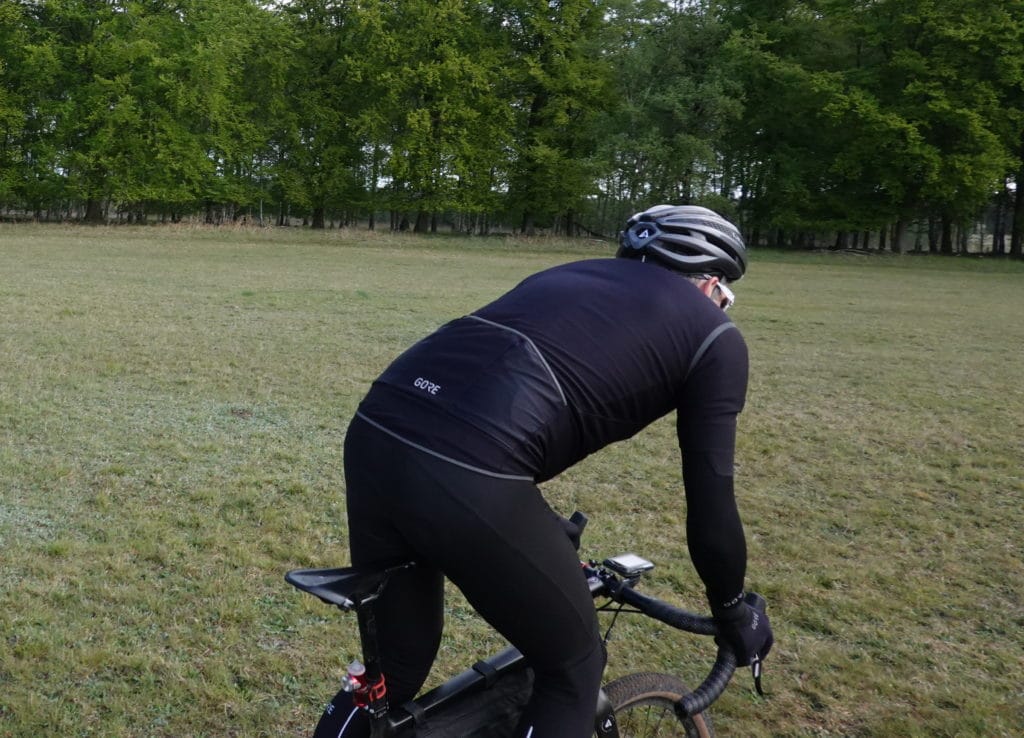 Conclusion
It has taken a long time for Gore to catch up with the Gabba, but they have done a good job.  The Gore C5 Gore-Tex Infinium Softshell Jersey fits really well and is great to wear. The features are an additional bonus.
At £150, it is expensive, but it is so much more than just a short sleeve jersey. If you want something to keep you riding through variable weather conditions, the  Gore-Tex Infinium could well be the one for you.
You can also extend use into the beginning of the colder seasons by layering up with the appropriate weight base layers, arms warmers etc.
Gore C5 Gore-Tex Infinium Softshell Jersey
£149.99
Last modified: 18th May 2019