Claire Frecknall along with a few others went Glampacking on the IOW, Englands largest Island which seems to be home to some excellent tracks.
October is a month where some of us might choose to wait out the storm, decide against that sure to be soggy escapade and make an effort to not get pitching up in a hail storm, but its important to realise its not the only option available. The outdoors can be enjoyed with less faff, more fun and in some cases a bit more fancy frivolity.
Joined by a handful of others Claire Frecknall discovered a few more wonderful ways to take in the increasingly popular trails that criss cross the Isle Of Wight in some rather lovely Autumnal conditions.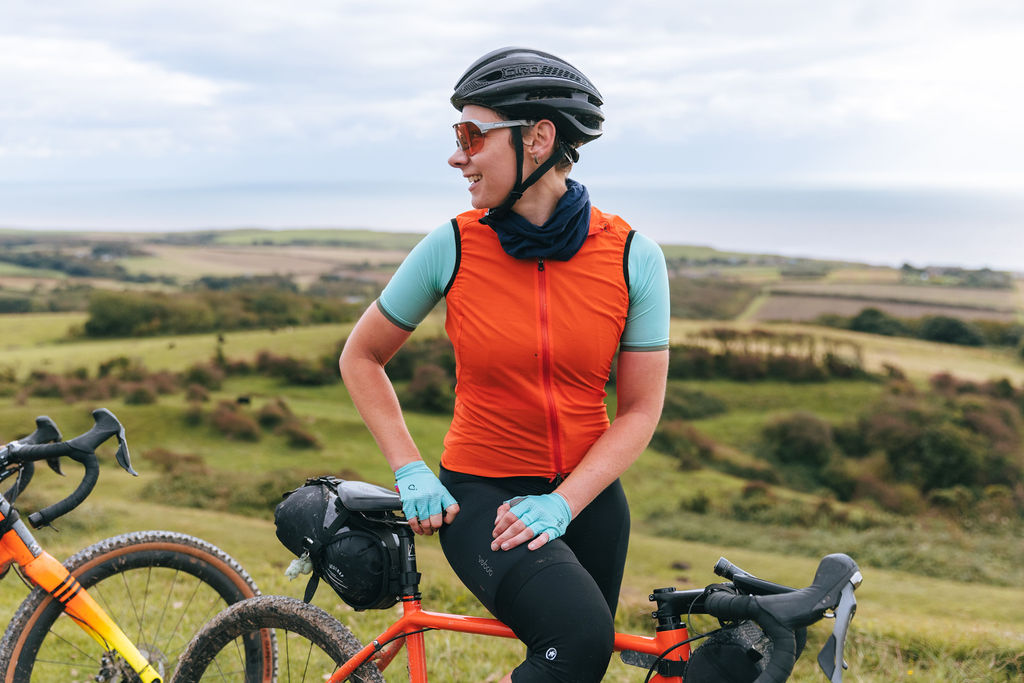 It's almost 40 degrees in our wood fired hot tub…maybe we overdid it adding that third extra log before we went for dinner?
Nope, This isn't your standard Bikepacking trip
Stepping onto the ferry there were no struggles to squeeze fully loaded bikes into the racks without them toppling over.
No rejigging of saddle packs and tightening of voile straps, we're travelling light.. no sleeping kit or cooking equipment, just a change of clothes, toothbrush and a warm jacket. A far cry from a standard UK overnighter in late October.
The Isle of Wight is a pretty special little place, just a short train ride along the coast and I can hop straight onto a boat and sail off across the Solent to escape the mainland.
Admittedly it's not quite the same as heading off abroad to experience other countries and cultures, but with no stressful form filling or testing needed it's the closest Ive come to overseas travel in the last couple of years.

I've taken the ferry over from Portsmouth to Ryde  a couple of times this year but each time discover more of the network of bridleways and cycle paths that criss-cross the island. At only 150 square miles it packs in a lot of varied terrain.
A chalk ridge spine runs the length of the island, the same ridge  pops up again from the sea at the isle of Purbeck. Old Harry's rocks on Dorsets east coast is almost a mirror of the pillars of chalk that rise from the sea at The Needles and on a clear day you can see them across the water.
Alongside the classic south coast chalk downland we've ridden nearly everything you could wish for, rooty woodland singletrack tinged with an autumnal glow, gravel fireroads, family friendly cycle trails, smooth tarmac and the odd path Sandy enough for cries of "Cross is coming"
One of my favourite things about the island is that the bridleway signs have villages and distances marked on them, so exploring is easy even without a gpx route to follow.
We didn't have to worry about routing though, our guide for the weekend is Tim Wiggins, an Isle of Wight local who knows the island like the back of his hand, his route takes us to some highlights of the island using a mixture of bridleways and quiet roads. He met us at the ferry port and set off across the island.
…40 degrees in our wood fired hot tub
Lunch was at Caffe Isola in Newport, a coffee roastery displaying locally crafted gifts and art.
Fuelled up on sandwiches, coffee and enough sugary millionaires shortbread to make me a little jittery we headed west, up onto the chalk ridge via some rolling farmland. A steep chalky climb brings the Needles into view, the sun beaming pillars of light onto the sea, quite a view as we rolled down to Freshwater bay.
Climbing again, A chilly headwind didn't make the ride up past Alum bay to the Needles viewpoint  any less spectacular. The peregrine Falcon hunting on the grassy headland shrieked a shrill call as we rode the tarmac switchbacks up to a disused rocket testing site, past which is where we got the best view out to the lighthouse as the sun set.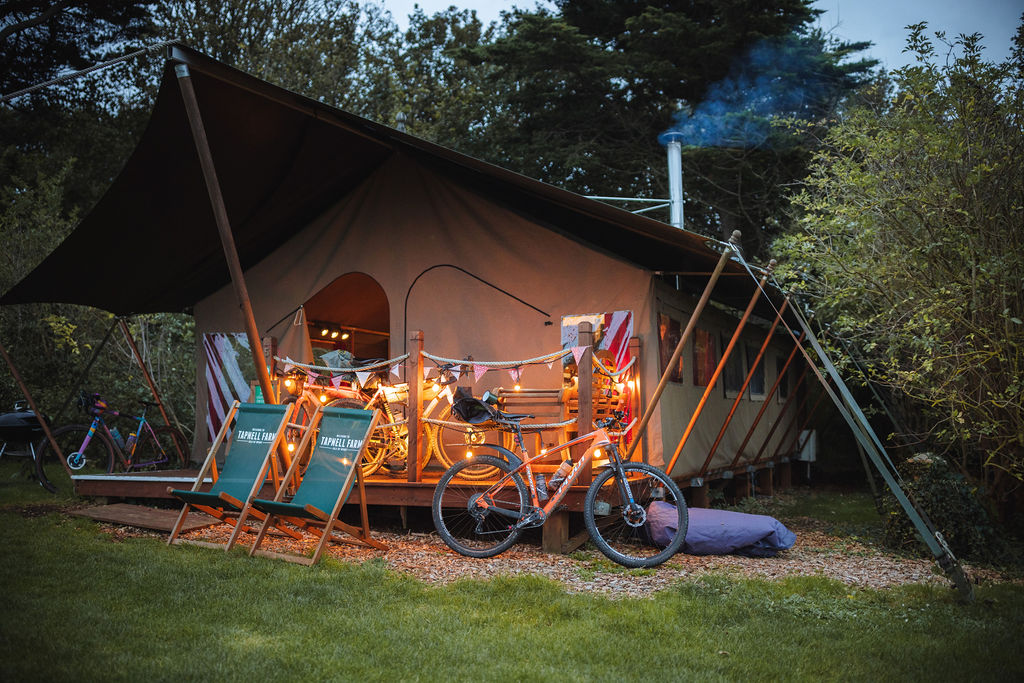 Down jackets and lights went on as we made the last stretch of the days ride back inland to Tapnell Farm, home for the night.
Technically it's camping as we're staying in a safari tent, but this isn't your average tent, I've seen smaller apartments.
Two bedrooms, private shower and toilet, a large living room with full kitchen and dining area complete with a log burning oven/stove. There were 4 of us staying but the place had an extra double bed and sofa bed so could sleep up to 8 good friends.
A hamper was provided with enough local produce to cook up a full English breakfast   for a bunch of  hungry cyclists and in the morning Katherine even picked up some bonus eggs freshly laid by the ducks just across the field from our tent. We left the boys cooking the breakfast while we went to pet the goats on the farm.
Day 2 of riding takes us south east towards Niton, home of the village store with the giant French Fancy's, probably some other notable things too, but that's not why we're here.
Onwards and upwards towards the Garlic Farm, our lunch spot for today, and one of the islands top attractions. Many varieties of garlic are grown on site and used in the restaurant and shop. Theres garlic beer and Icecream if you're that way inclined… I opted for a jar of the chilli garlic jam as a take home souvenir, Jo one upped us all with a whole plait of garlic bulbs expertly strapped onto his saddle pack for the ride back the the ferry in Ryde.
After a steep climb back over the ridge the route trends downhill, cloud had rolled in over lunch and a light drizzle started just as we rode along the seafront to Ryde . Perfect timing for hopping on the ferry back to the mainland, picking up a hot chocolate for the train ride home.
It may not be the kind of back to basics sufferfest that the purists say Bikepacking should be but trips like this make exploring by bike accessible to another group of people. Maybe you don't have the kit and still want to get away, maybe you have a partner or kids who don't want to slum it, maybe you just fancy a bit of luxury for a change.
Glampacking, bikeglamping, credit card touring… cheating? Whatever it is it's been absolutely delightful.
For some great route ideas, check out Tim's website https://www.lifeinthesaddle.cc/2019/07/gravel-cycling-routes-isle-of-wight.html?m=1
All images courtesy of James Cripps see more of his work here Instagram
Other links
https://islandroasted.co.uk/caffe-isola/
https://tapnellfarm.com/play/tapnell-farm-park
https://www.thegarlicfarm.co.uk/
Last modified: 14th December 2021