The Giant Revolt Advanced arrived on the scene in 2018 and remains a popular choice amongst in the US gravel racer scene. As the worlds largest bike manufacturer, Giant rarely launch a dud. Combined with great customer support and a dealer in almost every town, it's no wonder the Revolt is so popular.
On test here is the Giant Revolt Advanced 0. It sits one down in the range, eclipsed only by the SRAM Force AXS equipped Revolt Advanced Pro. For your £3,249 you get a surprising amount of weaponry for your money. Shimano Ultegra and Giant own brand carbon wheels being the real headline items. Oh, and that stunning gloss teal paint job. Beneath the 0, you'll find the £2,099 Advanced 2 with Shimano 105 and at £1,749 Advanced 3 with Shimano Tiagra. Below them sit the alloy 'Revolt' range.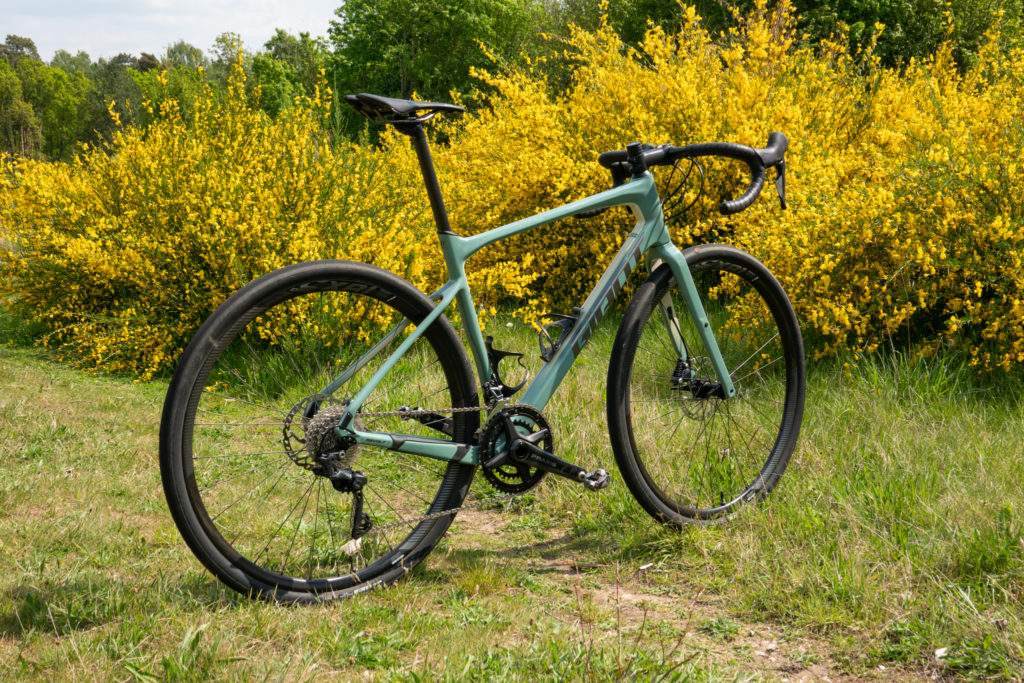 Advanced by name
The 'Advanced' in the title refers to Giant's Advanced-Grade Composite technology. That's carbon to you and me. In the hierarchy of Giant composites, it plays second fiddle the Taiwanese firms lightest grade of carbon, Advanced-SL. To date, this super lightweight variant is reserved for Giant's money no object road bikes. We might see a Revolt Advanced-SL one day soon, but don't hold your breath. The Revolt Advanced 0 is no bloater though; this M/L sized model weighs in with pedals at a paltry 8.5 kilos.
The profile of the Revolt Advanced holds a lot of similarity with Giant's endurance road bike, the Defy. The dropped seatstays, sloping top tube and tall front end all point to a direct bloodline. It's straight, slender lines and sharp angles are a contrast to the usual flowing curves and chunky tubes common in carbon frame design today.
Giant haven't shied away from practicality with their carbon gravel bike. The Revolt Advanced has a full accoutrement of mounts for racks and mud guards front and rear. Making it a very practical all-season bike. The rear mounts are especially neat, hidden away in little alloy modules with the bolts tucked out of sight on the inside of the chainstays. Unlike the current crop of gravel bikes, the Revolt is devoid of 'cage acne', there's no top tube bag mount and the forks are also lacking 'anything-cage' mounts. Provision for bottles is your standard two in the triangle and one under the down tube.
Proprietary grumbles
The frame also shares the same 'D-fuse' seatpost design of its Defy sibling. This D-shaped carbon post is designed to add more compliance than a conventional round seatpost. It's actually noticeable when riding too, with a subtle fore/aft flex when hitting larger ruts and bumps in the trail. On the downside, the non-standard shaped post means you're stuck with it. For bikepacking I prefer to swap delicate carbon for a more robust alloy post.  No matter how much electrical tape you use, a loaded bag will almost always rub through it and damage the finish of carbon posts.
The Giant Revolt Advanced also uses an integrated seat clamp wedge rather than a standard collar. They look neat and tidy, but rarely perform well. Fortunately, the Giant clamp design doesn't suffer from the same creaks and groans of both the 3T Exploro and Cipollini MCM Allroad that share a similar wedge clamp design.
And if you're of the more rowdy gravel persuasion, you're out of luck with the Giant Revolt Advanced. That D-fuse shaped hole where the seat post goes means you can't fit a dropper.
A solid component choice
With the advent of Shimano's gravel specific GRX groupsets, finding Ultegra on a 2020 season bike is a surprise. There's little to grumble about though; the rear mech is the clutch equipped Ultegra-RX model and resists chain slap on all but the heaviest of hits. The levers might not have that same blissfully chunky feel of GRX, but the ergonomics are perfect and the shifting silky smooth. Stopping power with 160mm discs front and rear with hydraulic calipers is more than enough to pull up this thoroughbred on a charge.
Normally the words 'not a full groupset' are a segue to some budget component choice to keep costs down. Here, Giant have omitted the Ultegra crankset for a stunning set of Praxis Zyante Carbon cranks. They're not only smart looking but super stiff too, complimenting the Revolt Advanced's huge bottom bracket area. Make no doubt, power transfer on this Giant will simply not be a problem. The 32/48 chainrings and 11/34 provide a suitable range of off-road gears for all but the most hilly of terrain.
Giant's humble looking Contact SL XR D-Fuse alloy handlebar really impressed me with it's ride comfort. The bar is flattened under the bar top and sweeps back to the stem, offering some really nice hand positions on long rides. The 8 degrees flare is subtle, but about right for mild off road and road use. Overall it is probably the most compliant alloy bar have used, coming close to the feel of a well sorted carbon bar. Kudos points also to Giant for wrapping it in a well padded and grippy tape.
You spin me right round
Topping off the already impressive spec list is the Giant CXR-1 carbon wheelset. Getting a good pair of alloy hoops on a build at this price point is a blessing, but Giant have really hit a home run here. These tubeless ready carbon rims are laced to Giant branded hubs that spin freely and also look to be home serviceable.
Considering the purpose of the Giant Revolt, the tyre choice is a disappointment. Maxxis Velocita 700X40 are suitably 'gravel chunky' but lack any tread and would look more at home fitted to a hybrid. Riding off-road was a dicey affair at best. The almost slick profile offered up lots of straight line speed but minimal grip in corners. Luckily the Ultegra brakes can pull the Revolt up quickly so I could scrub off speed, tip-toe through the corners and then accelerate back up to speed again.
Tyres aside, there really isn't anything about the Giant Revolt Advanced 0 that needs upgrading. The specification list is pretty much perfect. So if you are a serial bike component upgrader, you better look elsewhere as there is little to change here. Even the saddle, a contact point I'd usually always grumble about is actually a comfortable perch.
Riding the Giant Revolt Advanced 0
No surprises for guessing the combination of a light build, unsuitably slick tyres and racy geometry make the Revolt a speed merchant. What was a surprise is just how comfortable it is to ride over rough ground without getting beaten up. A great deal of the plush ride feel is thanks to the D-fuse seat post and bars which absorb ruts and bumps. Beneath you, the chunky carbon frame doesn't budge an inch, putting all your pedalling effort into the back wheel to propel you forward.
The benign ride was blighted only by an incessant rattle on our test bike from the internal cables. No end of jigging or poking in the workshop seemed to remedy the noise. A disappointment, especially considering the neat looking cable routing into the headtube. It's clear that a lot of thought was put into the design, just a shame they hired a deaf engineer!
Performance wise, the drivetrain was otherwise sublime. The clutch on the Ultegra RX rear mech ensures there is no chainslap to add to the percussion of rattles. And while the front mech may be all but dead for mountain bikes, the broad range is welcome here. The lowest 32/34 gear offering a bail-out option when things get steep.
Luckily the weather was on side for most of the test period with the Giant Revolt Advanced 0, which I'm thankful for. Those Maxxis Velocita tyres proved dicey at best even on dusty dry trails, the rear breaking traction with little provocation. Riding in the woods on singletrack was extremely exciting. The Revolt egging you on to press harder and the tyres scrabbling for grip, making it a fine balancing act of self control.
Up the grip, race it ragged
As the Revolt can take up to 700 x 45 or 650b x 47 you'd be wise to upgrade right away. Something fast rolling yet knobbly enough to bit in corners would really bring the best out in this bike. Take a look at the WTB Raddler 44 as a surefire way to immediately improve handling.
If gravel biking is less about going all out until your lungs burst, you may struggle to understand the Revolt. The appeal comes from speed and at a more relaxed pace, the Revolt feels normal. Almost dull. Something of the Revolt DNA remains in stasis until it detects your heart rate pounding and then it comes alive. Otherwise it's like a superbike with the pit limiter engaged; all show, no go.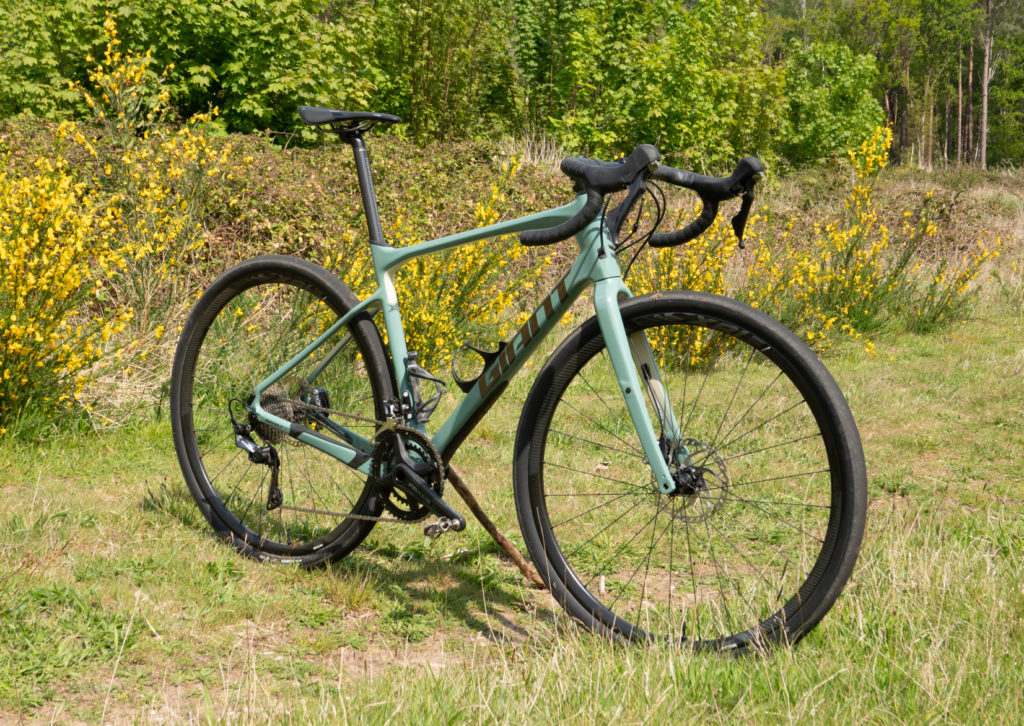 Verdict
As a package, the Giant Revolt Advanced 0 is one of the most complete bikes tested at ADVNTR. It's design will appeal most to those who want a fast and able bike that can cover a variety of duties. The gearing and geometry lend it not only to gravel trails, but also make a superb endurance road bike. Need to get to work in all weathers? No problem, fit some guards and you've just got yourself a commuter.
I do have some criticisms which I feel spoil on otherwise great offering. The propriety D-Fuse seatpost delivers great comfort, but limits component choice down the line and prevents the use of a dropper. I would also have liked to have seen more provisioning for mounts on the frame and fork; a top tube mount wouldn't have gone amiss.
Ultimately, the Revolt Advanced 0 is a bike that'll appeal most to the 'go far, go fast' crowd. You could bikepack with it for sure, but there are better tools out there. The Revolt is an all-rounder which is both smooth and efficient on roads, gravel and dirt. Ideal for events like Dirty Reiver where you want to cover 200km of gravel as quick as you can. But still be in a fit enough state to sit down after and enjoy that beer!
Choose if: You want a fast gravel bike that needs no upgrades (other than the tyres).
Last modified: 29th May 2020