Early Doors
We were lucky enough to get our hands on a pair of the Genetic Driser 16 bars before the official release date. Here's a summary of what we thought.
The technical bits
The Driser is an aluminium (6061 T6) drop bar with a 16 degree flare. The flare gives you an extra 93mm width for added off road control. The added design feature is an integrated 20mm rise on the tops. The tops are also flattened to provide that extra little bit of comfort.
The bars come in 40cm (320g), 42cm (330g) and 44cm (340g).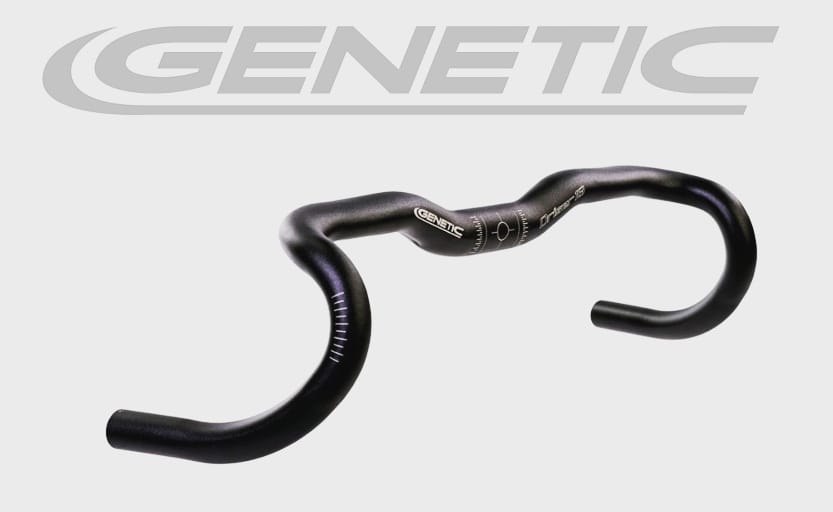 The target market
Riders of "Gravel and Adventure Touring Bikes".  Alternatively, they are suitable for anyone who wants a more relaxed position on their bike but doesn't want to use too many spacers.
So what are they like?
I must confess, I am not a particular fan of raised bars, my instinct is always to get the front end as low as possible. I wasn't sure how I'd get on but did my best to approach the review with an open mind.
The bars were fitted to an All-City Cosmic Stallion. It isn't a fast bike, but it is very comfortable. The Drisers are ideal for this type of machine. They  immediately encourage a more relaxed position, ideal for tapping out the miles. There are plenty of easily accessible hand positions so there is no trouble remaining comfortable on a long ride.
Off road riding was a fairly neutral experience. I didn't find any significant advantage to having flared bars. Equally, there were no disadvantages.
Something I usually struggle with when using flared bars is the angle of the brake hoods. They are often canted off to one side quite aggressively and riding on the hoods either makes my wrists ache, or forces me back onto the tops. Not so good if you want a change of position. Fortunately, the flare on the Drisers is not extreme and so I could sit on the hoods for extended periods without issue.
Conclusion
I actually quite liked these bars. They were comfortable in a range of positions and encouraged me to look at the countryside! I think they would be ideal for the tourer or long distance audax enthusiast.
Not so good, for me, is the lack of a 46cm bar. The 44cm option fitted to the Cosmic Stallion was just too narrow and initially my chest felt quite restricted. Having said that, if you usually use 40cm to 44cm bars you'll probably be fine.
Driser bars will be available from April 1st. Ask for them at your local bike shop. Trade enquiries to Ison Distribution.
Last modified: 8th March 2019