Spring is probably the most unpredictable time of year as you can experience all four seasons in one ride. It is important to have kit that will keep you warm, and preferably dry, without overheating. The obvious answer to maintaining a warm core is the gilet, or less prosaically, the body warmer. If you ride all year round, you will probably have one or more gilets in your cupboard. A gilet might be lightweight, for summer use, or heavier duty for when it gets chilly. The Galibier Ultimate Foul Weather Gilet is (predictably) one of the latter.
I must confess to developing a soft spot for Galibier kit. To my eyes, they are the masters of combining function at an affordable price.
Galibier's lofty objective for the Foul Weather Gilet was 'to produce the finest cycling gilet on the market'. Have they succeeded?
The technical bit
The triple layered fabric for the (soft shell) gilet was sourced in Germany. It is claimed to have "fantastic thermal retention and weather battling properties". So, if it works, you can expect to keep warm and dry, protected from both the rain and the inevitable moisture build up as you ride. (Note: this is not a waterproof, and in heavy rain, wet will eventually seep in.)
The technical features can be found on the website.
Suffice to say, they all add up to what is normally called a "fully featured" garment. The acid test is whether all of these technical innovations translate into a decent, wearable, garment. Experience, with other brands, has shown this is not always the case.
The Fit                                                                          
Critical for a garment designed to keep you warm is the fit.
How many times have you been advised to size up or down because of "Italian Sizing" for example? I find it most frustrating to decide whether I am XXXL or XXXXL!  According to the table on the Galibier website, I am an XL, so this is what I ordered.
I  am pleased to report that it fitted like a glove. Reading the reviews for their range of shirts and jackets, this seems to be a fairly consistent trait. A "good thing"!
It is a comfortable, race fit. No flapping material, no gaps for wind to creep through but not too constricting either.
Quality and Construction
The material is soft and stretchy allowing the gilet to fit nicely.
The internal stitching was tidy, with no loose ends or dropped seams.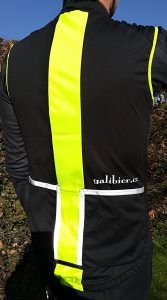 I have fairly uncompromising requirements when it comes to zips. Far too often, garments are let down by poor or cheap zips. Not only do I hate them, but I inevitably break them so, I was pleased to see that a decent enough zip had been specced.
We had other gilets on test while I was wearing the Galibier. Suffice to say, although it retails at less than half the price of others in the test, at no time did I feel that I had drawn the short straw. The quality of this gilet belies its price.
Testing, testing, testing…
During the test period, we rode through typical spring days….well, damp, spring days. Grey and overcast, drizzle, slightly chilly, windy, wet roads and muddy trails with impromptu lakes springing up seemingly at random.
Paired up with a long sleeved jersey and a light base layer, I was never cold. Despite nudging effort levels up a few times, I didn't overheat either. At the end of the rides, the gilet itself felt damp but underneath, I was pretty dry. None of the conditions were what I would call extreme, when I would have been wearing a waterproof or the excellent Mistral Pro jacket anyway, but I can't fault the garment's performance at all.
It was nice to see that even after some decent length (somewhat damp) rides, the waist grippers continued to function well. There was none of the riding up or bunching of material you sometimes get.
I also liked the zipped, internal, wallet/ phone pocket. Sited just to the left of your breastbone, it is perfectly positioned so you can hear if your phone goes off or, more importantly, so you can hear directional instructions from the robot lady on Komoot!
Something I really like about Galibier garments are their pockets! Voluminous and robust, they take everything I can stash in there without once giving me the impression they are about to give up or that the fabric is about to tear. More importantly, nothing falls out either!
Another nice feature is the reflective trim. It is about as subtle as a flying mallet. It is very bright and there is enough of it to be glaringly obvious.
Conclusion
If there is one shortcoming, the garment's Achilles heel, it is that it won't pack up small. If the weather gods are perverse and you switch from cold, wet and miserable to sunny and warmish, mid ride, you may be in trouble. Alternatively, just call up the support car and give it to them!
Have Galibier succeeded in their objective? I don't know. They have however, created a high quality gilet that does pretty much does everything it says on the tin. At £47.00 this represents fantastic value for money and deserves your serious consideration.
Last modified: 26th January 2019