Gloves… I now own more gloves than you can shake a very large stick at. Gloves for every season and weather condition. Whereas I used to eschew gloves as wholly unnecessary, since I started riding, they have become one of the most important parts of my wardrobe. That perfect pair of gloves however, remains elusive and I am still looking.
The Galibier Roubaix Vision looked promising. Not very expensive, lightweight and not so bulky that they interfered with 'feel'. On arrival they certainly felt light enough, they have white stripes on them and they tuck into your sleeve quite comfortably. I have used a pair through a winter, so how did they fare?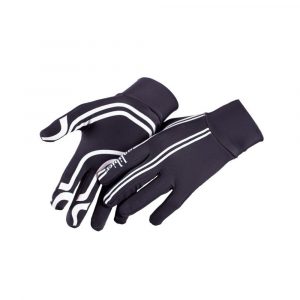 It is fair to say that they are not an all winter glove. I was able to use mine until the end of December last year. I extended their usable time by wearing silk glove liners.
Many promising garments let you down because of bulky or poorly placed seams. The Galibier Roubaix Vision does not fall into this category. They are comfortable and unobtrusive. If I have a criticism it is that the material has become a little baggy. This isn't necessarily a bad thing. You can get the gloves off easily mid ride, which beats fighting with them when you need to answer the phone, find your keys etc.
Conclusion
As a pair of autumn and spring gloves they are fine. I like them, I just wish they had a little windproofing and maybe some water resistance. As with all Galibier products, the price is good and the product represents smashing value for money.
Recommended
Last modified: 26th January 2019