It has been decades since I last wore full leather track mitts. As technology and fabrics improved, the attractions of leather faded more quickly than a pair of Brutus "fader' jeans. (You have to be of a 'certain age' to remember them!) They (the gloves) tended to be heavy, clammy and uncomfortable and ultimately, I was glad to see the back of them.
A 'premium, hand made, all leather mitt at the price of a synthetic glove'
Galibier promised that the Ginettaccio would be a lightweight, comfortable, leather mitt so I had to have a look. Apart from being quite cool (from a retro perspective) there is every chance they might last longer than your usual (semi disposable) mitt. As I go through a couple of pairs of 'mainstream' mitts every summer, this is quite important to me.
The basics
Presentation is everything you might expect from a premium product. The Galibier name is embossed on the cuff which is a nice touch. They also come in their own fabric storage bag which looks very smart. I am not quite sure when you might use it though. Mine is already at the back of the cupboard.
The Galibier Ginettaccio glove is hand made, in goat skin, somewhere in Spain. Apparently goat skin is more supple than cow hide, hence the decision to use it instead of err….cow hide. Time will tell whether this is true or not but, so far I can't argue with that claim.  These gloves do not come from a huge factory with a standardised production process. Every item is individual, I like that.
The back of the glove is made from a single layer of fine leather, whereas the palm and heavy wear areas are reinforced with double layers. Ventilation is achieved by multiple vents and holes as seen in the illustration. There is the normal amount of padding for the pressure areas.
The glove comes in white and black (white palm, black back) only.
The only part of the glove not made from leather is the chunky velcro tab.
Why all the fuss about leather? For a start, it is a natural product. It is light and it 'breathes' to an extent. Maybe one of the main selling points for me is that it is abrasion resistant. Take a tumble and while a leather glove may scuff up, it will offer more road rash protection than a synthetic glove. Another major selling point for me, is that it seems to be resistant to gorse prickles, critical at this time of year! It also affords some protection against other sharp vegetation, all of which is generally considered a good thing!
The fit
The first time you wear these gloves, they may feel a little stiff and not particularly stretchy. Having said that, stick with it and it will become so much better.
After a few rides they have become like a second skin. Supremely comfortable, I can not see myself going back to synthetic/fabric gloves any time soon, at least not in the summer!
I like the way the glove tapers in at the wrist and this may be a first – I even like the reassuringly large velcro tabs. I usually detest velcro tabs. In my experience they tend to be quite weedy and fail as fast as you can say knife! They (the tabs) either fall off because the stitching becomes undone, or simply lose their 'stick' once they have been used for a week or two. These promise to be quite different.
Test Period
I wore the Galibier Ginettaccio mitts for several evening rides of two hours or so, just to break them in. Once they had conformed to my hands I stretched it out for longer rides of four to five hours. One of these longer rides was during the warmest day of the year so I was able to discover whether they became clammy or not. They did not! I was pleasantly surprised at this.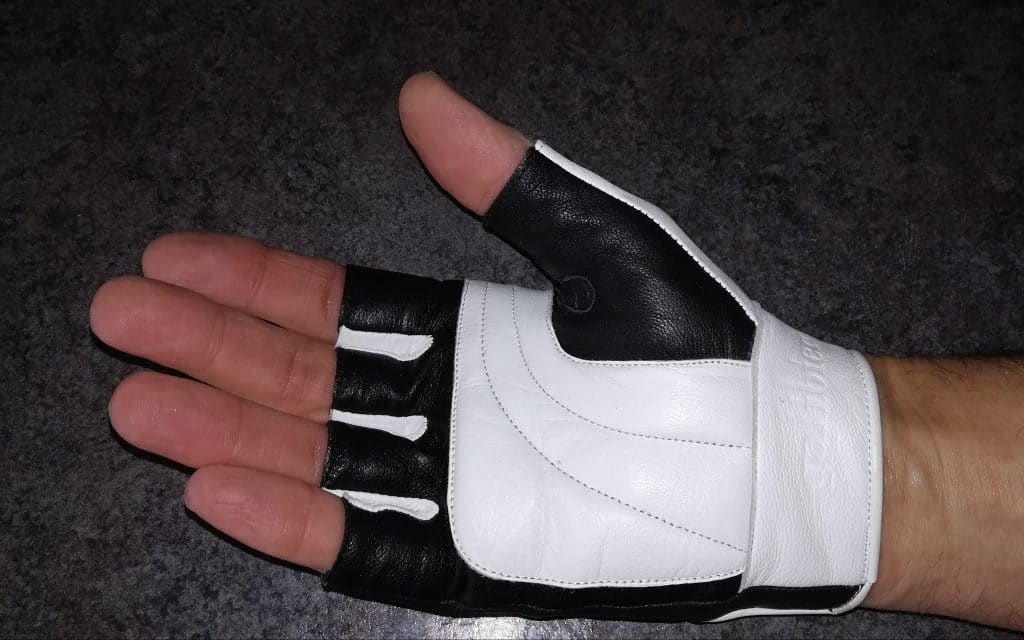 Results and Conclusion
One of my riding mates reckoned the Galibier Ginettaccio gloves look like his grandad's driving gloves. After a while though, he admitted that they do have a certain 'retro cool' about them.
As mentioned previously, they are supremely comfortable. In the heat there seems to be enough ventilation. My hands did not overheat or become clammy, even on the longest and warmest of rides.
The padding is adequate and I never felt in need of any extra cushioning, even on extended gravel cum MTB Lite rides.
With most of my riding being off road, the white palm becomes grubby quite quickly but, follow the cleaning instructions and they quickly look as good as new.
One negative though. There is no 'snot wipe' so you either put up with a slimy glove or find a different way to clean up!
I really like these gloves. They offer everything I would want from a glove as well as being just that little bit more special than your run of the mill mitt. Like all Galibier products we have reviewed, these gloves represent great value for money.
To finish off…a history lesson
Why Ginettaccio?
"Ginettaccio, is a honourable name awarded to a champion road cyclist. Gino Bartali the powerfully legend is more commonly lauded with the title. With a broad nose and a boxer's face, he began work in a bicycle shop when he was 13 and began racing the same year. Our beautifully made mitts are made in honour of the attrition and style of Bartali. The promising amateur and turned professional in 1935 when he was 21. He was Italian champion the next year earning the nickname Ginettaccio. The most renowned Italian cyclist before the war having won the Giro d'Italia three times (1936, 1937, 1946) and the Tour de France in 1938. His second Tour victory came in 1948 gave him superhero status, as it was the largest gap between victories in the race."
Now you know!
Last modified: 8th June 2019