I don't really know how I ended up on the start line of Further, with what felt like a hand picked group of hardcore bike packers. Well, I do really… some months before, chatting on Twitter with a man called Camille. As is the case with many of my adventures, this is where the story began.
To explain a little of this race, I ought to try explain a little of what I know of Camille, a man who likes maps, extraordinary photographer, mountain lover, artist, cyclist with a deep pedigree and heritage. He embraces the new, whilst harnessing the past. What better a man to create a new kind of race? Or was it an old race reinvented?
Whatever it was, it was his creation.
 And all the men and women merely players;

They have their exits and their entrances.
An invited list, half men, half women. All tumbled into a WhatsApp chat, sharing pre-race nerves. Did any of us know quite what to expect? Drip fed photos of stunning scenes, tracks lacing through the mountains of the Pyrenees, details of French maps, compulsory kit lists, and the inevitable "What tyres?"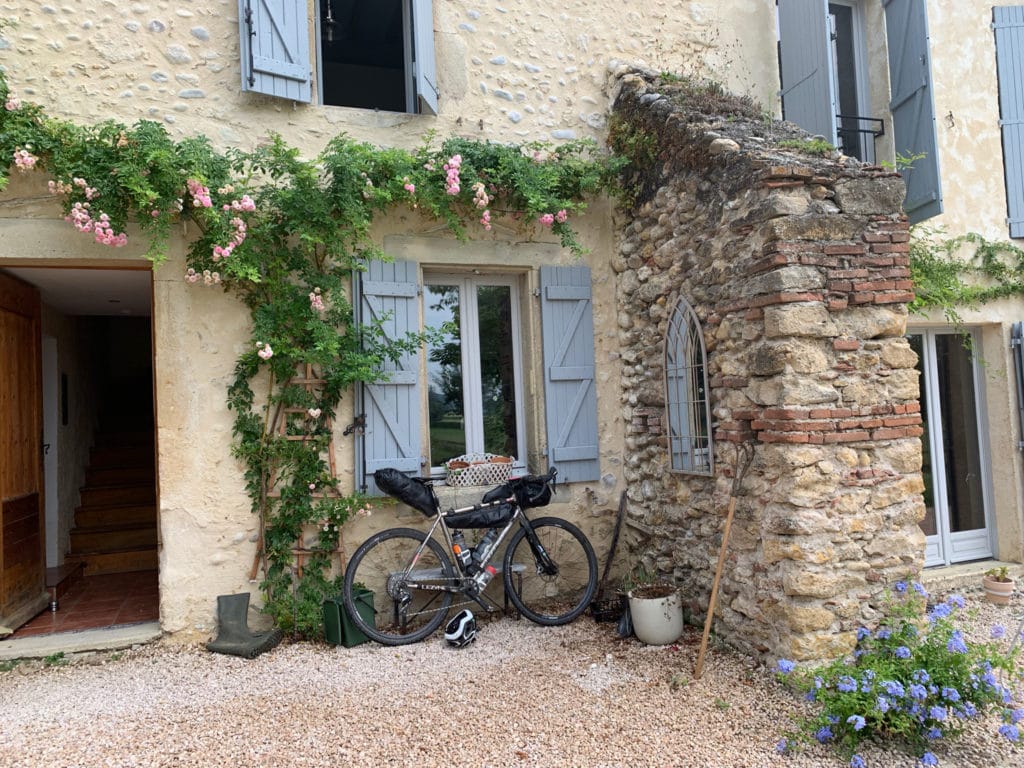 Don't Panic!
I'm not usually one for getting stressed before events. I couldn't tell if I was just getting drawn into other people's panic or if I was stressed myself. It's a fine line between excited buzz and it all feeling a bit much. By the time we'd flown in, then ridden over to Zero Neuf, the base HQ, I was feeling more like having some time out to collect my thoughts. To stop, just for a moment. I'm totally happy in my own head on these events, often relishing in solitude. Then I'm torn as I feel like I should be more sociable, especially when there's such a nice group of people and a warm welcome.
After walking into a wall of hugs and greetings, I took myself away, to a bubble of calm before returning to the pre-race BBQ. Tiny tent pitched up, bike against fence, nice tidy shuffle of things, calm was returning. Then: SNAP! I'm not entirely sure how, my bike had leapt up and jumped on the tent, snapping the main carbon pole in two places. Short lived calm gone. Stop, think, be logical, rationalise. I'm lucky, I'm good at this, trying a few solutions to make a brace. It's a crazy light tent, lighter than most people's bivy bags. Twigs, tape and my spare peg aren't quite strong enough. Eventually I borrow a long piece of threaded bar. It must weigh almost as much as the tent.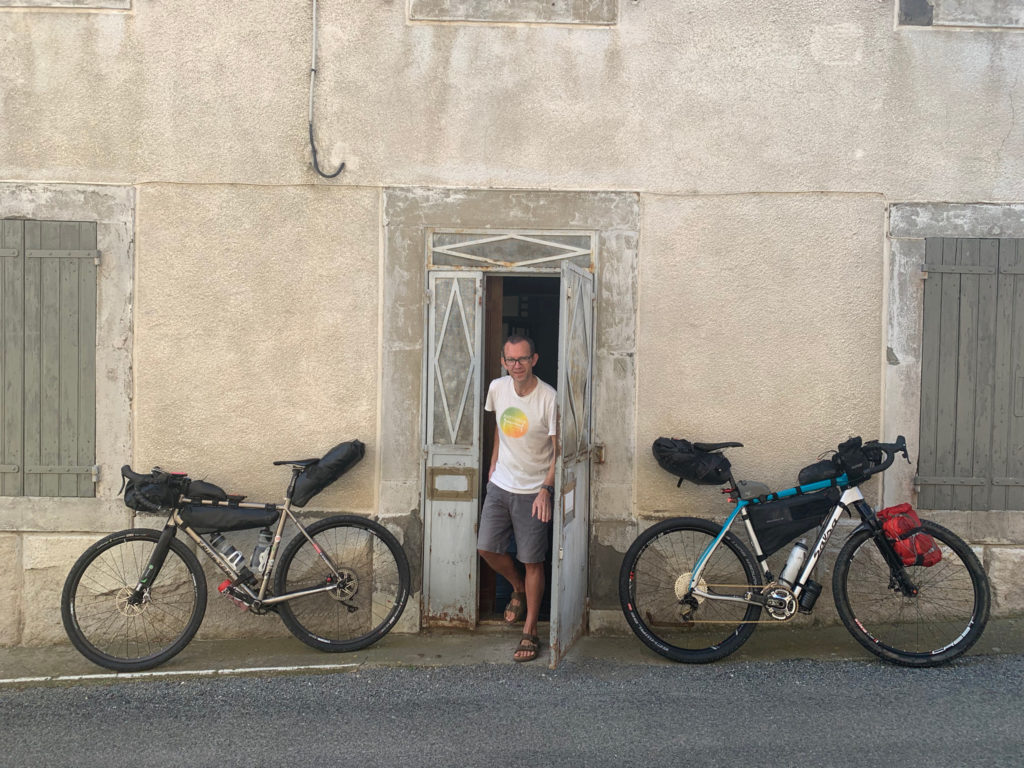 Look for the positives
It's strange how these things can knock you off kilter, but I looked for the positive. Could be worse. I could have broken it when I was really battered and in the middle of nowhere. Here, I had time to think of a solution with less pressure.
As well as the race, Camille had arranged for a rally: you could come along and enjoy the luxuries of Zero Neuf. Swim in their pool or down by the river, whilst sampling fine coffee and beers from the bar. Quite a few others had made the trip out for Further, as well as the Hunt/Mason support crew. It was hard not to get too distracted by the party scene. A chance to meet fellow racers, everyone from Josh Ibbett, Angus Young and Notchas to Philippa Battye and former World Champion and Olympian Emma Pooley. Much like the Olympics, we also had a fair amount of Yorkshire riders who had congregated together for a swift round of 'Aye up'.
Day One
Race morning arrives. Kit packed, the calm before the storm, bikes placed on the other side of the field for a Le Mans style start. Augustus Farmer – first time back swinging a camera in action after a life changing incident where he "head-butted a car" only a year before – capturing real film, medium format, portraits of every rider before and after.
And… GO!
It's hard to run when you're laughing so much. Myself, like many on the start line probably wouldn't consider themselves to be natural runners.
As the ride begins we head straight into the first of the 12 segments of the race. These must be ridden in order with free routing in between. There is also one Checkpoint at the top of Mont Fourcat with its own set of rules. No movement up on the mountain after 20:40 and no movement on the Andorran border after nightfall.
Then of course, there are the usual self-supported race rules that we all know. Participants are self dependent. Everyone carries all necessary equipment and food or resupplies at shops along the way. Supply only at services that are available to all riders.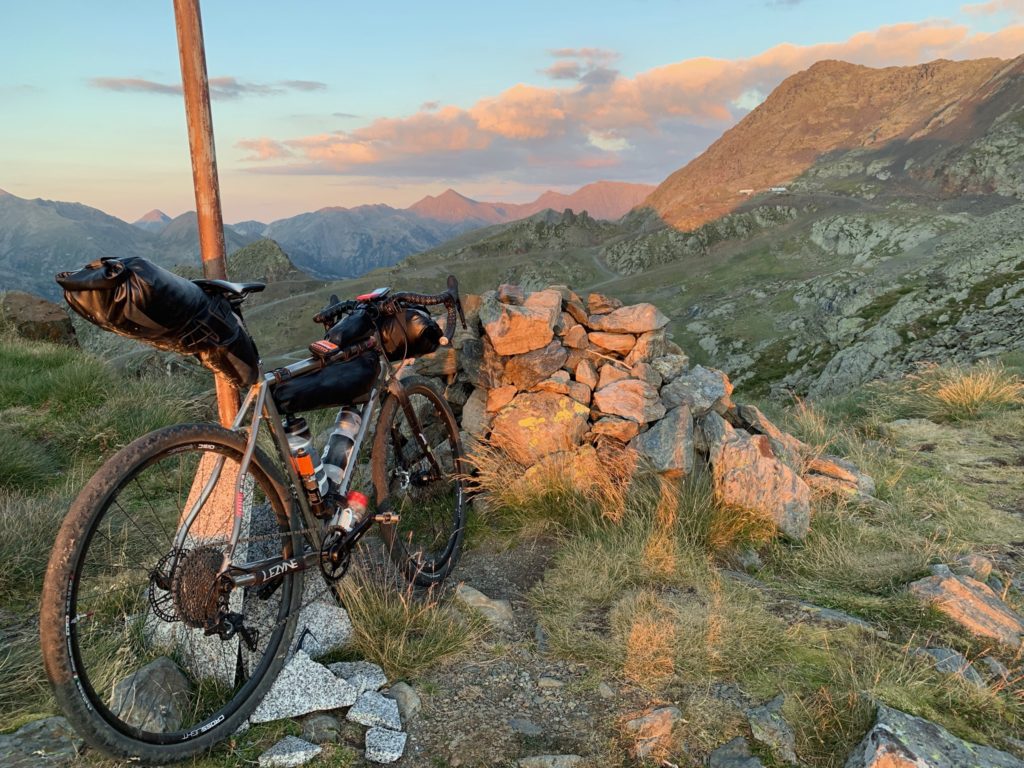 Rush hour
I almost dislike this part of the race. It's frantic, feels too much like you need to keep pace, go too hard too soon, make a mistake too early, take a wrong turn, and take yourself out of the race, GPS bleeping wildly. Sun burning down. Wheels spinning. I feel more pressure with this race than others I've done. Like you ought to push harder. I stop, hearing others passing by. Your brain does funny things. I'm concerned there may not be enough food on the route. I've been caught out before. In reality I needn't have worried, loads of available stops. And yet, I still stock up.
Whilst I had planned my route in advance, some pre-race flapping had caused me to change my mind. Re-routing one section after Camille had said "I'd never send you out and back", taking what I thought might be a longer but easier route. I'd also taken a few scenic options between the compulsory segments. Swiftly realising you just had to bash down the tarmac, not take that interesting track down the side. It's a race after all.
Sweltering heat. I'm usually fine with it, perhaps I'm actually part lizard, almost rejoicing in it. However, this was getting really hot. I'm cooking in the sun as I ride along. I catch other riders, they catch me. A shop: ice cream! Back to the hot road, finally to the top of the gorge for the start of the next segment. Cool rock faces making shade. I see riders coming up, wishing I'd not changed my route plans. We're all carrying SPOT trackers, making my decision to go round feel silly as I see people ahead I know who have less experience. I curse a little.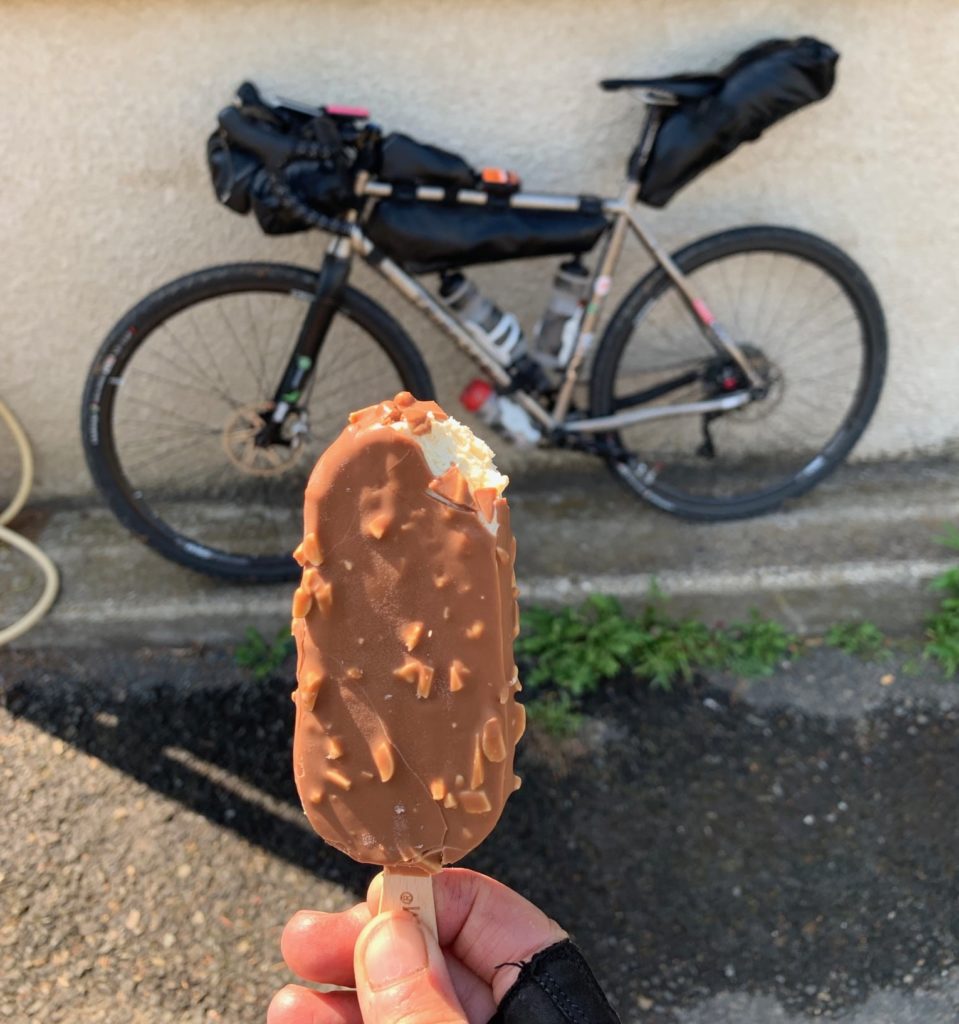 Every picture…
What I'm not telling you is what I see around me: it's breathtakingly beautiful. Mountains loom above. White rock and blue sky. Clean air. A stillness of time in the towns and villages we pass. It may sound strange but I hadn't really gone out with much of a plan, beyond sticking to the rules. Going as long and as hard as I could per day. The chatter before had suggested that you needed to clear Mount Fourcat on day one. If you didn't, you had to stay below the tree line. I had no doubt that I wouldn't complete the race. I knew others had written in bail-out options but to me that's quitting before you've started. If you have them, you'll use them.
Creeping up towards the segment which led to the summit, I'd stopped, filled bottles, eaten, looked again at the tracker, knowing I was about to head off-road, gaining on people who'd been far ahead. Funny how the mind switches round and back to the positive.
Time is ticking
Breaking the tree line, Mount Fourcat towering above, three riders are just in front of me. They take a few paces, stop, a discussion. Three paces, stop, another discussion. It may sound cold of me but I can tell what's happening. I don't want to get caught in it. The heat is amazing. Despite filling up with water at the base, I'd have quite happily drank a whole bottle right there. The WhatsApp group had mentioned water at the shelter just below the summit. I walked up past the group, said "Hello!" and carried on walking towards the tumbledown shelter. Half a horse was sticking out of the door. Livestock with jangling bells around their necks are grazing the pasture of the lower slopes. A quick search revealed no water. The others have joined me, looking rather heat frazzled. Time is ticking.
Half listening to the discussion behind me about staying in the refuge, with half a horse and all the jangling livestock mooching about, I'd decided – especially after my first route change not pleasing me – that I'd ignore the advice from Camille to take the lower path then do an 'out and back' up the flatter side to the summit. I'd picked up on Camille having a bit of a fear of heights. It was 20:30. No chance of hitting the summit by 20:40, it was a kilometre away and figured that would take 20-30 minutes.
The magically appearing bivy spot
Bivy spots tend to magically appear when you need them. I spotted a small plateau just above, bidding the others a swift "I'm off, BYYYEEE". Honestly, I'm not that cold, but this is a race, not a guiding trip. I was really starting to enjoy that Further was hard, beautiful, remote and the sky was about to put on a most wonderful sunset. It was now 20:34. Off I stomped, taking a runners' line straight to where I wanted to be. 20:37. Tent up, threaded bar holding fine, if a bit heavy.
Not the best at roughing it, I carry a tiny towel and a bar of soap (wet wipes are bad on many levels). I can't stand my skin feeling grubby at night. I imagine you're thinking "Is this the right hobby for you?" Usually it's fine: I stop for the night with two full bottles of water: some for a wash, some for teeth, some to drink in the night and some for making a big mug of coffee in the morning. Leaving just enough to get me to new water the following morning. Except this time I had maybe one and a quarter bottles. Drink, teeth, wash, coffee.
I'd just wiggled into my sleeping bag and silk liner, watching a cool warm sky fading over the mountains when PING! A damn peg had popped. Aware someone had decided to bivy somewhere close, I swiftly fashioned my silk liner into a sarong for modesty's sake. Peg back in, tent fine, back to sleep.
Day Two
The rules stated no moving on Mont Fourcat after 20:40, but no mention of when you could start moving. I set a very early alarm, planning on pouring strong coffee into my face, then walking straight up the ridge line to summit just as the dawn broke. I'm used to fell running at night. I'm used to mountains. I've brought lights. I love the sensation of being the only thing moving in the darkness: you're let into a world few others will experience. Clattering bells of the sheep, soft light after the fools dawn rising, I climb. Sheep getting louder, then hundreds and hundreds of them crested the plateau at the same time as me and frame builder Rob Quirk, who'd stayed in the shelter on the far side of the summit, choosing the out-and-back route.
As I took the long descent down, I spotted a few of the others, emerging from the shelter, heading up. The tracker showing those who'd taken the lower route were also on the move, heading for the out-and-back route. I roll into Mercus-Garrabeton on the search for food and water. I find a water fountain in the wall and round the corner: a bakery and grocers. Rob caught up with me and was just as busy poking food in his face before we cycled off into the last of the morning cool as the sun began to heat the day.
Back and forth
Starting the next climb, one of the two pairs racing, Maurice and Dan, caught me up. It was actually nice to see people now. My 'peopled-out' phases don't last long. I enjoy the gentle jockeying back and forth, seeing other racers for snippets. A croissant pause, a few pictures. Panoramic views of the mountains in the late summer sunshine take away any fatigue with their rich beauty. Coming up on Massat, getting hungry, I swung round the corner and find Maurice and Dan just being served. Without realising I ordered exactly the same, two cheese and ham baguettes, coke, coffee. As they left, Rob arrives, ordering exactly the same. The waiter was looking a little confused.
The WhatsApp group had been chattering away in the background with Emma Pooley taking a rather impressive lead over much of the field. Yet she still had the the time to inform the rest of us how hard some of the climbs were, without mixing her words. Port du Rat would greet me after rolling along the next valley. On the tracker, the movement of the others had slowed at this point. Initially it looked like I could get across the Andorran border in the safety of light and hoped to be down into a town on the other side.
If you can't stand the heat…
The heat of the day was at its max, thankfully taps were easy to find. Dan and Maurice even caught me having a quick cool down in a water trough. I was surprised to see the Hunt/Mason wagon pass me, being driven by Josh. He'd properly cooked himself in the heat of the previous day and called it quits. He was on his way to collect another Hunt rider who'd also scratched. Rob Quirk never left Massat. Nearly all of the field had scratched, forming their own scratchers party in Massat. I soon realised this meant that only Ingeborg was behind me and just 9 riders were in front.
Leaving tarmac and onto gravel track, feeling a bit cooked, I tried to rationalise my brain. "It's the midday heat, it will pass, just keep going" I tell myself. I had food and water, it didn't look too far on the map. Camille had a film crew over from America, they didn't seem too bothered by me as I passed by. As the track ramped up I was just thinking about having a little walk, grabbing more water, maybe a bit of a wobble, then damn… one of Camille's photographers hiding behind a rock. Can't not ride now! I pushed on, laughing, shouting back that I wanted a breather on that bit.
Andorran Majesty
Mountains, tall, grey in their majesty, great walls wrapped around Andorra. Afternoon hikers, returning to their cars to go for nice meals, hot showers. I was now alone. I didn't expect to see a soul. Rounding the corner, there's Dan and Maurice again, sitting on the floor. Their Dandy Warhol's white jerseys looking rather more grubby than when I'd last seen them. I didn't really want to stop. I couldn't not: they'd lost their shared multitool, Dan's gears playing up badly. As they fiddled about I panicked about time, conscious that we're not allowed to move on the Andorran border after sunset.
Checking the route, peeking again at the tracker, Ingeborg had also scratched, having felt quite ill and deciding it would be daft to carry on. 9 riders left. As we chatted, Camille's race was starting to make sense: the more I thought about it, the more I could see what he had created. Basically, seeming a little over relaxed at first, if you didn't get past Fourcat on day one, you were out. Unless you're as stubborn as me! If you didn't get into Andorra on day two, you were out. With this in mind, it was time to get rattling along. Maurice and Dan had just realised that too, "Damn, we're the back of the race! 20+ riders had already dropped out! DAMN, that means no lurking mid-field!"
The track abruptly stopped. Turning left onto the fell, we stood, looked at it, shrugged, carried on. I'm quite used to hike-a-bike, it wasn't too bad. Then it began to ramp up. A solid wall of mountain. Lift the bike, scrabble up a bit. Lift the bike, scrabble up a bit. It was easier to see the track from above, shouting back when I'd ended up going slightly wrong. Lift the bike, scrabble after, laughing at the absurdity of it, shouting back down "It's ok, you can ride this bit".
The Smugglers Path
I spot a man further up the trail. He's got a huge bag and smiles as I pass. I press on, thinking to myself "what an odd hour to go climbing". I go back to shouting silly things down to Dan and Maurice who, by this point are having a sense of humour failure. The last 300m takes half an hour. There's been no phone signal. I really want a hotel, a shower and a beer. As I crest the ridge, my phone bleeps back into life.
It only takes two bars of signal for me to book that hotel. I'm just about to descend when Dan catches up. They've had the same idea as me and want a hotel. A second room is booked. Soon after Maurice is back in view. Jabbering away with excitement "Did you see?! We saw a smuggler! A real Smuggler!" Ok, I am naive at times, the man wasn't going climbing.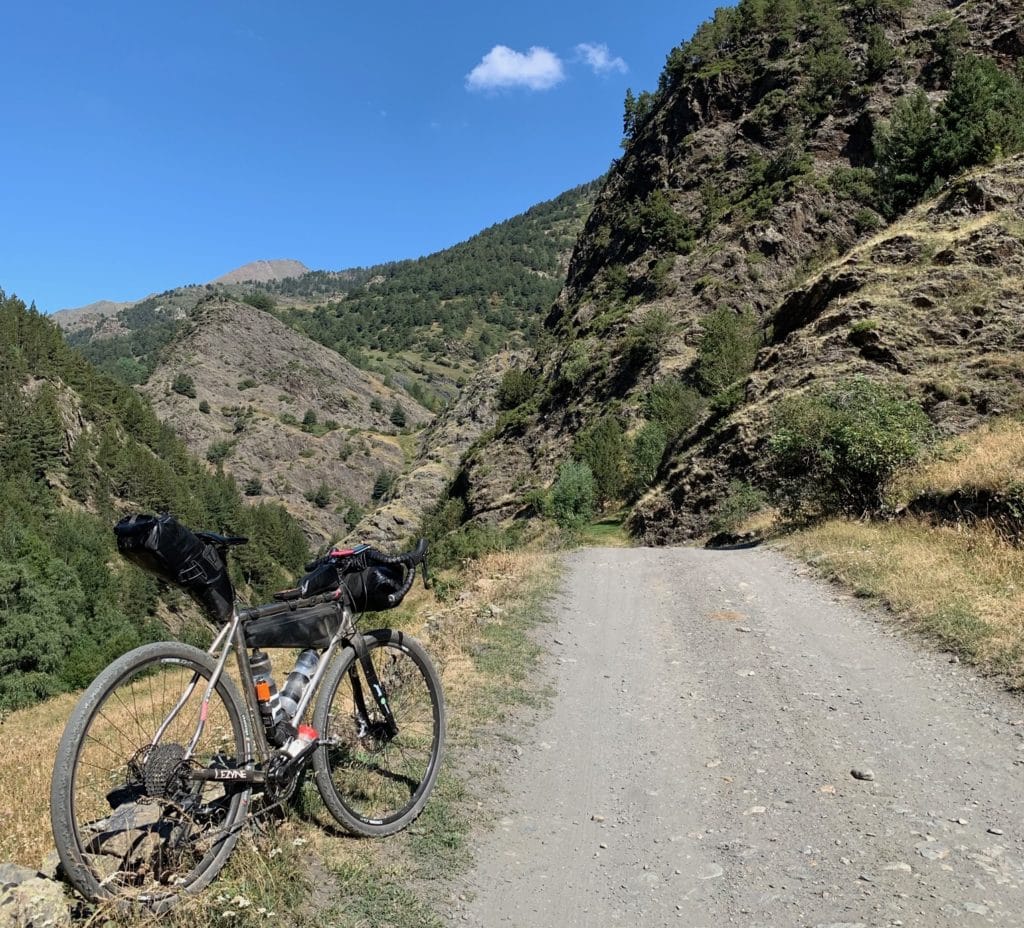 Time to get out of Dodge
Andorra is a non-Schengen agreement country, which means smuggling is rife. The route we're following off the mountain is in fact an ancient smuggling route. Below, in the basin formed by the peaks, we could see dark cars slowly moving about. We decide getting out of there as soon as possible was the best idea. Descending was like sliding down a scree slope: if you've never done it, imagine running downhill in the snow, sliding. You just have to go with it. I dropped the bike a few times, praying I didn't damage anything or rip the mech off. It was getting dark and I wanted to be off the mountainside. Seeing Dan and Maurice's lights flicker to life above me, I decided they were safe, and piled on a load of warm layers for the descent into Mas d'en Soler and a rather peculiar hotel.
It was far too late to get food, or that beer I'd been hankering for. I'd scanned the maps for the following day, worried that Sunday in the sparse Pyrenees would be rather void of food. I'd carried a day's spare food all the way just in case. Hotel breakfast didn't start until 8am, really rather late. It certainly wasn't the kind of place that would leave you out a bag of baked things at 6am like some hotels. Google was revealing nothing but little hamlets for most of the following day. I opt for waiting on that hotel breakfast.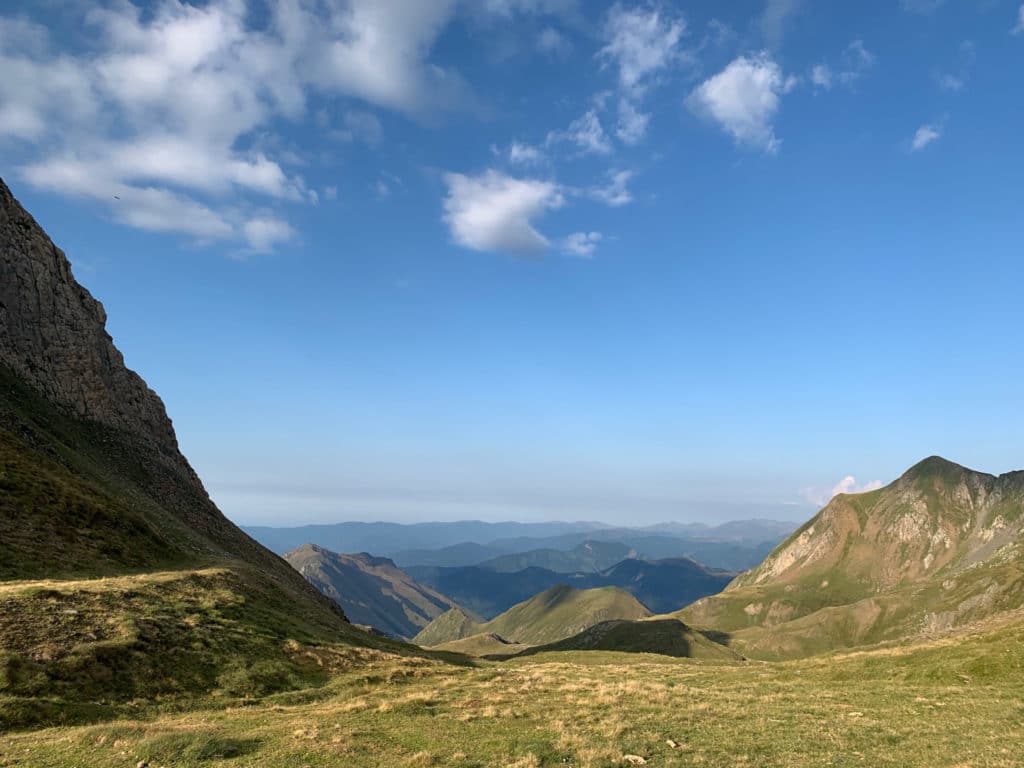 Day Three
Breakfast turned out to be really rather terrible. Funny shapes of food stashed in a napkin, off I ride again. During the night, Notchas had scratched in Andorra leaving only 8. I was now the back of the race. Camille had mentioned that'd he'd wanted a race where only the winner completed. Nah, I'm too stubborn for that, plus the WhatsApp commentary from Emma Pooley far out at the front of the race had said she had just experienced the most beautiful things she had ever seen in all of her illustrious career as a cyclist. I wasn't going to miss out on this, I rode on.
Andorra is a strange place: full of fancy hotels for the big money ski world, all nestled in the most beautiful of mountain ranges. Almost a juxtaposition to itself. Climbing out of the valley, the cool shadow of the morning breaking, I crested the top. No marking to the border with Spain, just the tarmac running out in a clean line, as it all turned to gravel once more.
Rolling down, traffic jams of horses, laughing with some German motor-bikers, we'd both got stuck on either side of the horses, endless fun rough tracks plunging ever downwards, a tiny hamlet, later learning is known as Murder Village, with 11 inhabitants and 13 murders.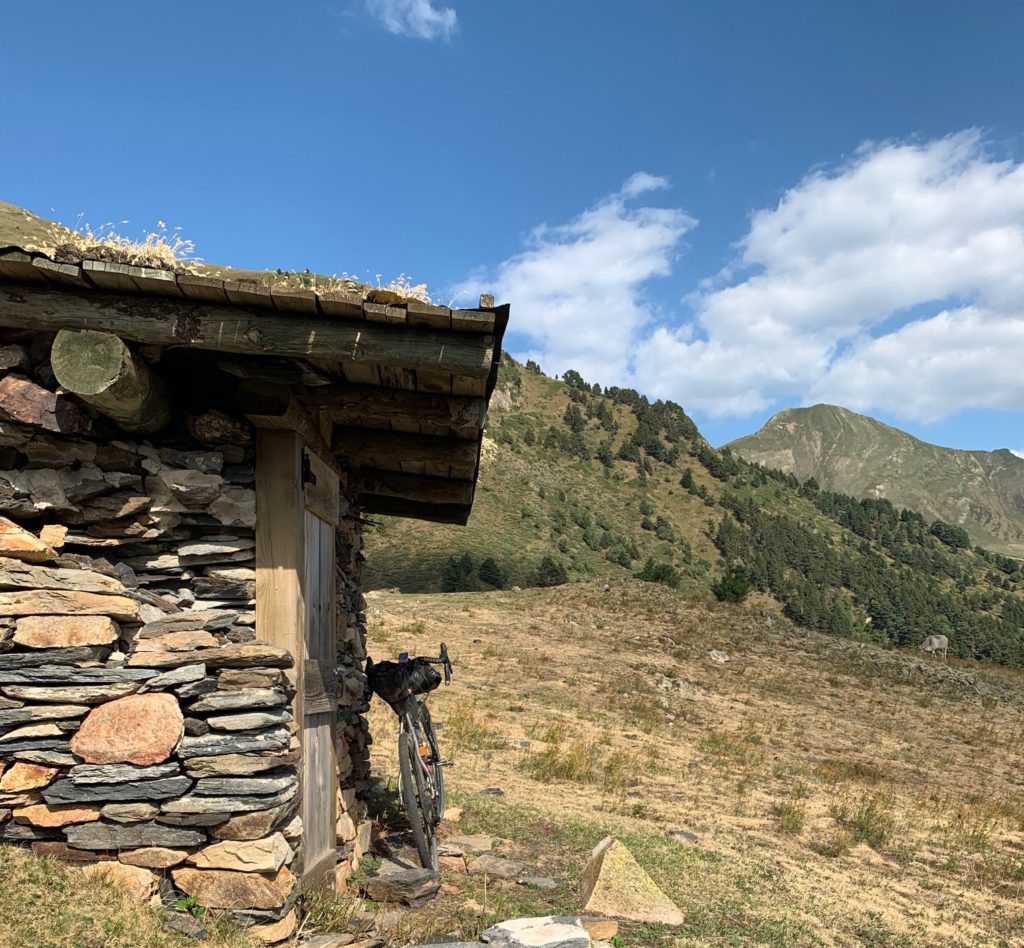 Further is more than just a race
Track turns back to tarmac, passing cafes not listed on Google, all open with merry Sunday sunny chatter. Stopping at Llavorsi, eat a couple of pizza slices, they have something green, maybe spinach on the top, I'd been wondering if I would be 85% croissant by the end, so it's good to break it up a bit. The road wound on, oddly the harder it became, the more I enjoyed it, not in some sadistic way, I just know, I'm lucky to be able to do such things. The places you reach, the things you see and feel. It's a minority of people who ever reach these places, and secondly understand why you would want to.
Stopping for an ice-cream, looking at a church, a throwback from childhood, I'm not religious, I just like the architecture. Fatty, sugary, nice, washed down with a bottle of cold coke. The road becomes smaller, passing picnics, people playing, I stand in the river, nice cold feet, work out which tracks are which. I begin to climb, and climb, and climb, past the refuge, the skeleton of a cow, later learning, that both the front and the back of the race stopped for a pee here.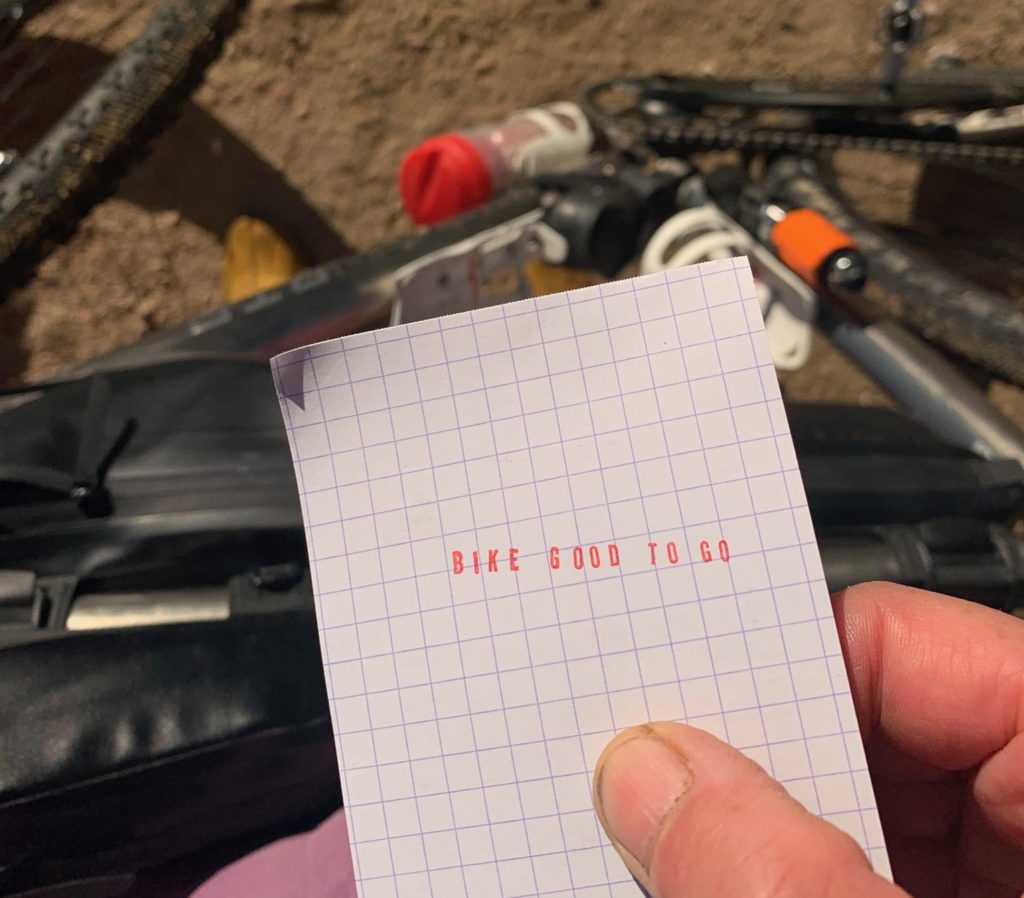 Simple skills beat technology.
Climbing ever higher, the tracks get smaller, all of the online mapping that I had stored offline, bore no resemblance to what was on the ground. Remembering my Dad teaching me as a kid, to never make the ground fit the map, it's either right or wrong. This time however if my pinpointed position was correct, then the mapping was failing miserably. I looked up, the saddle of the range above me, clear blue skies, the stream running down did at least match the maps. I had been carrying a compass, just incase this had happened.
On I plodded, a man headed down the fell, roughly where I'd decided it was best to head, as we met he introduced himself as Greg Annandale. One of Camille's photographers. He'd spent the night in the shelter with the skeleton to catch the riders coming up. I must have been in floaty brain mode, I remember pointing out a pretty Shield bug type insect. Greg checked I was ok, wondering where I'd been. My answer that having a lay-in and breakfast, clearly not what he expected. Race on.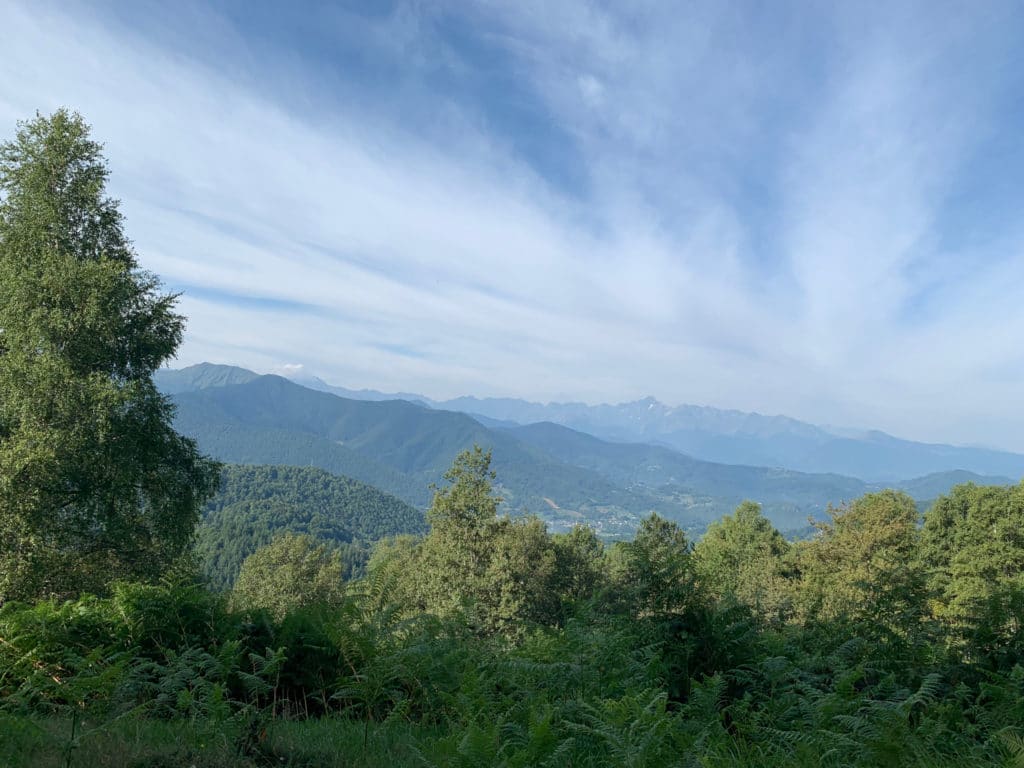 Views. Memories.
Cresting the top of Port D'Aula, seeing what Emma had meant.  Just stunning, it didn't feel like I could even fit it all in my eyeballs, let alone capture it with a cameraphone. To my left the last of the previous years snow still clung to the shadowy slopes, as a wriggling, winding track plunged down and down and down. It would be a lie to say the pain of dragging a bike up a mountain had passed, three hours of mowing the grass with your teeth type of climbing but this vista blew my mind, it made the pains and frustrations all worth it. Wishing I was a bit braver descending.
Dusk was falling in the valley, a light chill as I hit the tarmac again. Rolling back to Massat where the route crossed itself. Whilst I could have carried on riding, I didn't really need to. I was at the back of the race, all I had to do was roll in the following day. I rode on for a while, almost getting bored of riding up the road in the dark.
In the night garden
I've often ridden past houses looking empty and shuttered up. Whilst my fear of insects biting me, and oh do they like to bite me, stops me from crashing in hay barns and ditches, I've often looked at the flat over grown lawns and wondered. Wonder no more. Swinging the bike in, tucking it by the woodshed. Pitching my tiny tent on the flat (threaded bar still working). An early alarm set once more.
Looking at the tracker, Emma has won, such a wonderful thing to witness, back some hours now, but still waits up to see the others in. Second is Angus just as night is falling. I take another look, my friend Mathieu is headed for third place, Lisen hot on his heels. It makes me smile a big smile. It's only a year before that Mathieu first slept in a tent. He's a ferocious cyclist but ultra endurance is all new to him. Smiling, I drift off.
Day Four
Blinking in the dark, flicker of the stove burning, quickly pack down. Silent, still, I often feel funny on the last day. Whilst you cram so much into so little time, it feels like an age away from the beginning. Yet, you know it's all about to roll back into your day to day life. A bubble of escape only you really knew. Coffee drunk, I roll out onto the darkened road. Hoping the 3/4 of battery left in my headlight will last.
Into Massat and back to the cafe. This time the confused waitress wondering why I want all the croissant she has. Out and up, really up, stubbornly stomping, reading the paint on the road from races of the past. Winding along a winding forest track from the top, out onto the high planes above. I see Jo. Not quite knowing what to do with the excitement she punches me on the arm. "OW!" My little twig arms have done one hell of a lot of bike hauling, getting painful to the touch. She tells me she'd also bailed in Massat and warns that sectors 11 and 12 are pretty brutal. I roll on.
Lunch in Foix. Mention of a McDonalds but they make me feel sick, annoying really, sometimes you want something familiar. Finding some fries, a coke, sit, read the WhatsApp. Float, get heckled, told there's a beer waiting, I'd better hurry up.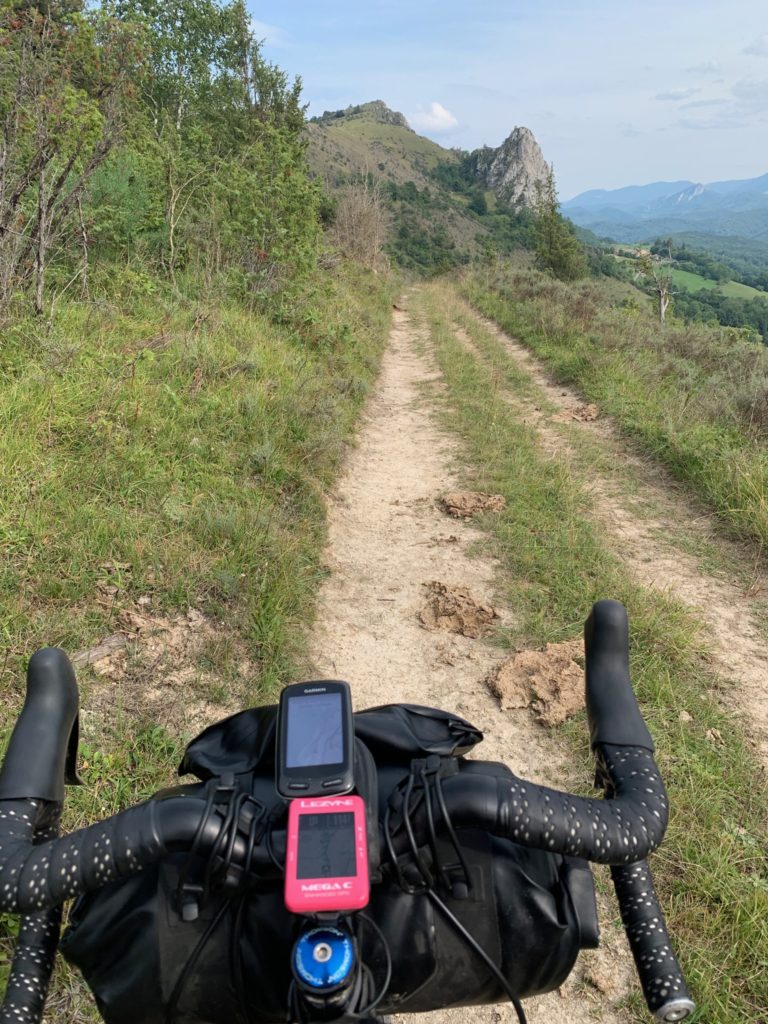 Scratch Alley
I venture into sector 11, most of the scratchers have been up here with tales of horror. I chuckle to myself, seems fine. Spying a path to the side, but worry it's not the exact sector so continue scrambling up a dry stream bed. Brambles dangle from above, catching in the light bracket on my helmet. I chuckle, batting them out of the way. The path breaks clear of the scrub, white stone under foot, gorse bushes around me. Electric fences to drag the bike under, until realising they have terribly civilised insulated parts to un-loop them. Onto the ancient roads of the Catarrhs, maybe we ought to summon them from the 13th Century to do a spot of resurfacing work, I enjoy thinking of the ages of these tracks, their purpose in time.
It's taking forever to cover ground, the track rolls on into the infamous sector 12. I giggle to myself, lifting my bike over fallen trees, deep rutted unridable tracks, wonder if I've gone wrong, I have. Back a bit, more fallen trees. More scrabbling about, maybe I've just done some daft things in the past that have skewed my brain, maybe even within this race itself.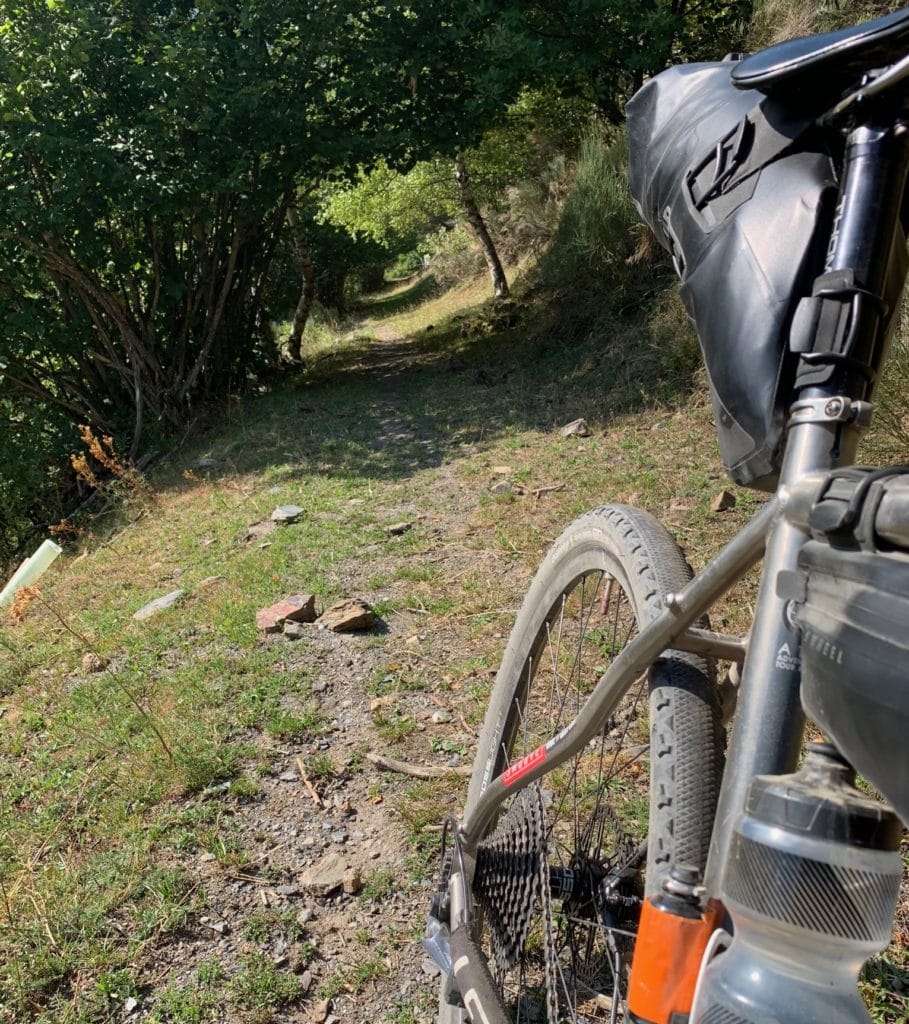 Further. Completed it!
Rolling out of the other side, flat plains that lead back to the finish. The last 30km give a time to reflect, before the race has ended.  Stopping in a graveyard for water, eat, read a few of the "hurry up there's beer" comments.
Ingeborg comes into view, riding those last few km's, we chatter along, before I know it, we're back at the corner off the field, leading to the finish. Please don't make me ride the rutted field, I'm so over cycle shorts for now, oh, nope, over the field I go, Camille with an instamatic polaroid camera, a little gaggle of racers and crew. Smiles, hugs. I really want a shower!
Totals – 555km 13870hm
Our revels now are ended. These our actors, 

As I foretold you, were all spirits and

Are melted into air, into thin air. 

And, like the baseless fabric of this vision, 

The cloud-capped towers, the gorgeous palaces, 

The solemn temples, the great globe itself—

Yea, all which it inherit—shall dissolve

And, like this insubstantial pageant faded, 

Leave not a rack behind. We are such stuff

As dreams are made on, and our little life

Is rounded with a sleep.
Visit frthr.co for more information about the 2020 event.
Last modified: 29th January 2020