Pushing the boundary between a trendy fork bag and the more traditional pannier – rack combo, the new Ortlieb Fork Pack gets put to work by Lloyd Wright.
Ortlieb needs no introduction when it comes to bicycle luggage, they have been making industry leading products for almost 4 decades, so they know what they're doing when it comes to strapping bags to your bike, be it for a weekend pootle or a few months on the road. 
Ortlieb have twinned the ease of a lowrider pannier with the gram chasing ethos behind the modern fork bag only they've ditched the lowrider rack. Opting instead to use their pretty sweet Quick-Lock S adapter system that attaches to modern fork mounts, they even supply some tidy straps to attach it to steel or alloy forks without cage mounts, which is a nice touch. 
When I received the fork packs I was ready not to like them, I thought of them as a neo retro pannier for the modern rider, after unpacking and installing them I soon realised, that's exactly what they are.
And I love them.
 I was ready for the bags themselves to feel a little "plasticy" as many waterproof roll top bags tend to. I was pleasantly surprised by the coated nylon, it feels very strong and tactile in your hands, like it will deal with many years of abrasion from loose vibrating gear and from rolling the top up and down over and over. They are quite small at 4.1 litres and with the mounting system being attached to the bags themselves there is no room for expansion with a bigger dry bag, that being said they are rated to carry up to 3kgs of luggage which is the rating for most carbon forks.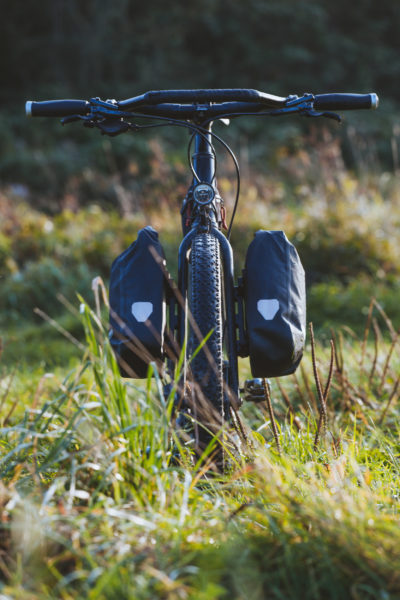 Weighing in at 205g for the bag only and then an additional 85g for the plate which is included makes for a sub 300g combo, which is pretty respectable considering the other options out there, while they are a proprietary system the quick release and engagement is great for quickly getting access to them both while on and off bike.
Included with the bags and mounting plates Ortlieb also provide kit to attach the system to a set of traditional forks if no bolt holes are available, the adapter kit just requires a constant diameter between 30 mm to 42 mm in order to fasten securely.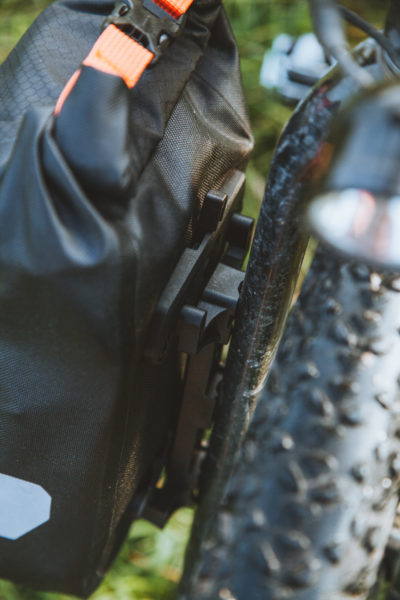 All in all a promising start and with the winter months ahead there will be some solid opportunities to really test out the waterproof qualities of the Ortlieb fork pack along with how the clip mechanism works all covered in trail muck and grit.
Last modified: 10th November 2021