The bottle (only say bidon if you are French) cage is one of those wonderfully simple devices that really doesn't need to be reinvented. Fidlock however, beg to differ. Their TWIST bottle does away with the cage altogether. Replacing it with a simple clip and bottle system that securely snap together.
Magnetism
The Fidlock TWIST relies on four very strong magnets to make the connection between bottle and mounting bracket. Two are concealed in the bottle and a further two in the frame mount.
You mount the Fidlock mount to your frame like you would a traditional cage. It comes supplied with a pair of medium length, low profile, Allen screws. It's advisable to use these as the head size on most screws is too tall and will stand proud of the mount.
If you like to stand and admire your bike for hours (and who doesn't?) then you'll appreciate the simplicity of the Fidlock. The mount does look very minimalist and especially suits the modern lines of carbon fibre frames.
Bottle
The Fidlock bottle is nothing fancy to look at it. Other than those magnets, there is nothing out of the ordinary about this clear 600ml bottle. There is some moulding to the sides making it easier to grab and a large opening to make it easy to both fill and clean. It's also dishwasher safe.
Going back to those magnets, they're recessed into the bottle for a low profile. The magnets are held securely to the bottle with a metal band which is also removable. Presumably so you can replace just the bottle rather than buying a full replacement if it gets damaged.
The whole interface is very robust and feels like a quality item. There's no flimsiness or rattling to the fitting and it feels like the bottle and bracket are built to last.
Twist n' go
Using the Fidlock is simple: offer the bottle up to the mount and it'll just slip on with a sideways motion. To remove, twist and pull. After a few false moves, I soon perfected the method to the point where I could do it intuitively without looking down. Actually, I reckon it involves less fumbling than most traditional cages.
One thing to note for lefties, or people who prefer to grab the bottle from the left… you can't. Annoyingly, the bottle can only exit the mount with a twist to the right and as the mount is one sided, flipping it means your bottle will be reversed.
The rubberised bite valve on the bottle is of good quality but I found it limiting when wanting to take large gulps of fluid. It seemed the harder I wanted to drink, the valve would close up mid flow… Short slurps only then.
The great thing about the Fidlock TWIST is the side-exit motion means you need very little room within your frame to release the bottle. Excellent if you have a very small frame. Awesome if you are using a frame bag and struggle with clearance between bag and bottle. Struggle no more!
If you have mounts on your forks and don't want to go through the faff of removing cages when they're not in use, the Fidlock mount is discrete enough to not look out of place.  And if it matters to you, the Fidlock is more aero than a cage attached to your fork.
Out on rough trails, there is some noticeable vibration over larger bumps and rutted surfaces. But it is no worse than I have found with a plethora of carbon and plastic cages. Importantly, no bottles have been ejected by the Fidlock TWIST throughout the test period.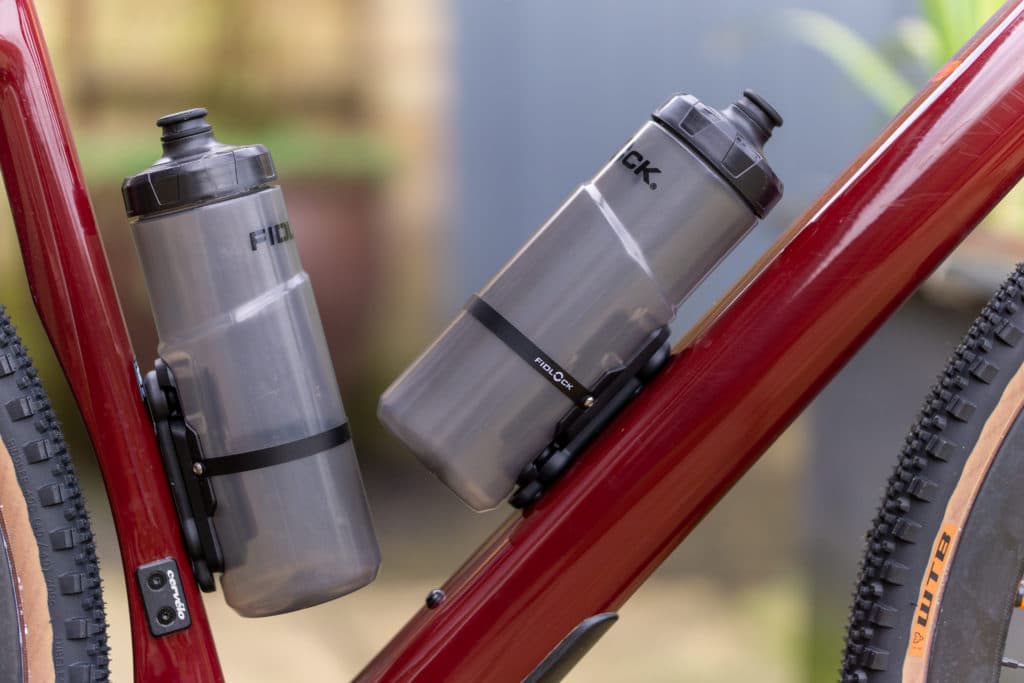 Conclusion
Is it better than a traditional cage? I've always firmly believed that a bottle cage should only be made from metal. But this is a different, because it isn't a cage. However, £35 is a lot of money for an alternative that does exactly the same thing as a £6 cage: hold a bottle. The other downside is that stash of bottles you have stashed in a cupboard will suddenly be obsolete.
If you have a small frame, treasure a clean and uncluttered look, or get annoyed with your framebag/bottle conflict, then suddenly there is a lot more to like. You could also argue that £35 would get you a pair of side-load cages and a pair of shiny new bottles…
I really like the concept of the Fidlock TWIST. But with so many cheaper alternatives on the market that do the same job, it's hard to recommend.
Last modified: 11th March 2020