Christmas in Wales 2020, like many places across the UK, was in Tier 4 lockdown, and so with no country-wide dash to see extended family and the gracious go-ahead from my ever understanding wife, maps were unfurled, previous routes examined and new lines planned on komoot. Nic from VeloAdventuresCardiff shares his Rapha Festive 500 experience on his home trails in South Wales.
The plan was hatched, to complete the Rapha Festive 500 using as many off-road tracks as possible, and maybe even add in a family bikepacking trip to complete Bikepacking.com's #goodnight2020campout.
Gravel riding in South Wales
South Wales has an abundance of gravel or adventure bike riding opportunities, with seemingly endless kilometres of double track fire roads which criss-cross the valleys and forests. Many of these rough roads were initially laid for logging operations and more recently for wind turbine installation. In the midst of these, are a myriad of National Cycle Network routes, mostly laid on the old industrial train and tram tracks.  Add to these the countless local tracks and trails, single track, bridleways and old drovers roads, and you soon realise why South Wales is such a great area for adventure bike riding.
Nic's custom built gravel bike
My bike of choice is the very capable Trek Checkpoint. Its low bottom bracket height, longish wheelbase and the almost magical fork compliance make for a comfortable and confidence inspiring ride. Being a bike mechanic, the setup is of course a customised version, built from the frame up.
Starting with the ergonomically excellent Shimano GRX levers in a 2×11 setup, with Halo GXC wheels shod with either Maxxis Ramblers or Ravagers, both run in 700x40c tubeless format, PRO finishing kit and Zipp CX course bar tape. Three bottle cages, two for water and one holding a gear caddy and a selection of Ortlieb or Alpkit bikepacking bags finish the build depending on how long, or how far I'm headed out for.
Nic's kit essentials for the Festive 500
Tackling the Festive 500 is always a tough undertaking: cold, wet and sometimes icy conditions, coupled with short daylight hours, often lead to extended periods of riding in the dark.
Aside from the more obvious items of clothing, like a thermal set of long bib tights, thermal under layer and a quality thermal winter jersey, clothing choices can prove tricky for long winter rides.  Whilst there is already lots of information out there, here are a few of my essential kit choices.
Thermal gilet: mine is from the Endura Pro SL range, the Primaloft gold offers just enough insulation to provide the right amount of cold weather protection, without overheating.
Shoe gaiters: these inexpensive GripGrab gaiters form a really reliable cover to keep water from running down your leg and into your winter boots. This is my first few rides using them and they have been faultless.
Winter cycling cap: I use the Rapha version, the ear cover really works well, even with sideways hail.
Gloves: pack a second pair, I'm yet to find a glove that will last half a days ride (3-4 hours) in Welsh rain.
First aid kit: Often overlooked, and thankfully rarely used, but no less essential. A triangular bandage, some tape, a field dressing, whistle and a full length survival blanket make up the key components of my kit. Whether you're riding solo or in a group, in remote locations these few items could really help to slow the deterioration of a casualty while you wait for Mountain Rescue, which could be a long few hours or more.
Day 1: The South Wales valleys traverse
The South Wales valleys traverse: following mostly cycle paths in the valley bottoms, before long, steep climbs to summit five successive ridges, forming a five finger shaped valleys traverse. This challenge kicked off my Festive 500 attempt on Christmas Eve, totalling 150 km with a mega 2,400 m of climbing.
Starting before dawn on a very cold Christmas Eve morning was a real treat, snaking my way up the valley from Cardiff to Merthyr on the Taff and Trevethick trails, with only the dawn chorus and sunrise as company. As I'd set out to complete the ride totally self-sufficient, the notion of grabbing a quick coffee in Merthyr was quickly put aside and the first proper off-road section began.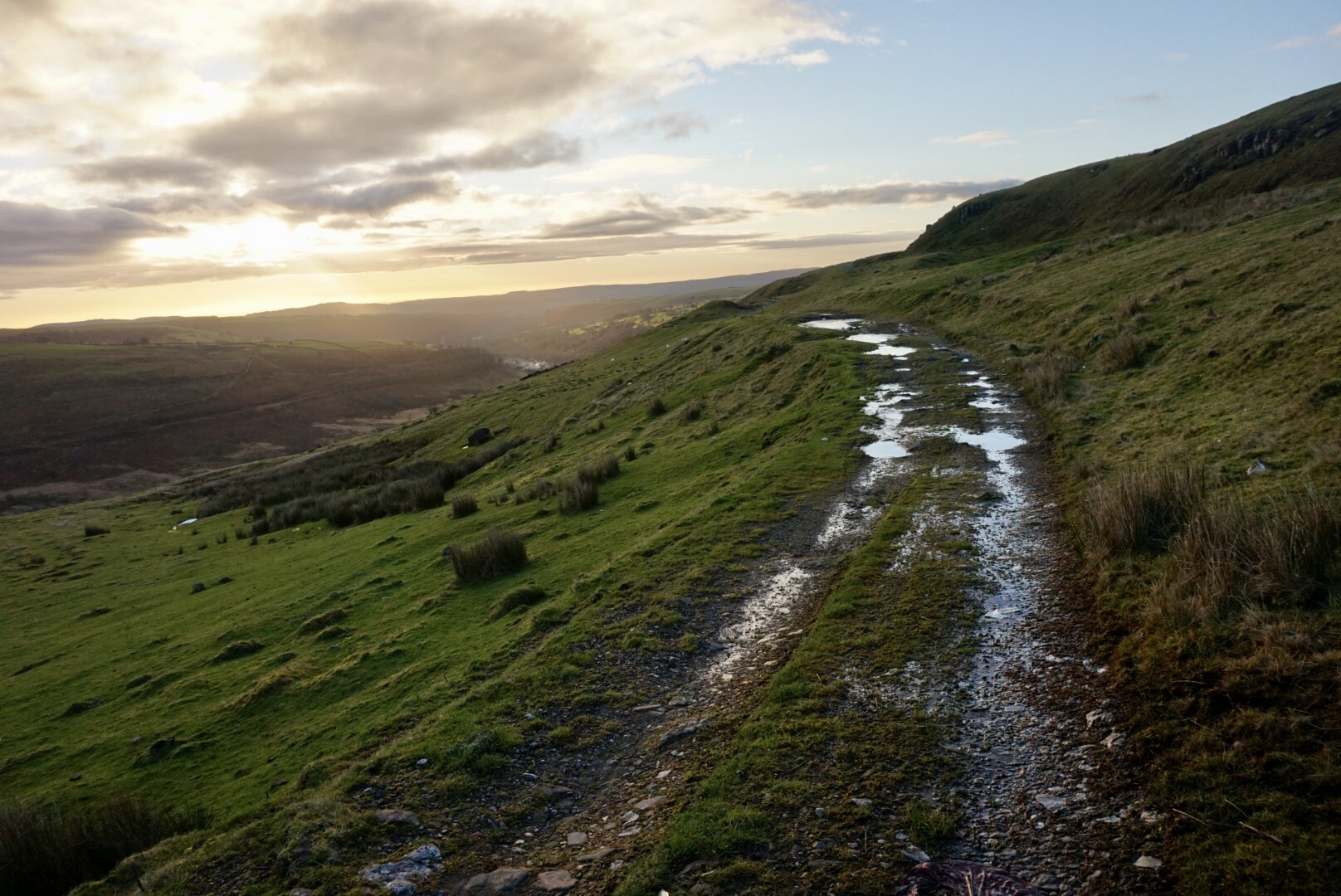 The ridge above Merthyr is remote and has the potential to be quite stunning, but unfortunately the ease of access for motor vehicles means that fly tipping is prevalent, resulting in some short hike-a-bike sections to avoid broken glass, fridges, bathroom suites etc. Despite this, I was treated to a series of close encounters of the red kite kind, who seemed indifferent to me, just a few short feet away as I rode past. After a short push up a rocky track and a further roll along the ridge, a long, steep and water washed narrow lane descent followed, before a lovely ride through Taff Bargoed Park to the start of the long climb up through Bedlinog to summit the second of the five planned ridges.
I enjoyed a fast roll along the top of Gelligear Common before descending, then followed the Rhymni River all the way up to Fochrhiw, on NCN469 and gaining the next ridgeline. The sense of remoteness on this ridge was great, and I remembered to occasionally stop and take in the view, which did not disappoint. From here the snow capped Central Brecon Beacons massive stood gleaming in the distance. As it was behind me, I'd have missed it, had I not paused… lessons learned from #slowisok. Another steep, narrow, and broken paved road descent followed, before a brief climb to New Tredegar.  
A  steady climb followed, mostly on quiet roads, before arriving at a farm with no signage or obvious way ahead. There were a few moments of consternation: it's a long way back down to track around, but with maps checked, a few gates later I was on my way, albeit slowly as the bridleway had clearly been awash from previous days deluge and was now unrideable. A pleasant view made for a welcome distraction from the two kilometre upward struggle. The reward was yet more views of the Beacons and another climb ticked off, before another airy ridgeway traverse and descent into Bedwellty to join NCN467.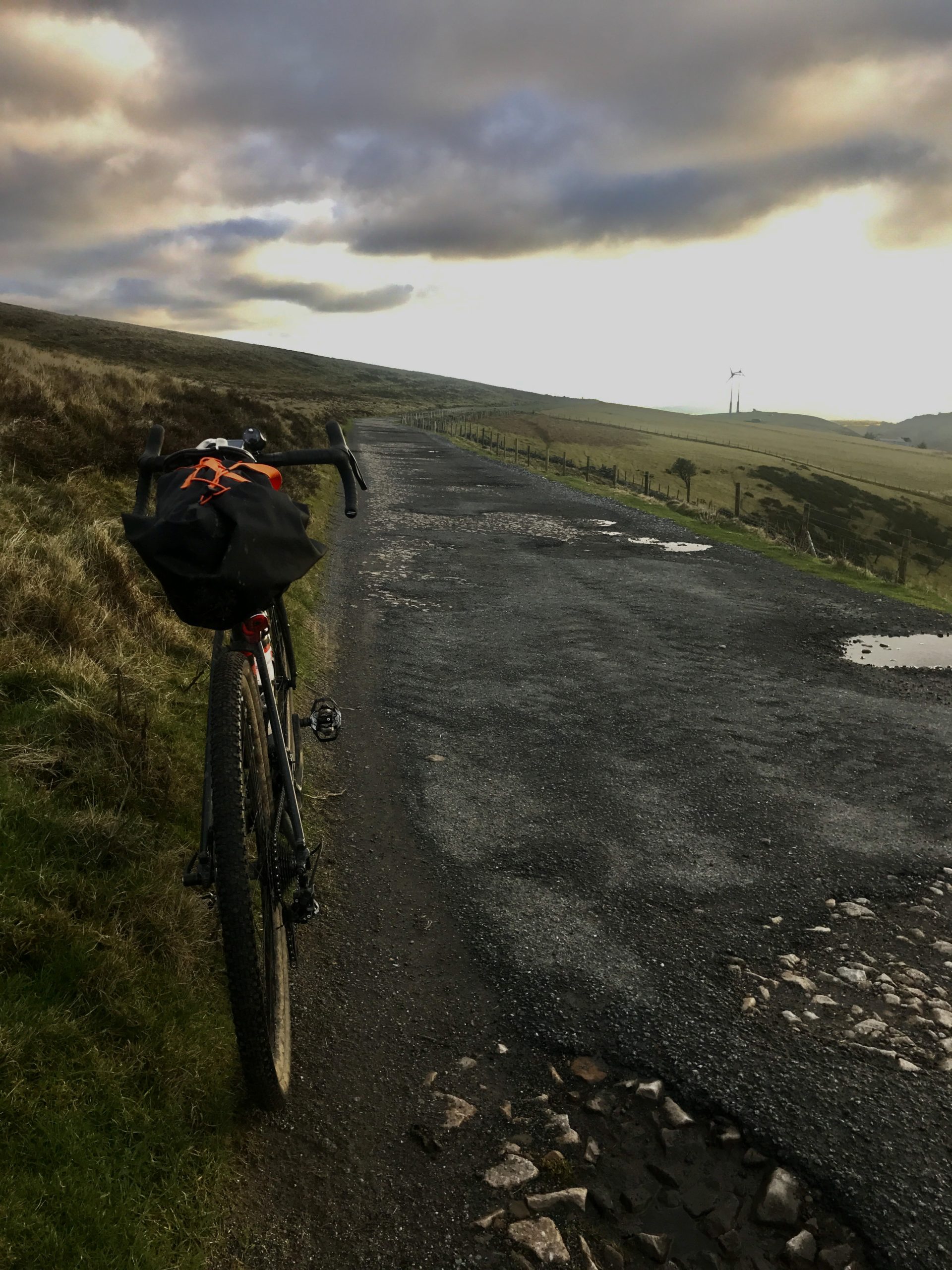 A brief, planned detour onto a forest track gave a chance to warm the feet in the faint winter sun, and grab a bite to eat. Bara Brith from Outdoor Provisions… what else? After a short technical rocky section down to the road, thankfully I rejoined NCN467 to complete the easy part of the climb to Georgetown, near Tredegar.  The climb quickly steepened, and with over 100 kilometres in the legs at this point, the ramps that hit 20% were a tough ask.
Once the ridge is reached, the track opens out, giving the feeling of being on an exposed wild mountain side. At 460 metres, the highest point on the route, it's certainly weather worn with broken tarmac, sheep and wild horses all around, making for a fitting final traverse before a long descent back into Oakdale.
From here the route was mostly downward trending, and with light fading and temperatures dropping to negative figures again, a quick layering up was needed. An easy roll back down to Caerphilly on mostly quiet roads leading to the final section back into Cardiff via the Taff trail all helped to quicken the arrival home and satisfy the long overdue cravings for a hot drink and food!
Day 2: 62 km – A wet ride to Llanwonno Forest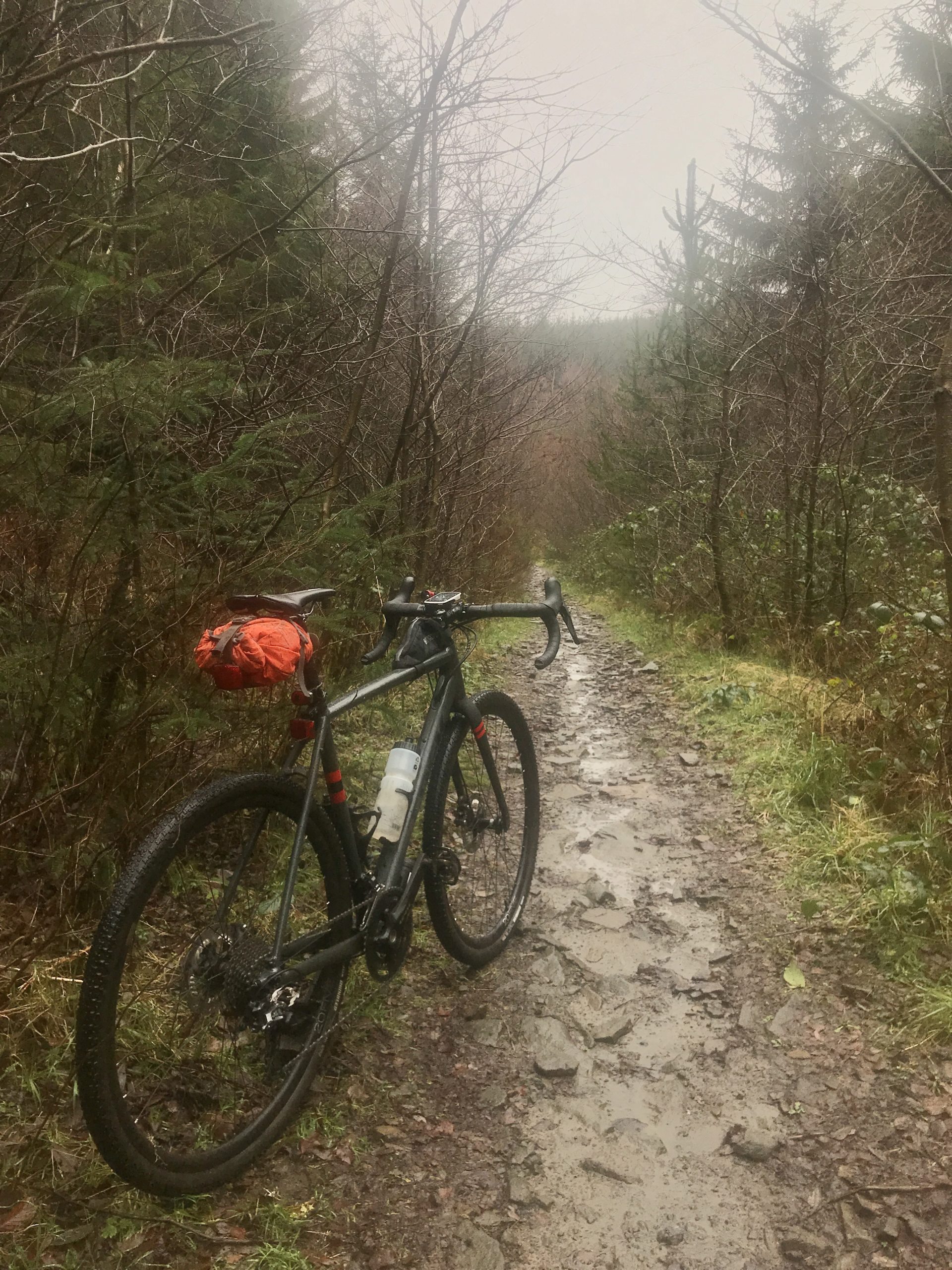 A wet and wild trip into Llanwonno Forest, one of the best places to ride an adventure bike in South Wales. Check out the route here.
Day 3: 80 km – wintery exploring
A mix of puddle-strewn rough double track, quiet roads, cycle paths and lofty ridges, with a chill wind and sub zero temperatures in shaded valley floors. For more on the route, click here.
Day 4: 98 km – a winter wonder adventure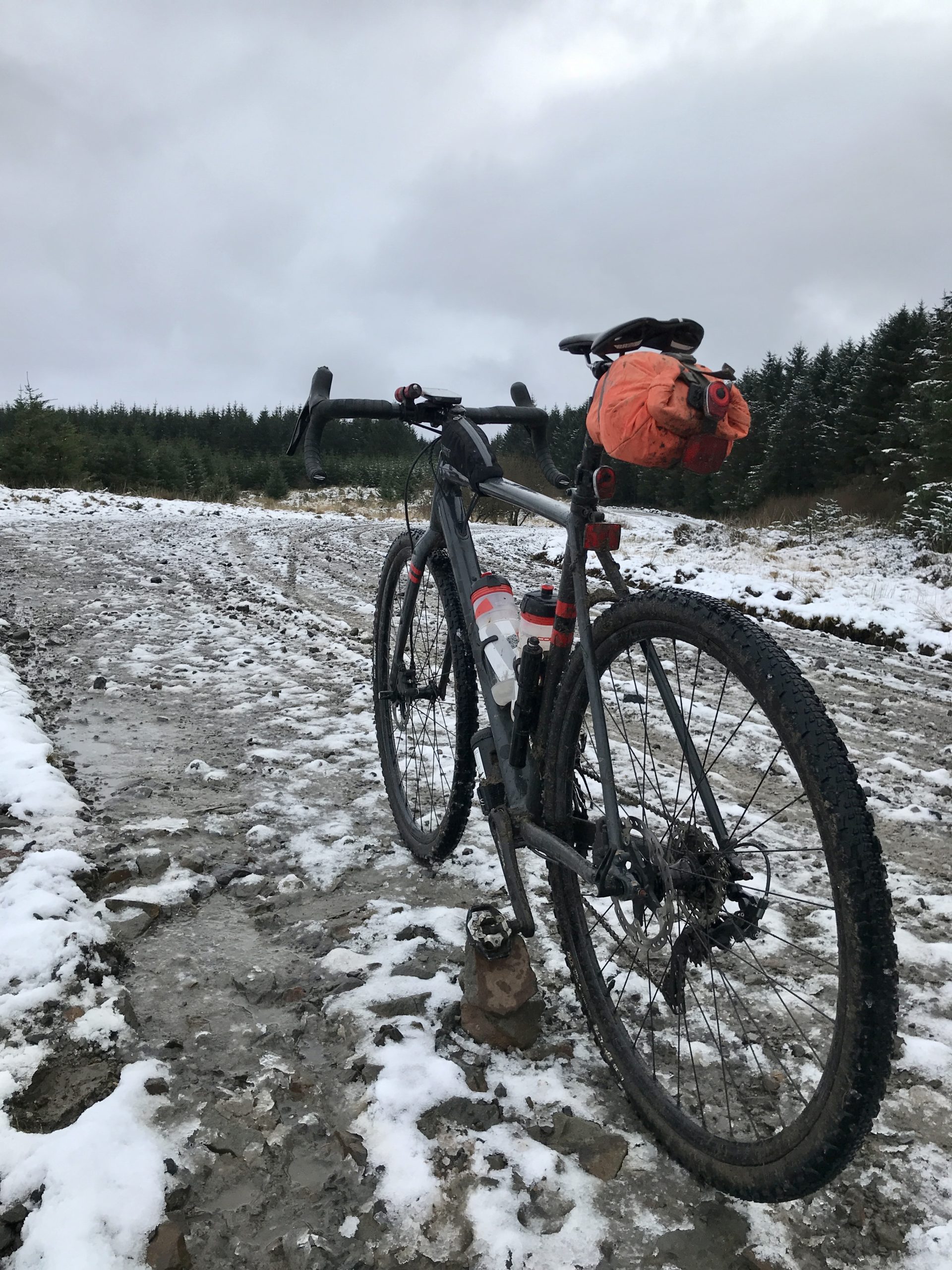 A fine example of some of the best off-road sections South Wales has to offer the adventure bike rider. Add in sub zero temperatures, and a blizzard from the Bwlch all the way to the Rhigos summit and you have a classic type two adventure ride.
Click here for the route.
Day 5: 56 km – GoodNight2020CampOut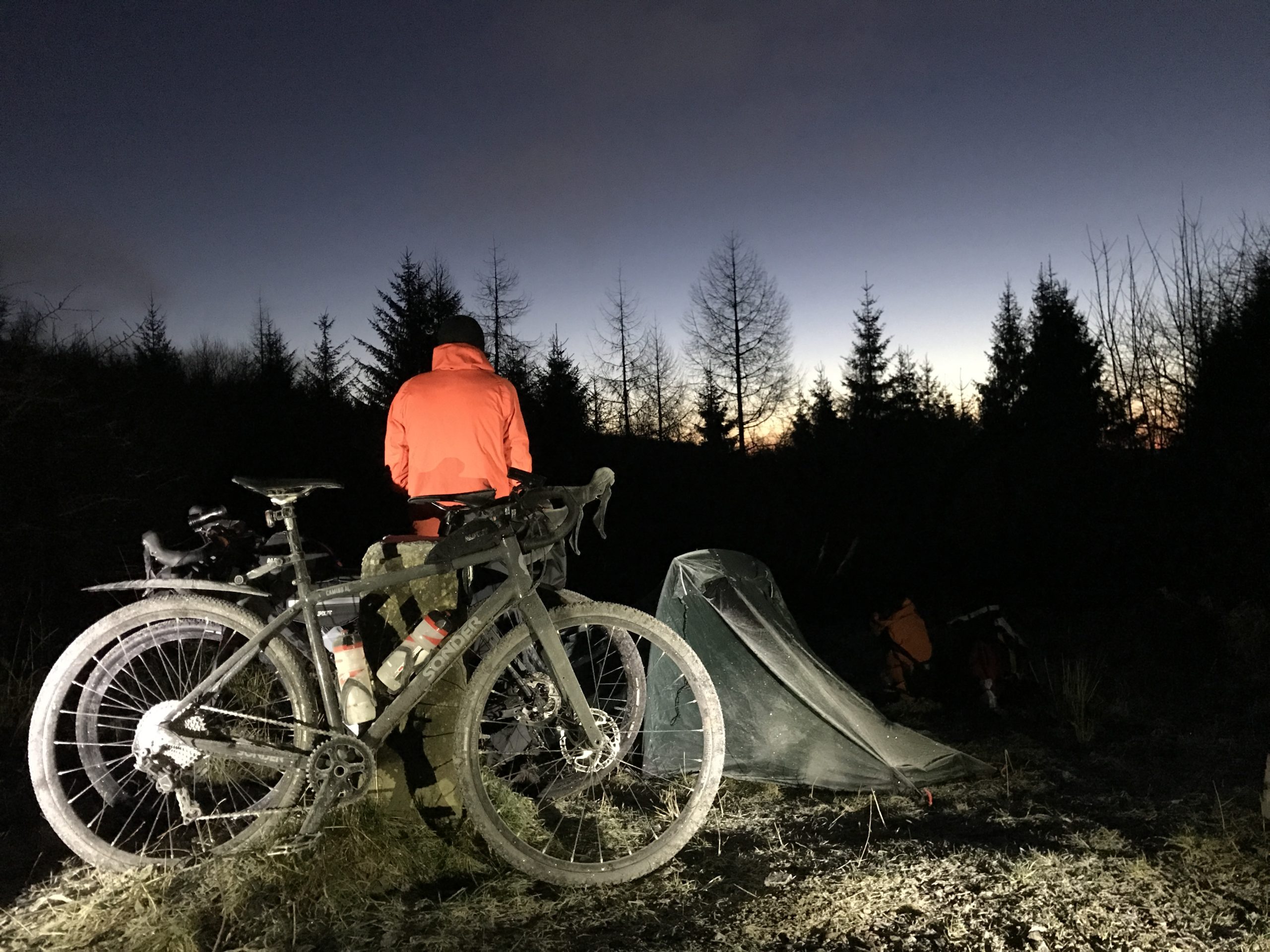 A dusk till dawn family outing, a mere minus six overnighter in Llanwonno made for a memorable first bikepacking experience for my son. The dawn was simply stunning. 
Day 6: 54km – the finale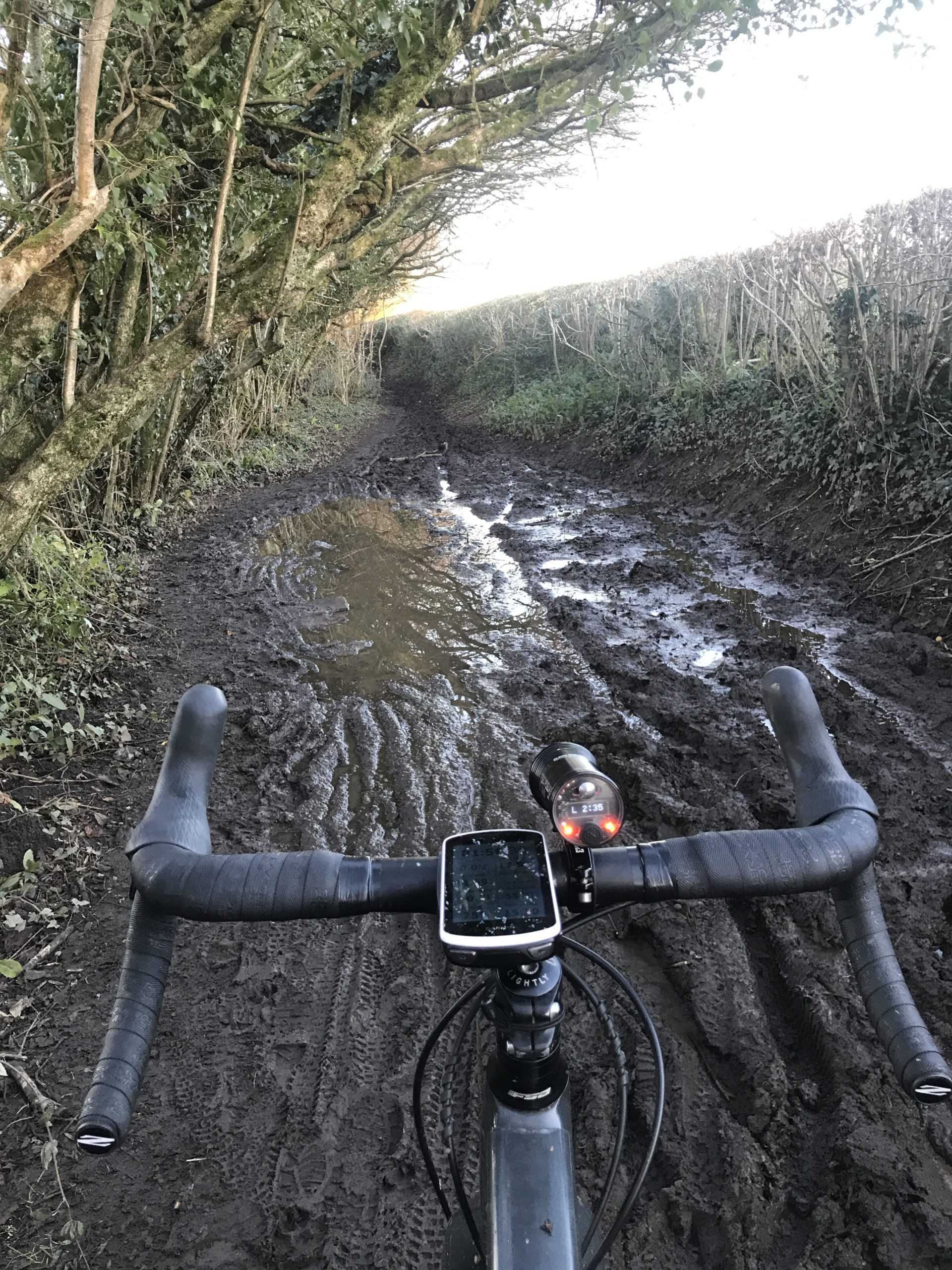 The second ride of the day and a real mud fest grinder, visiting a fine selection of local tracks and trails around Cardiff, a suitable finale to a great Festive 500 adventure. View on komoot here.
Check out more from Nic and his South Wales gravel routes at @VeloAdventuresCardiff and on komoot. If you're new to komoot use our ADVNTR voucher code to get a region map bundle for free. Head to www.komoot.com/g and enter the code ADVNTR. Valid until 31/12/2021
Last modified: 5th January 2021