With the second generation of the Fairlight Faran being released in 2020, we were keen to take a look at this updated steel frameset and builds that cater to the do-it-all rider. Mounts for almost everything, a full dynamo set up and some really cool custom touches, how did the Faran fare after six months of testing?
The Faran is all about utility and versatility; road plus, commuting, gravel rides, audax, randonneuring with a small front rack, or touring with front panniers. It is the sort of bike that you will become very attached to as you rack up the miles together. As the seasons and years pass, racks and cages will be bolted on or taken off, wheels & tyre sizes will be experimented with; it's form, capability and loading capacity will evolve to reflect your riding style.

— Dom Thomas, Fairlight Co-Founder
The story behind Fairlight
When founder Dom Thomas turned up on my doorstep one December afternoon to deliver the Faran, we ended up chatting outside for hours. Not just because neither of us had seen many other industry folks for a good few months thanks to lockdowns, but because Dom's story, and indeed that of Fairlight, is a really fascinating one. 
Before starting up his own bike brand, Dom worked as a store manager at a cycle retailer, before indulging more of his engineering skills from his degree to work at Pace, a British MTB brand, before transferring to distributor Madison when the suspension division of Pace was bought out by DT Swiss. At Madison, Dom went on to help develop Genesis bikes for three years. Remember the steel race bikes on the British road race scene ridden by Madison Genesis? Yeah, that was Dom.
Then he spent a few years working at the other end of the spectrum, on custom, hand built bikes at Wold Cycles, gaining valuable insight to a more hands-on approach.
Fairlight was founded with business partner Jon Reid: the marriage of bicycle design and bike fit expertise, as well as Jon's commercial experience from founding his well-known London bike shop, Swift Cycles.
Speaking to Dom, it's clear that utilitarian design is at the heart of everything they do.
The duo continue to use Dom's established relationship with British steel tubing manufacturer Reynolds, with bespoke tube shapes for the Secan, Faran and Strael frames. These are made and painted in Europe in small batches, before being shipped to the UK for assembly in their London HQ.
You'll notice that there are many build options for each bike, from groupsets to dynamo lighting and wheel choice: Fairlight seems to be a delightful middle-ground between big-name brand production and small-scale deep custom, with pricing to match, and I'm all here for it.
Check out the detailed design notes for the second generation Secan and Faran here: an incredible insight into the meticulous attention to detail (dare I say it, perfectionism) that goes into the design of these bikes. Therefore, in this review I'll focus mainly on my experiences with the bike and the ride quality, as the team have explained all the technical aspects so well here already.
We design and manufacture class leading steel bicycles. Our bicycles are tools, not trophies. Designed for transport, recreation, exploration and enjoyment. They should be ridden hard, used and cherished. We believe the biggest impact we can have as a business is to manufacture functional and utilitarian products that positively affect the lives of our customers and contribute to the well-being of wider society.
Sizing, bike fit and set up
At the London-based Fairlight workshop, they pride themselves on attention to detail, and one of the ways they put this into action is setting up the bike ready for you, based on your measurements.
As part of the ordering process, I supplied my bike fit data from a cyclo-cross bike fit that I had a couple of years ago in preparation for my steel Mercredi to be made. Fairlight then used this fit to determine which size I'd need, and set up the cockpit and saddle height ready for me to hop on and go! If you don't already have professional bike fit data to go off, you can use Fairlight's online tool to size up and choose between regular or tall frames. I tested a size 51T.
So when Dom rocked up with the shiny green bike for review, in theory it was perfectly set up for me.
In practice, and unsurprisingly, there've been a few things that I've tweaked since the first ride. Reach has been a recurring issue with recent bike fits, and I suspect it's the newer Shimano GRX hoods, which are really quite reachy (long). Thankfully, recent bikes have been fitted with layback seat posts, so it's been an easy switch – just like in this case – to an inline seat post to reduce the reach a little. I noticed that I was overreaching on the first ride, as I had some lower back pain and numbness in my hands.
Then of course, seat post height can vary according to what pedals and shoes you're using, so one that's good to experiment with a little.
Essentially, the fit will only be as good as your bike fit data, so I'd say it's worth getting a professional fit if you're shelling out on a bike like this to help you both get the right size and be set up well from day one.
First ride impressions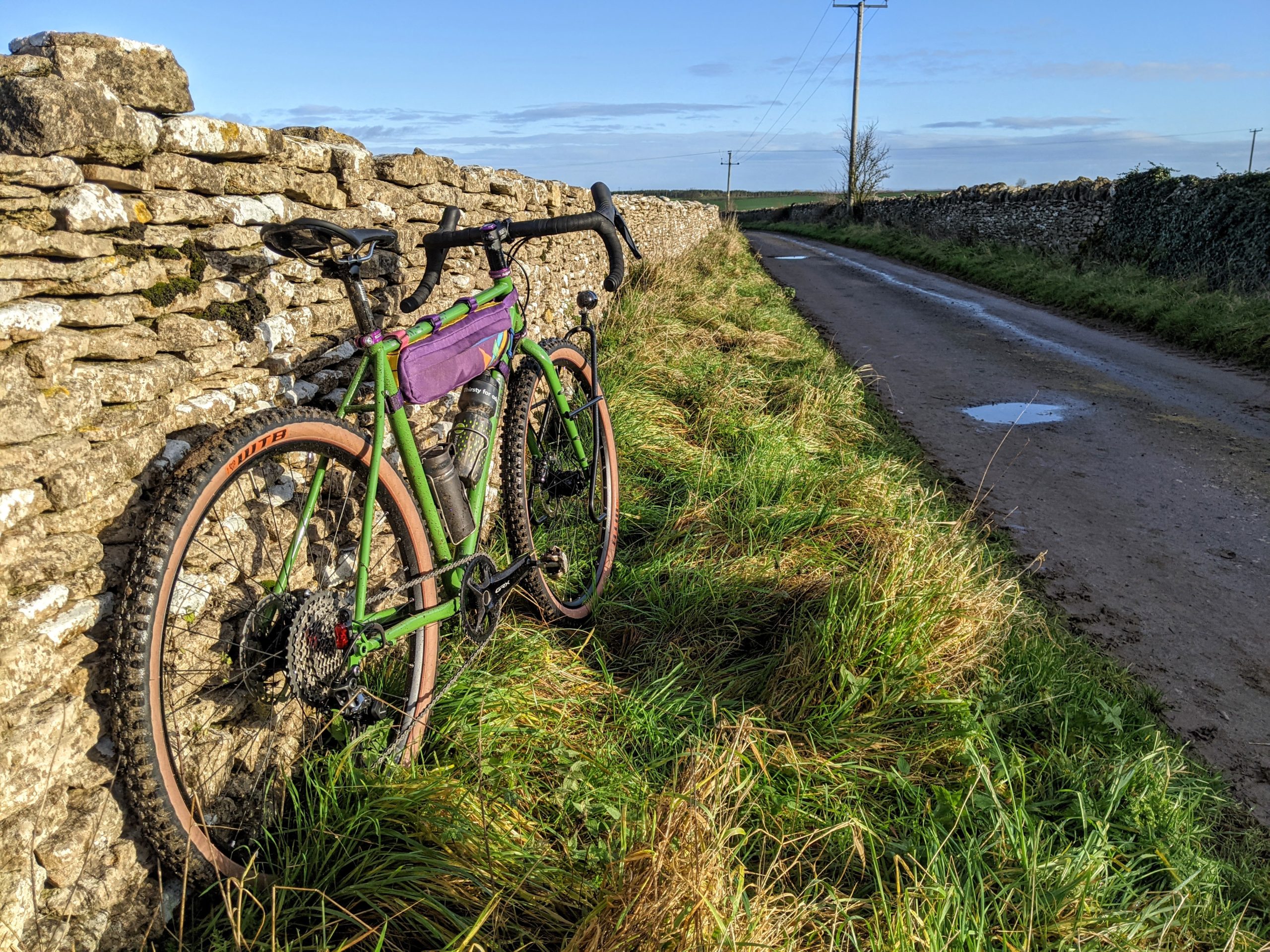 For our grand debut, I planned a nearly-100 kilometre mixed surface ride for a sunny December Saturday, trying to stick to tracks and gravel roads that tend to fare better in the winter including the Fosse Way and some farm tracks through the Badminton Estate. Inevitably, we also got caught out with a few slop-fests along the way too, but it's all good testing, eh?
 As I mentioned before, this long first ride gave me the insight to tweak the fit, and I also decided that the Fabric Scoop saddle supplied wasn't my cup of tea, switching back to the Fizik Terra Argo X3 that I recently reviewed.
With a little clear Gorilla tape to protect the paintwork from abrasion, I fitted my homemade half frame pack and off we went. When offered the choice of orange or purple Hope headset and seatclamp (silver was out of stock at the time), of course the choice was easy, but in the flesh this green/purple combo actually looks pretty funky!
The very first thing that I noticed was the position of the front Son dynamo light. I felt like a sailor with a voluptuous naked lady figurehead at the bow of my ship, pointing the way. The light has been wired to this position so that it doesn't interfere with the pannier set up when loaded up, but there were a few concerns from our audience when we shared the first picture of it.
Firstly, someone said that in that position the light glass would get filthy off-road. Well, after that ride I can put that one to bed, as the glass remained mostly clean while the back of the light was caked in mud! The second concern was that it's in a pretty vulnerable place for crashes. I can appreciate that one, and hoped that I can keep rubber side down as I usually do. If you're a particularly loose rider, perhaps it's not the best idea.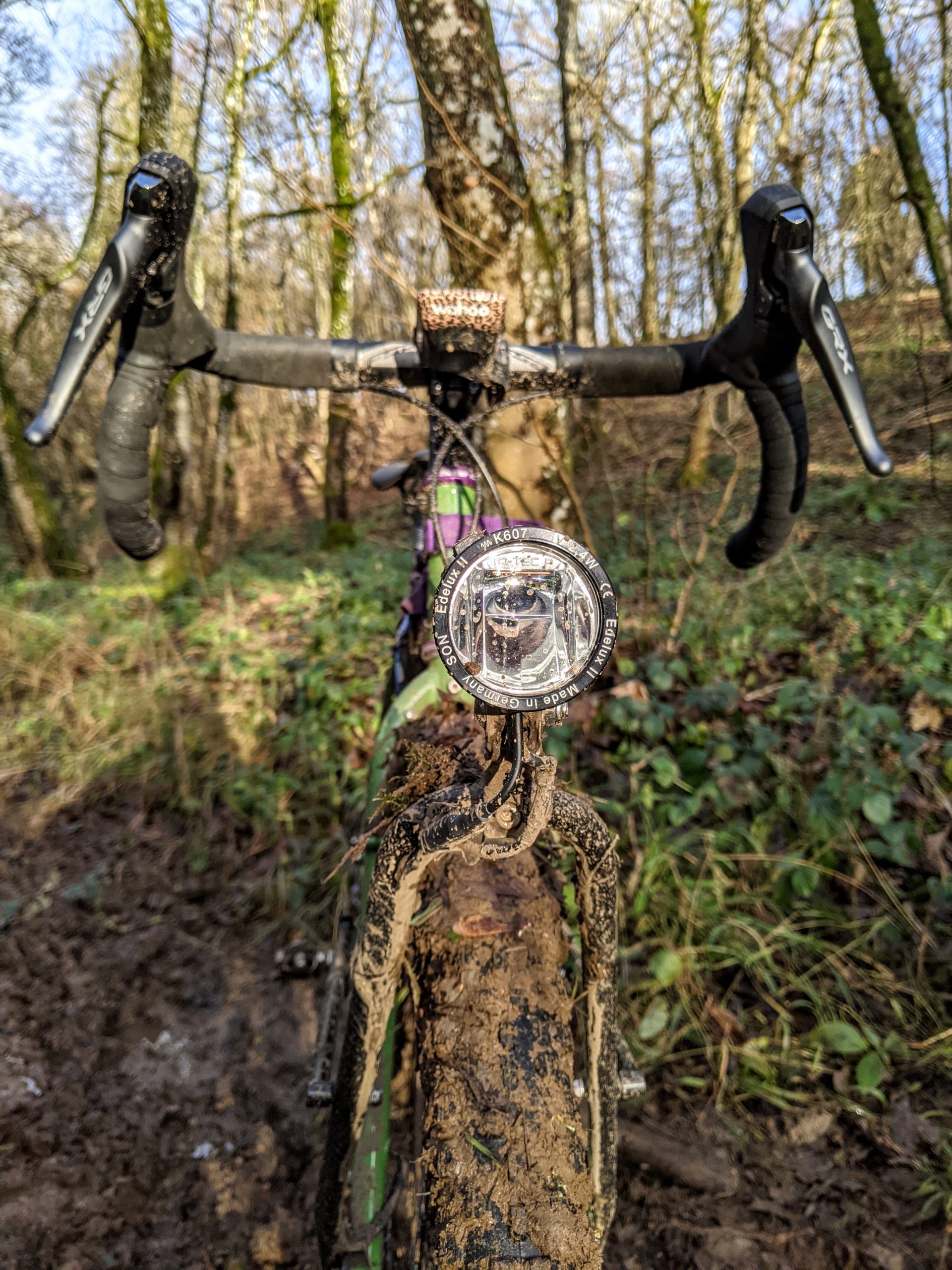 It was my first time on the WTB Sendero tyres too, which behaved much as I expected; oodles of grip in the mud, but pretty draggy on the road sections. Essentially, they're a MTB XC tyre in miniature.
It's easy to forget at this time of year how much longer routes can take, after battling through slop. All I can say was that I was very glad of the dynamo set up when the light faded and we had to pedal back into town in the darkness. I wouldn't have packed lights, thinking it wouldn't take so long (similarly we ran out of food, ugh), so the dynamo set up proves its worth from the get-go.
A couple months in
After getting to know each other and making the necessary tweaks to get the positioning just right, the Faran and I had a change of scenery to Devon due to a change in family circumstances and it became very much my escape vessel. Dom and I had chatted about how important bikes can be in times of hardship and grief, and now I was really learning that first hand.
Extensive testing was put on the back burner, and bikepacking was outruled anyway due to Covid restrictions, but I still managed to get out regularly for a few hours on the *spectacular* East Devon gravel tracks of Woodbury Common, the bridleways along the coast and the quiet lanes that link them.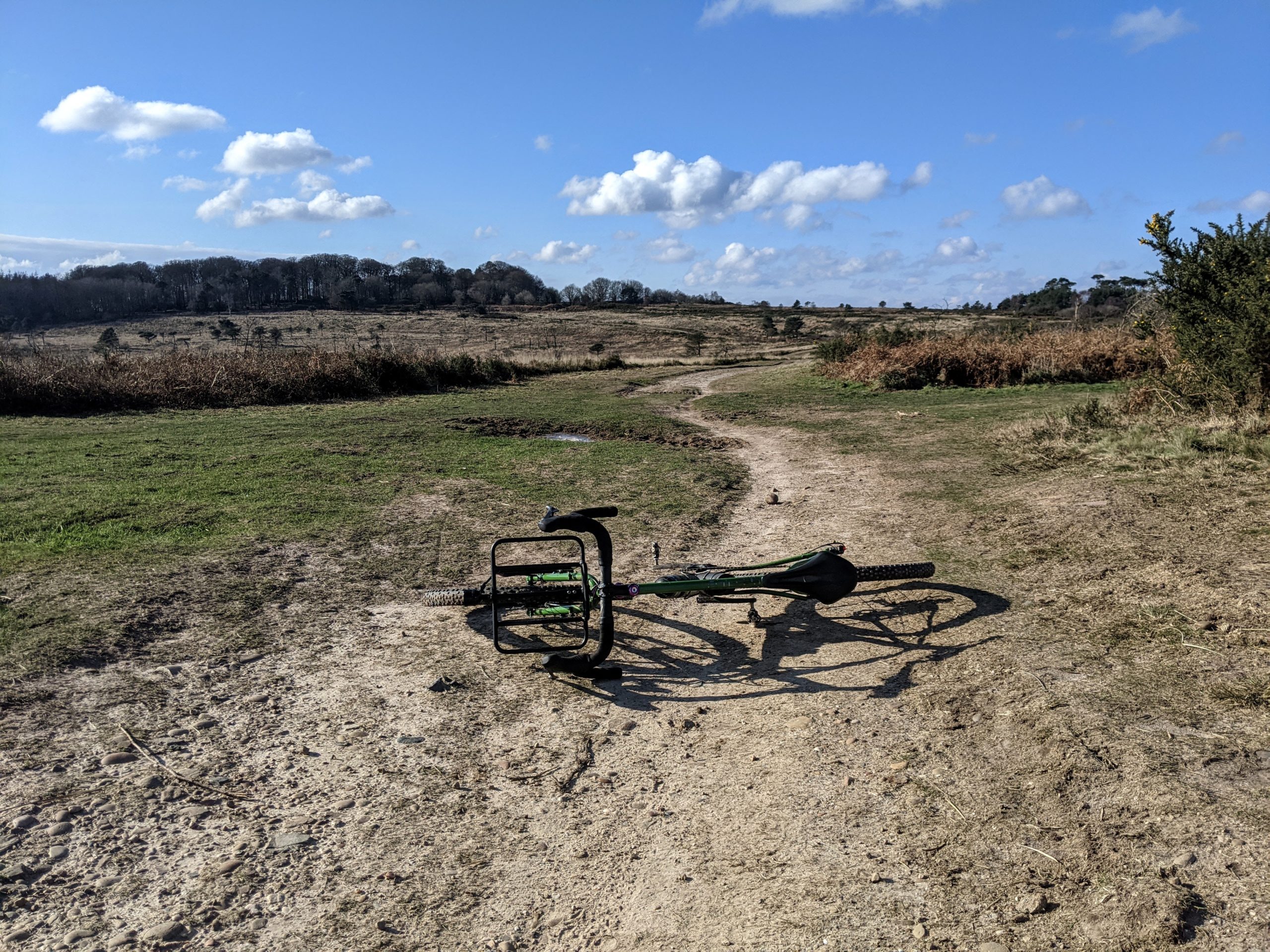 I continued to be wowed by the 47mm WTB Sendero tyres. I was riding the Woodbury Common XC course – which if you know it is rooty as hell – something I never dreamt possible on a drop bar bike, all with confidence thanks to these wider and much grippier tyres. I lowered the tyre pressure a little and I was sold, but I must admit the lane climb did become a bit more of a slog.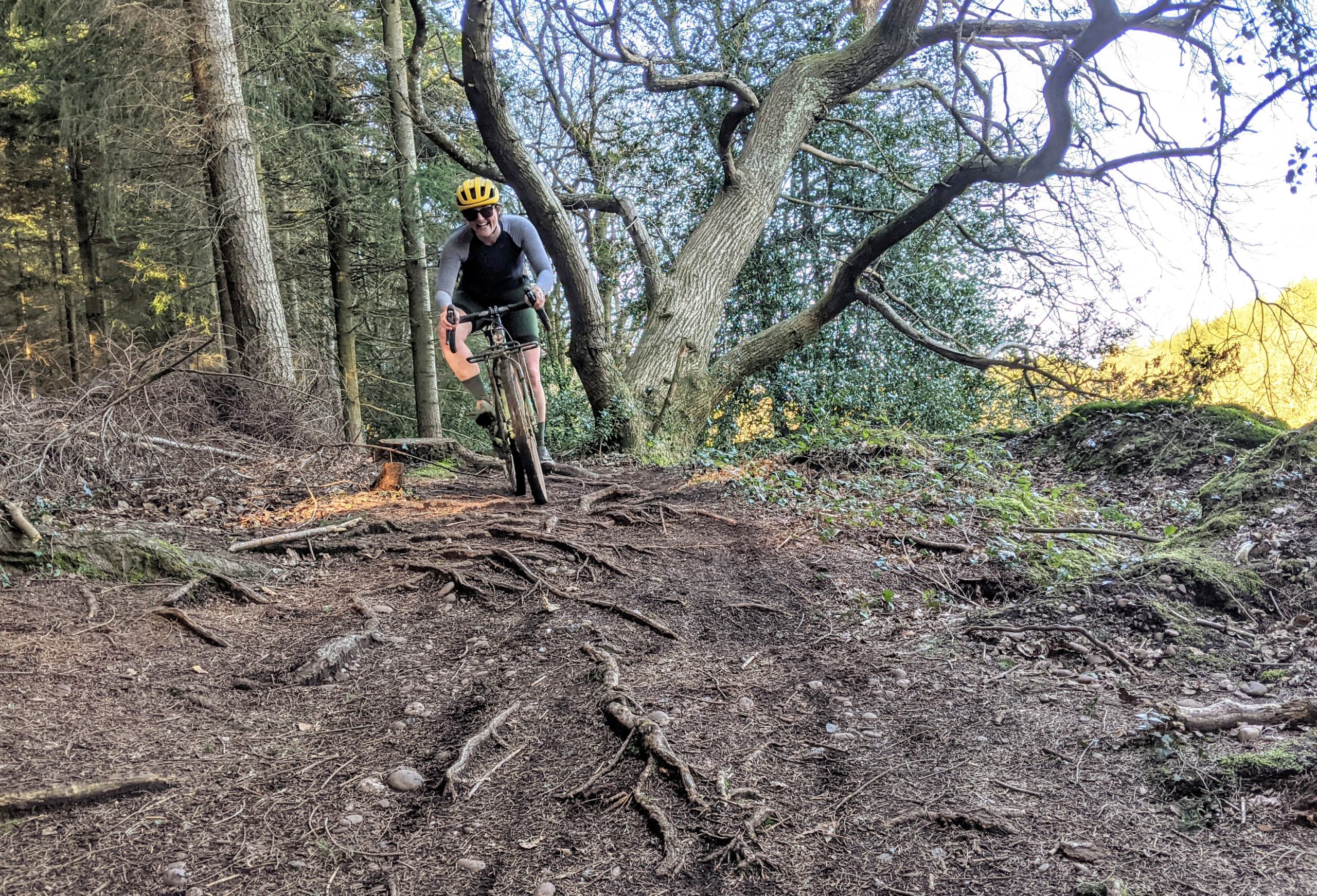 At the same time I had a Specialized Pizza Rack on test, so I swapped out the lowrider fitted for this one, which gives an upper platform for a rando bag as well as fixture for panniers. This also moved the dynamo light to a less prominent position, which I was quite happy about. Crashes weren't a problem, but I once went to 'boop' a gate with my front tyre only to realise the gate would hit the light first. Yikes!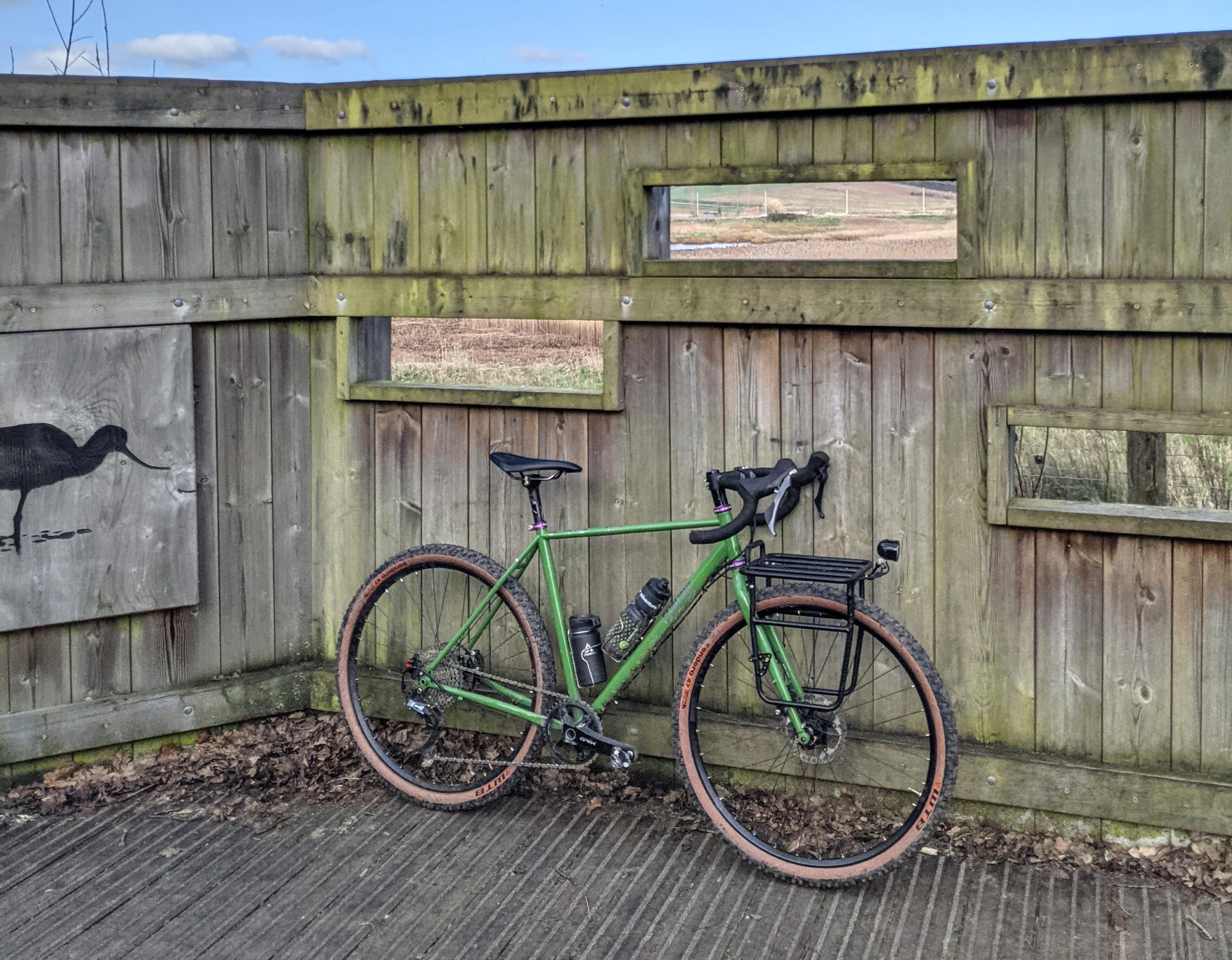 Testing the Faran's bikepacking mettle
As soon as we got the green light for 'overnight stays' with the Covid restrictions relaxing, it was time to properly test the Faran for the job it was really designed for: loading up for overnighters and multi-day bikepacking trips. I loaded up the small Restrap Panniers for a local overnighter on School Night Bivvy Club, and for a multi-day tour in East Devon.
By now, the WTB Senderos were worn out, thin sidewalls leaking air, and with a pair of 650b x 2.1″ Teravail Sparwood tyres on test, I switched these in at the same time that the weather started to dry up, and with it the trails.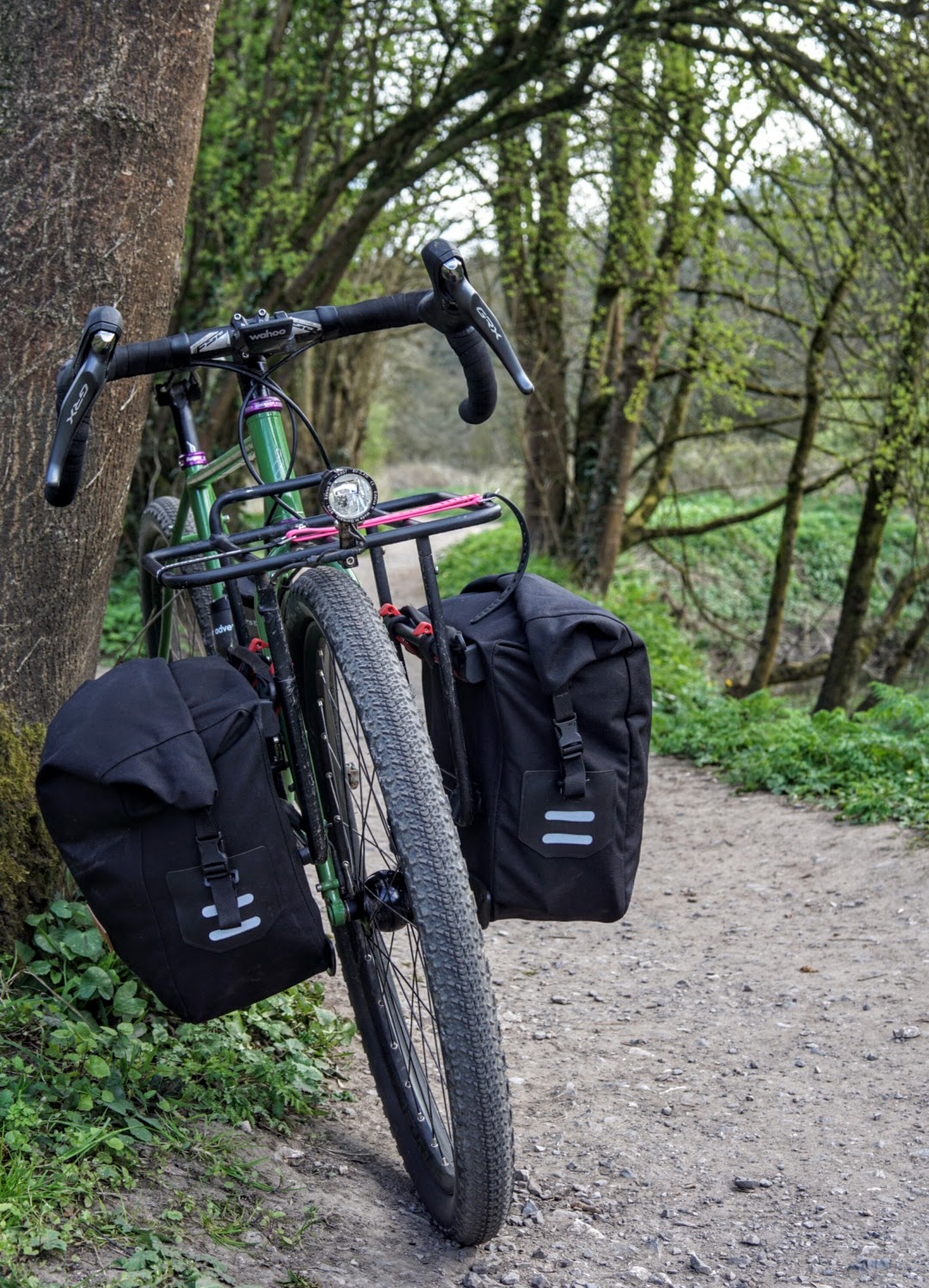 The impressive tyre clearance of the Faran is one of its major selling points, and I can truly say that with the added weight of kit the wider tyres made the ride not only more smooth, but much more confidence inspiring when it came to tackling roots, chunky rock-strewn byways and slippery river crossings.
After this taste of chunky rubber, I think it'll be hard to go back! The Faran and Secan both boast class-leading tyre clearances to fit up to 700x 50mm (1.96″) tyres or 650b x 58mm (2.28″) tyres.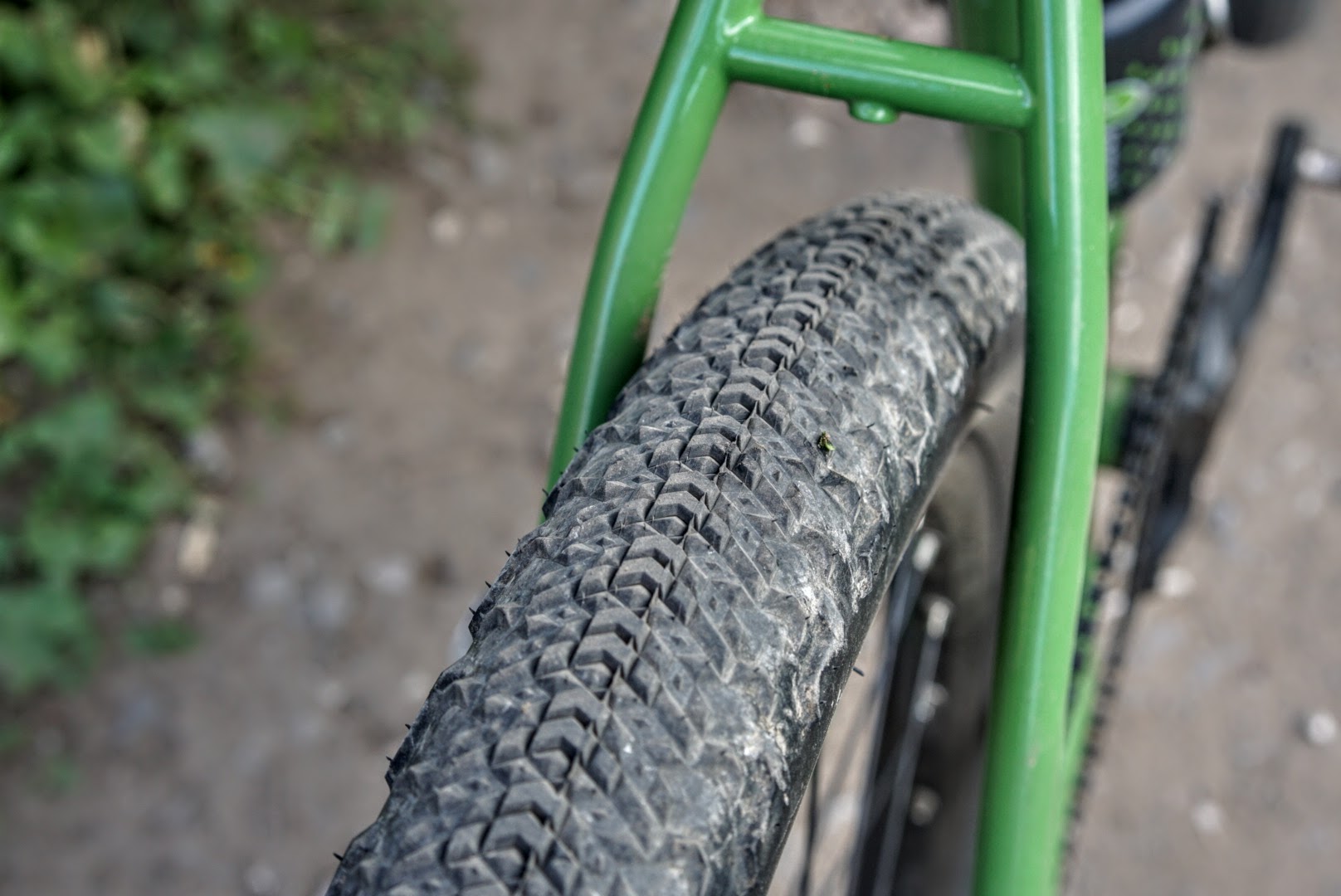 Loading up the rack is where the Faran really differs to the Secan, which features a carbon fork and cargo cage mounts, rated to 3kg capacity per side. The Faran here not only has cargo cage mounts on the steel fork, but also many rack mounts to suit all number of racks, and the limiting factor here is not the fork's capacity rating but rather that of the rack.
For example the Specialized Pizza Rack is rated to 15kg, as is the Tubus Tara Lowrider rack. For tours where you need to carry more kit, such as in more remote areas or where water and food resupply is limited, this is where the Faran really comes into its own.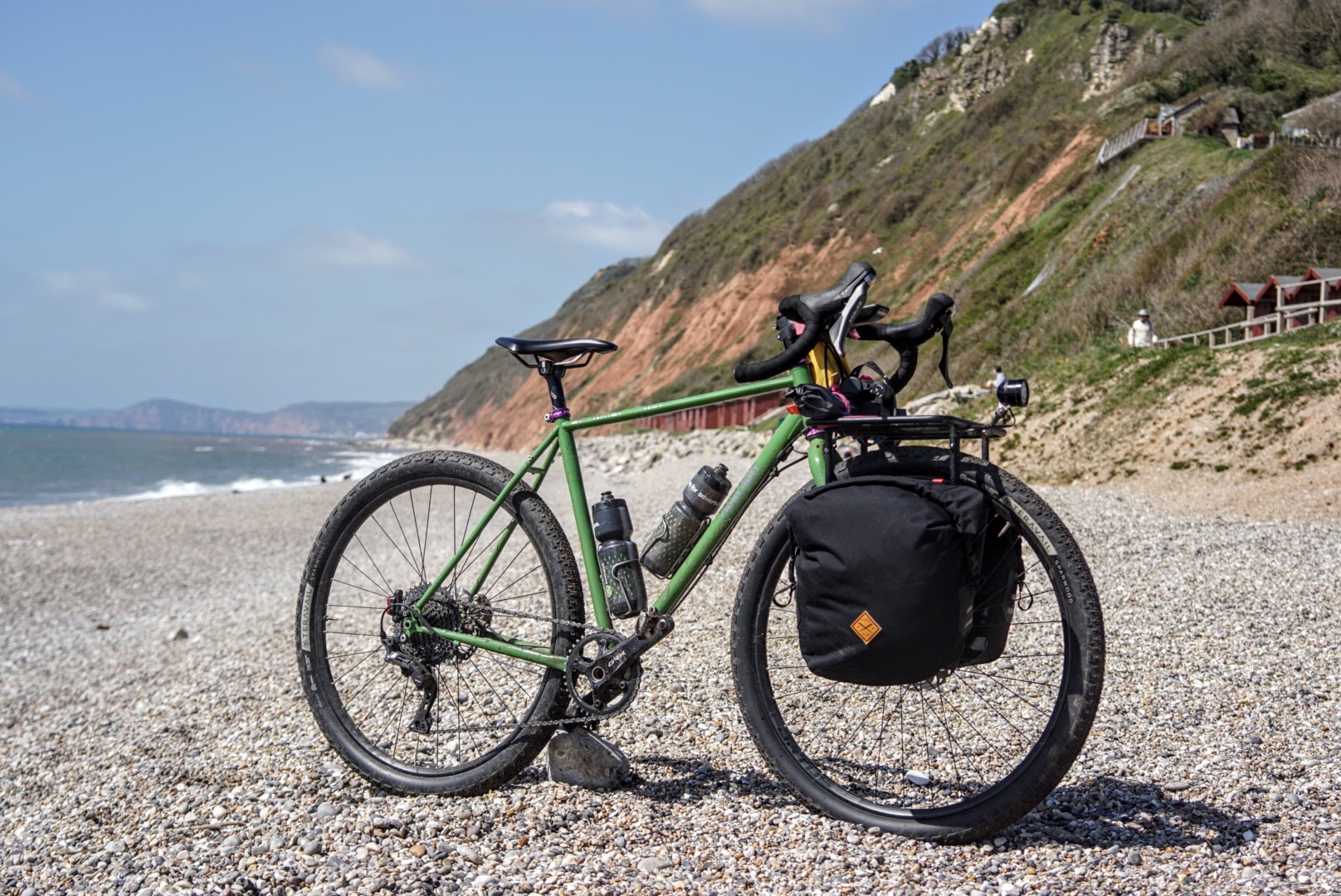 Riding with a rack and pannier set up for the first time (compared to strap on bags) was a real eye-opener. Even though these were the smaller 13 litre Restrap pannier bags, they were like little Tardises: no thinking about how to efficiently pack, you can just squash in tents, stoves, spares and clothes with gay abandon.
The danger here was overpacking, as loading up was just so easy. On the top of the rack I used some voile straps to secure extras, from binos, tent poles and fish and chips to charcoal for a campsite stove: a really handy platform.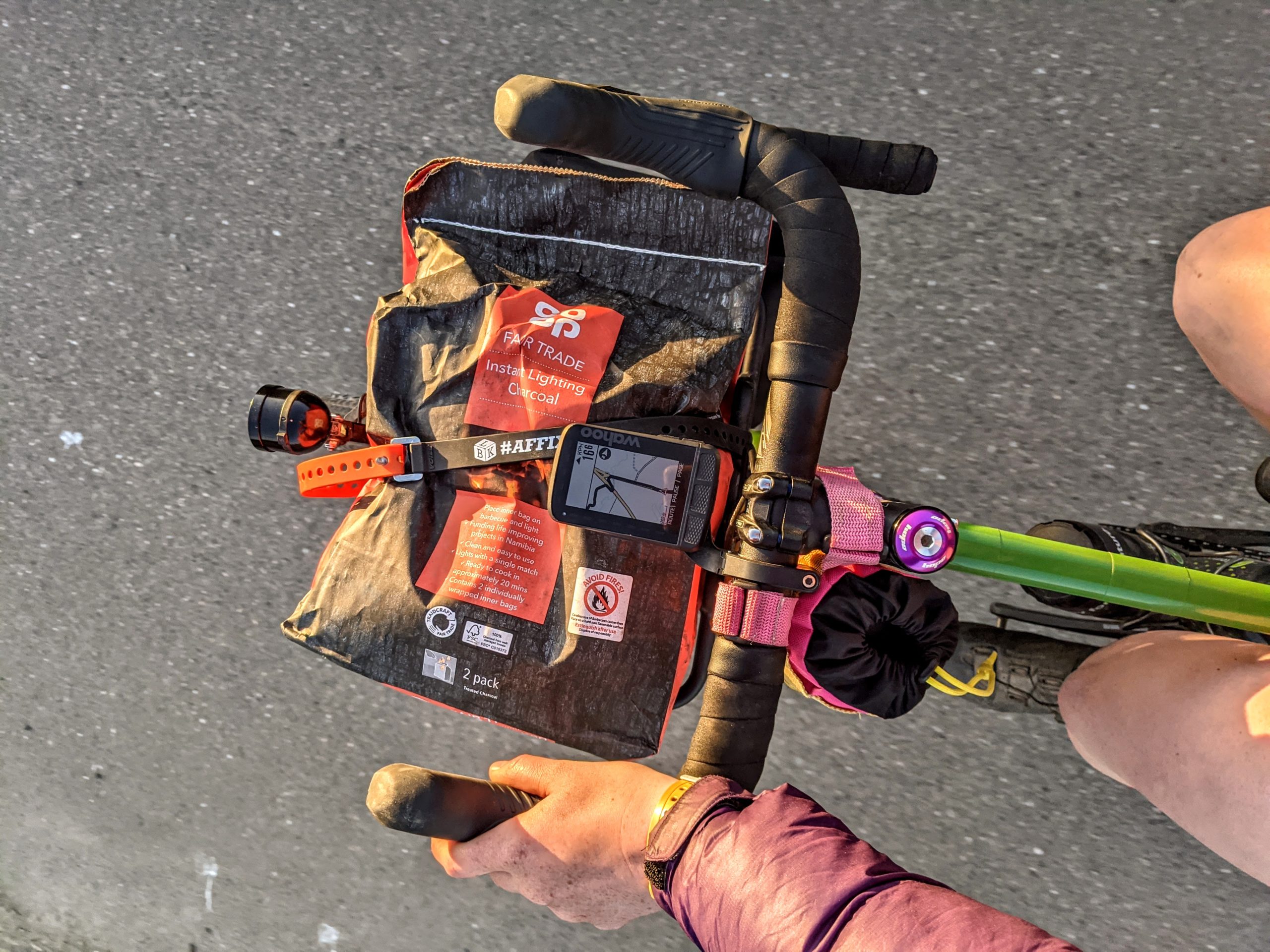 Once you get used to it, the handling of the Faran when loaded on the front was reassuringly stable, and I can see why people often say that front, low panniers are the best way to load gear. Apart from the fact that the Specialized Pizza Rack and Restrap Panniers didn't play well due to the spacing, loading up like this meant that I had plenty of space over the back of the saddle to manoeuvre on more technical trails (otherwise obstructed by a seat pack). The only time it proved a little problematic was on very narrow singletrack or stream-bed bridleways where the panniers could limit which line you could take due to their width.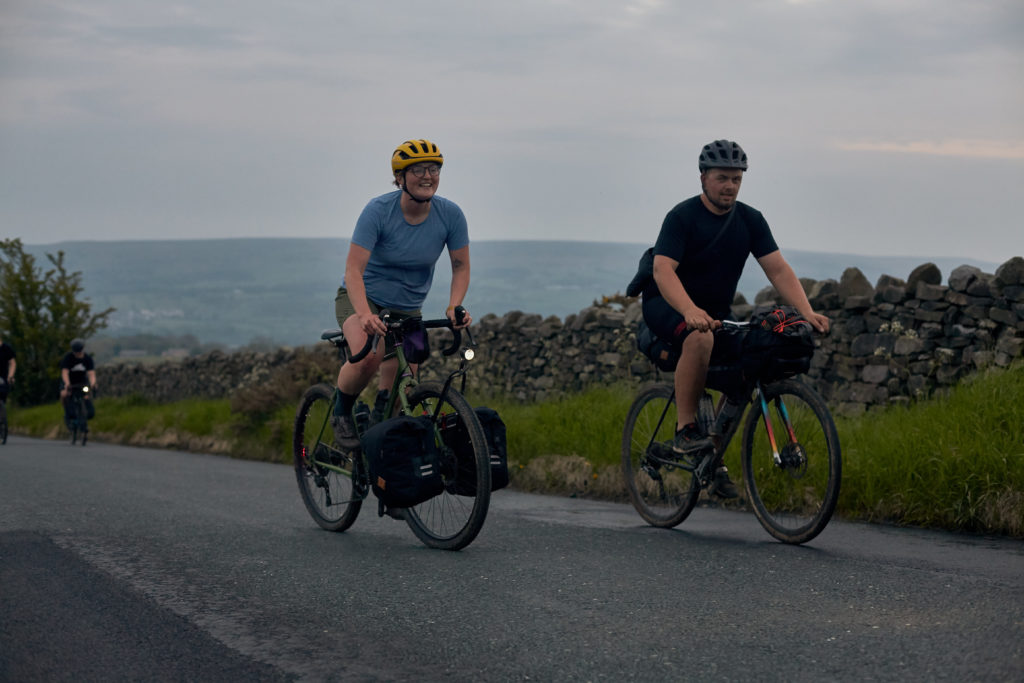 The large front triangle design meant that I could also fit a half frame bag with bottles too which is pretty rare for a frame of my size (I'm 165cm/5ft4), although the panniers gave more than enough storage space on these trips. The flip-side of that is that there's less exposed seat post for attaching larger seat packs, if that's your preferred option.
Loaded gearing
About the only thing that I could see warrants improvement with the Faran builds on offer is the gearing, and I fear this is a category-wide issue. Shimano's gravel-specific GRX groups may be build for the rolling flint hills of Kansas, but once you load up and try and point up anything much steeper, especially day after day, things get problematic. On a 1X set up, you're limited to a minimum 40T chainring and 11-42T cassette on the back.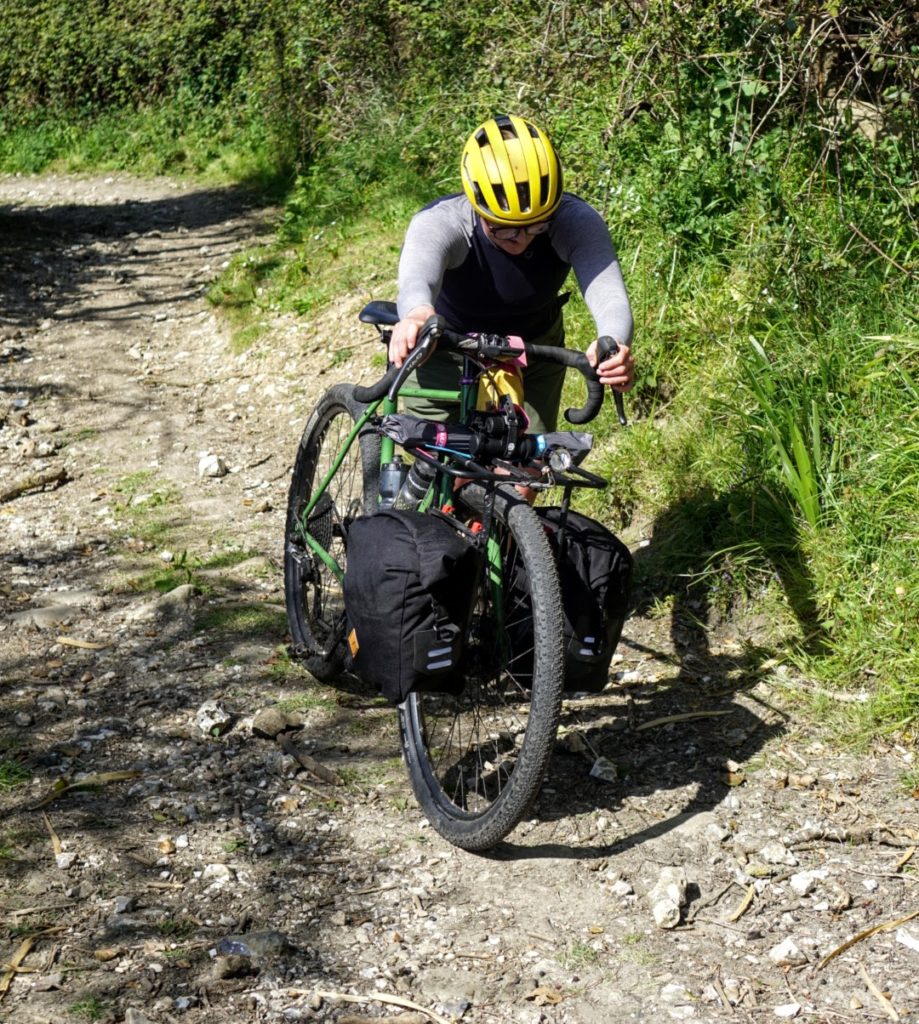 One way you can get around this is to fit an aftermarket 36T Wolftooth GRX chainring, and if you run Di2 1X, you can use an XT Di2 rear mech to fit a 11-46T cassette. This takes your gear inch range from 26.26-100.6 to 21.56-90.38 (assuming 40mm wide tyres on 700c), giving you more of a chance with the smaller gears even if you have to sacrifice a bit of the top-end. 
For this reason, as well as the fact that Di2 is just mega, I'd be tempted to opt for the Di2 1X build and perhaps switch out for an XT Di2 rear mech. Plus, with Di2 you can also fit a lot more between your bars as you only have to move the shifter paddle marginally to change gear.
Having said all this, if you think that the majority of your riding will be unloaded, or you ride in an area without seriously steep inclines, the range of GRX gearing should be just fine.
Attention to detail
Back to that design-led philosophy, Dom's experience in bike design really comes through when you start looking more closely at the build.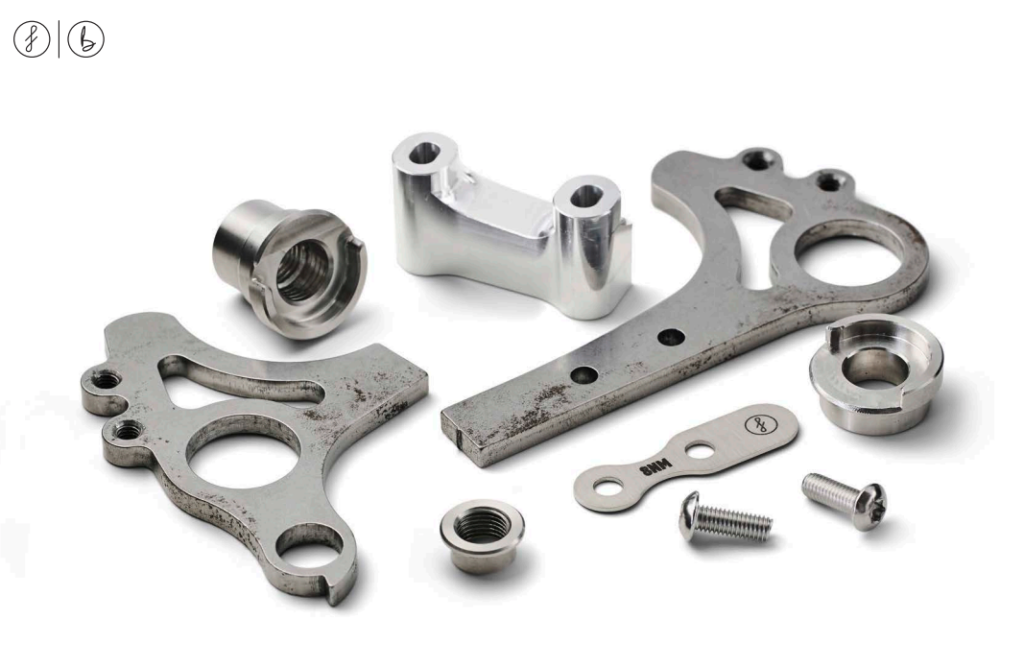 Fairlight teamed up with Mark Bentley of Bentley Components to manufacture the dropouts, which have a modular design including a laser cut steel plate, turned stainless steel inserts and a CNC machined aluminium brake mount. Not only does this combination and the mechanical fixing of these two metal types function well, it also looks great.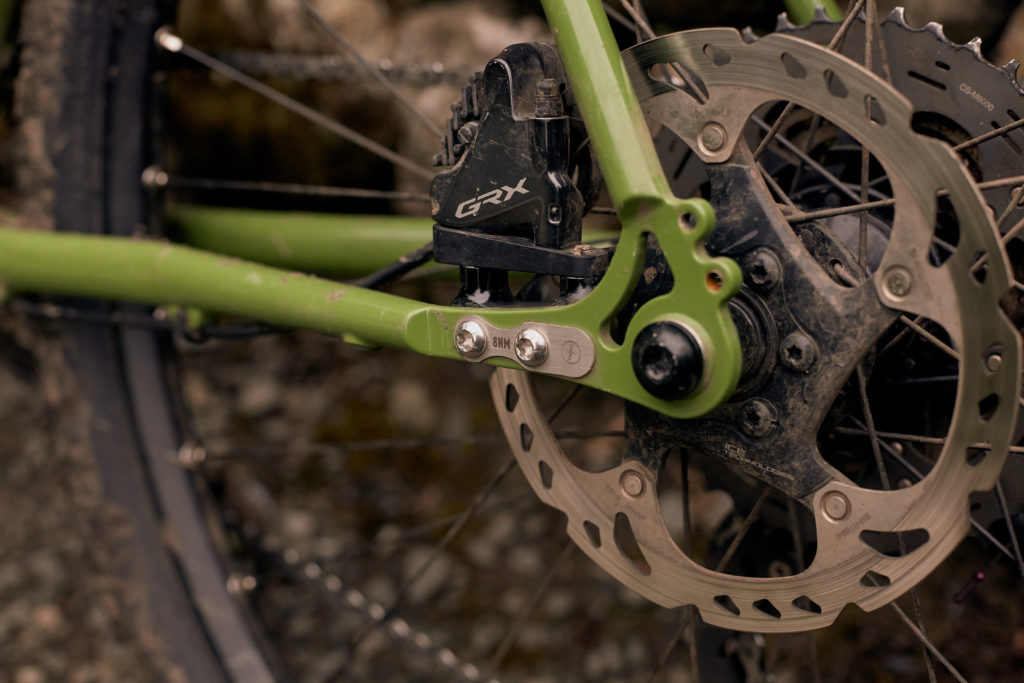 Another neat feature is the use of custom 3D printed modular cable guides. Depending on which build you opt for (1X or 2X, mechanical or Di2), these subtle black Nylon designs are pretty intricate, secured by a bolt to the downtube. A second hole allows for internal dynamo wire routing to the rear, or can be sealed by a grub screw when not in use.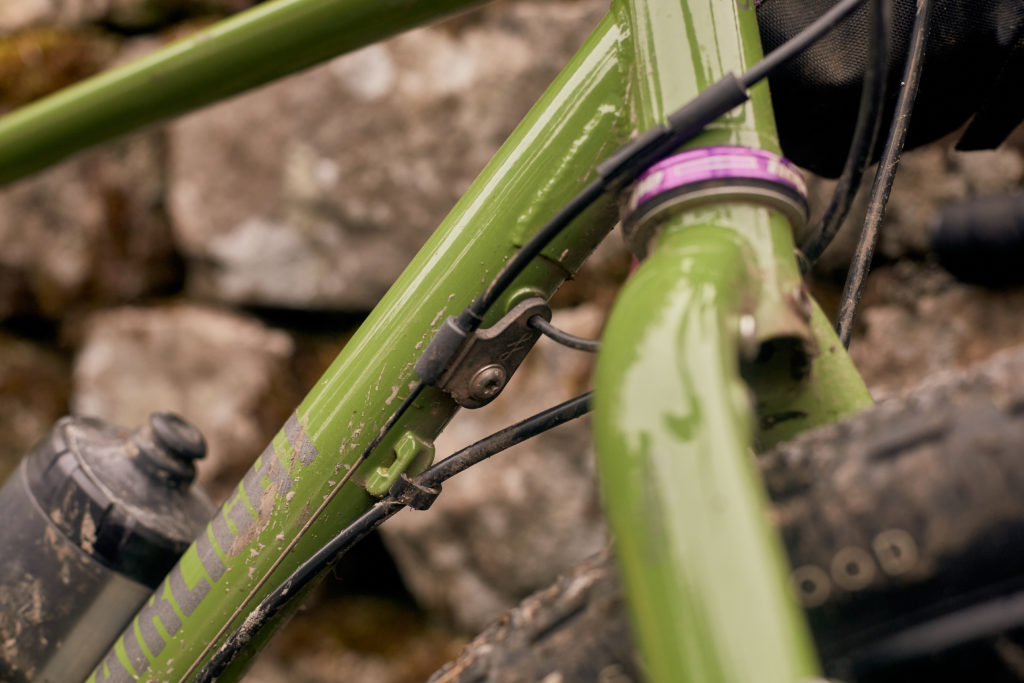 If you opt for a dynamo wheel and light kit on your build like I did, then the same 3D printed Nylon is also used for the rear Son light mount. Cleverly, this can be mounted on either side of the dropouts at the back, depending on if you ride on the left or right hand side of the road for optimal visibility.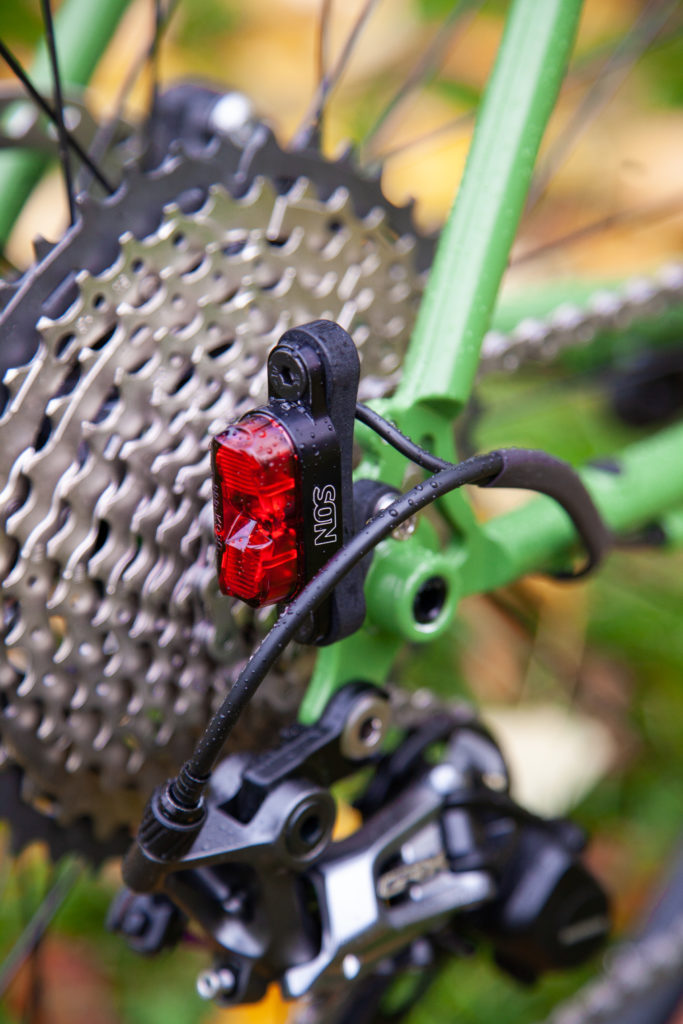 Set up with full internal routing and shrink-wrapped dynamo cables as standard, I'd highly recommend the dynamo option if you can afford a couple of extra hundred and plan on riding out in all weathers and light conditions. Simply taking the thought-making process out of whether you have lights with you or even charged and ready is a real treat, plus the additional option of gadget charging on the go too.
One more neat feature I noticed was the inclusion of grease channels on the custom thru axles. You really don't see that very often.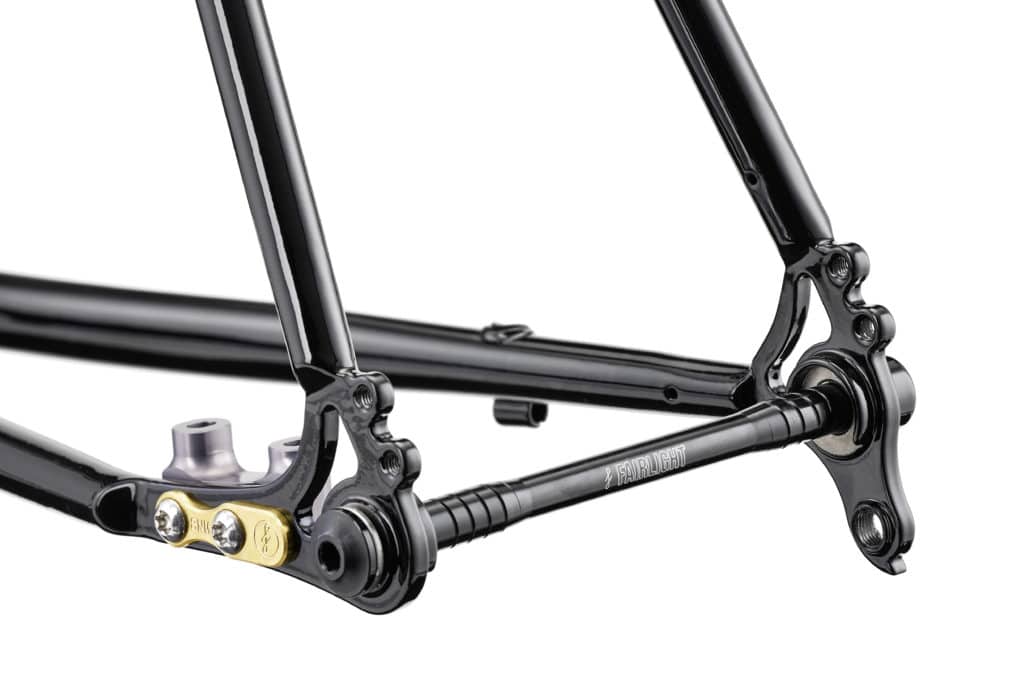 Pricing and paint
Check out the full UK pricelist here, EU here and international pricing.
You can pick up the Faran frameset for £949 in the UK, and build it up completely as you choose. This GRX800 1X model retails for £2,499, plus an additional £65 for the Hope headset and seat clamp, £175 Hope Fortus 23 with Son 28 dynamo wheel and £300 for the Son front and rear dynamo light kit, so in total £3,039. I challenge you to find another high quality steel bikepacking build complete with a dynamo set up for that price.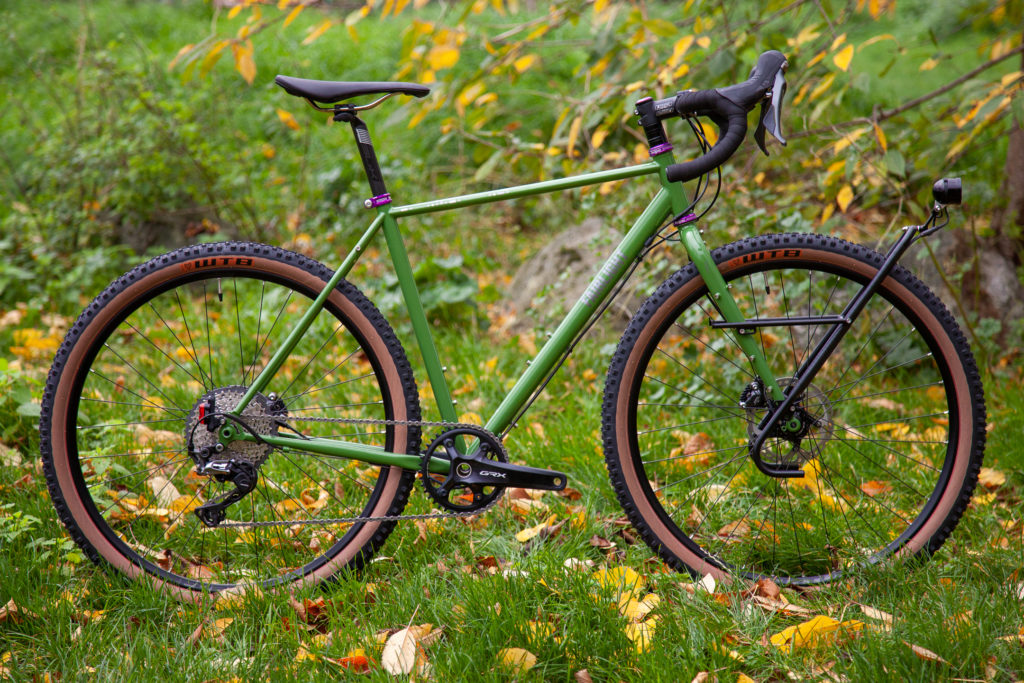 Other builds start from £2,049 with GRX600, and go up to GRX Di2 at £3,299, all with the choice of 1X or 2X gearing, plus upgrade extras for wheels, tyres, cargo cages, dynamo set ups and other finishing touches. Although the bikes are not set up tubeless, they are tubeless ready with taped wheels, so you just need to add sealant and valves.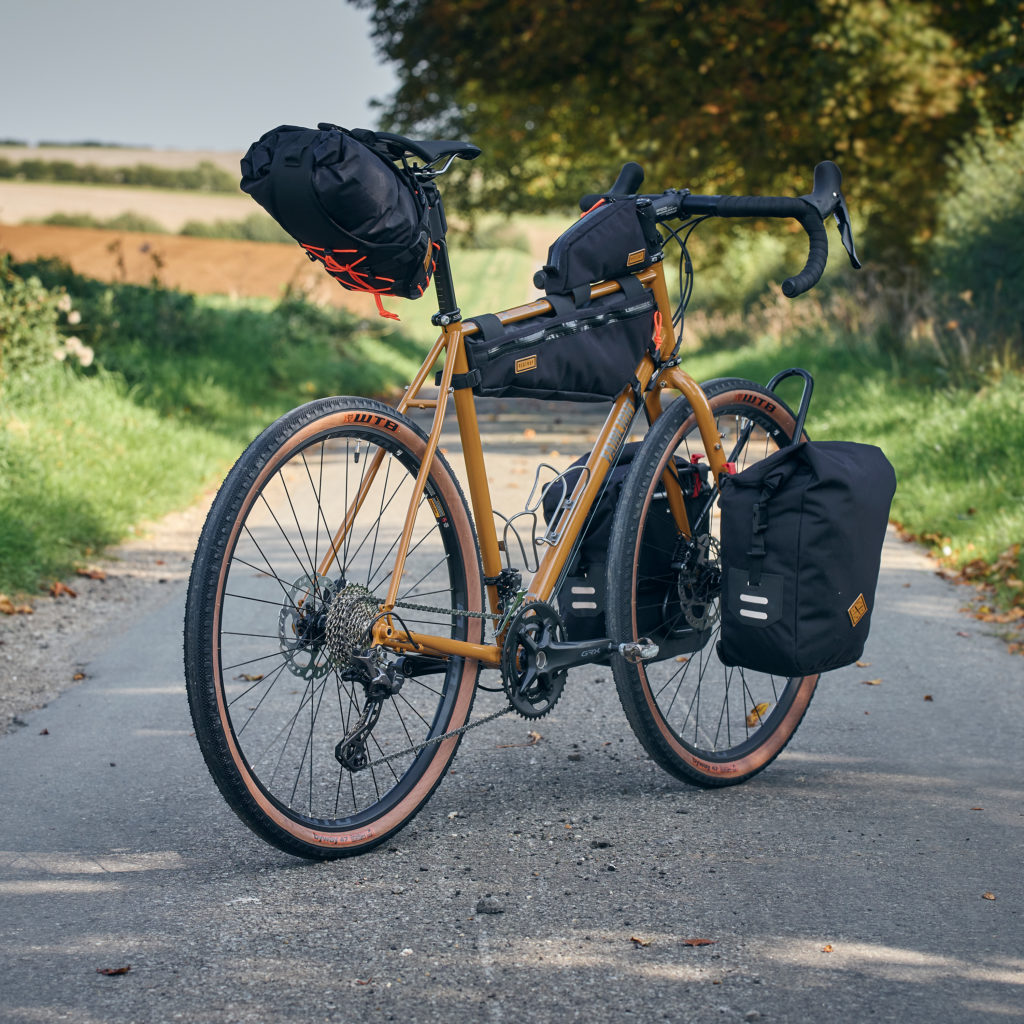 The Faran 2 currently comes in a choice of two colourways: this viridant green or a sandy ochre. I have to confess that neither would be my preferred choice; I much prefer the Secan 2 in black with some shiny purple Hope bits! Having said that, I've been told by Dom that there's a new colourway on the way too which I really like: Midnight Blue.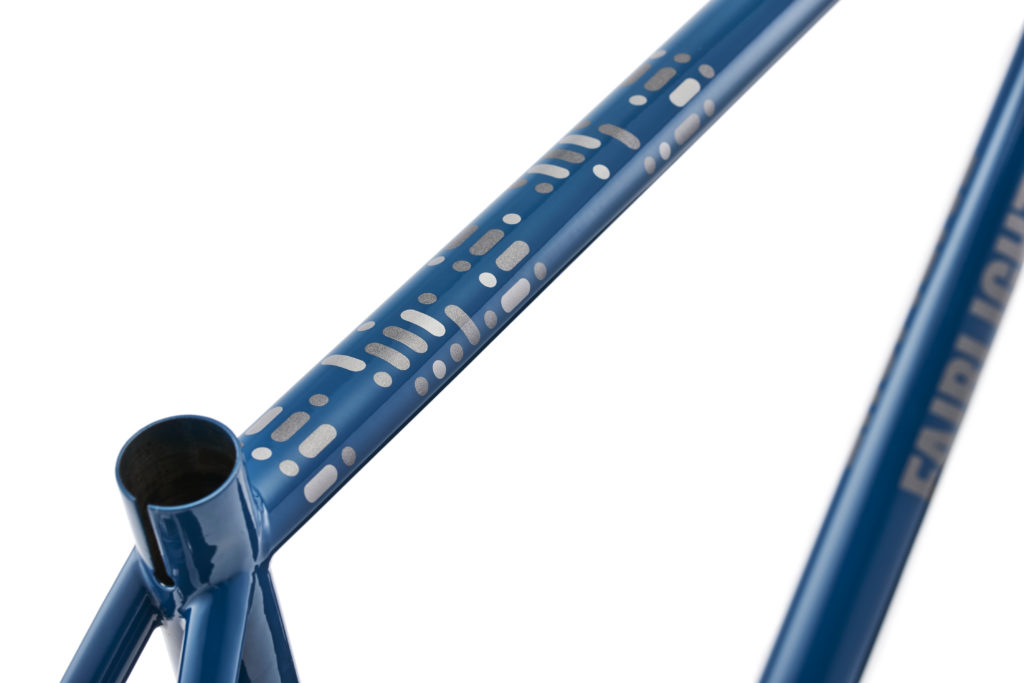 I've certainly been impressed with the quality of the paint. Gloss is a no-brainer for me for off-road bicycles in terms of how easy it is to clean, and bar a few small chips which you'd expect on an off-road bike ridden hard through six months, the paint still looks great. Where helitape has been added and removed for frame protection from bags, there has been no effect on the paint finish.
The Fairlight Faran 2 verdict
You know how you chuckle when you see a dog that looks like its owner? For me, the Faran is a bike designed perfectly for my taste: utilitarian, function-led, with nothing overly fussy but everything in its place. Weight isn't the top priority (why should it be, when you're loading up anyway), and you don't have to be too precious about the frame material as you push on day after day, hauling your laden steed through bogs, sending angled rocks flying upwards on raucous descents, leaning up against the village shop for the picnic spree you needed about two hours ago.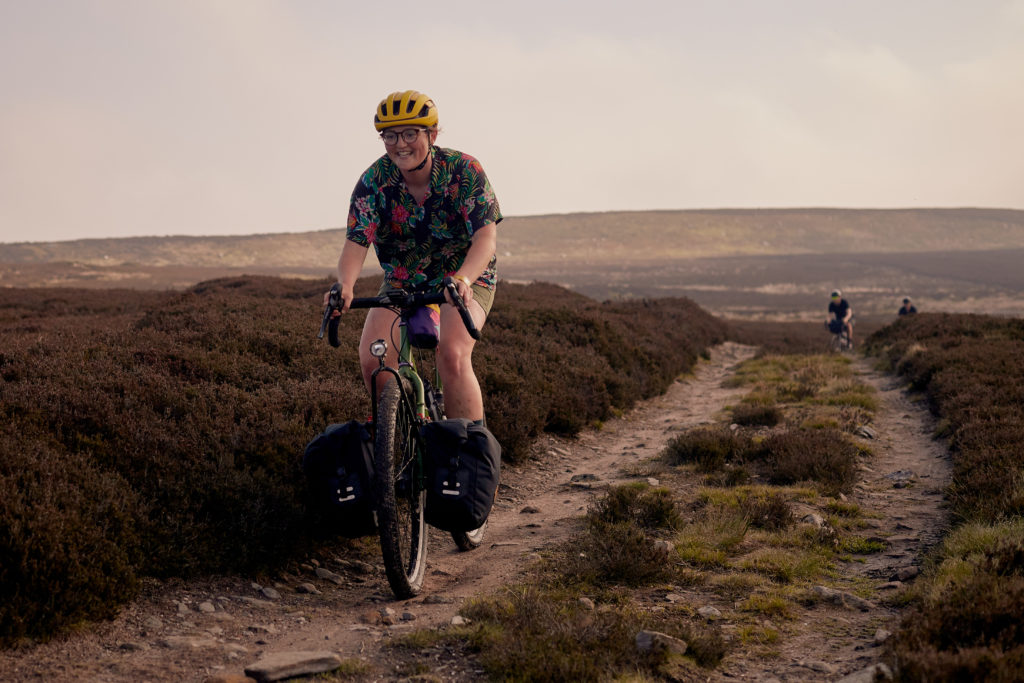 Having said that, thanks to the custom Reynolds 631 tubing, the Faran is very competitive in the weight stakes for a steel touring bike, with the size 54R frameset weighing in at 2,040g without the axle and brake mount. This 51R, complete with Tubus Tara rack (500g), XT pedals (342g), 2.1″ Teravail Sparwood Durable tyres (1.4kg pair) and a Wahoo Roam mount (44g) weighs in at 12.24kg: really impressive for a robust and versatile bike of this ilk, complete with a dynamo set up.
Us bikepackers have a bit of a rep for being gear nerds, and I'll include myself in that. You can tell that designer Dom also subscribes to that label (sorry, not sorry). The attention to detail is meticulous: dynamo cable routing, mounts and options for touring on the left or right hand side of the road for example. I could dress up the Faran or dress it down in a multitude of set ups: cargo cages or racks, rando supports or strap-on bags, chunky tread or fat slicks: versatility is at the heart of the Faran, which fittingly translates in Olde English as 'to travel'. In it for the long haul or looking for a bike that'll stand the test of time, ripe for endless fettling and toying with different set ups, the Faran is the bikepacker's dream.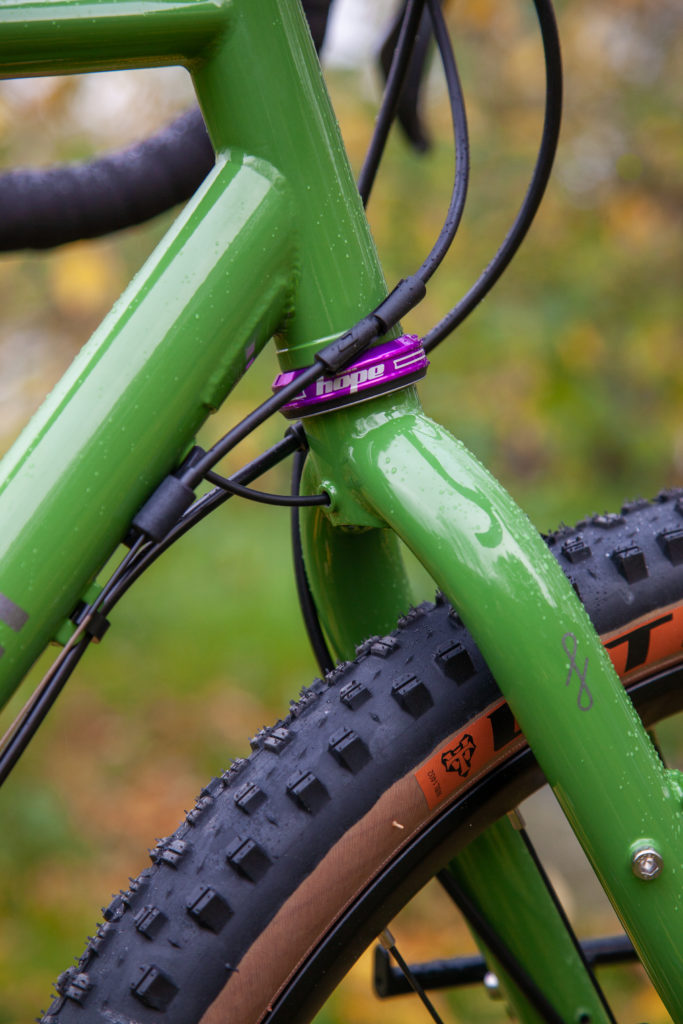 Fairlight as a brand really seem to stand out as something totally different: direct to consumer, somewhere between the traditional way of marketing bike builds and the totally bespoke experience of a custom build. Choose your build spec and extras based on your needs and have it ready to go from the start, or opt for a standard model and tinker later on. This only puts more power in the consumer's lap, and ultimately means people get more of what they want from the outset, at a decent price, yet with a ride quality that rivals some handbuilt steel frames.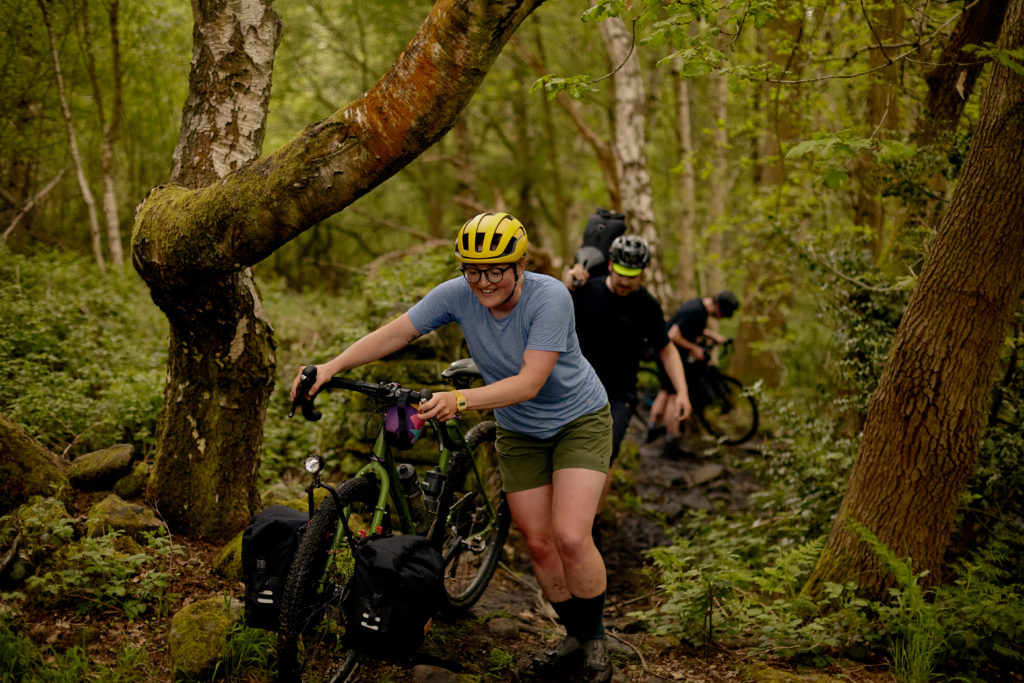 You can see why Fairlight have been so successful. It was really the new kid on the block when I interviewed James Hayden at the start of the TCR in 2018 with his road-orientated Strael (which he went on to win on, for the second time), and now they're quite the buzz in the bikepacking and randonneuring scene. Having had the privilege of riding one for half a year, I can certainly see why. If I was looking to invest in a new steel frameset for off-road riding with strong touring and bikepacking capability, this would be top of my list. Strap-on bags more your cup of tea? Check out the Secan 2 instead.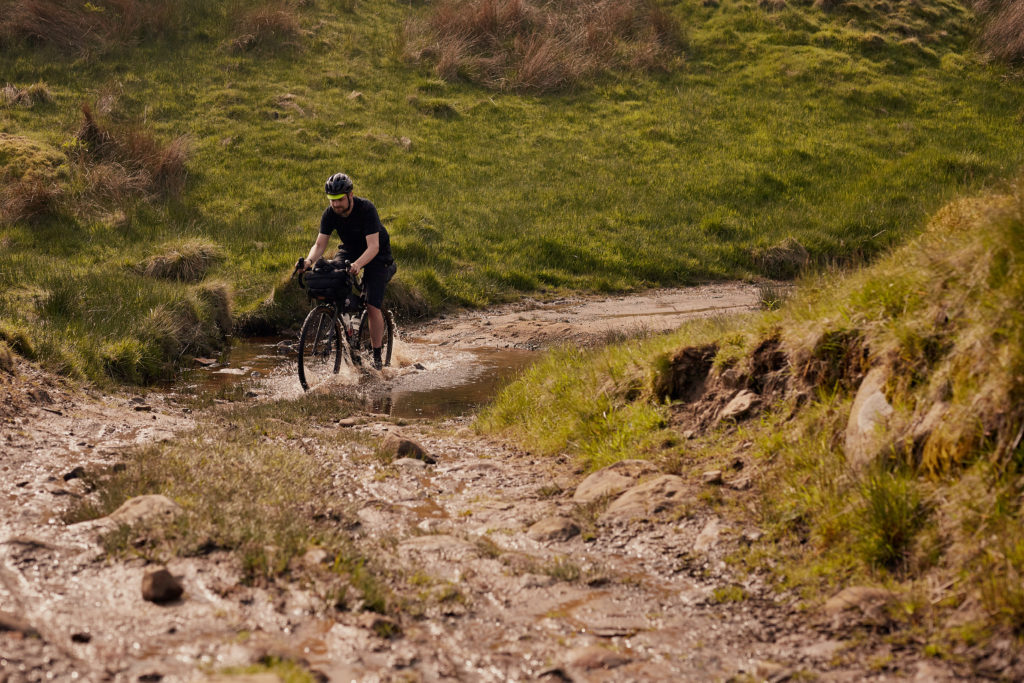 Last modified: 14th October 2021