Things that make you go Oooh
Wandering around the vast halls of Eurobike 2018 is a bit of a challenge. Everyone is on a tight schedule with meetings, but you are constantly distracted by interesting and sometimes quirky things to look at. Then there are the crowds to wrestle through, not to mention the constant handouts of beer from every brand manager you bump into. The things we do for the love of cycling!
Below you'll find a few of the more interesting things that caught our eye on our 'Eurobike Walkabout'.
Allied Cycleworks Alfa Allroad
Over on the Good Year stand was this carbon beauty from US brand Allied Cycleworks. Described as "not a gravel grinder, not a cross bike, not an adventure bike and not a commuter. But a road bike that is equally at home in road races as it is on dirt or gravel roads".
Bucking the trend for 1x drivetrains, this Allied was equipped with Shimano Ultegra 2×11 and a mix of FSA finishing kit.
The Alfa was equipped with the new, semi slick,  Good Year Country 700x35c tyres. We felt the clearance looked generous enough for the Connector 700x40c, which is pitched as a more off-road biased, knobbly tyre.
ADVNTR have received some Connectors from UK distributor Paligap for testing. We won't be able to tell you whether the Alfa will fit them, but we will be able to what they are like!
Lusting after this Alfa Allroad as much as we are? Allied Cycleworks are available in the UK via the Bicycle Chain.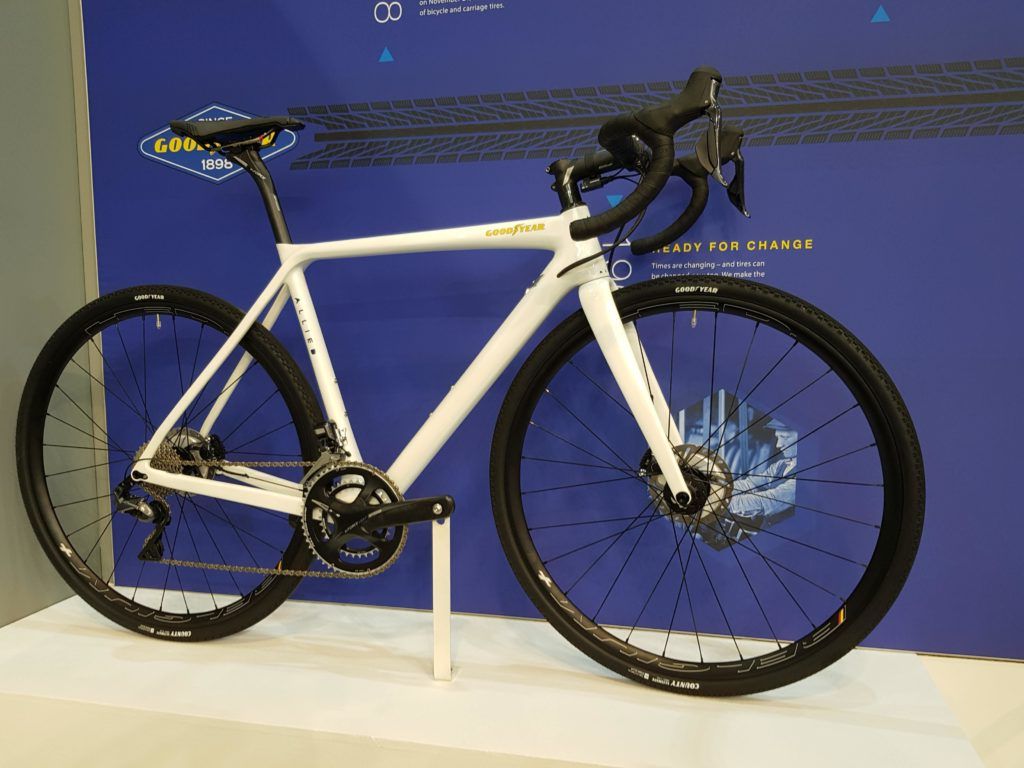 Ghost Road Rage Endless
Hanging out on the Brooks stand was another UK rarity from German brand Ghost. This, believe it or not, is called the Road Rage Endless and is Ghost's take on the 'go far, fast' concept of trans continental, high speed, bikepacking.
The Road Rage is a full carbon frameset with 'special' long range geometry and flex-stays at the rear. The 650b wheels come with tanwall WTB Byway 650x47c tyres for super plush comfort. It also features a full complement of mounting points on the frame and fork.
We were a little dubious about Brooks' choice of white bar tape and Cambium saddle. By the time you've completed a cross-continent bike tour, they will probably match the colour of the Ghost perfectly! So that's ok then!
Rondo Ruut x Birzman
Rondo had a veritable smorgasbord of their bicycle range on display.
What really caught our attention though, was the combined attraction of this, top tier, carbon Ruut and Birzman's range of Packman bikepacking gear.
The range consists of:
A drybag handlebar mount
Top tube pack
A 6L saddle bag and
Two frame packs. The upper is called the Planet and the lower The Satellite. Together, the two packs give you 5.5L of storage.
You'll be looking for somewhere for your water. Look no further than the, handlebar mounted, Packman Bottle Pack.
Find out more about the Packman range at Birzman.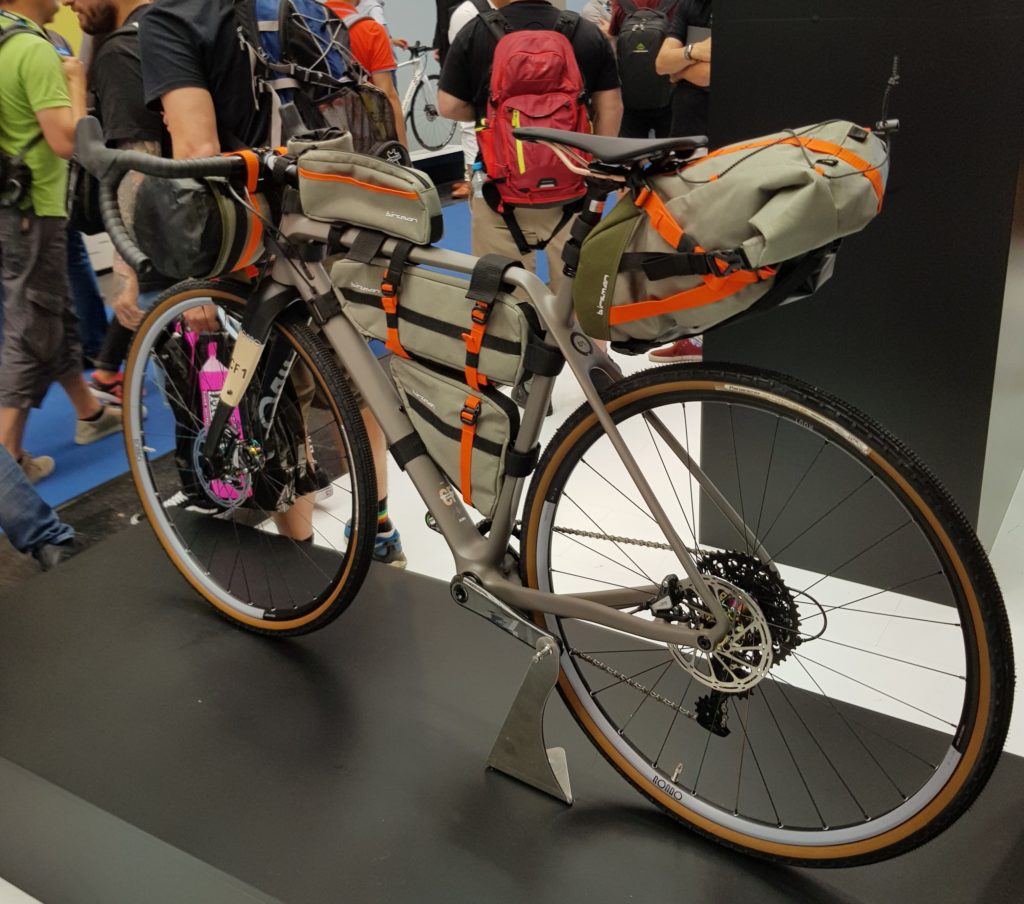 Ritchey
We could have guessed Tom Ritchey was at Eurobike this year. The Ritchey stand was rammed with crowds wanting to get their "Tom and me" selfies.
Meanwhile, our mountain biking roots drew us to the new Ultra. For those with long memories, yes, the name was first used over 30 years ago.  This is the new incarnation.
Technically the Ultra isn't due to be released until Interbike in a few months time, but Jeff Lockwood was happy to show off their latest creation.
Set to fill the gap between the P-29 and Timberwolf, the Ultra is a 120mm hardtail XC/trail bike. We saw the potential in this steel hardtail as an excellent bikepacking rig for those more rufty tufty, backcountry, adventures where a gravel bike just won't hack it. Sensible external cabling and a threaded bottom bracket shell make the Ultra perfect for standard UK trail conditions.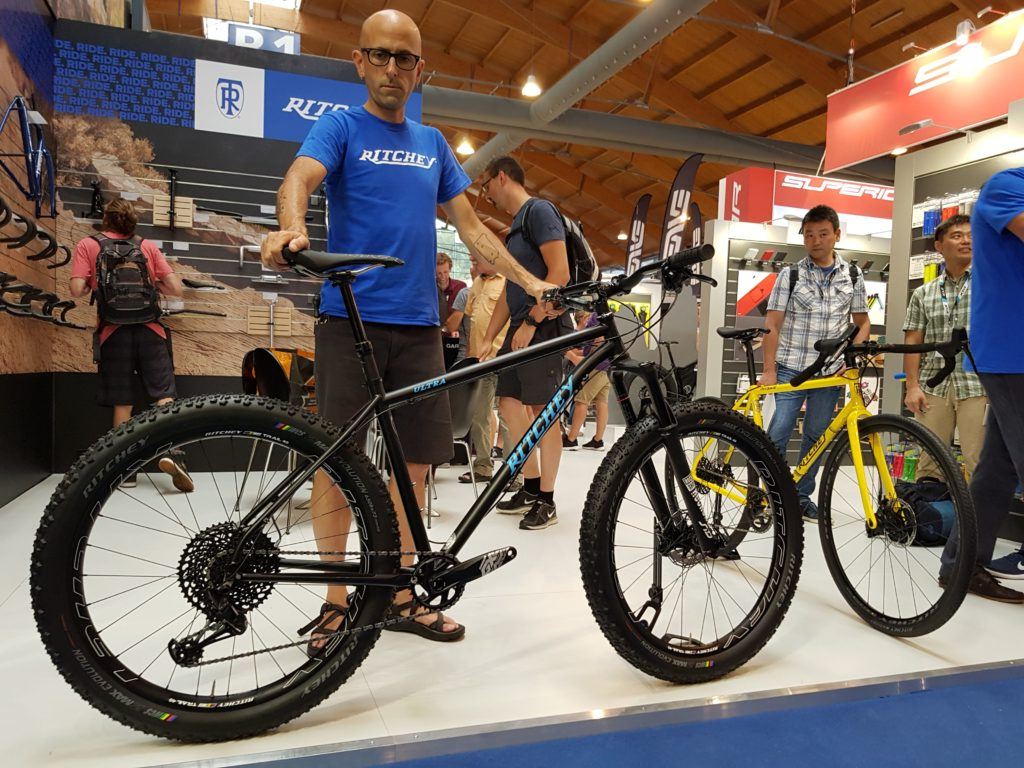 Elsewhere on the Ritchey stand, the steel Outback gravel bike was on display in a new blue for 2019. All specifications otherwise remain the same with Ritchey Logic steel tubing, carbon fibre thru-axle fork and clearance for up to 700x40c tyres.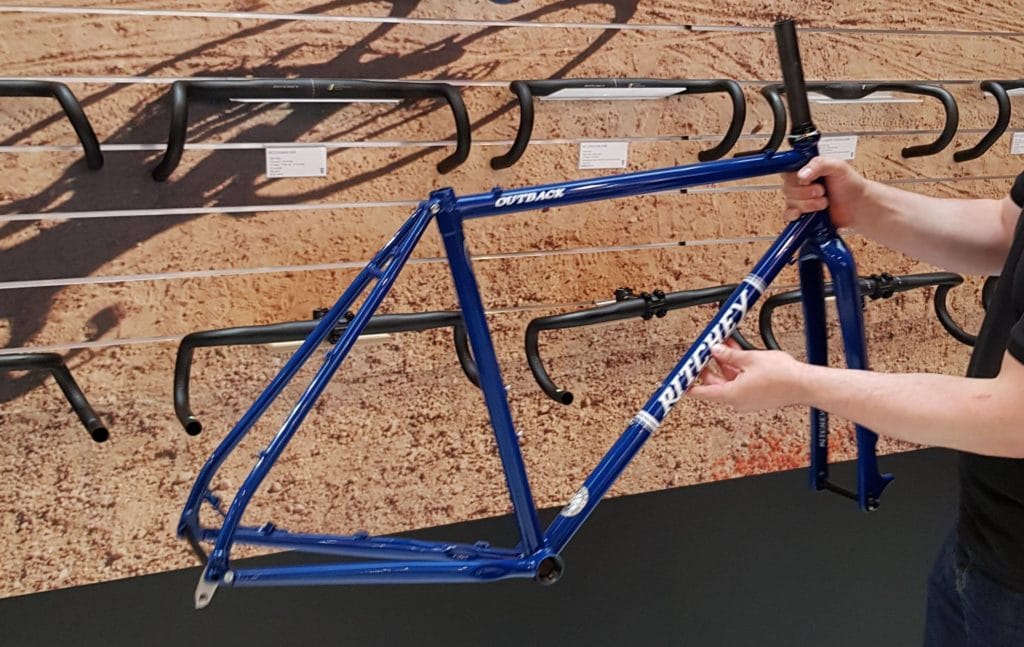 Surly Bikes
At Surly World all the buzz was over the new Ice Cream Truck. Originally launched in 2014, the ICT has remained unchanged for a number of years and the design team have tweaked it to bring it bang up to date.
Basically, the bike has always been a trail bike. Just a seriously fat trail bike. Nothing has changed there then. But it now has clearance for 26×5.1″ tyres! The dropouts are updated to Surly's 'Universal Dropout' system so it will take just about anything, opening up a range of hub and drivetrain options. Gone is the pressfit bottom bracket (hurrah!) and in comes a trusty threaded shell.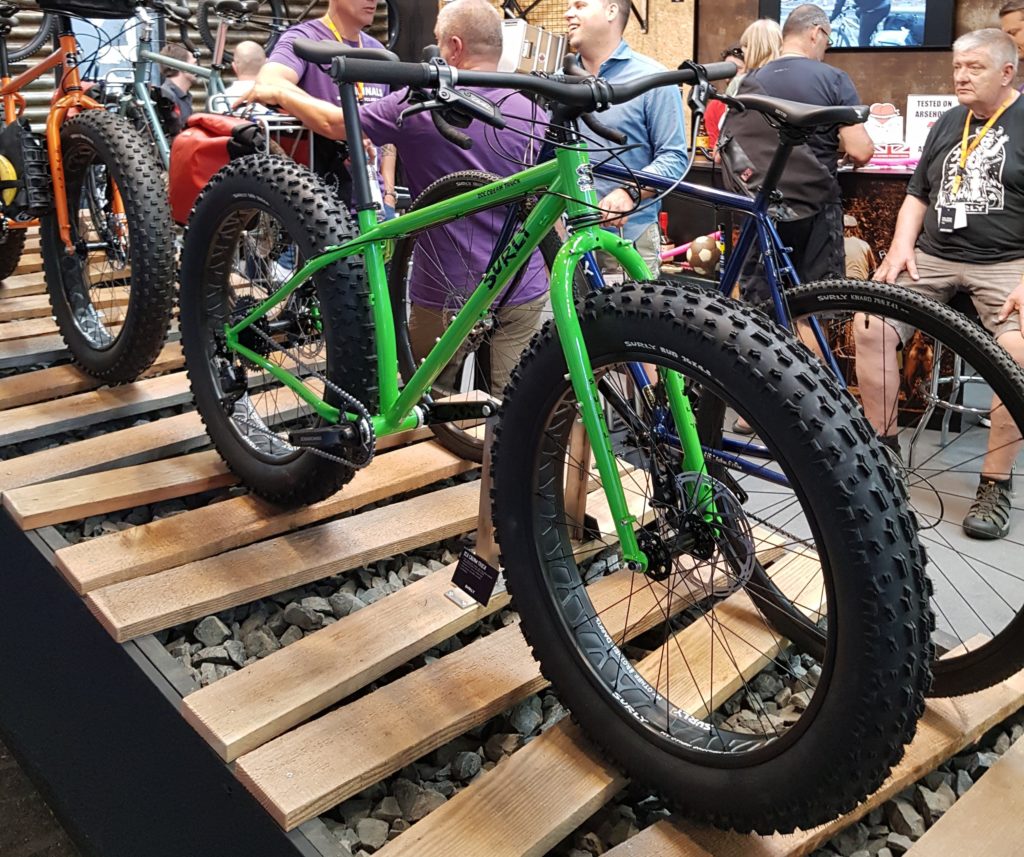 Ortlieb Waterproof
Mighty German brand Ortlieb brought nothing new to the show. However it seems that they were struggling to work out which way their Frame Pack should be fitted to this Bombtrack. Other way round guys…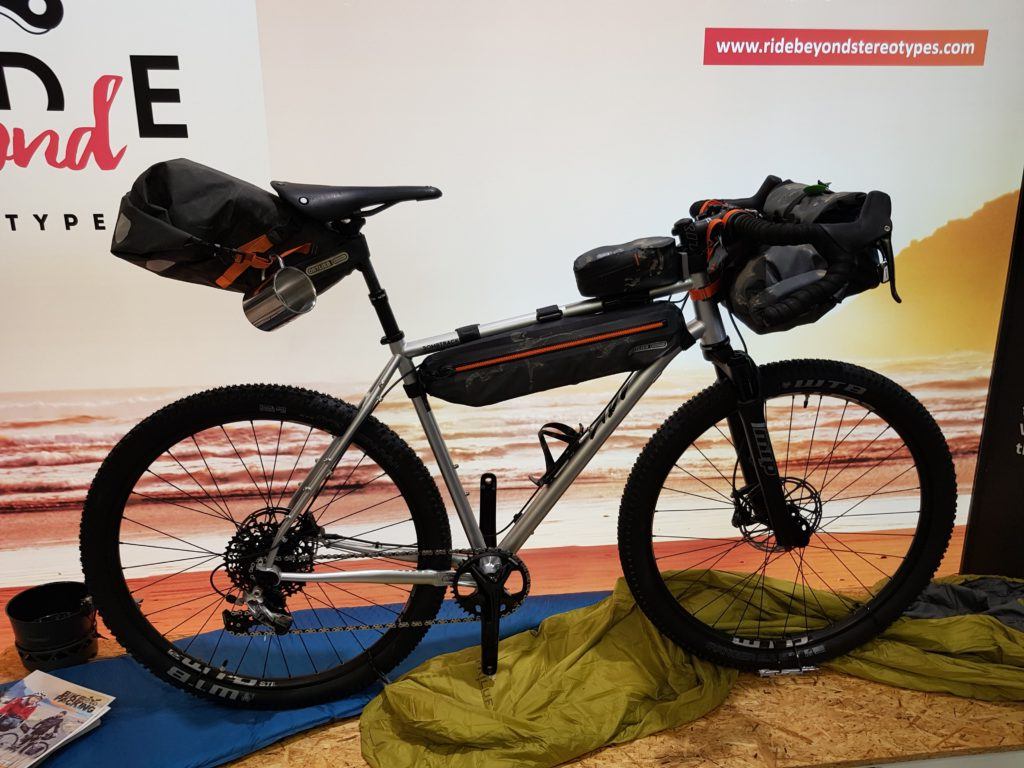 Marin Bikes
Nothing new from Marin either, but as their gravel range is already bulging at the seams with the Four Corners, Nicasio, Cortina and Gestalt, we weren't expecting to see anything fresh from the Californian brand particularly with Interbike looming large.
They did however win our unofficial award for best dressed bikepacking rig with this Four Corners. A full complement of Apidura's Backcountry range, was teamed up with a enough alcohol to create the mother of all hangovers. Marin….we like your style!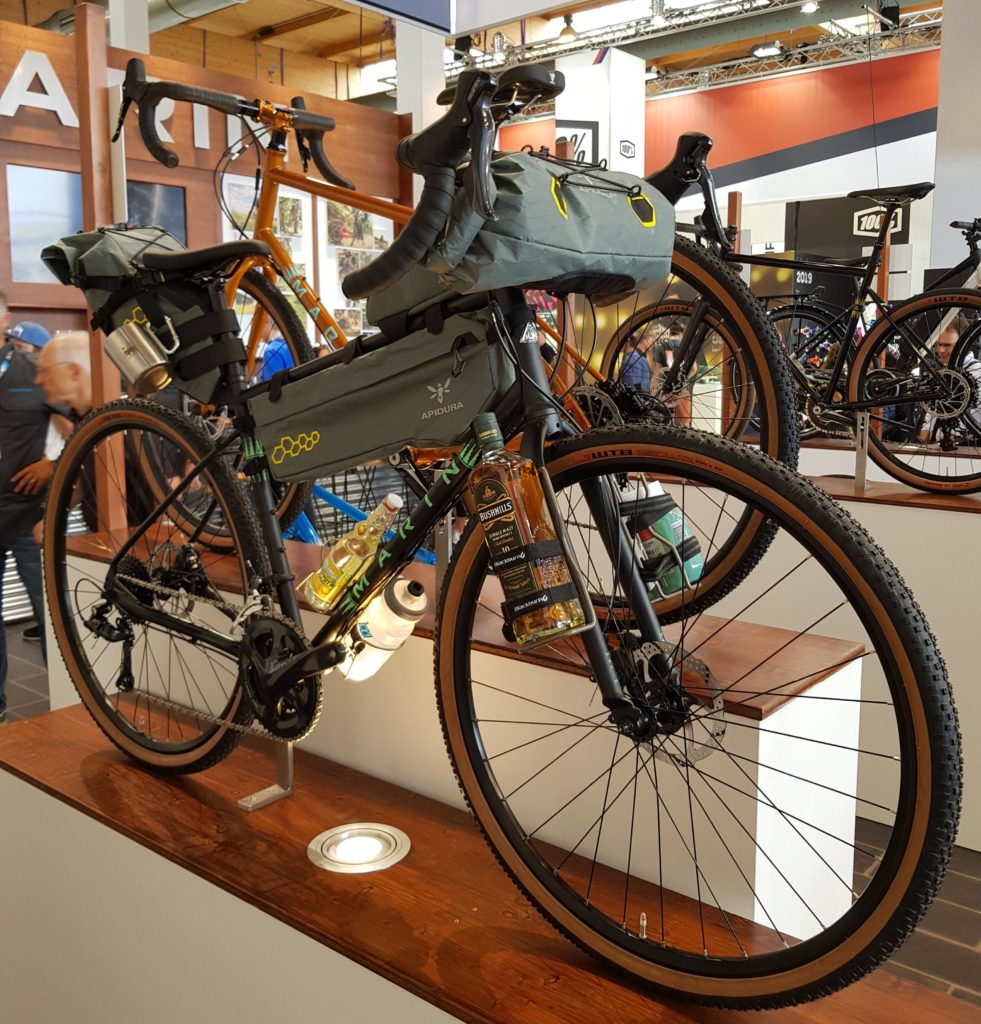 Last modified: 11th July 2018