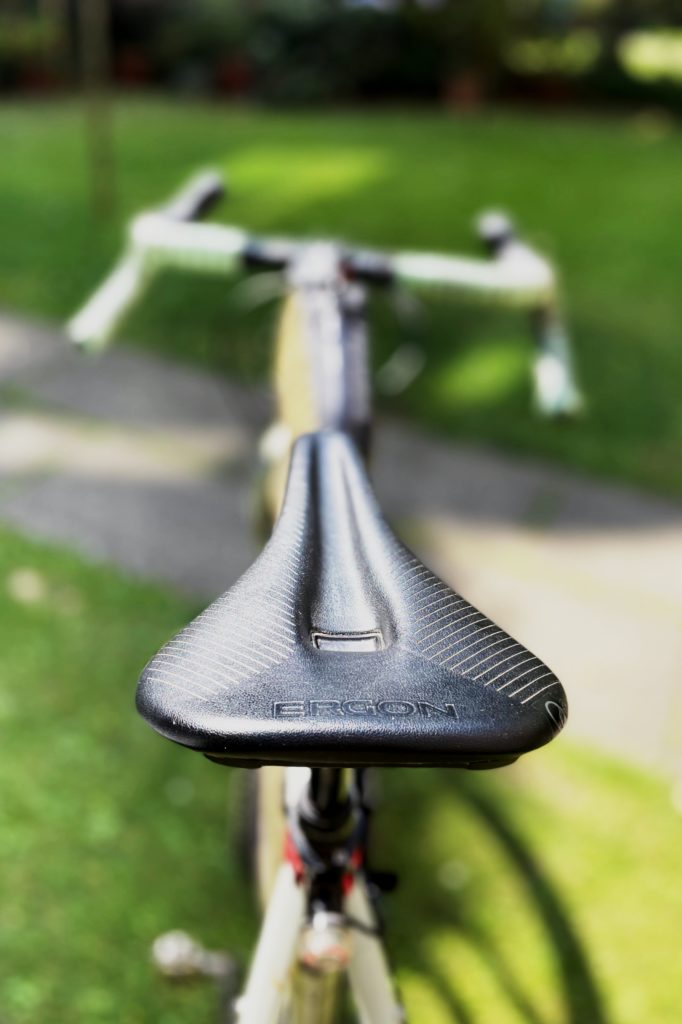 Contact points are what make sure we are comfortable, and when things go right, its all rainbows and lollipops. Marcus Nicolson tells us of his experience testing the Ergon SR Pro saddle.
Saddle choice is extremely personal so always be sure to take any recommendations/advice with a pinch of salt! This was my take-away message from the endless reviews I read in the earlier part of 2021 as I was building up my new bike and deciding on what perch to go with. I'd put in over 17000km on my previous seat and was a bit daunted about trying out anything radically different. I'd read positive descriptions of the Ergon SR Pro on the Radavist and Bikepacking.com and so it made sense as a great option to test.
The Remit
The remit for my new saddle was quite specific. I was looking for something that would be suitable for long distance off-road riding, that would be durable and better fit my sit-bones in order to stay comfortable on these rides. I also wanted to have the possibility to ride without bib shorts/chamois as I'd had some issues with multi-day bib rides, especially during my race at Badlands last year.  Since opening up the box and getting the saddle mounted to my bike ive now clocked up around 2500km since I started testing the saddle at the beginning of the year.
Saddle Overview
Ergon Bike Ergonomics are well known in the mountain bike and gravel arenas for their grips, saddles and accessories. The German-based company has been making saddles for a good number of years and the SR pro has become a favourite among gravel riders. The SR Pro features a 'relief channel' in the centre, which has the objective of more evenly distributing the sitting load across the sit bones and reducing pressure build up. Ergon described the saddle as 'light, supportive and pressure relieving'.
Sizing
The Ergon Pro SR offers larger contact points for the sit bones. The S/M model measures in at 140mm wide while the M/L version on review sizes up to 153mm. It's a good idea to be sure of your sit bone measurements ahead of any new saddle purchase as the repercussions of riding an ill-fitting saddle over long miles can be quite serious! There are also women specific options.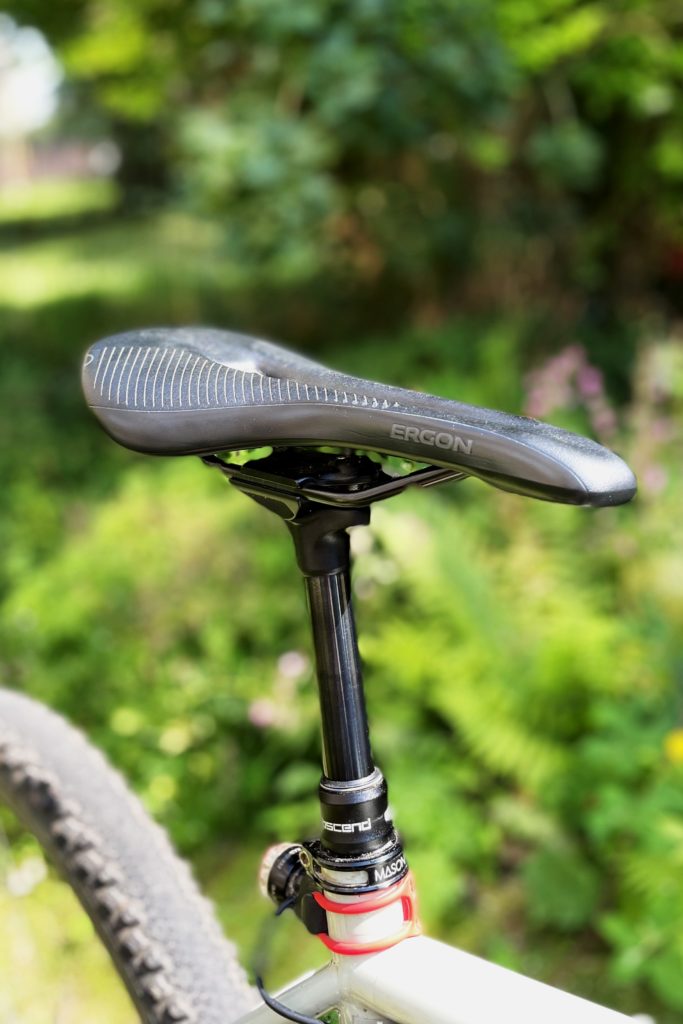 Aesthetics
On first impression the saddle looks sleek and roadie-like with its shallow profile and minimalist padding. It is likely to compliment any gravel bike build and not stand out for being too flashy or attention grabbing. I like the look of the pressure relieving channel in the centre but it should be noted that the hole in the saddle does let in mud and puddle water. However, it's nothing a bit of electrical tape can't fix!
Comfort
The saddle is very firm and leans much more towards a traditional road saddle than anything on the MTB spectrum. The saddle uses orthopedic foam which is more notable as you sit further back. My previous saddle was very flexible and would bend under pressure which helped to iron out some of the impact of pot-holes and bumps. Moving on to a seat which is altogether more firm and stable was a bit of a change at first. However, I soon got used to the different contact points of the Pro SR. I found it to be comfortable even when sitting further towards the front of the saddle. I didn't find it to be slidey when using bibs and, importantly, it was fine to use without a chamois too!  
Durability
The saddle has held up brilliantly over the test period. As mentioned, it is partial to a build-up of mud in the rear due to the hole and 'ramp' design at the rear of the seat but no worries there as it washes off quickly.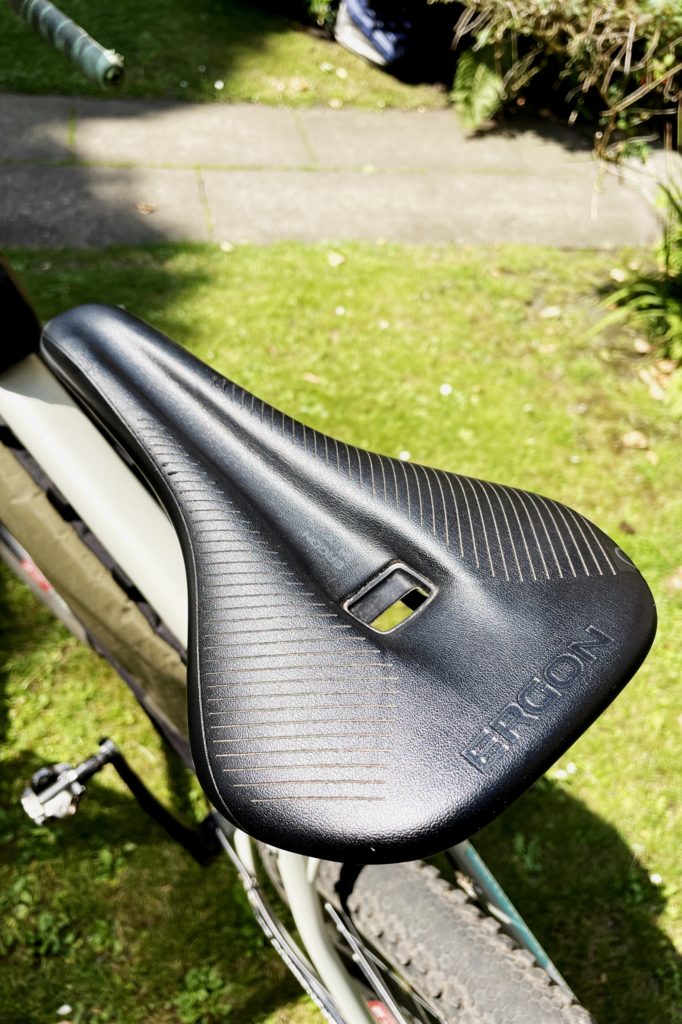 Overall
Overall I was very impressed with the SR Pro. It exceeded my expectations of providing stability and comfort over long distance rides. While arguably not as flexible as other gravel saddles on the market, I found it to be extremely durable and comfortable for my purposes. I'll continue to use the SR until Ergon releases something new!
Whilst not as flexible as other saddles on the market, its fit makes its great for off road and long stints on the bike
9.0/10
Pros
Comfortable off road and over long distances
Wide Fits Available
Easy to Clean
Cons
Small hole liable to let mud in (nothing a bit of tape can't fix!)
The road style of this saddle might not suit riders looking for extra padding
Last modified: 28th July 2021