Only a few months ago were salivating over photos of Salsa's new single speed specific graveller, the Stormchaser. The bike made it's debut at the notoriously muddy Midsouth Gravel Race in Oklahoma. An event which has killed off more than its fair share of derailleurs over the years, making it the most appropriate place to launch a one cog bike.
We were not the only ones on this side of the pond whose interest was piqued by the filth-friendly design. The two-humans-and-a-dog team at Keep Pedalling have a delectable penchant for single speeders. Shona's limited edition All City Nature Boy from a few weeks ago being the perfect case in point.
Rich has been busy working away through lockdown in the Keep Pedalling basement on something equally special. What you're looking at here is probably the first built-up Stormchaser in the UK. Lyon Outdoor are only bringing in the Stormchaser as  a frame-only option and in limited quantities. So not only is the £1,299 frame going to be a rare sight, but every build is going to be unique.
Keep Pedalling Salsa Stormchaser
Salsa describe the frame as gold, but in reality it's more coppery or rose gold in the metal. And as the photos show, looks pretty spectacular at sunset.
This build makes full use of the features of the Stormchaser and includes some well considered parts to future proof the bike for some time to come. Salsa include a mech hanger with the frameset should you ever want to run it geared. With this in mind, Keep Pedalling have sensibly fitted a set of Shimano GRX 1x shifters/hydro brakes to make switching out easy.
As the Salsa Stormchaser features internal routing for a dropper, it'd be a waste not to put it to use. A Brand-X Ascend 27.2 dropper sits ready and waiting for rowdy hustling. Loved by the gravel cognoscenti, the Brooks Cambium saddle is proven favourite for long distance comfort. This carbon railed C13 is a narrower and more racier version of the popular C15.
One ring, all the bling-bling
As any self respecting rap star will tell you, gold is bling. And you have to offset your gold bling with… you guessed it, more bling. The Halo Carbaura is a swift set of aero road wheels, but wrap them in some suitably chunky rubber and they'll fly on light gravel. Rich says he'll keep these best as his racing wheels and days when he just wants to put the hurt on. For more trail focused days, these swapped out for Halo Vapour and Teravail Rutland tyres.
Most of us would settle with the carbon bling and park it there. But for the ultimate one-speed racer look, you need some titanium. Not just piddly ti bolts either. Cane Creek eeWings in limited edition 'Raven' gloss black is how you drop the mic and signal triumph of a build done right.
Stormchaser Build Spec
Salsa Stormchaser frameset 54.5
Halo Carbaura wheels, Surly Knard 700 x 40 tyres (racier wheel set)
Halo Vapour wheels, Teravail Rutland 700 x 47mm (trail wheel set)
Cane Creek eeWings Raven edition titanium cranks with SRAM X-sync ring and Surly stainless cog
Shimano GRX 1 x shifters/ hydro brakes (easier to run gears if needed or for a quick loaded tour!)
Salsa Cowchipper Deluxe bars wrapped in Easton microfibre bar tape (super plush!)
Salsa Guide stem
Brand-X Ascend 27.2 dropper post
Brooks C13 Cambium saddle
Shimano XTR pedals

How's it ride, mister?
Having ridden bikes a reasonable distance a few times (Silk Road, Atlas Mountain Race to name a few), Rich has a sense for comfort. Missing a chunk from his back (we don't ask for the gory details) has only honed this sixth sense. Riding into the Peaks from Keep Pedalling's Manchester base, he remarks that the backend seems noticeably comfier than "other aluminium stuff." Like all good play things, the harder and faster you go, the more fun it delivers!
Oh, and the all important weight? This Salsa Stormchaser tips the scales with pedals etc at just under 19lbs.
Want one of your own? Drop Keep Pedalling a line or contact Lyon to find your nearest Salsa Cycles dealer: www.lyon.co.uk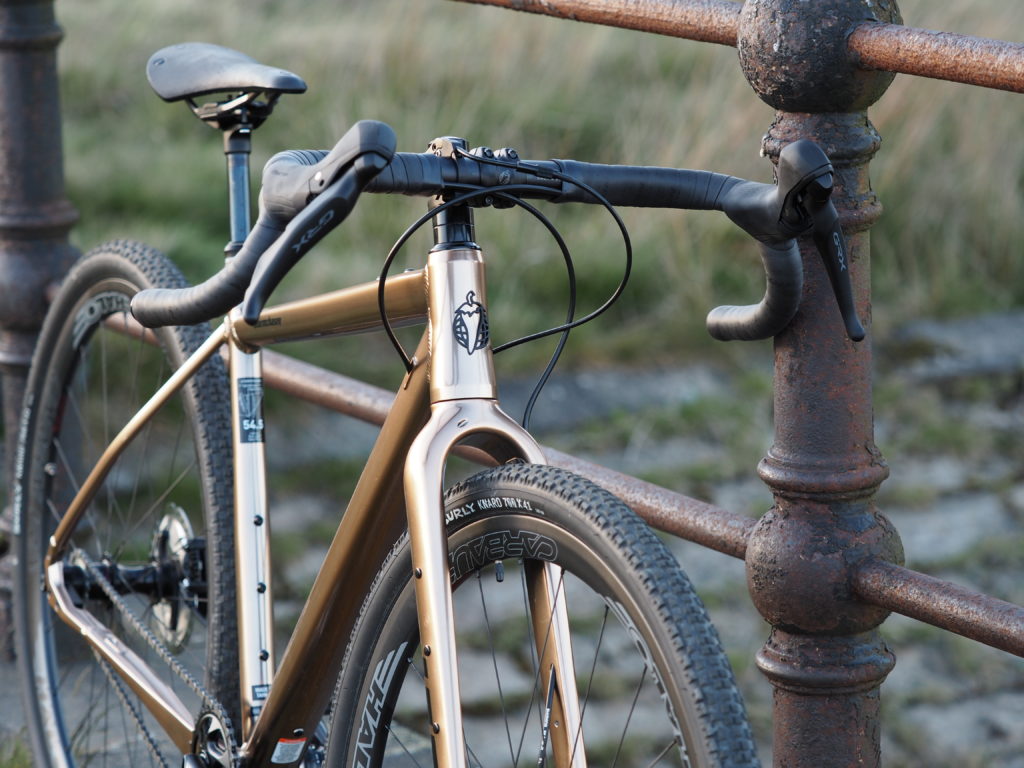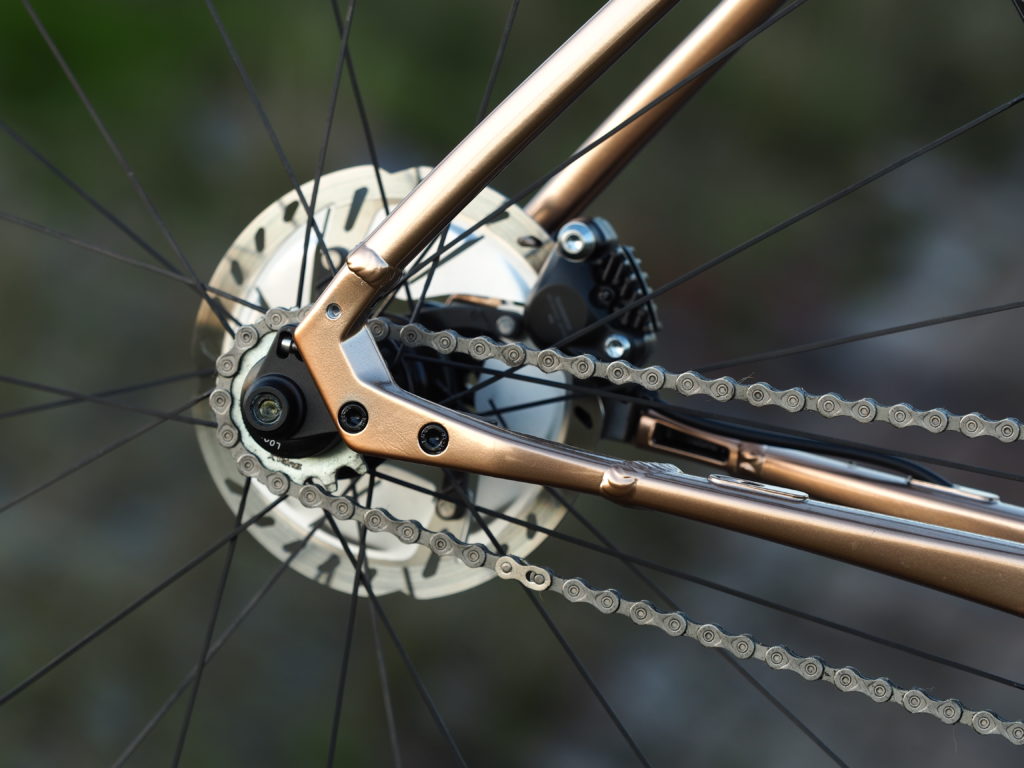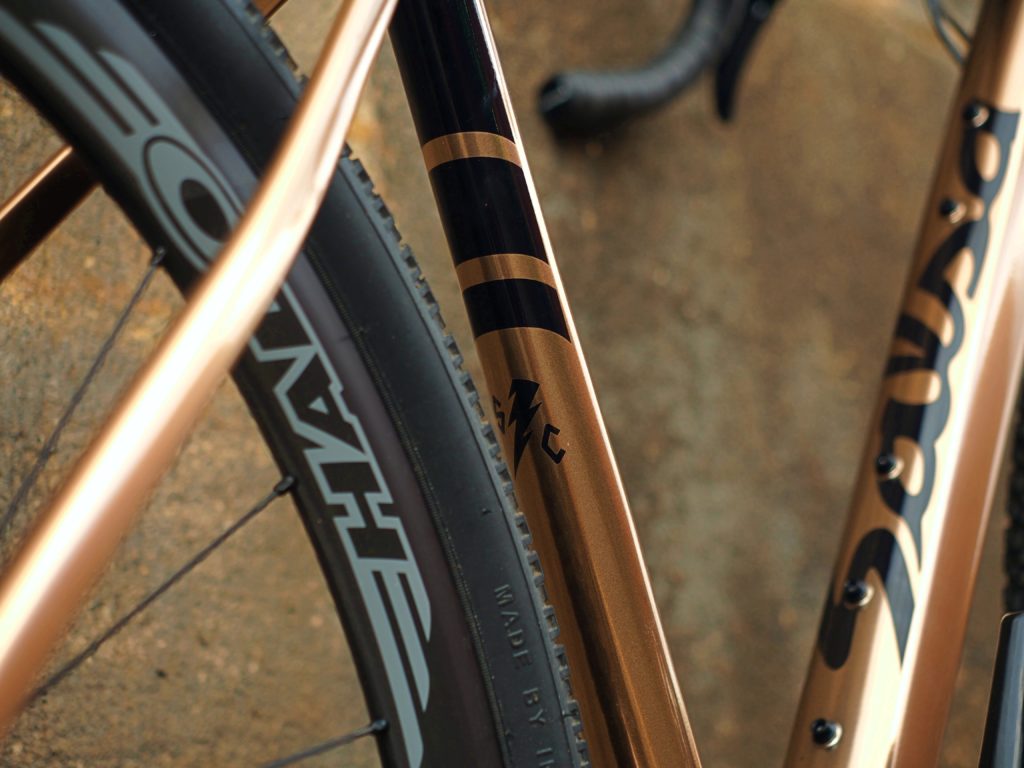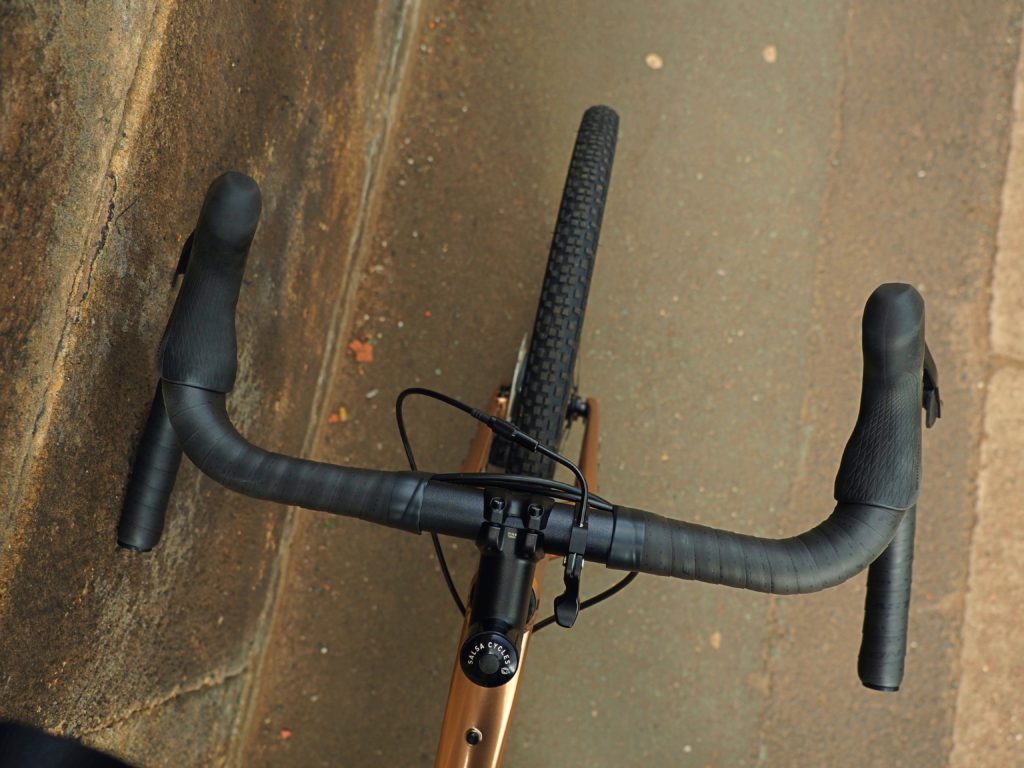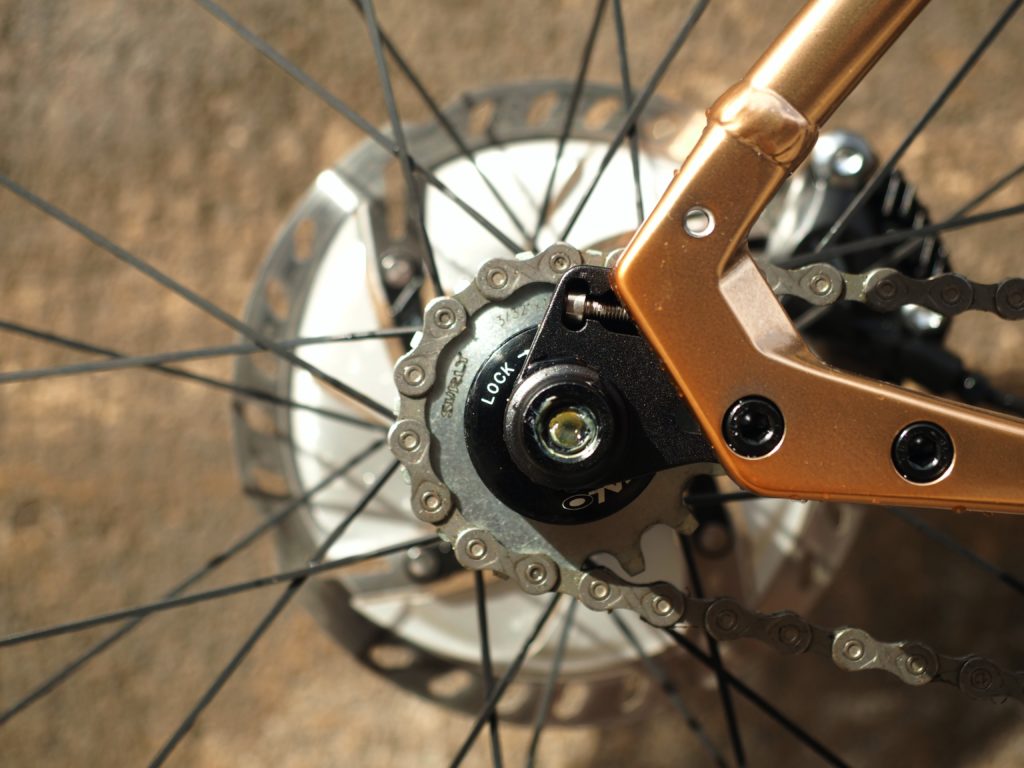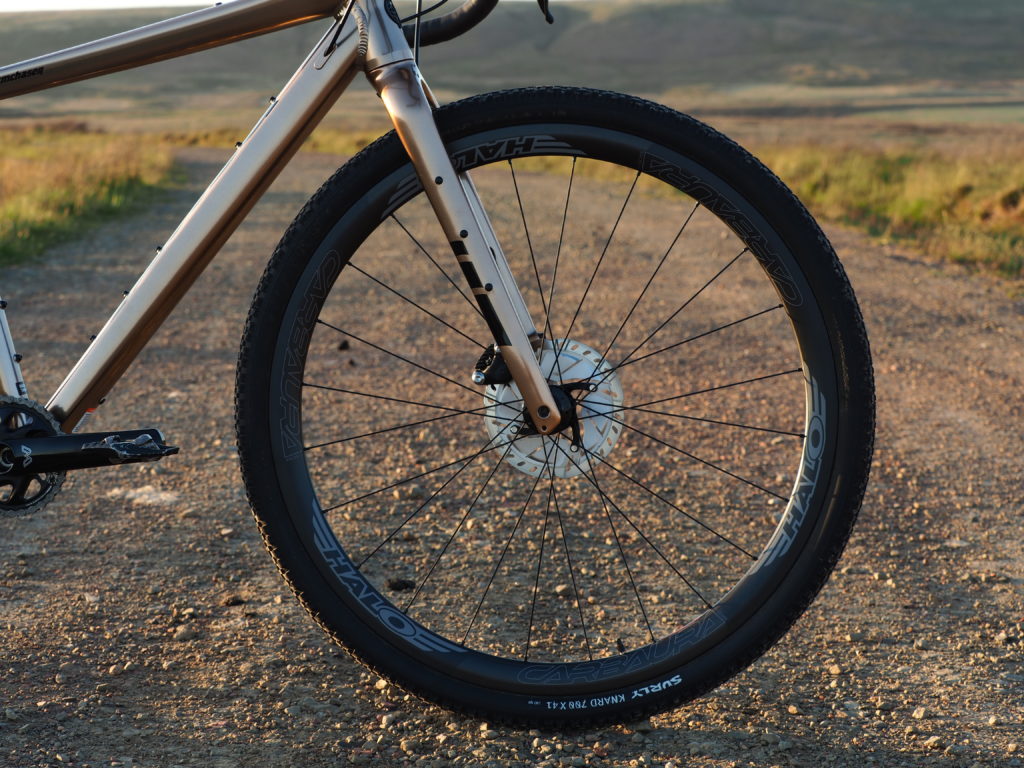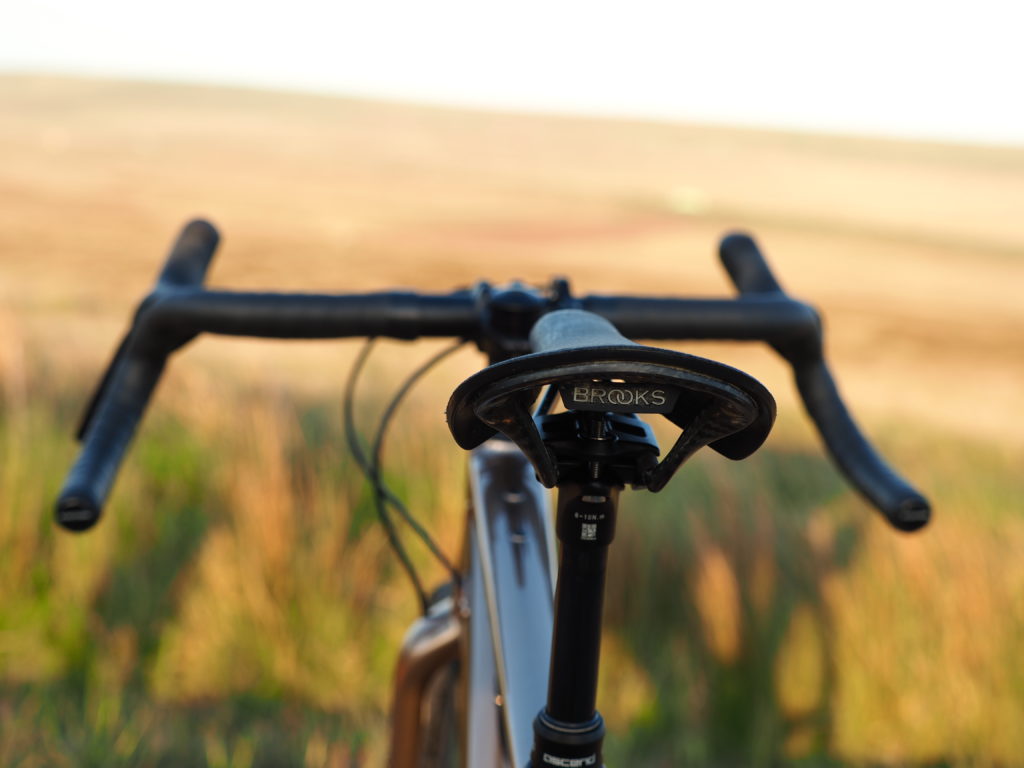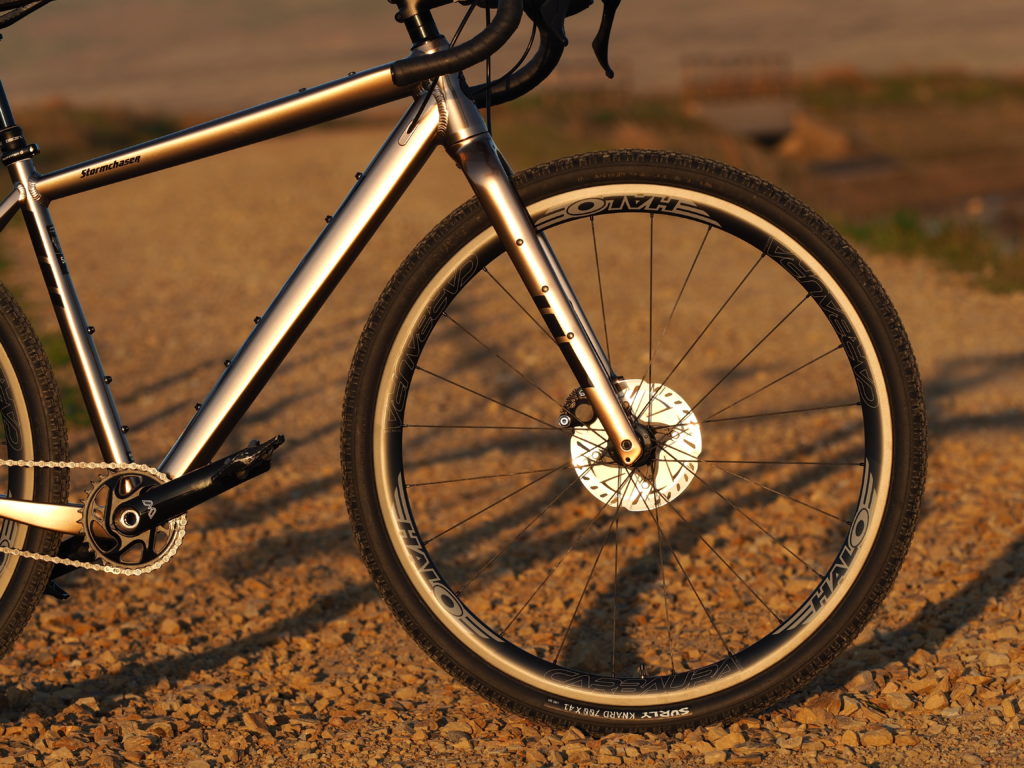 Last modified: 27th May 2020