Victory Chimp has collaborated with fellow Northern Irish company Donard Bikes on the custom steel gairbhéal bike.
When Victory Chimp's Ryan O'Reilly heard that a very different kind of framebuilder had set up shop close to where he grew up in Newtownards, Northern Ireland, it was almost inevitable that he and Donard Bikes' Owen Byrne would end up working together.
After a chance conversation, the pair collaborated on Owen's debut custom carbon frame for the annual Lap The Lough event. Ryan, once again, provided the paint design for Donard's award-winning 2017 show bikes for Bespoked, The UK Handmade Bicycle Show.
When Owen decided to update his branding to reflect his unique process and level of workmanship, a deal was struck. Ryan would develop the Donard identity and, in return, Owen would build him a bike. As Ryan likes a nice steel frame as much as he likes a bit of bartering, this would deviate from Donard's trademark carbon creations. (Donard carbon bikes are completely handmade, in-house, from start to finish.). Thankfully, Owen's traditional framebuilding is just as great as his more innovative offerings.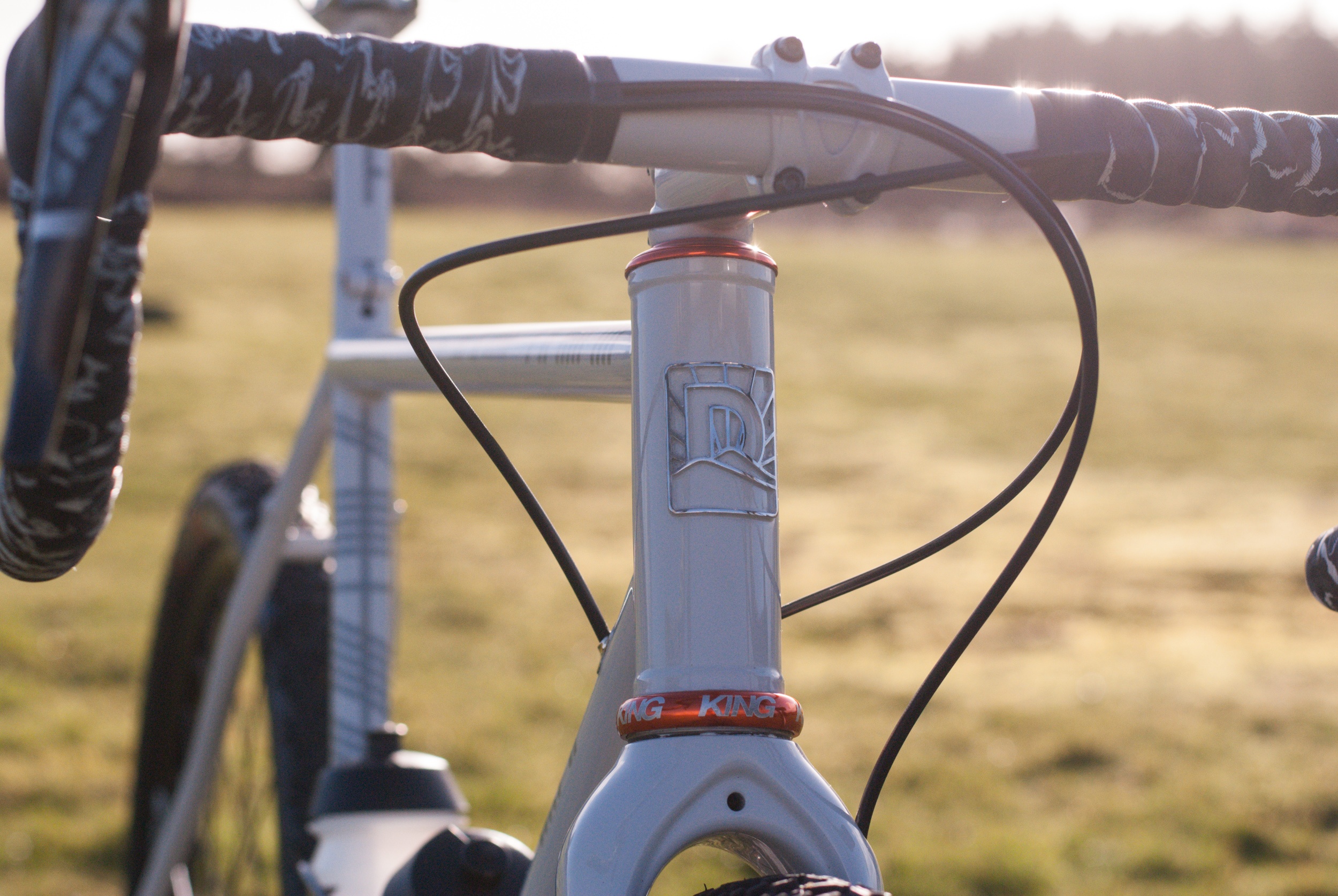 Creation
Having just hacked together a super low-geared, big-tyred, 1x set-up on his 'cross frame for the Dirty Reiver and other gravel events, Ryan started to love the simplicity and freedom this type of bike and riding brought. Ideas for a new frame developed into something fast enough to throw round 'cross courses from September to December, but comfortable and adaptable enough for long rides, over-nighters and aimless fun, on and off-road, for the rest of the year.
The result is the Donard x Victory Chimp Gairbhéal Bike. A bike for all the rocky farm tracks, peat bogs, forestry roads and single track that an Irish 'gravel' ride can throw at you.
The frame is made from a Reynolds 853 main triangle and Columbus stays, with a 142×12 thru-axle at the rear, and traditional threaded bottom bracket. The curved stays allow for a dual wheel size with up to 700cx45mm or 27.5″x2.1″ tyres. Hooded dropouts and flat mount disc mounts are from Bear Frame Supplies.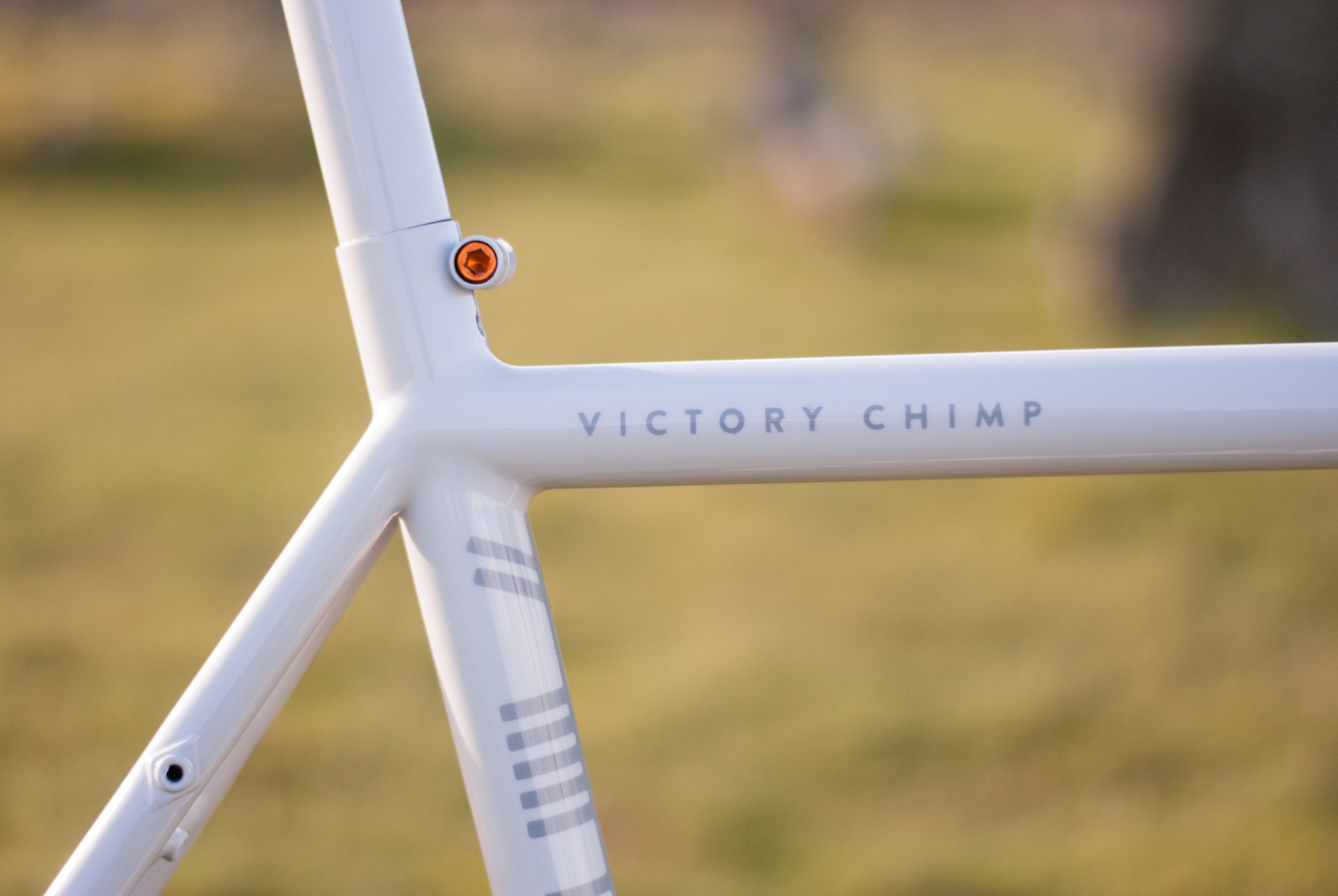 A 44mm head tube, takes a tapered 1.5″ carbon fork – also with 12mm thru-axle and flat-mounted disc brakes. The top tube is ovalised for comfortable shouldering during CX run-ups or hike-a-bike moments. A forward-facing seatpost binder keeps the muck out of the seat tube. All cables and hoses are internally routed through stainless steel guide tubes,  keeping both cabling and the frame lines clean. There are also braze-ons for a third bottle cage, full mudguards and rack mounts.
Inspiration
The paintwork is inspired by Ogham, a Primitive Irish alphabet consisting of a series of horizontal and diagonal strokes inscribed along the edge of standing stones. Ryan regularly passes the Aghascrebagh Ogham Stone and other megalithic monuments on rides in the Sperrin Mountains and wanted to incorporate these features into the bike.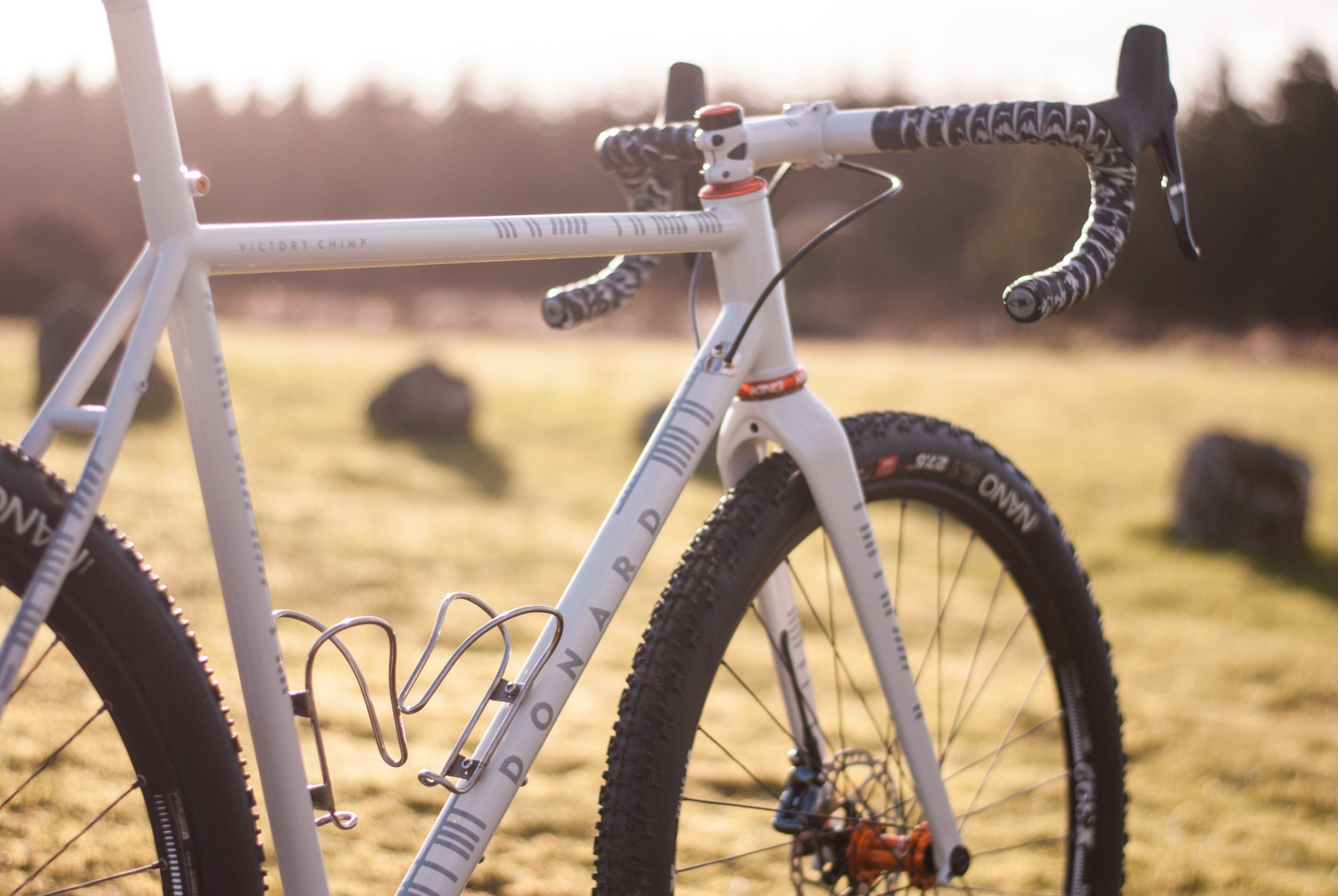 The Sperrins provided Ryan inspiration for Victory Chimp, and it is here that he enjoys riding most, He took the words for all the kinds of terrain covered on a ride, translated them into Irish and back into Ogham. Words like forest (foraois), mountain (sliabh) and bog (portach) were assigned to the centre of each tube, wrapping around each side as they would on a monolith.
Owen applied the design in a two-tone stone grey with a stunning polished finish. A laser cut, polished stainless steel, Donard headbadge, numberplate and Victory Chimp cable entry point complete the frame – a nice surprise for Ryan when he came to pick up the frame.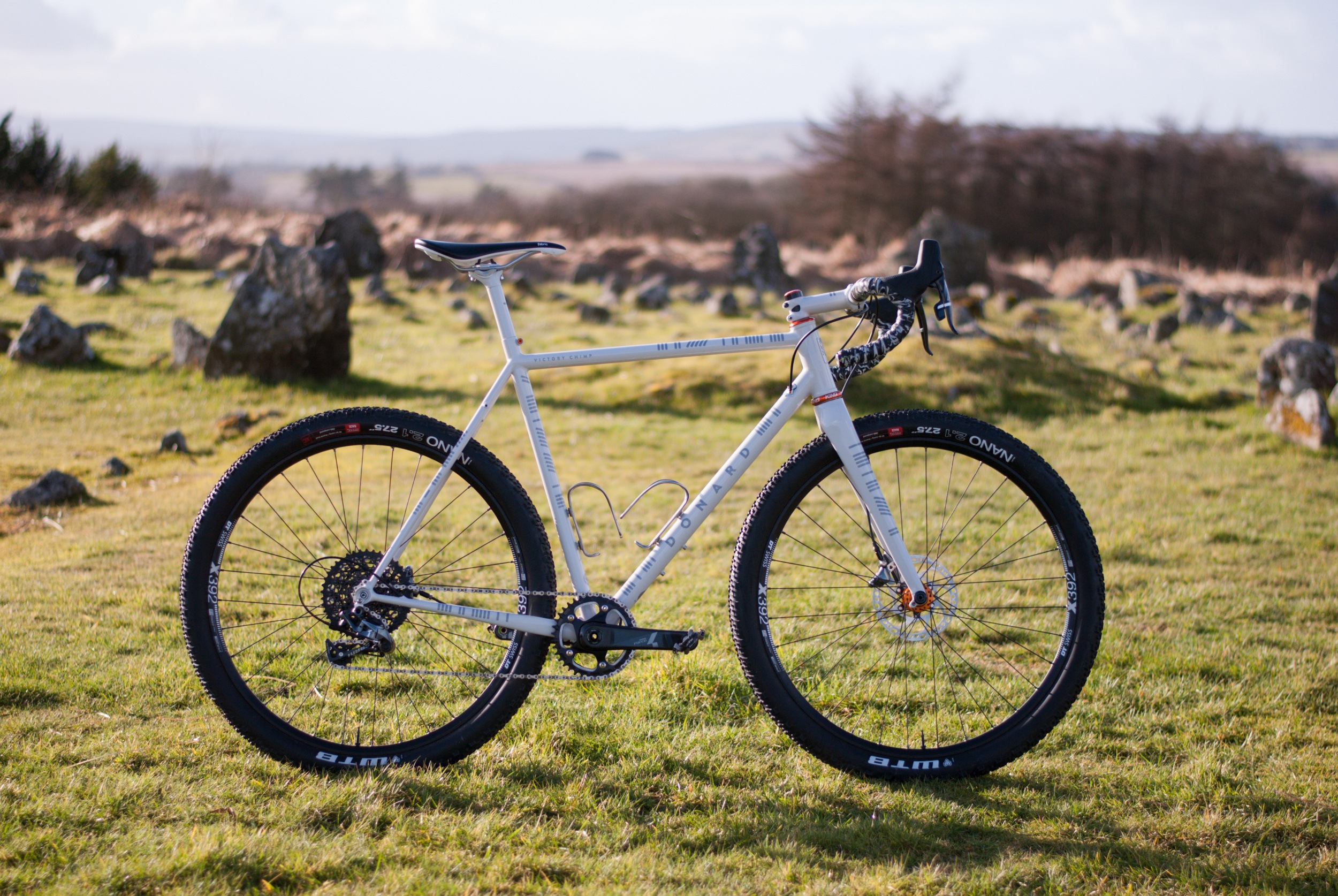 Build
Joe from Velo Café Magasin in Belfast, took care of the final build, completing the bike with a SRAM Force 1 Hydro groupset, a Hope Retainer 38t chainring and 10-42 cassette. He handbuilt the smaller wheelset, with Hope RS4 hubs laced to DT Swiss x392 27.5″ rims.
A matching Hope threaded BB, Pro finishing kit, Fabric Scoop saddle, Lizard Skins DSP 3.2mm bar tape and King Cage Iris stainless steel cages completed the build. Tyres are WTB Nano 27.5×2.1. Ryan will use the 700x40mm versions on the larger wheelset option.
Specifications
Frame
Reynolds 853 main triangle with a 44mm head tube
Columbus rear triangle
BSA threaded bottom bracket
Flat mount discs and 12×142 thru-axle dropouts from Bear Frame supplies
Forward mounted seatpost binder to keep the dirt out
Polished stainless steel headbadge, numberplate and chimp logo
Cabling internally guided through the frame in stainless steel guide tubes
Braze-ons for three bottle cages, mudguards and rack mounts
Carbon fork
Components
SRAM Force 1 Hydro
10-42 cassette
Hope Retainer 38t chainring
Chris King Headset
Hope threaded BB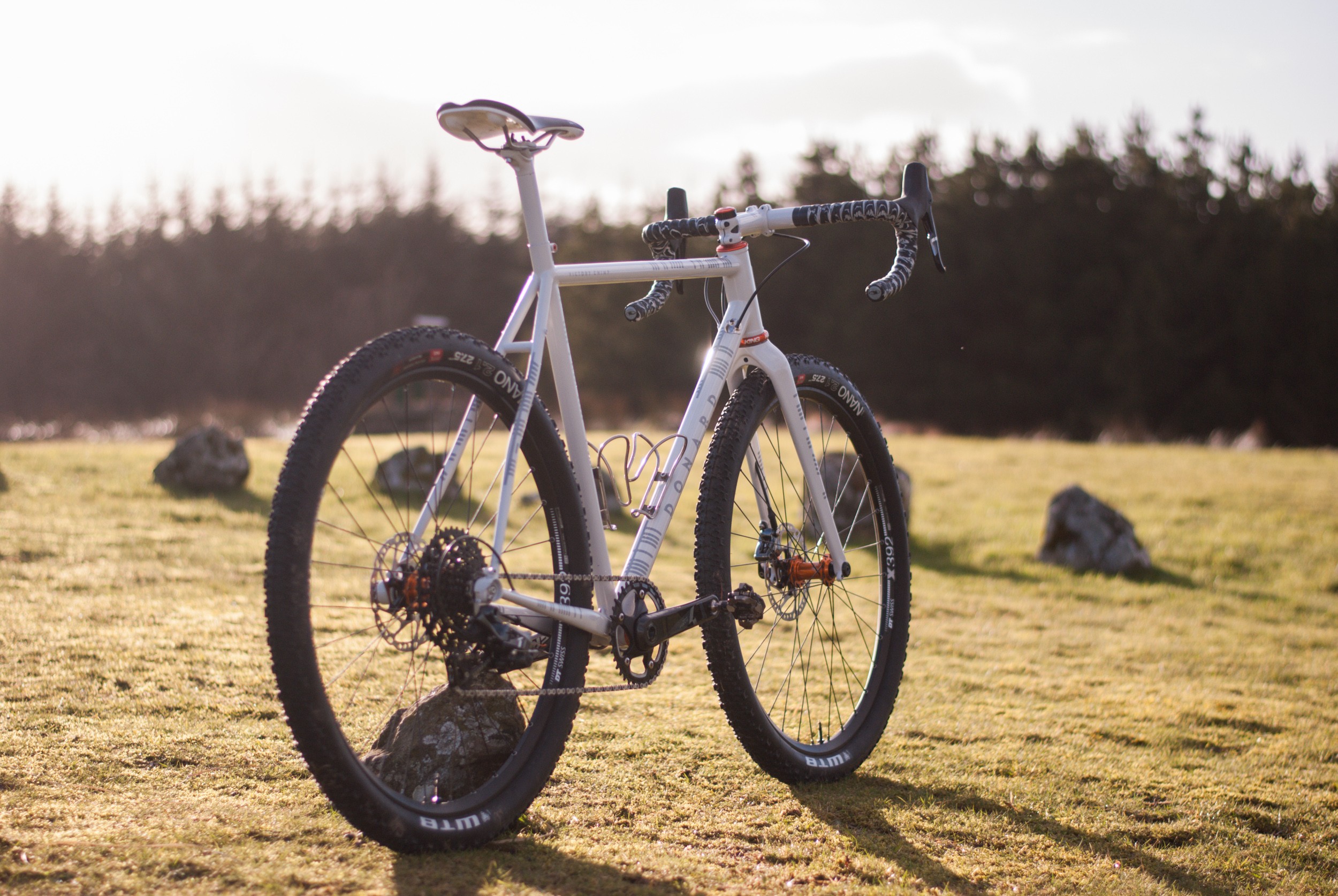 Wheels
DT Swiss x392 27.5″ rims
Hope RS4 hubs
WTB Nano 27.5×2.1 tyres
Finishing kit / Contact points
Pro finishing kit
Fabric Scoop saddle
Lizard Skins DSP 3.2mm black camo bar tape
King Cage Iris bottle cages
Shimano XTR pedals
---
For more information on Donard Bikes, visit: www.donard.cc
Check out Victory Chimp's cool range of stuff at: www.victorychimp.cc
All photos: Ryan O'Reilly
Last modified: 23rd February 2018