Lace up shoes – the Marmite Dilemma
Here at ADVNTR Towers we have divided opinions on lace up shoes. Some of us were happy to see laces consigned to the dustbin, and others are "lace curious".
Lace ups really are a Marmite choice – you love them or hate them. Reasons to hate them include:
When cold and wet, they can confound any attempt to get them undone.
Laces snap when you least expect it.
They can get stuck in drive trains.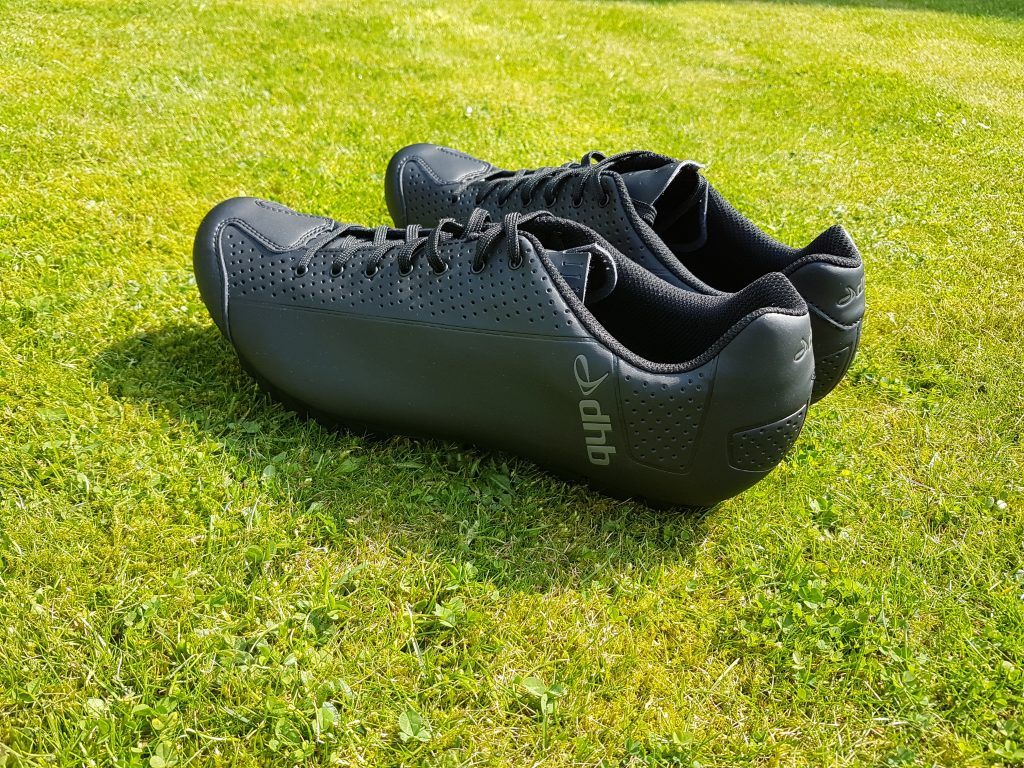 On the other hand, ratchet systems are not infallible. Having once finished a ride on the wrong side of sunset, to find my battered hands couldn't undo a mud-jammed ratchet, I was happy to give laces another go.
DHB or Giro?
Laces returned to cycling in 2012 when Taylor Phinney was spotted wearing a pair of prototype Giro shoes. And it's the Giro Empires that are arguably the benchmark. At £170-200 a pair though, it would be an expensive mistake if you don't get on with them.
A cheaper way to find out if lace ups are for you, is to wander along to Wiggle. DHB is Wiggle's in-house clothing brand and arguably represent  better value for money than Giro. The DHB Dorica has an RRP of £70 (at the time of writing they are on offer at £52.50). This makes them significantly cheaper than the, outwardly similar, Giro Empire.
So have corners been cut to reach this price point?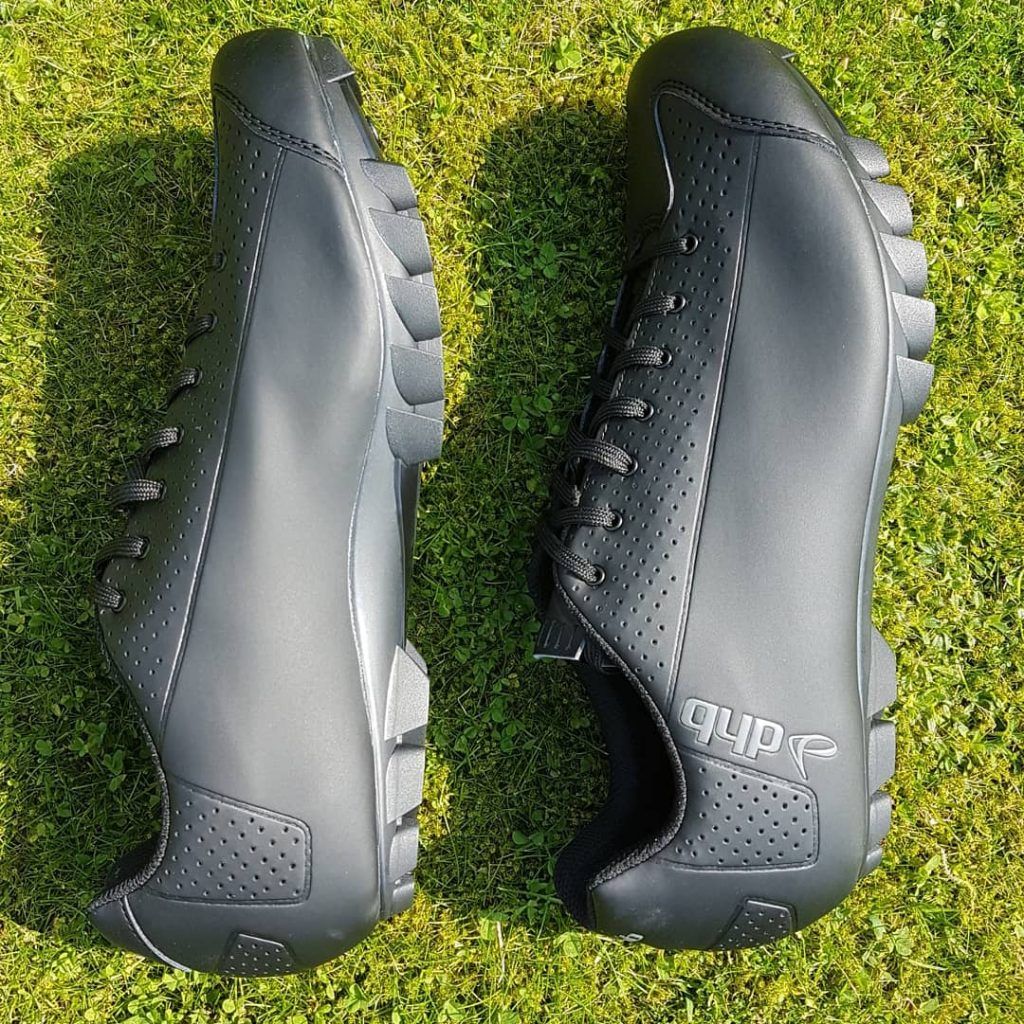 Construction
The DHB Doricas are made from synthetic leather. I find synthetics survive the regular dunking and drying off cycle better than leather, so this is a 'good thing'. The uppers are made from two large halves with the only stitching being around the toe box and the heel cup. This means there are no seams to be stressed as your foot flexes the shoes, whether from pedalling or hike-a-bike sections. The uppers are perforated along the top of the shoe and by the heel. In the record May bank holiday weather I didn't find overheating or sweating an issue. The positioning of the perforations also mean that you can step in a reasonably deep puddle, or walk through wet grass without letting too much moisture in.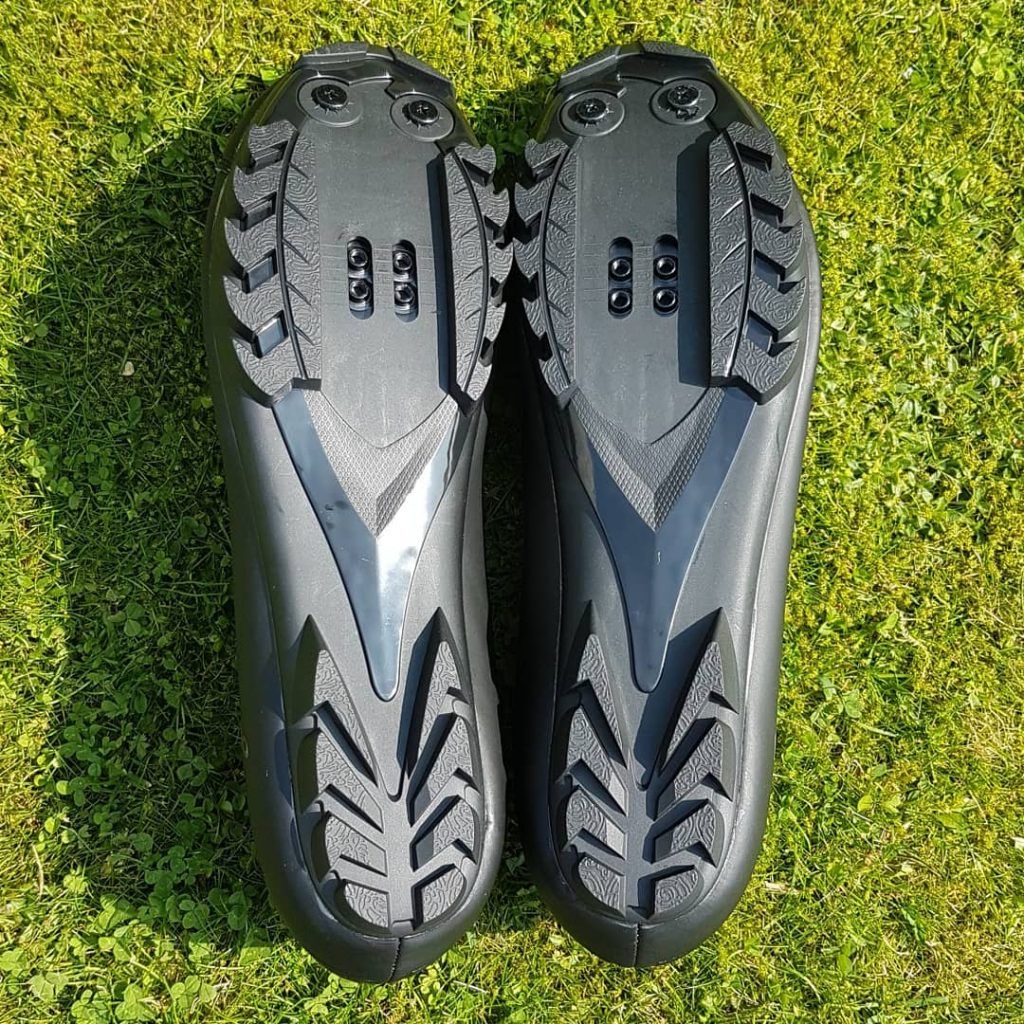 The sole has the usual two bolt SPD mounting slots and threads should you wish to screw in toe studs. The tread is quite aggressive and gave plenty of traction when off the bike. The only downside being that it is hard shiny plastic and, unlike some shoes, isn't capped with grippy rubber. When walking on hard shiny surfaces they initially felt like they might lead to "bambi on ice" moments but having worn them in a bit, it no longer feels a quite so alarming!
Sizing
For reference I'm broadly a size 46 in Giro and 45 in Shimano wearing thin cycling socks. The DHB Dorica in a 45 feels a fair bit roomier in the toe box than either the Giro or Shimano. This should allow the use of sealskins or thicker winter socks later on in the year.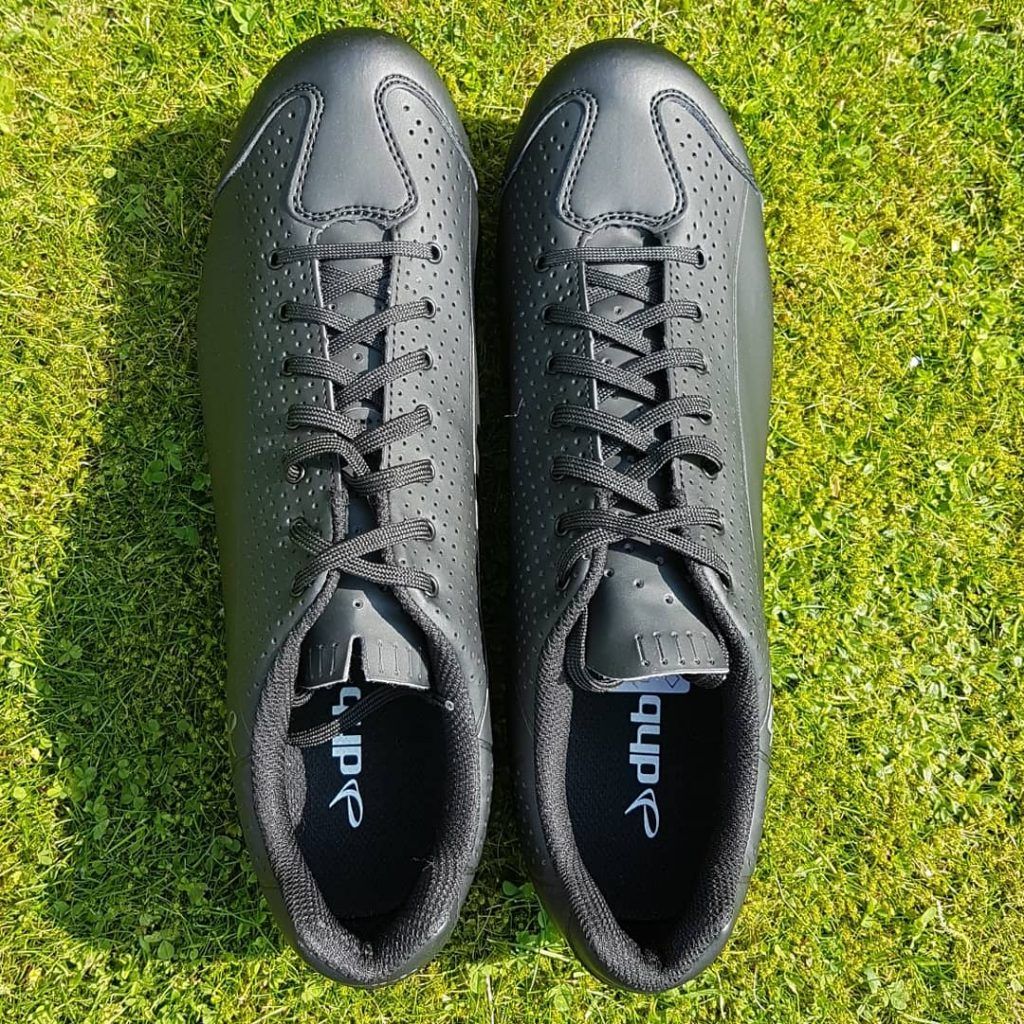 Those laces then…
So, laces, yea or nay? In use I haven't yet found a disadvantage to lace ups. The supplied laces haven't caused me any issues so far. They stay done up and haven't caused me any issues when taking them off either. To be fair, they haven't been caked in mud yet, so I can't comment on how they'd fare in lest benign (weather) conditions.
There is an elasticated loop on the tongue that secures the laces when in use and and at no point have I had to fish them out of my drive train.
While they are certainly different, I'm not convinced there is a significant advantage to laces over more up to date systems.
Comfort & Conclusion
I broke the DHB Dorica shoes in with a couple of days commuting before heading out for an overnighter. There were no "hot spots" or pressure points and they strike a good balance between stiffness for pedalling, and flexibility for walking. They're a great pair of shoes for the money (particularly if you catch them at the sale price) and are as good as any shoes I've had in a similar price range. If you like the laces aesthetic, or just want to minimise your MAMIL factor when stepping into the mid ride cafe then you won't be disappointed.
DHB Dorica MTB shoes
RRP £70 (currently on offer)
Last modified: 31st July 2020