Cycling Through A Pandemic features the stories and photographs of cyclists around the world who got away from Covid-19 and the endless news cycles. Finding a gap between lockdowns or when restrictions eased, they escaped for a brief moment into the vastness and peacefulness of nature on their bikes. We spoke to Jon Heard, the rider behind the project as the book is launched.
First up, introduce yourself a little Jon. Who are you, what makes you tick, what's your riding vibe?
Hey I'm Jon – Founder of the Cycling Through A Pandemic project and graphic designer living in Brighton. I love to cycle in my free time and since this pandemic and the recent lockdowns, I've started to realise how important cycling is to me. It's afforded me independence and the freedom to explore parts of my own country that I would have never seen otherwise. It's been an escape and an opportunity to express myself.
I think it's amazing that everyone has their own very unique reasons for riding, there's a reward for you whatever your style. I ride to find the space to think and get some perspective on life. Whatever mood I'm in, it always levels me out and I find the motion of cycling meditative once in my rhythm. Whether its punishing road rides along the blustery south coast or quick gravel dashes up and onto the South Downs Way, when I get the urge – I know I just need to hop on a bike and go. The rest is history.
Cycling isn't about the faff for me, I'll often set out on a ride without even knowing where I'm going. I simply make it up as I go, an attitude instilled in me by my father who taught me to ride at an early age and to always explore around the next bend in the road. The best rides are the ones where you discover new routes that you didn't know existed, or rediscover routes that you've ridden 100 times before but in different conditions.
I often feel the most creative whilst cycling, maybe it's focusing on one simple activity without distractions for 2-3 hours that does the trick and I'll come back from a ride brimming with ideas which I'll jot down before they vanish again. 90% of these ideas never see the light of day, but the odd few do occasionally get some attention.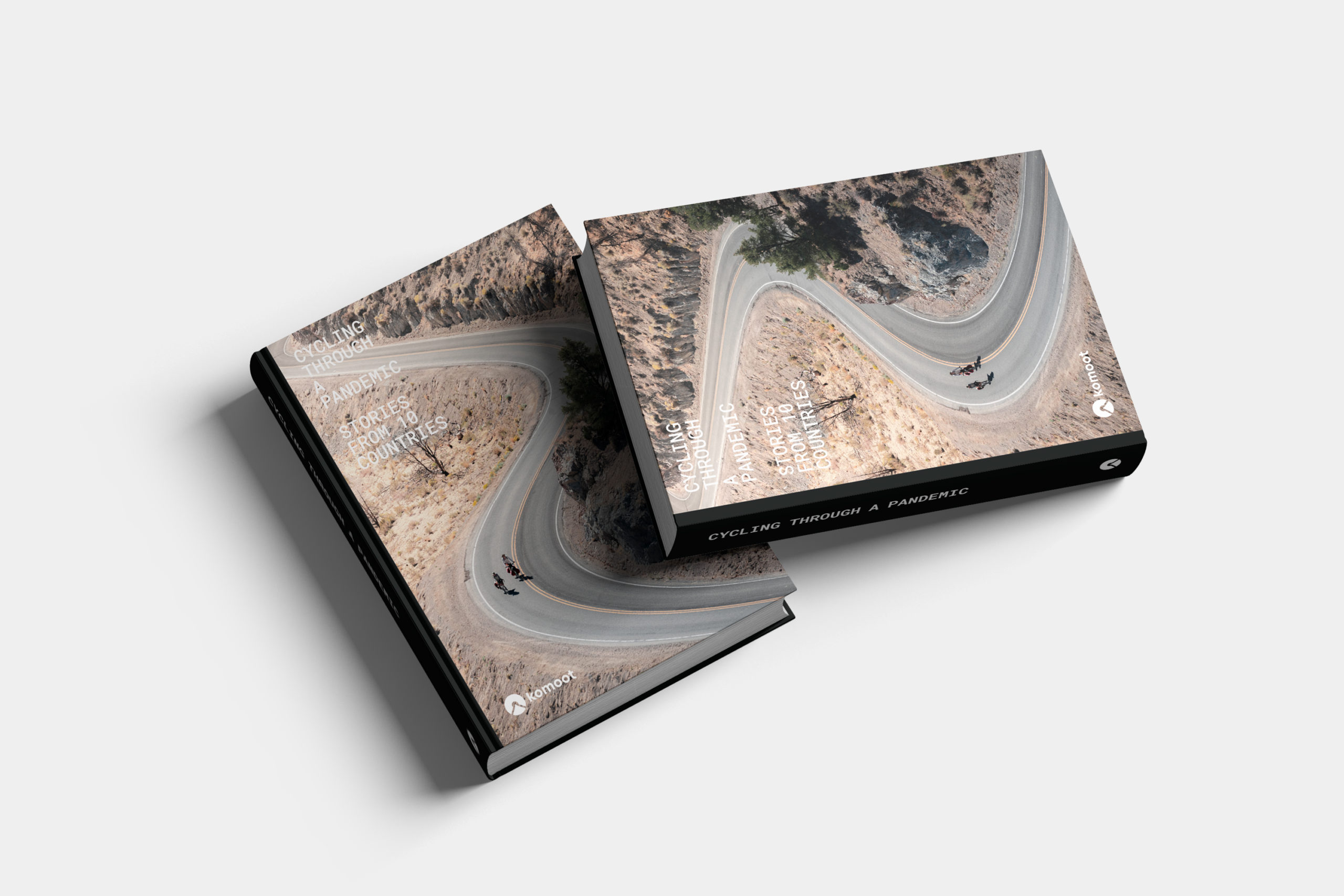 The Cycling Through A Pandemic book project was one of these ideas, which began brewing way back in the first lockdown of 2020 here in the UK. I'd felt like I needed to shake things up for a while by the time that the pandemic kicked in, my 9-5 job wasn't fulfilling me anymore and I had no clue what to do next. Having been furloughed from my job as a designer for several months, I decided to take a punt at a proper adventure and packed up my flat, drove home and set about getting ready for a trip. I'd never done anything like it before, having only ever been on a quick overnight trip to the Isle Of Wight which had given me a taste of the freedom of bike packing.
With dreams to see the Tour De France and cycle around Europe dashed, I looked at the map of the UK and decided to ride the longest distance that I possibly could. Eventually settling for something based on the GBDURO route. Reading stories of endurance athletes completing similar journeys in a week, I planned on travelling at a much slower pace, giving myself a month to savour the trip and finally experience more of the UK. To say that I felt nervous and underprepared was an understatement, but I was excited to prove that I could do it to myself. I visualised myself at the finish, experiencing that feeling of accomplishment and knew I had to get going.
What led you to start the Cycling Through A Pandemic project? Did you always think it would be best in book format?
Standing at the sign post that marked the start of my adventure across the UK, I thought about how cyclists around the world must be in similar situations. Trapped by the invisible threat of the virus and borders marking the edge of their home countries, the pandemic was limiting global travel to purely essential and even I was getting cabin fever. The idea brewed as I cycled further and further north from Cornwall, into Wales and eventually Scotland, I reflected on the year and how much destruction the pandemic had brought about but also how much growth and change it would bring. I wanted to create something that would celebrate the pandemic and mark this unique time in history, something that we could all look back at as a time stamp.
In a time where so much has been online, I wanted to create a physical hard-back book to contrast all of the hours that we've spent staring at screens over the last year. The Cycling Through A Pandemic book will have a presence and be something to behold, over 300 pages long with thick covers and pages – you'll be able to glide your hands over the silky printed pages and wonder at the stunning photography from our contributors around the world.
How did you go about seeking contributors? There's an amazing selection of riding styles from across the world.
I set to work immediately after I got back from my trip, with more free time on my hands than ever before – I channelled my post adventure high into searching high and low for cyclists who'd embarked on adventures in their home countries during the pandemic.
I must have drafted over a hundred messages and spent months contacting people on Instagram from different backgrounds around the world, from professionals to complete amateurs – I wanted the book to celebrate the diversity and beauty of this planet that we call home. Our stories hail from India, Mexico, France, Spain, Malaysia, UK, USA, Patagonia, South Africa and Finland, and certainly paint a picture of a beautiful world.
The book benefits World Bicycle Relief. Why is this important to you?
Cycling has boomed during this unique time in history, it's been an escape for some, a vital means of transport for others and a new hobby for many. One things for sure, cycling has benefitted an incredible amount of people during the pandemic and I think that it's the perfect opportunity to give back through the sport. World Bicycle Relief creates opportunities for people around the world through the power of bicycles, whether it's getting to school or the doctor, a bike can change someone's life – much like it did mine. That's why 100% of profits from the sale of the Cycling Through A Pandemic book will be donated to this charity.
What do you hope that the book achieves?
I hope that Cycling Through A Pandemic stands the test of time, much like a museum piece or a classic piece of architecture. I hope it's quality and stunning photography marks this time in history, so that we can all look back and celebrate the achievements of cyclists who embarked on adventures despite so much adversity. I hope inspires people to explore their home countries. I hope it gives people who are still stuck in the grips of the pandemic and lockdowns the fix that they need for their travel urges.
Head over to Cycling Through A Pandemic to check out more and order your copy, or browse the Collections on komoot here.
Last modified: 5th June 2021