First things first, I should own up and say I've never being an advocate of low tyre pressures. I understand the comfort benefits, but I've never liked the way a low pressure tyre squirms under load. The ultimate goal of these new CushCore tyre inserts is that you can safely run lower pressures. Like two opposing magnets, this was a long and complicated product test!
What are they?
CushCore is a foam insert that seats in the bed of your wheel rim. It's designed to aid in the reduction of sidewall roll during hard cornering, improve traction and eliminate pinch flats. The resulting lower pressures also mean increased ride comfort.
These high density inserts also present another benefit, especially for owners of expensive carbon rims; they'll protect your investment from hard edged impacts. I've regrettably cracked a carbon rim after hitting a water bar at speed before. A large impact will totally collapse your tyre, although just for a split second, it's your rim that takes the resulting impact straight on. The 'Cush effect' would have likely saved the precious carbon if I was using them at the time. The company claim the liner reduces impacts by 50%
This Gravel-cx version of the CushCore will set you back £160. The 110g inserts are designed to work with 700c rims ranging from 19mm to 26mm internal width. They should suit tyres running from 33 to 46mm in width.
Understandably, tyre inserts are popular with the mountain bike crowd where big hits are common. The benefits to us gravel cyclists are minimised by the fact we use much smaller volume tyres. We're also less likely to 'send it' on descents in quite the same way.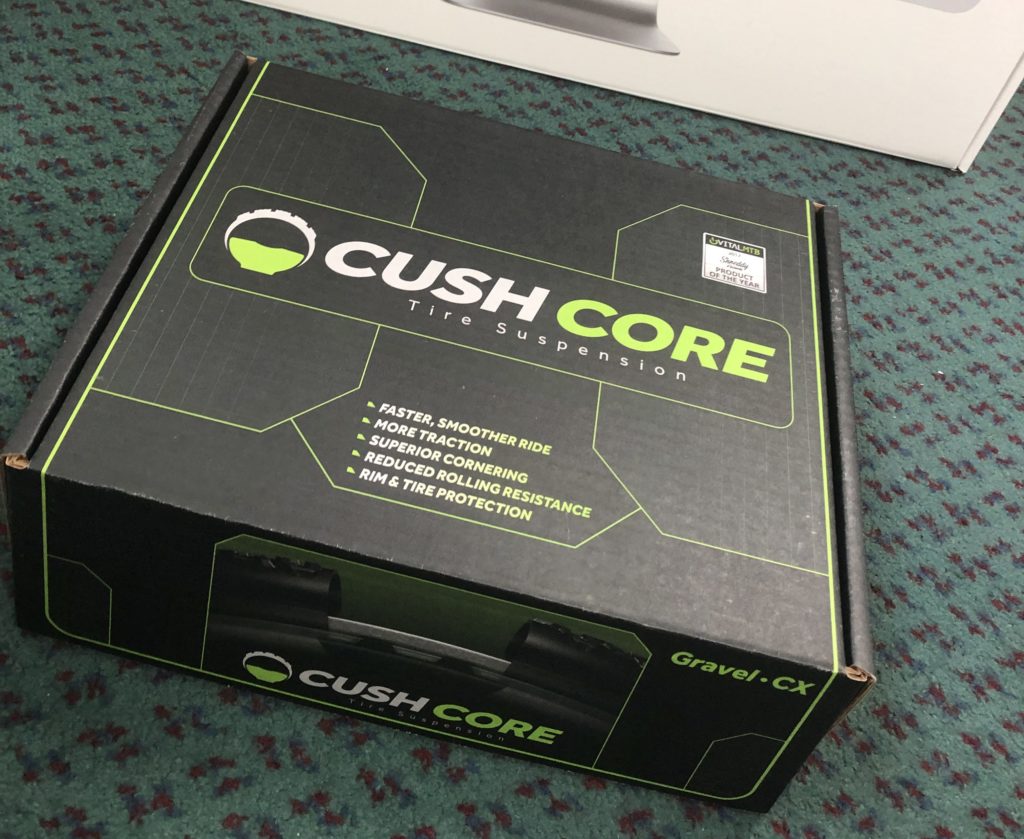 Fitting
The CushCore Gravel-CX kit consists of two liners, a valve core remover and a pair of tubeless valves. Normal tubeless valves won't work with the foam inserts, which is why CushCore came up with their own design. Note also, that the system only works tubeless. If you're still stuck in the stone age and using tubes, close this browser window now!
Fitting the inserts it has to be said, is far from a breeze. Pop the valve into your rim, then work the foam insert into the rim bed. That's the easy part out of the way.
Things get harder once you come to mount the tyre. CushCore do have some very intuitive hands-on Youtube videos to guide you through the installation procedure and it's well worth watching them. Even so, I struggled to get my tyres mounted as easy as they made out in the video. Three broken plastic tyre levers and many numb fingers later, I had fitted the first tyre!
I won't mention just how close I was to dropping the things in the bin and giving up… But it very nearly happened.
Thanks partly down to trial and error, the second tyre was much easier to fit. Using a tyre lever to push the tyre bead into the void between the liner and rim helps a lot. Tyres mounted, it is then just a case of adding sealant and filling with air.
Drop it!
During testing, CushCore announced the release of their new tyre lever, the Bead Dropper. It's a chunky plastic lever with a hefty rubberised handle, for better leverage. Quite simply, it makes the fitting of the tyre inserts a lot, lot easier. And damn sight quicker too.
CushCore sell their Bead Dropper separately for £19.99. It made such a difference to the fitting the inserts, that I would encourage you get one. Even if you pass on the CushCore inserts, the Bead Dropper is an incredibly handy workshop tool for mounting tyres in a jiffy. It's bulky shape makes it more awkward as a trail tool, but it'll easily stash in a pocket.
Ride Experience
As pointed out earlier, the main benefit of riding with CushCore is the promise of being able to safely run much lower pressures. Using a Topeak Smarthead Gauge for measurement, I began by riding with the CushCore system at my usual pressures 38-40psi and found it way too hard. The inserts reduce the volume of the tyre over standard, so you naturally need to drop from your normal pressures. Otherwise you'll bounce down the trail like a tennis ball.
Steadily I dropped the pressures until I was running 25psi front, 27psi rear and found that magical Goldilocks number. Any lower and I was feeling the bump effect of the foam insert making contact with the trail surface but still no squirm when cornering.
The lowest I dropped pressures while using the CushCore system was 15psi. At this point the rim was slamming into the ground yet tyre squirm was surprisingly minimal.
Pavement Bounce
The problem with low pressures and why I like mine pretty high, is most noticeable when you hit the road. I love my gravel bike because I can transition between the dirt and tarmac and maintain a good pace. Run low pressures on the road and it'll feel like you are riding through treacle. With the CushCore, I found I was bobbing up and down like an over sagged mountain bike. And this was on my Goldilocks pressure; 25-27psi.
Getting the pressures right is a fine balancing act. And when you do, the perceived comfort just isn't as ground breaking as I was expecting. CushCore claim the inserts make the ride smoother by damping vibrations and impacts. The improvement might be there, somewhere, but I struggled to feel a difference. It's by no means the night and day comparison you'd notice with a Redshift ShockStop, put it that way.
Puncture Resistance?
Another point made by CushCore is that the inserts supposedly reduce the risk of pinch flats. Otherwise known as snakebites, you'll get these in the sidewall when your tyre compresses hard against the rim hard enough to puncture the tyre.
By design, the CushCore will save you from these critters as the foam insert protects the tyre from the rim. Snake bites are a lot rarer with gravel bikes as we tend to run higher pressures, but it's reassuring to have that extra safety.
What the CushCore doesn't do is make your tyres any less susceptible to common trail punctures. The type we all curse when a sharp flint or thorn penetrates the tyre; you'll still need to pray your tyre sealant can save you there.
Get a flat that can't be saved by sealant and you'll find yourself cursing the CushCore. First of all, breaking the bead off the rim is a lot harder. Unless you've Incredible Hulk levels of strength, you might be walking home. Again, CushCore's own Bead Dropper tool makes easy work of popping the tyre off and then you have another problem; what to do with you the tyre insert. As you can't run a tube with the insert, you'll have to remove it from the rim and then where do you put it? They don't fold up, so stashing it in your jersey pocket isn't an option. When prompted with this very conundrum, I wrapped it around my shoulders like a pre-war Le Tour rider. I got some funny looks on the way home that day…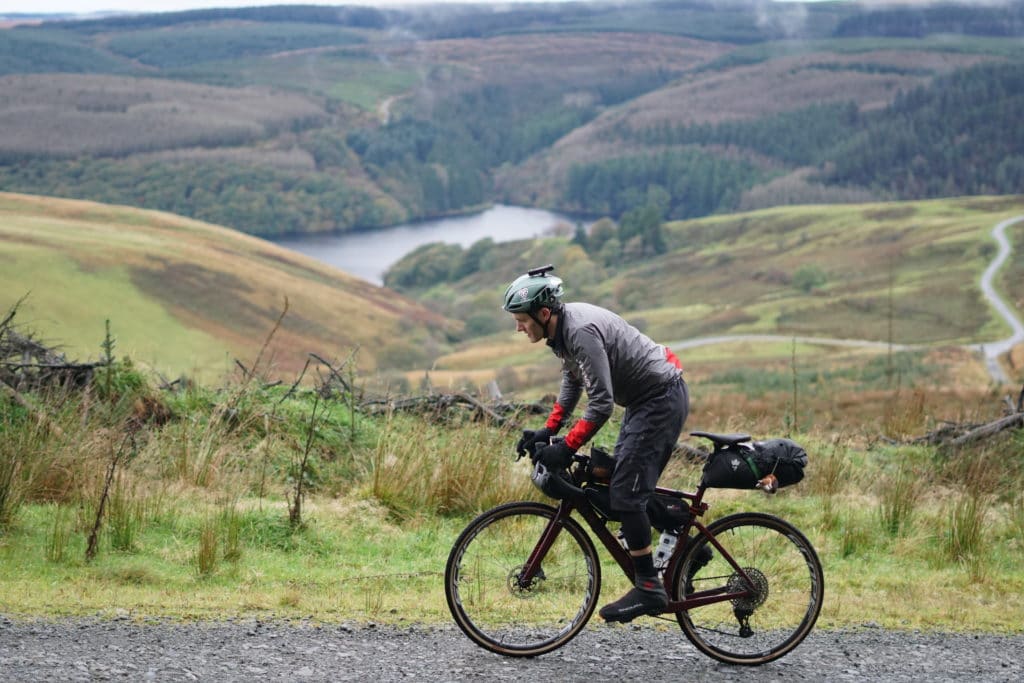 Verdict
The CushCore system works really well for mountain bikers, but it doesn't translate quite so well over to skinny gravel tyres. The benefits that work so well on high volume MTBs tyres are just too minuscule to improve your gravel riding experience.
If your riding is almost entirely off-road and you ride a lot of rocky descents, you might find these inserts a worthwhile investment. Though for that sort of terrain, you'd probably find a mountain bike is more enjoyable!
As CushCore is more noticeable with higher volume tyres, I'd be keen to test it on a 650b application. I've a feeling it would make a lot more sense, especially for the aggro-gravel crowd.
At £160, the CushCore Gravel-CX just feels like an expensive product that very few would struggle to feel the benefits from. Ride comfort can be improved more significantly in other ways, such as the aforementioned (and cheaper) Redshift stem.
What the CushCore is good at is protecting your rims from damage. They might be fiddly to fit and awkward if you puncture, but could save your expensive rims from terminal damage.
CushCore Gravel/CX, Inner Tyre Suspension system
159.99
Last modified: 14th May 2020