Budget supermarket giant Aldi market their cycling kit under the Crane brand name. They sell a wide range of products from clothing, to lights, turbo trainers and so on. They have yet to sell bikes but I am sure it won't be long.
The Good, the Bad and the Ugly
For those unfamiliar with the way Aldi do things. Periodically, they do 'specials' where each store seems to get a delivery of non standard items. Provided on a first come, first served basis, stock is displayed in the centre aisles. It really is a case of what you see is what you get. There is no reserve stock. If they are out of your size or preferred colour, that's it, there is no point asking if there is any "out back".
Visit the special buys section of the Aldi website, and you should see when the cycling kit is due in. If you haven't been this autumn, you have missed it by the way!
On the whole, shirts and base layers come out pretty much as described but in my experience, jacket sizing is pretty random. There is often  little relationship between one jacket, and the supposedly identical model on the next hanger. At least that is how it seems. Sleeve length and the cut for the torso appear to be quite random from garment to garment so if this is what you are looking for, grab a few and try them all on.
Clothing
Let's get the reality check out of the way before we go much further. This really is budget kit, so it shouldn't really amount to much. If you are expecting Rapha or Morvelo quality you will be disappointed. If you expect decent, mid range clothing at budget prices then, on the whole, you should come away happy.
My experience with Crane jackets means that I restrict my purchases to base layers, gloves and socks though this year I bought a merino shirt as an experiment.
Gloves
In the last twelve months I have bought track mitts, full finger MTB gloves, hard core winter gloves and lastly some neoprene affairs that piqued my interest.
The track mitts were a good buy. Reasonably robust, well padded and cheap. Summer only items (from a retail perspective) these are well worth buying. They are as effective as more expensive brands and let's face it, I generally wear through track mitts in a summer so why spend more than you need to? Recommended
The full finger MTB gloves were a disappointment. They are what the bike magazines call "full featured"but the internal seams are bulky and after half an hour or so I just wanted to throw them away. A possible caveat is that I was using them on a road bike, maybe they'd be better on a MTB. Recommended? Not really but they may prove to be fine for MTB use.
What I call the hard core winter gloves are Aldi's take on the waterproof, windproof and breathable gloves normally associated with Sealskinz. For the record, I own both and have tested the latter through more than one winter. Maybe the best I can say for the Aldi offering is that they are indistinguishable from Sealskinz in terms of functionality. The only noticeable difference is that the Aldi gloves are a little thicker and quite a lot warmer. Oh yes….and they are considerably cheaper too. Recommended
Lastly, the neoprene gloves. £9.99. I must admit, I have not been out on the bike with these. It has been neither cold enough nor wet enough. They feel like a second skin, albeit a rather thick one. The palms have grippers on them and best of all, the cuff is really long. This should avoid the dreaded dribble of cold water into your fingers on wet rides. They felt really comfortable when I put them on. There are no ridges or seams that I could feel. Obviously, I can't recommend these or otherwise but I will report back when I have given them a good test.
Base Layers
The base layers I have tried range from compression garments to merino,short sleeved items.
With one exception, these look and have performed and fitted, as well as my Craft base layers. By definition you never see them, so looks are immaterial. Wicking properties are as good as anything else I have used. After repeated washing the material is as good as new and the elasticity of the compression garments remains as good as the first day I wore them. The only issue I had is that one particular long sleeved, compression shirt I bought last year, takes on that ammonia reek pretty quickly.
Styles and materials seem to vary with little or no apparent continuity from one season to the next. This isn't really an issue though. The main point is that they perform every bit as well as their more expensive counterparts.
Recommended but getting what you want is very hit and miss. A bit of a 'Billy Bargain' if they have what you want.
Merino Cycling Wind Jersey
This is a garment made of a polyester/merino wool mix. It has a 'windproof' front which is 100% polyester. At £19.99 it was a bit of a steal so I had to have one.
Sizing was pretty much spot on and the arms were long enough, which was a bonus! It is not a 'race fit' but it isn't far off. The sleeves have thumb holes. I like the idea but have never had to use them. The pockets are quite large and deep with the middle one having a zip. The metal tag is large enough to use with gloves on so hurrah for the sensible design.
The zip is 3/4 length. I usually dislike this but can see the point for a winter jersey.
The one thing that could have been improved is the hem. I would have preferred an elasticated hem. After a few trips out however, the bottom of the jersey is still holding its shape.
In use, I have only worn the jersey under a gilet. The windproof qualities are therefore still a bit of a mystery to me. For the first few minutes I am very conscious of the wind whistling through the material on the arms but this soon disappears. Thus far it has been plenty warm enough and the long zip facilitates any ventilation needs.
I get the feeling this shirt will be used more as a mid layer but nevertheless, it is well worth the £19.99 asking price.
Recommended
Socks
In my opinion, the Crane socks are probably the best things they sell. Depending on the time of year, there are winter weight socks, long socks, trainer socks and waterproof socks.
The regular styles all seem to be based around a basic, standard, pattern. Cycling specific, they have padding on all the usual pressure points and handily, for those who need this type of help, they tell you which sock goes on which foot!
The ankle socks are a good length and do not fall down mid ride. After a year or more of use, my first batch still look pretty good and they have all resisted the urge to start pilling. The material has not grown baggy and the 'cuffs' are still grippy. In fact, the only signs of wear are that they have begun to grow a little threadbare around the big toe.  All of my cycling socks do this so this is nothing peculiar to Crane.
The waterproof socks – 12.99. Once again these go head to head with Sealskinz. Once again they do the job just as well in fact, I find them more comfortable. Sealskinz have a tendency to go like cardboard after a while. The Crane socks have not. I have two pairs of Sealskinz and never use them many more, preferring the Aldi specials.
The only downside to the waterproofs is the height. They are very much an ankle sock and water can get inside, when it trickles down your leg. Having said that, they are well insulated so at least the water will be warm after a while!
Recommended I like their socks so much, I can't resist buying them whether I need them or not.
Lights
A pair of LED lights at £14.99. They are charged via USB and come will all the gubbins you might need, including a three year guarantee!
To me, the front light looks like a blatant copy of the current Lezyne. A friend who has both, says the switch on the Crane light is far better than the Lezyne.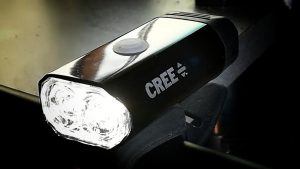 The beam pattern and the light output is ok but this is not a light you should rely on to see where you are going. If you are toddling along on the road at about 16s, this will give you enough time to avoid that gaping chasm but that is it. Far better as a running light, so oncoming cars can see you. Keep your 2000 Lumen monster for the off road sections!
Build quality is ok and surprisingly, the rubber band attachments are robust too. As with all LED lights, it comes with all the normal flashing options as well as 'static' lights.
Charging time for the front light is up to five hours. On the first test, it lasted for a 2 hour ride on full beam and it is still going strong. I have yet to run it until it blinks out.
The rear light is pretty good. Very bright, with lots of options. Charging time is about three hours. I have run mine on a medium setting for an almost six hour ride and if the recharging time is anything to go by, there was plenty of power left.
I want to do a head to head test of the rear light with an Exposure so I will leave detailed comments until then.
Recommended – as a commuter light set
Conclusion
Can cheap Aldi kit hold its own with the big boys? From my experience the answer is an almost unqualified yes. You have to be nimble to get to the shops when they arrive though, as stock flies out of the window.
Beware of inconsistent sizing for jackets. I have not tried any of the shorts, tights or ordinary jerseys so if you want to try some, it is pot luck.
Beware of the cheap turbo trainers. I understand the flywheel is made of cheese.
Maybe the biggest drawback is that stock only comes in periodically. On the other hand, it is so cheap, you can stock up for years to come and still come away having spent less than you would on a visit to your LBS.
Last modified: 23rd November 2017