In response to COVID-19, British Cycling and 34 other recreational activity organisations encourage the British public to enjoy the outdoors, but make a plea to stay local.
The Outdoor Industries Association has rallied around the largest recreational organisations in the country to call for the public to heed the Prime Minister's call to exercise responsibly outside. That means following the government's social distancing guidelines and staying local.
Here at ADVNTR.cc, we've retreated to our respective homes and isolation bunkers. The turbo trainers are primed and ready for action, but we're also venturing out solo and riding locally. While it is still permissible to do so.
Stay Local
Planning on riding from your front door? Why not share a photo on social with the hashtag #staylocal and tagging your favourite source of gravel hijinks, ADVNTR.cc might get you a shout out too!
Oh, and it goes without saying… leave off the techy-gnar-to-the-max riding until the NHS are less busy. Hospital is the last place any of us want to visit right now.
Here's the full statement:
Outdoor Recreation leaders urge the public to stay local if getting active
In this time of national crisis, when almost all forms of indoor entertainment and social gatherings are severely restricted, a balance can be struck. As the Prime Minister outlined, we must preserve the health of the vulnerable and restrict the spread of COVID-19, while doing all that we can to maintain the mental, social and physical health of the nation. We endorse this approach and encourage the public to strictly follow social distancing guidance while exercising outside, close to home.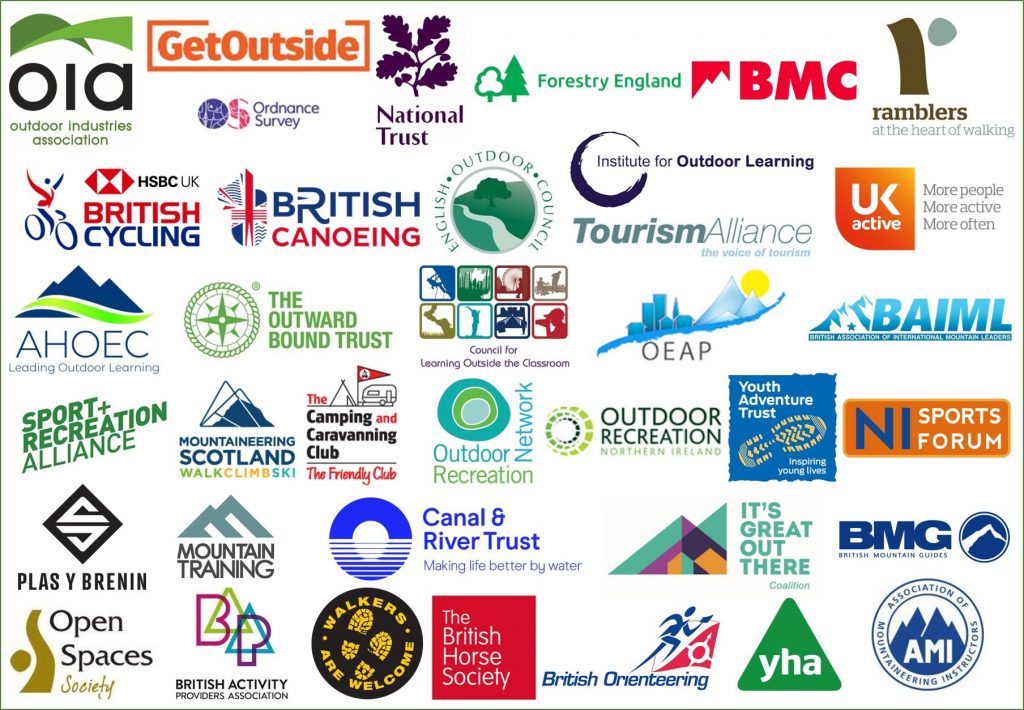 A nation in lockdown could lead to enhanced anxiety, depression, social unrest, mental and physical ill health, and social poverty. In contrast, carefully managed local exercise, inside or outside, will provide welcome active release for individuals and families feeling trapped. Getting into the outdoors sensibly very close to our own homes now, will make it easier for all of us to sustain other official guidelines and preserve the health of the vulnerable in the longer term.
Fully respecting the need for the ill and vulnerable to remain self-isolated, for those healthy individuals and families with no symptoms, getting active outside remains one of the very few tools left to fight the social impact of this disease.
 We 35 national outdoor organisations advocate the following:
Enjoy active outdoor recreation in your local area, while practicing good social distancing at all times
Do not travel to popular tourist areas and reduce the risk of groups gathering in one place
Stay close to home – consider low risk, familiar activities in local areas, such as a local walk or run.
Avoid public transport and social gatherings – keep active by travelling on foot or bike
Outdoor play and learning opportunities that reflect government guidelines are available to children, including those of key workers attending school.
To the extent areas of the outdoors remain open, if you can get outside close to home while taking sensible precautions, then please do so. Now, possibly more than ever, staying active is vital to everyone's physical and mental wellbeing."​
Over the coming weeks, outdoor recreation organisations will use their networks to share ideas and online tutorials for staying active in and near the home. Content will cover a wide range of popular outdoor activities, with tips from experts and high-profile figures in the outdoor sector.
Visit the Outdoor Industries Association at www.theoia.co.uk for more information on COVID-19 and outdoor recreation.
Last modified: 24th March 2020