Stalwarts of Steel, Cotic, launch an all new version of their 'do everything' bike.
The Escapade has actually been a feature of Cotic's portfolio for longer than we care to remember, originally released as a no nonsense bike aimed squarely at the mountain biker who wanted something a bit racier to get to work on, the Escapde has gradually evolved with the times with revised geometry to become "a road bike without limitations" – Road, trails, commute, tour, adventure… It'll do whatever you want it to.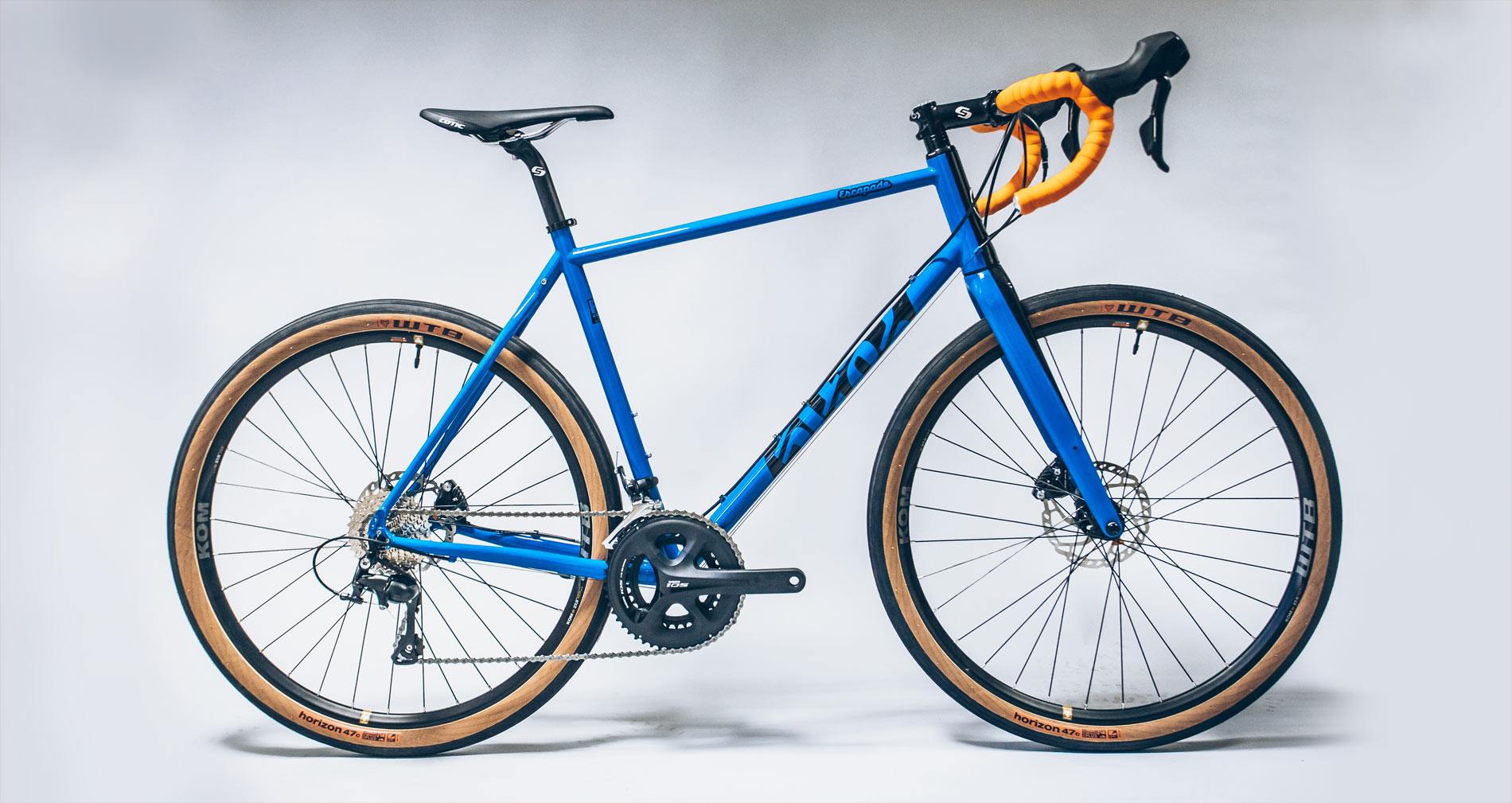 Revisions to the custom butted cromoly frame include a tapered head tube, flat mount brake caliper mounts front and rear and a whole new fork design. In fact there are two fork options; the alloy steerer/carbon legged RB4 and the full carbon from head to toe RB5 which sheds 200 grams over the RB4. Both forks use 12×100 thru axles.
Following customer feedback from the previous generations, geometry has been tweaked for the smaller frame sizes, giving the XS (52cm) and S 54cm) frames a more proportional fit, with steeper seat angles to suit shorter legs better and slacker head angles for reduced toe overlap.
Frame sizes run from extra small (52.5cm effective top tube) to large (58cm effective top tube), all sizes have 425mm chainstays and a 70mm bottom bracket drop. There are 73° seat angles and 72° degree head angles for the larger bikes and incrementally taller headtubes from 128mm (XS) to 170mm (L).
Cotic have also introduced the WTB Road Plus concept and will be offering full bike builds with the choice of the fully slick 650B x 47 WTB Horizon and the WTB Byway semi-slick, perfect for darting off the road and down forest paths. The frame of course will also accommodate larger 700c wheels and smaller tyres. Official frame and fork clearances are up to 700×42, or 650b x 47.
Not surprisingly considering Cotic's northern roots, the Escapade has mudguard mounts and a threaded bottom bracket. None of that press-fit nonsense here! Other features are a 27.2mm seat post, pannier mounts and fitment for two bottle cages. The rear has vertical quick release dropouts utilising the trusty old 9mm skewer. We thought that particular axle was dying out, but Cotic believe this makes wheel removal much easier, especially with mudguards fitted.

An Escapade frame and RB4 fork will cost you £499. If you want the full carbon RB5 fork, that will set you back a very reasonable £599. Full bike builds are also available starting with the Bronze level with Shimano Sora & cable discs from £1099 and the Gold level using Shimano 105 and hydraulic discs from £1699. Colour choice is a tough one as both look great; Gloss Blue or Gloss Purple. You'll just have to flip a coin to decide!
We really like what we've seen so far and with one member of the ADVNTR Team still regretting ever selling his early model Escapde, don't be surprised if we get our hands on one soon!
For more information on the new 2018 Cotic Escapade and everything else, visit the Cotic website: www.cotic.co.uk
Last modified: 23rd February 2018